Don't Call It A Comeback — Jordyn Woods Will Reportedly Sign 'Several' New Biz Deals O
Jordyn Woods is making a comeback abroad!
Weeks after Kylie Jenner's former BFF was forced to lay low after allegedly being implicated in Tristan Thompson's salacious cheating scandal, the 21-year-old is starting to dip her toe back in the business waters, and feeling out some opportunities to develop her brand and her personal business outside the Kardashian empire.
According to The Blast, sources close to Woods reveal that the young woman is "setting herself up to score some big business deals." That includes an opportunity involving her heading to London later this month to apparently to sign several new deals "in the makeup and fashion space."
It's unclear exactly what most of those new deals are — or the companies or brands involved — but the insiders reveal that the former Good American model will leave for the U.K. later this month with momager Elizabeth Woods to sign the paperwork and start bringing in some big-time income!
Get outta the way, Kris Jenner — apparently, yours isn't the only family that can make big moves!
The only specific deal the sources knew about ahead of time revolves around Woods' designer eyelashes; apparently, Jordyn has been "flooded with calls" from companies who want to align their brand with the star's eyelash look. Interesting!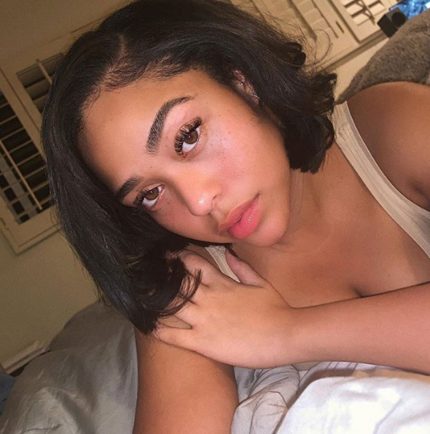 And it won't be just London where the fam goes for business, either!
Marketing guru Sheeraz Hasan is reportedly handling calls on her behalf with potential interested clients and brand partners in the Middle East. Because of that, Woods will reportedly be in Dubai later this month after she's done in London. Hasan has previously helped close high-profile deals in Dubai and across the Middle East for other celebs, like Kim Kardashian West, Jennifer Lopez, Paris Hilton, and many more. Woods may be next!
It remains to be seen what brands will ultimately link up with the former KUWTK guest star, but at least for now — in no small part thanks to that wild college admissions cheating scandal, and other stories that have taken over the front page — her life is somewhat back to normal with a little less intense media focus than was the case a few weeks ago.
Point being: now that she's back out of the spotlight from the alleged cheating scandal, maybe brands overseas will be more forgiving to her plight and open to moving on with new business deals?! For her sake, let's hope so!
What do U think about it, Perezcious readers?! Would U ink Jordyn to a biz deal right now?! How do U feel about her going after a big payday?!
Sound OFF about all that and more in the comments (below)!!!
Source: Read Full Article