Style: Good Weekend's picks of the week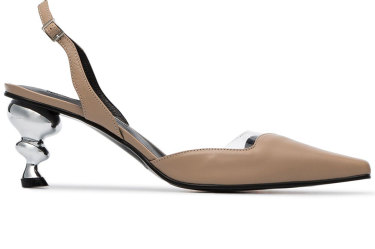 Yuul Yie "Lissom 70" slingbacks.
Style
Have you noticed heels are getting seriously creative? We've seen sculptural shapes in perspex, wood and now metal, such as these pumps from Korean shoe label Yuul Yie. They're inspired by the "soft lines of light from the water's edge". Yuul Yie "Lissom 70" Slingbacks, $554 farfetch.com
Oroton "Ecru O" studs.
Australian accessories brand Oroton recently celebrated its 80th year with new ownership and a new creative director, Sophie Holt, who was formerly managing director at Country Road. These earrings are part of her first collection, The Botanist. Oroton "Ecru O" studs, $70 oroton.com.au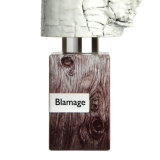 Nasomatto "Blamage" fragrance.
Blamage by Nasomatto was devised by master perfumer Alessandro Gualtieri, who has worked with Fendi and Helmut Lang. The dry wood fragrance was allegedly created through "bad judgment", and the fact Gualtieri doesn't actually reveal what's in it means that anything is possible when you smell it. Nasomatto "Blamage" fragrance, $264 libertineparfumerie.com.au
Newcastle-based ceramics brand Clay Canoe uses local clay to craft pieces in neutral colours featuring rough, sandy textures and handmade glazes. Founders Wyan McAllister and Kyle Roddenby sell at markets and online; if you see a piece that's sold out, they'll make to order. Clay Canoe "Mugalicious Splotch" mug, $55 each claycanoe.com.au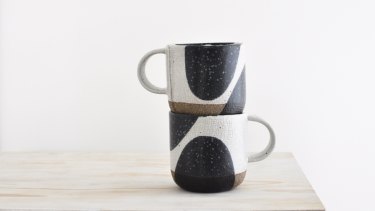 "Mugalicious Splotch" Mug.
Shop/Play
Is your home gym cluttered with a multicoloured gaggle of props and spiky balls? Replace the lot with the stylish Markarlu Lotus ($189, whealthy-life.com), a set of three nesting domes on a convex timber base that combine to form a variety of exercise props. Used to facilitate balance and movement, they are also an excellent way to stretch and massage aching muscles. The set is compact for travelling and an intriguing objet d'art when not in use.  Frances Mocnik
Markarlu Lotus is a set of three nesting domes.
To read more from Good Weekend magazine, visit our page at The Sydney Morning Herald, The Age and Brisbane Times.
Source: Read Full Article