These Are the 9 Best Albums to Work Out To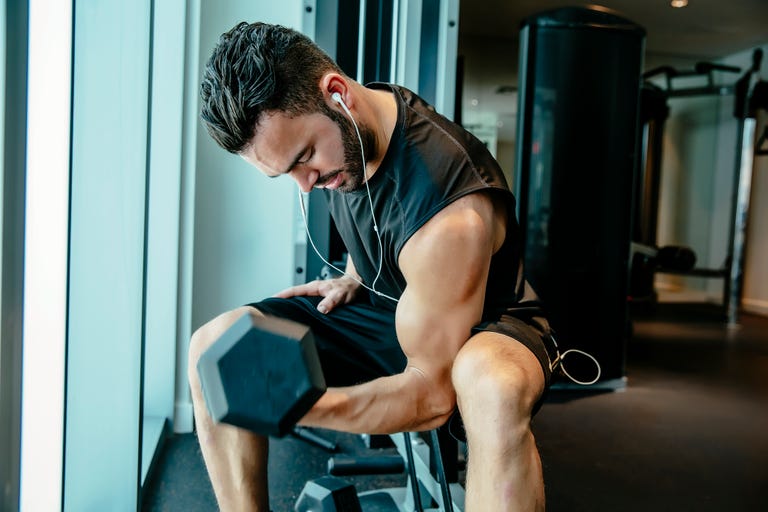 With summer coming around the bend, May marks that final rush towards getting the chiseled abs of your dreams. Time is of the essence, and those 15 minutes you spent calibrating your workout playlist could be the difference between you getting to the bench press and you watching a crew of no-goods mob the racks. That's why, instead of fussing over a playlist, you should pick an album that you can listen to straight through.
But there's a problem: few albums ebb and flow in a way that aligns with the standard three-part workout (warmup, peak activity, and cool-down). Most have skippable tracks, and fiddling with your phone is a great way to injure yourself on a treadmill.
That's why we've picked 9 albums that will get your heart pumping and your blood rushing all the way through your workout. Here are a few suggestions.
1) Burial, Untrue (2007)
Considered one of the century's greatest electronic albums, Untrue is intensely emotive in a way that doesn't impose on the listener as much as it draws them in. It's a concoction of post-punk moodiness, frenetic UK garage rhythms, and hypnotic vocal sampling. While most of the other albums here attempt to excite, Untrue inspires a deep and sincere sense of inner focus, which is great when you're lifting weights and there's no one else at the gym.
Key Tracks: "Archangel," "Untrue," "Raver"
2) Death Grips, The Money Store (2012)
Every bit as beautiful as a bloodshot eye, Death Grips' experimental opus doesn't quite fit in any category. Rather, it delivers a brutal version of every genre it touches: "I've Seen Footage" is a dystopian parallel of Salt-n-Pepa's slinky "Push It," while the viciously futuristic "The Fever (Aye Aye)" immediately obsolesces the idea of guitar punk. Six years later, it's hard to describe what exactly The Money Store is, but the project is still the sort of experience that has you craving physical activity.
Key Tracks: "I've Seen Footage," "The Fever (Aye Aye)," "Blackjack"
3) LCD Soundsystem, 45:33 (2006)
The most obvious addition to a workout playlist is a Nike-advertised project designed "to reward and push at good intervals of a run." LCD Soundsystem frontman James Murphy doesn't look at all like the type who'd take on running as his thing,but it's actually the perfect cardio workout: 45:33—which is actually 45:58 in length—moseys out the gate with an accusatory hook ("Shame on you!") before peaking with a stunning middle section that fits into the part of the workout where the runner's mind and body split apart. 45:33 works because it makes your body move.
Key Tracks: "45:33 (Part 4)," "45:33 (Part 5)"
4) Young Jeezy, Let's Get It: Thug Motivation 101 (2005)
Jeezy has a knack of making his most minor achievements sound like testaments of will. The 78-minute Let's Get It: Thug Motivation 101 features this skill at its most potent. Though most of the raps revolve around criminality, they're delivered as a string of mantras that reach out and grab even the most straight-edge listener, violently shaking the hustler spirit into him.
Key Tracks: "Standing Ovation," "Let's Get It / Sky's the Limit," "Go Crazy (Remix)" ft. Jay-Z
5) Ghostface Killah, Supreme Clientele (2000)
Ghostface Killah's finest hour finds him composing a funhouse contortion of the English language. Supreme Clientele sounds like he's making up new slang on the fly ("Scooby snack jurassic plastic gas booby trap"; "Pretty silhouette velvet nice DNA scroll genetics"; "Parole kids live Rapunzel"). You're not going to quite understand what's happening most of the time (sitting there trying to decipher the meaning of Ghostface's lyrics doesn't count as a workout), but Supreme Clientele marries lyrical abstraction and Ghostface's wild-eyed verve in a way that imbues you with his urgency.
Key Tracks: "Nutmeg," "Apollo Kids," "Stroke of Death"
6) Major Lazer, Guns Don't Kill People…Lazers Do (2009)
Diplo's brainchild Major Lazer would go on to have greater commercial success following its debut, Guns Don't Kill People…Lazers Do. But the succeeding projects would sound increasingly synthetic, and none carried the same level of concision and urgency as that first step. After strolling through with a cowboy guitar riff, Guns Don't Kill People becomes an international bacchanal that features superhero music ("Lazer Theme" with battle-ready Future Trouble) and dancefloor romps (Vybz Kartel's "Pon de Floor"). It's world music for the body.
Key Tracks: "Lazer Theme" ft. Future Trouble, "Hold the Line" ft. Mr. Lex and Santigold, "When You Hear the Bassline" ft. Ms. Thing
7) Clipse, We Got It 4 Cheap Vol. 2 (2005)
The hunger that threads through We Got It 4 Cheap Vol. 2 comes from how Clipse's anger over record label politics: it took four years and a lawsuit before the duo's sophomore effort, Hell Hath No Fury, finally dropped. The We Got It 4 Cheap mixtape series, released during that four-year period, found Clipse trying to channel that anger into something fruitful, and Vol. 2 was the most palpable example of that contained energy. Just listening to "Re-Up Intro" alone is enough to chisel your body.
Key Tracks: "Re-Up Intro," "Zen," "Daytona 500"
8) Public Enemy, It Takes a Nation of Millions to Hold Us Back (1989)
Three decades later, there's simply not that much more to be said for an album that's long been considered one of best of all time. Black pride is at the core of It Takes a Nation of Millions to Hold Us Back, but the classic doubles as a pure adrenaline boost.
Key Tracks: "Bring the Noise," "Black Steel in the Hour of Chaos," "Prophets of Rage"
9) Rihanna, ANTI (2016)
Rihanna's most recent album finds her straying away from hits (even though she had one anyway, with the Drake-featuring "Work") to converse with her more experimental side. She becomes a cowboy ("Desperado"), covers a Tame Impala song ("Same Ol' Mistakes"), tries doo-wop ("Love on the Brain"), and just can not get over how good she is at sex ("Sex With Me"). Despite the style change-ups, ANTI never loses focus because of Rihanna's unfiltered confidence — which will be contagious when you're nearing the end of your workout.
Key Tracks: "Consideration" ft. SZA, "Woo," "Sex With Me"
Source: Read Full Article