Angelina Larangeira Shares Post-Op Plastic Surgery Update on Instagram
Angelina Larangeira recently had her nose worked on by plastic surgeon Dr. John Paul Tutela and shared a post-operation update with fans about the procedure. The Jersey Shore: Family Vacation star has always been transparent about her plastic surgery, and her nose job is no different. Find out what she had to say about her most recent surgery.
Angelina from 'Jersey Shore' shares post-op nose job photos on Instagram 
On Feb. 22, the reality star shared a photo of herself to her Instagram Stories with a bandaged nose. "Looking good already," she wrote over the photo, tagging Dr. Tutela. "Post op nose job." 
In another post, she shared a video from Dr. Tutela's office and wrote: "I love him! He is the best plastic surgeon ever!! He makes me [laugh]. Leave it to him to make this LOL." The video featured a custom cutout of Dr. Tutela's face next to some medical equipment. 
'Jersey Shore' fans give Angelina Larangeira 'credit' for being open about her plastic surgery
Fans of the MTV reality series took to Reddit to discuss the work Larangeira had done. "Well. I give her credit for being honest about getting work done. Not just claiming it's 'filters' or 'contouring,'" wrote one Reddit user. 
"I like how she's at least open about it and not one of those people who deny it," reads another comment. "Honestly though," said another Redditor. "I give her kudos for being honest! Most don't do that."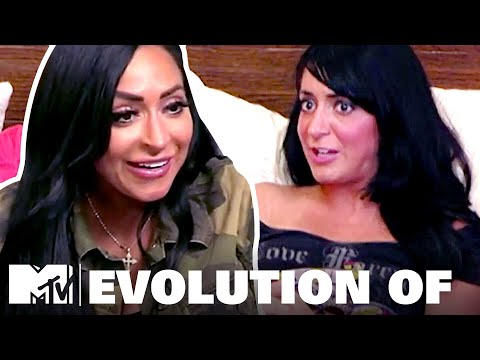 "I think her plastic surgery was done great!" another Redditor added to the conversation. "She looks like a better version of herself and is always open an honest about it. She never says, 'Oh, it's just weight loss' or 'makeup contouring.' More power to her."
Some fans have seen other Jersey Shore: Family Vacation stars like Lauren Sorrentino and Jenni "JWoww" Farley promote Dr. Tutela in the past, leading them to believe Larangeira's post could be a paid promotion for the doctor or exchange of services. Regardless, many are pleased with her honesty.
Angelina Larangeira's plastic surgery history
Larangeira's nose isn't her first plastic surgery procedure with Dr. Tutela. In February 2020, she posted a photo to her Instagram with the caption:
"My boobies are my fave part of my body now thanks to @tutelaps. Anyone looking for a doctor that knows what they are doing He's your guy !!! I never had one surgery in my life until this and let me tell you I would do it again because he's that amazing. He makes you feel like family. He even asked me what kind of music I wanted to hear before I went under anesthesia."
In December 2020, the Jersey Shore: Family Vacation star shared a video of Dr. Tutela performing a butt lift with sculptra. "Bandaid butt lift by @tutelaps with @sculptraaesthetic for adding volume to hip dips," she captioned the post. "I fluctuated in weight loss throughout the years and needed a plump to my butt. I can't wait to see the results. He's the best of the best."
As Larangeira explained to Page Six in December 2020, she's never going to lie to fans about the cosmetic procedures she has done. "I'm going to be honest," she told the outlet. "And that's really how I want to be forever. So, yeah, I'm like, 'You know, screw it. Let me show people how I got my a** injected.'"
Watch Larangeira in new episodes of Jersey Shore: Family Vacation airing every Thursday at 8 p.m. ET on MTV. 
Source: Read Full Article