Ariana Grande Has Two New 'Harry Potter'-Named Dogs!
Ariana Grande is saying thank u to her two new dogs!
On Thursday on Instagram Story, the 7 Rings singer showed off her adorable pups: Snape and Lily — named after Harry Potter characters!
As seen here: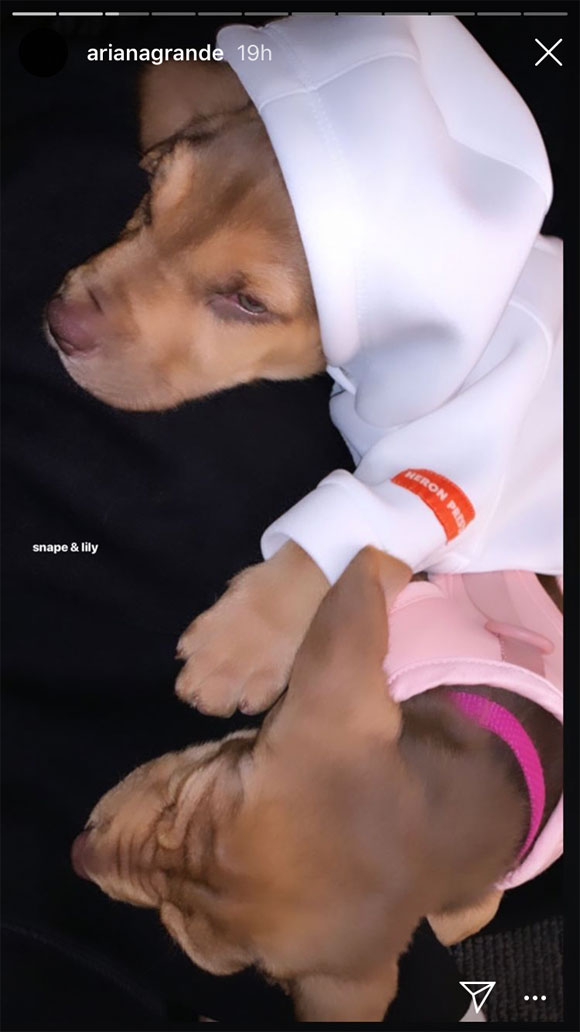 As you may know, Professor Severus Snape is one of her favorite characters, as she wrote on Twitter in 2011:
"Cedric Diggory , Severus Snape , AND Lord Voldemort are all trending. I've never been happier."
"Lily" is Harry Potter's mom — who Snape had a thing for!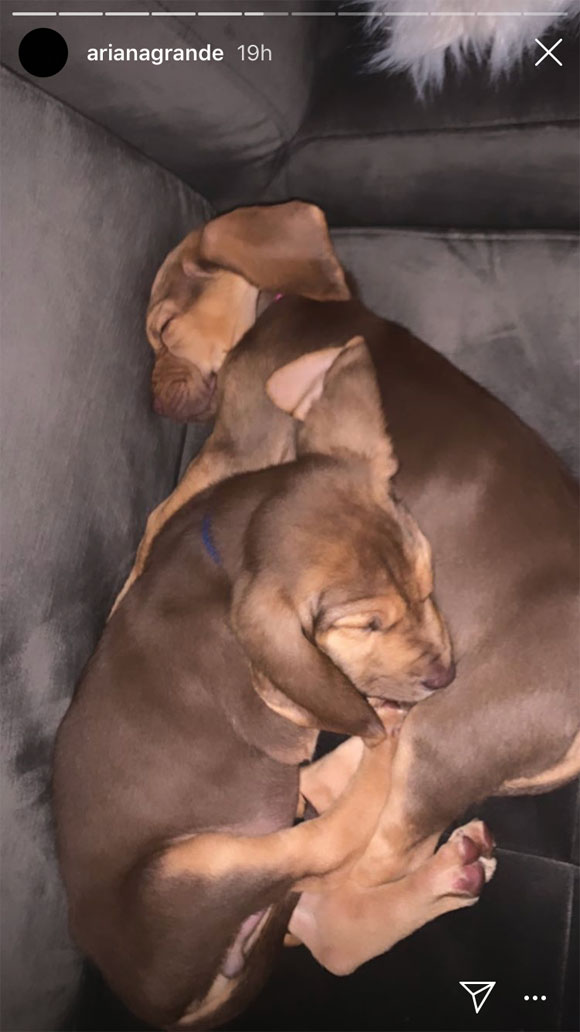 Of course, this isn't the first time Ari has shown love for J.K. Rowling's books.
Back in May 2018, Miz Grande and now-ex Pete Davidson dressed up for the 'gram as Hogwarts wizards!
As we reported, the 26-year-old and her other woofer, Toulouse, covered the August issue of Vogue.
In her cover story, the starlet opened up about how going on tour was a way to escape the trauma she faced over ex Mac Miller's death in September 2018, and the Manchester terror attack in May 2017.
She said:
"I was researching healing and PTSD and talking to therapists, and everyone was like, 'You need a routine, a schedule.' Of course because I'm an extremist, I'm like, 'OK, I'll go on tour!' But it's hard to sing songs that are about wounds that are so fresh. It's fun, it's pop music, and I'm not trying to make it sound like anything that it's not, but these songs to me really do represent some heavy s**t.'"
In regards to the Manchester Arena bombing:
"It's not my trauma. It's those families'. It's their losses, and so it's hard to just let it all out without thinking about them reading this and reopening the memory for them. I'm proud that we were able to raise a lot of money with the intention of giving people a feeling of love or unity, but at the end of the day, it didn't bring anyone back. Everyone was like, Wow, look at this amazing thing, and I was like, What the f**k are you guys talking about? We did the best we could, but on a totally real level we did nothing. I'm sorry. I have a lot to say that could probably help people that I do want to share, but I have a lot that I still need to process myself and will probably never be ready to talk about."
Grande continued:
"For a long time I didn't want to talk to anyone about anything, because I didn't want to think about anything. I kind of just wanted to bury myself in work and not focus on the real stuff, because I couldn't believe it was real. I loved going back into the studio with Pharrell because he just has this magical outlook on everything. He truly believes that the light is coming. And I'm like, 'Bruh, is it, though?'"
Source: Read Full Article