Beyoncé and JAY-Z Appear to Renew Their Vows in On the Run Tour Footage
Beyoncé and JAY-Z kicked off their long-awaited On the Run II tour yesterday with an epic performance in Cardiff, UK. During the show, the superstar couple debuted some personal family footage, and fans believe one of the scenes featured them renewing their vows.
While the duo performed "Perfect" and "Forever Young," a clip in the background showed them clad in white and surrounded by family members for a private celebration. Viewers believe the event was the Carters' vow renewal. The couple hasn't clarified what the gathering was for, but Bey's veil and white dress hints that it was wedding-related. They originally tied the knot on April 4, 2008 and celebrated 10 years of marriage two months ago this year.
Among those present were Tina Lawson (Beyoncé's mother), Bey and JAY's 6-year-old Blue Ivy, and, yes, twins Rumi and Sir Carter. An interlude scene from earlier in the concert showed the couple holding different babies, but in this shot, it seems their 1-year-old infants really did make an appearance.
Bey's mom even cleared the air with an Instagram picture of the infants with the caption, "My babies❤️❤️❤️." Rumi wore a crown of white flowers on her head while her twin brother had his hair adorably parted for the occasion.
Other previously-unseen visuals included footage of Beyoncé and JAY-Z spending quality time with Blue, traveling together, and fawning over their new children at home.
Rumi and Sir Carter, America's royal babies, were born on June 13, 2017. The tots will celebrate their first birthday next week. Here's to hoping Bey shares another photo of them for us to obsess over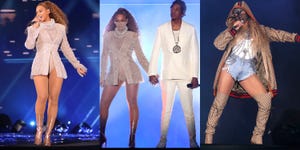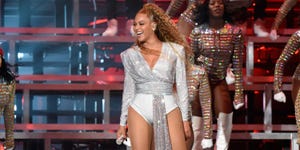 Source: Read Full Article