Chrisean Rock Refuses to Leave Blueface After Bizarre Fight on Sidewalk
In Instagram Story videos addressing the altercation, the 'Thotiana' rapper accuses Chrisean of talking to several other men and offers her $100,000 to leave him alone.
AceShowbiz –Blueface and Chrisean Rock are apparently still very much together after getting caught in a bizarre fight on a sidewalk. After footage of the altercation surfaced, the two went back home together and the rapper has addressed the tussle on social media.
Taking to his Instagram Stories, Blueface explained what led to their altercation. He filmed Chrisean who was lying in bed and looking down as he called her Baby D, the "heavyweight champ of the world" and at one point referred to her as "Rocky Balboa."
"She done hit me in my s**t. I got a nice little shiner," the 25-year-old moved the camera to capture his face, before continuing to film Chrisean, though she expressed her reluctance to be filmed. At one point, Blueface offered as much as $100,000 for Chrisean "to leave me the f**k alone" and called for the end of their apparent relationship.
"You gonna beat me up in public and s**t, so what's up? … What will it take for us to end this, nice and pleasant?" he said, to which she responded that it wasn't "pleasant." He seemingly responded to people who criticized him over the fight video as saying, "Y'all shut the f**k up," he said. "Y'all don't know this w***e."
Blueface also called Chrisean a w***e and insinuated she was cheating, which apparently led to their fight. He claimed that he went through Chrisean's phone and found out she was in touch with several other men, which Chrisean denied as she asked him to stop telling "lies."
Chrisean, meanwhile, has no intention to leave Blueface. In her own Instagram Story, she wrote, "No money in the world can make me leave you. You might as well call the psych ward to get me out this bih." She also uploaded a snippet of a collab track with her and Blueface, captioning the post, "This my last IG post."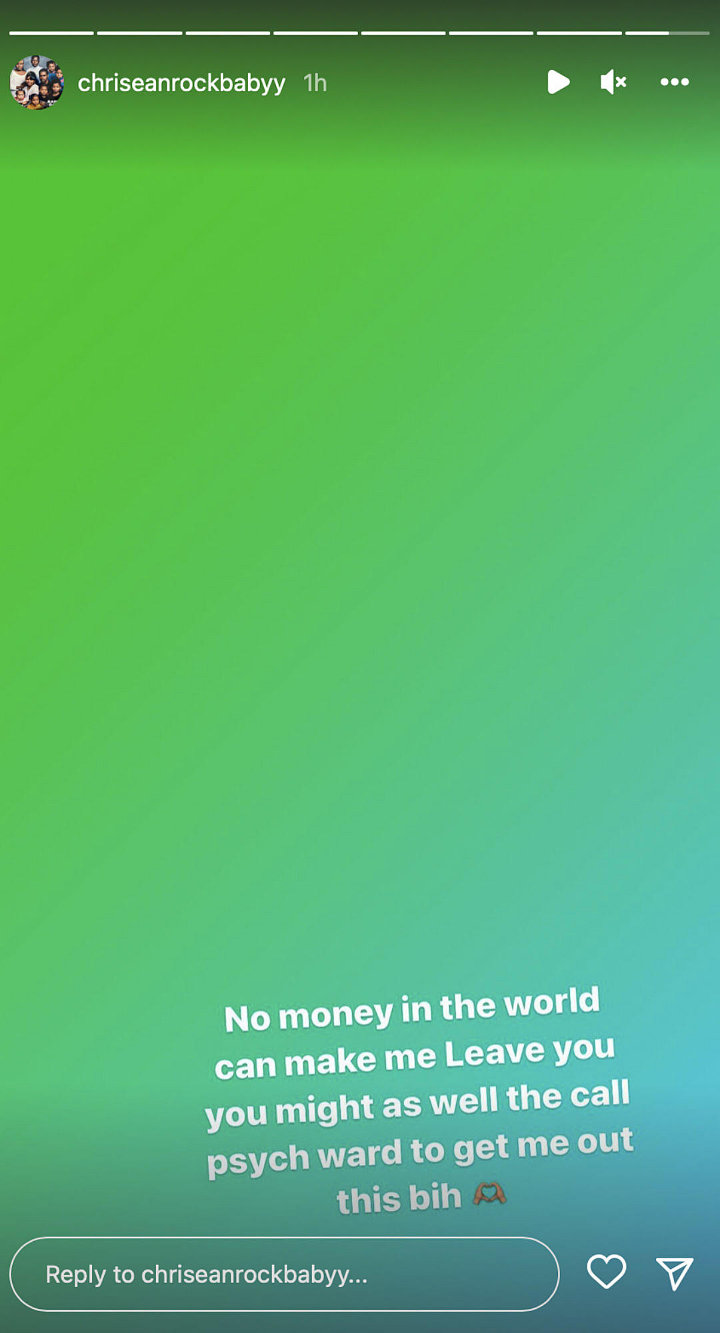 Chrisean Rock refused to leave Blueface despite having a physical altercation.
Blueface's mother Karlissa Saffold, who was previously involved in a dispute with Chrisean, then jumped into the conversation as she asked her son if he needs her to stop by his house with his sister. "Let me @kaliwae_ know if you need us to come over there," she penned. "All the saints go pledge the blood of Jesus over my son. Mind body sould & house. Amen," she prayed.
Blueface and Chrisean caught people's attention after a video of their bizarre fight hit the web on Tuesday, August 2. In the clip, Chrisean followed her on-/off-boyfriend as he walked down the shirt on early Tuesday morning in Hollywood before grabbing at his shirt, yanking him backward.
She pushed Blueface while still clutching his shirt and then smacked him across the face. The two ended up on the ground with the rapper restraining Chrisean for several seconds. He then got up and walked away, but she mindlessly followed him despite his plea to be left alone. During the whole ordeal, a man who filmed it was trying to intervene.
According to TMZ, the Los Angeles Police Department has received a report regarding the incident and is currently investigating it. Cops reportedly want to talk to both Blueface and Chrisean and will review additional surveillance video from the scene.
Source: Read Full Article