Chrissy Teigen Trolled Everyone At The Met Gala Like Only She Can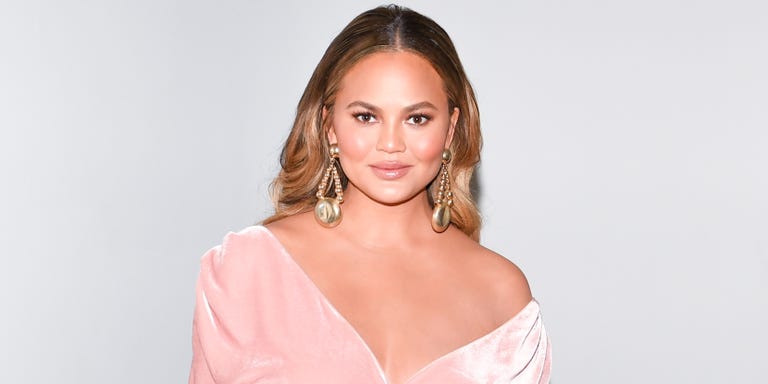 Chrissy Teigen is about to give birth to her second child with husband John Legend, so she had to sit out the Met Gala red carpet for the first time in two years. She wasn't happy about it—so she took to Twitter and Instagram to hilariously troll everyone who did go.
Teigen first Tweeted earlier in the day that she couldn't attend this year's event because it was deemed "too risky" with her pregnancy. As the red carpet coverage started, she shared a photo of her laying on the couch, Nintendo in hand, and pregnany belly hanging out. She wrote, "waiting for my turn on the carpet at #metgala!!!! always an honor!!!"
The next photo was a sarcastic tutorial of her "glam" for the night. Teigen took a snap of her hair—a loose, casual bun that we've all rocked while at home on the couch—and captioned it with her entire get the look breakdown. "This year's #metgala GLAM was #SUPER important to me as I wanted it to really embody the heavenly bodies theme!!! I think we nailed it!! Swipe for for #creds!!! First I shampooed my #hair yesterday with #shampoo then I let it sit for 4 minutes while i #shaved the areas I could see on my #body," she joked. "Next, I used a #towel to dry my hair from roots to ends!! Then, I used a #rubberbandto secure my hair into a pony that i was careful not to pull out all the way! Lastly, I pulled out pieces around my #ears and #neck ! Full tutorial coming up tomorrow !!!!!!!! Like and subscribe!!!!!"
Teigen then took to Twitter to post a screenshot of a text she sent to a friend. "Honestly I'm pissed a little," she wrote, "because I always want to wear head shit and no one ever lets me and the one year I don't go it's head shit year." Teigen is of course referring to the barrage of crowns, halos, and bejeweled headpieces on the red carpet last night. Note to Chrissy's glam team: let her wait a hair accessory whenever she wants.
Teigen's last post on Instagram from the night was going to be a makeup look breakdown, but she finally admitted that she was "jealous" she wasn't there and that she also needs to drink water. In the image, the pregnant star looks stunning with not a stitch of makeup on, save for a few key eyelash extensions. We have faith that Teigen will be back rocking the red carpet next year.
Source: Read Full Article