Damar Hamlin Finally Back at Home 9 Days After Horrifying Medical Emergency
The 24-year-old safety didn't immediately return home when he was discharged from the University Of Cincinnati Medical Center earlier this week, as he had to undergo several tests at Buffalo General Medical Center.
AceShowbiz –Damar Hamlin is finally back at home, nearly ten days after collapsing on the field. The NFL star has been discharged from Buffalo General Medical Center/Gates Vascular Institute after doctors made the determination that he's healthy enough to continue treatment at home.
Damar's critical care physician Jamie Nadler, MD said in a statement on Wednesday, January 11, "We have completed a series of tests and evaluations, and in consultation with the team physicians, we are confident that Damar can be safely discharged to continue his rehabilitation at home and with the Bills."
This is another leap in Damar's recovery progress after he suffered cardiac arrest during the match between the Buffalo Bills and the Cincinnati Bengals on January 2. He was rushed to the University of Cincinnati Medical Center in an ambulance after receiving treatment on the field for several minutes.
He was placed in a coma, but after several days, he was able to get his lungs back to 100 percent, and even retained his neurological function. On Monday, he was discharged from the hospital and returned to Buffalo, but he didn't head straight home just yet because he had to undergo several tests at Buffalo General Medical Center.
"Headed home to Buffalo today with a lot of love on my heart. Watching the world come together around me on Sunday was truly an amazing feeling. The same love you all have shown me is the same love that I plan to put back into the world n more. Bigger than football!" he tweeted after being allowed to return to Buffalo.
He added in a separate tweet, "Grateful for the awesome care I received at UCMC. Happy to be back in Buffalo. The docs and nurses at Buffalo General have already made me feel at home!"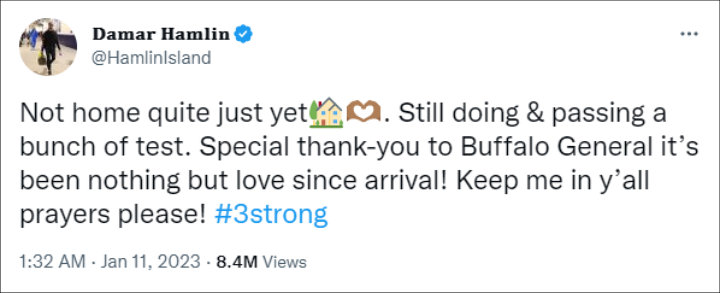 Damar Hamlin shared an update before returning home.
The 24-year-old later clarified on Tuesday, "Not home quite just yet. Still doing & passing a bunch of test. Special thank-you to Buffalo General it's been nothing but love since arrival! Keep me in y'all prayers please! #3strong."
You can share this post!
Source: Read Full Article