DJ Khaled Says He Doesn't Perform Oral Sex and the Internet Is LOSING THEIR MINDS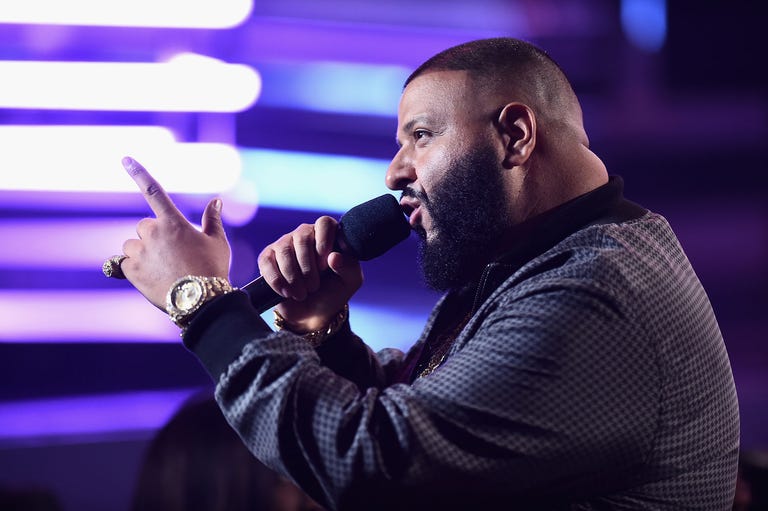 DJ Khaled, world renowned DJ/dodo bird, is up to no good — talking some kind of nonsense about how he doesn't go down on his wife! And yet she gives him blow jobs! What in the world?!
"A woman should praise the man — the king," the producer said in a 2015 "Breakfast Club" interview that recently started making the rounds. "If you holding it down for your woman I feel like the woman should praise. And a man should praise the queen. But you know, my way of praising is called, ha-ha, 'How was dinner?', 'You like the house you living in? You like all them clothes you getting? I'm taking care of your family, I'm taking care of my family…' You know, I'm putting in the work."
Khaled, who is engaged to Nicole Tuck, was then asked to clarify if he meant he wouldn't perform oral sex on women.
"Nahhh. Never!" he said, adding, "I don't do that."
AND THEN! He made it worse by saying it's not OK for women to refuse to perform oral sex on men. KHALED!!!
"It's different rules for men," he said. "You gotta understand, we the king. There's some things that y'all might not wanna do, but it got to get done. I just can't do what you want me to do. I just can't."
Fortunately, Twitter reacted in the perfect "nuh uh, honey" that you except from the internet. Here are the best reaction tweets:
DJ Khaled clarifies that he has other, more talented guys go down on his wife while he stands around and yells stuff like "DJ KHALED" and "WE THE BEST"
Hey @djkhaled — you opened your mouth for a couple minutes & now the whole world is coming for you.
See how easy that was? ✌️?
DJ Khaled bragging about having absolutely no game is funny as hell
DJ Khaled still makes his wife 69 with him but he just eats a roast beef sandwich the whole time.
Everyone congratulating themselves on eating pussy after the DJ Khaled news can pipe down until they've had group sex with somebody who is on their period.
Before the DJ Khaled news, I didn't realize Alf was a hero. pic.twitter.com/tMhOY0BAm8
In his defense, @djkhaled is a spokesman for Weight Watchers and pussy is like 7 points per serving…
dj khaled's wife: pic.twitter.com/mE1KQs545X
DJ Khaled would be a much better rapper if his tongue were stronger
Everybody's coming for DJ Khaled except his wife ?
I bet if you let him yell "DJ KHALED!" into your pussy he might change his mind
And then this bit of REALNESS:
DJ Khaled is misogynistic. He said he only "praises" his wife by asking her if she likes the house she lives in, asking her if she likes the clothes she wears, and asking her what she cooked for dinner. No wonder why his wife is always cursing his ass out. That is not "praise."
And finally, this other bit of REALNESS:
But what if I didn't want to spend all day imagining DJ Khaled giving head.
Source: Read Full Article