Hailey Baldwin Deleted Shawn Mendes Photos From Her Instagram, But Is It About Justin Bieber?
Hailey Baldwin is giving us all a run for our money, fam. When she strolled out on the red carpet at the Met Gala 2018 (looking like absolute royalty, I might add) with her date, Shawn Mendes, everyone was feeling that vibe and totally shipped these two celebs together. But LOL, joke was on us, because apparently, they weren't dating and were strictly *just friends*. And now we've been seeing Baldwin getting ~flirty~ with pal Justin Bieber, yet offering no real concrete confirmation as to whether or not the two of them are an item. You're killing us, Hailey! We don't know what to believe! But now, Hailey Baldwin deleted Shawn Mendes photos from her Instagram, sparking many fans to wonder whether this is confirmation that they were at one point an item — and whether or not Bieber was the driving force behind clearing away photos of Shawn Mendes or not. Because, ya know, jealousy.
Just to set the record straight, Baldwin and Mendes have both spoken publicly about the nature of their relationship — which is there wasn't ever one. Not a romantic one, at least.
In an interview with the United Kingdom's Sunday Times, Baldwin spoke candidly about her relationship with Mendes, and confirmed that, despite how "lovely" Mendes is, the pair were not dating. She said:
And, in an interview with E! News, Mendes candidly talked about his experience at the Met Gala with Baldwin, but confirmed that he is very much a single man. He said,
So, just to be clear: These two beautiful humans below, looking lovingly at each other and grazing hands — yep, totally just friends.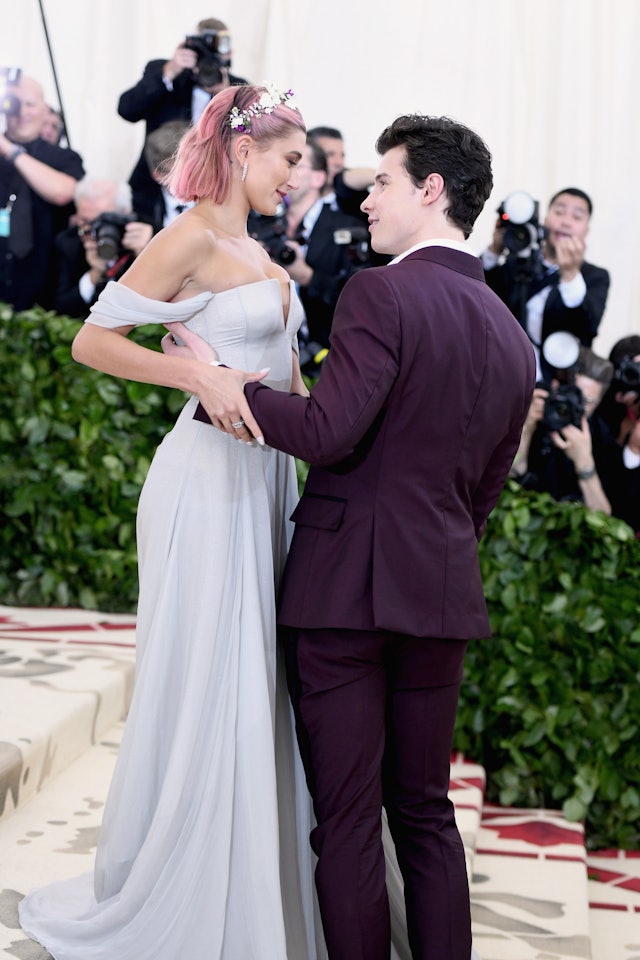 I don't really strike this pose with close friends, but hey, that's just me I guess.
And, in case you forgot, Baldwin and Bieber did have a connection many moons ago. In an interview with The Times UK in May of 2018, Baldwin addressed that she and the Biebs did turn into something more, but that they ended up putting that — and their friendship — on hold until recently. She said,
Mhm. Mhm. OK. Sure thing.
Perhaps here is where I'll give a friendly reminder that on June 17, TMZ spotted Hailey Baldwin and Justin Bieber making out in New York for pretty much the entire world to see.
A real head-scratcher, yes?
Which brings us to our most recent love triangle news: When looking at Hailey Baldwin's Instagram page, gone are the days where you'll see ANY photos of Baldwin with her good friend Shawn Mendes. You know the cute pic of Baldwin and Mendes at the Met Gala that she shared back in May?
Yeah, that's gone, gone, gone. Many fans took to Twitter to note the conspicuous timeline of events, and think that perhaps Bieber is being "that guy" and making Hailey delete the photos out of sheer jealousy:
Who knows, maybe Baldwin and Mendes got into a (purely friend-based) fight and impulsively deleted the photos. Or maybe she just deleted them out of respect for her new boo Bieber just because she knows fans ship her with Mendes hardcore? I'm just really hoping that Bieber wasn't the one who gave Baldwin the idea to delete the photos of Mendes from her Instagram account. Because there's no one in this world who likes a Jealous Justin.
Source: Read Full Article