I Think It's Finally Acceptable to Be Completely and Totally Obsessed With Brad Pitt
[There are spoilers ahead for Once Upon a Time in Hollywood. If you haven't seen the movie yet and simply came for the Brad Pitt take, I understand, but consider leaving this post if you don't want the movie spoiled!]
I was 11 years old when Jennifer Aniston and Brad Pitt broke up. Even though I hardly understood what infidelity actually was at the time, I had very strong opinions about him deceiving America's favorite girl-behind-the-purple-door. How could he ruin the world's perfect couple? How could he commit the cliché sin of cheating with a costar? It seemed like a personal betrayal to my fifth grade self.
And then there was his divorce from Angelina Jolie 10 years later that became an ugly custody battle, during which allegations surfaced that he'd gotten physical with one of his kids (the incident was investigated and he was ultimately cleared).
For that reason, this very hot mans became slightly tainted for me. I'm not saying I stopped being attracted to Brad Pitt. I mean, it's hard *not* to be attracted to Brad Pitt, at least a little bit….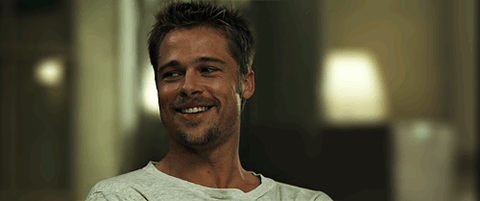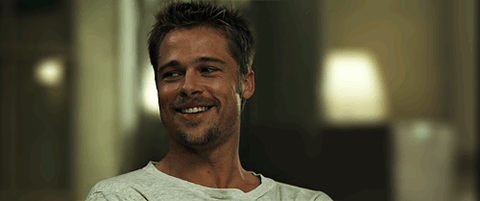 I just stopped myself from being fullllly into him. I took the metaphorical Brad Pitt poster off my wall, if you will. But with the release of Once Upon a Time in Hollywood, that phase of my life is over. My Brad stanning is back with a vengeance.
In the movie [HI, SPOILERS COMING UP], Mr. Pitt plays Cliff Booth, a stunt double whose career has been reduced to working for the actor he stunts for, Rick Dalton (Leonardo DiCaprio). Rick's career is majorly on the decline, which means Cliff's is as well. Because Leo's character is a literal movie star, I went into the movie expecting him to be the most stan-worthy character.
Brad's performance, though, was the one to steal my heart. He brings a very charming and bro-y sexiness to Cliff, and the final scene, where he singlehandedly takes down three Manson Family members who intend to kill him and Rick, is very, very hot. The punches! The can-throwing! The fact that he survived a stab wound! *chef's kiss*
It doesn't hurt matters that there's a shirtless scene in which he looks like THIS: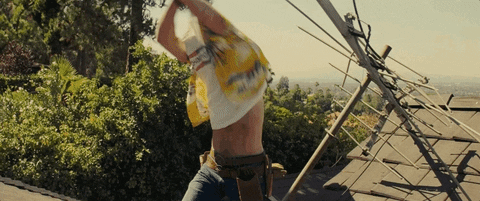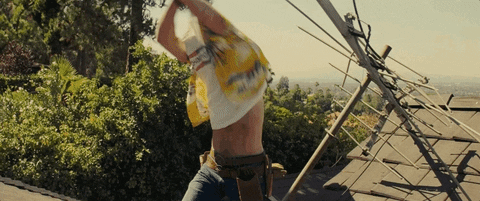 Reminder, the man is 55 years old. So yes, I walked out of the theater thinking, Wait, why am I not obsessed with Brad Pitt? before reminding myself that he's still the guy who broke Jennifer's heart all those years ago.
But here's the thing. Brad in the year 2019 is a very different situation than Brad in the year 2005. Since their split, Jennifer has insisted many, many times that she is totally, completely fine. She's not the sad divorced woman the media made her out to be.
In fact, she and Brad have actually been friends for a few years now. He reached out to her when her mom passed away, and they've been friendly ever since. He even went to her birthday party recently. "Brad wishes he'd handled the end of their marriage in a more thoughtful manner. He asked for Jen's forgiveness a long time ago, and she gave it," a source told Us Weekly. I believe they call that growth??
Also, it's worth mentioning that the coverage of their divorce was very, very sexist to begin with. Not only did tabloids latch on to the idea that Jen wanted kids and Brad didn't (which is no one's business, frankly), but the alleged Jen vs. Angie "feud" was also kindled by tabloids and mainstream media alike for most of the 2000s. Thankfully, a few national identity crises later, we've all come to realize how problematic and unfair the whole narrative was.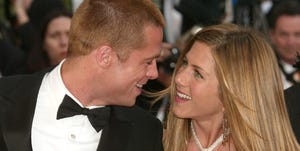 And now, after what seems like a million years, Brad and Angelina are officially divorced. In the wake of their split, he's been focusing on his six kids. "He's grateful that all the animosity is in the past," a source told Us Weekly earlier this year. "[The kids] come first. That's what he's most excited about—being a dad and sharing his life with his children."
Considering the two major obstacles to my stan-ship have been cleared, it seems like now is the most ideal time to be a Brad fan. All the baggage he's been carrying is basically gone, and he's still really f*cking hot.
He's single, not in the midst of copying his current girlfriend's haircut, and doing artsy shit like starring in Tarantino movies whilst making short films like this for GQ:
And if you still need to be convinced, lemme remind you that his production company, Plan B Entertainment, has made some of the best movies of the past decade. Remember 12 Years a Slave and Moonlight? They both won the Oscar for Best Picture, casual.
So, yes, after 15 long years, I'm happy to report that my relationship with Brad is better than ever. I invite you to join me in now being able to fully appreciate this GIF: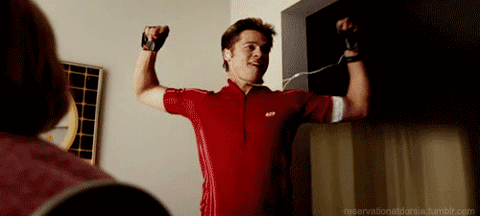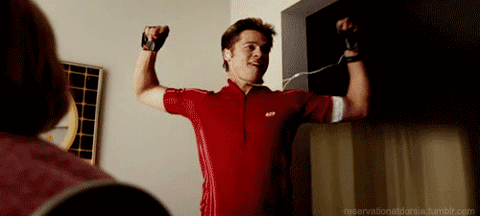 Source: Read Full Article