Inside The Arrest, Conviction, And Release Of Bill Cosby
The following article includes allegations of sexual assault.
Bill Cosby is a stand-up comedian and prolific actor, who became a household name when he starred in "The Cosby Show" in the late '80s and early '90s. He was considered a "model of fatherhood," described The New York Times, and was known for wholesome advertisements for various family products, like Jell-O, Coca-Cola, and Crest (via Adweek). However, you'd be hard-pressed to find any product endorsements from Cosby nowadays, as the star has since become a media staple for a reason that is almost the exact opposite of his family-friendly persona. 
In more recent years, Cosby has been at the center of one of the most prolific #MeToo moments, as, according to NBC News, 60 women have accused the actor of sexual abuse in alleged incidents going back to the 1960s. While most of these claims have passed their statute of limitations, one criminal case was still able to be brought against Cosby, and he was subsequently arrested and eventually convicted in 2018. However, on June 30, 2021, the disgraced comedian's prison sentence was overturned in a shocking decision that the TIME'S UP movement called "devastating." But just what led to his arrest, conviction, and eventual release from prison? 
Keep scrolling to find out the inside story of Bill Cosby's criminal sexual assault case.
If you or anyone you know has been a victim of sexual assault, help is available. Visit the Rape, Abuse & Incest National Network website or contact RAINN's National Helpline at 1-800-656-HOPE (4673).
Bill Cosby faced his first public allegation in 2005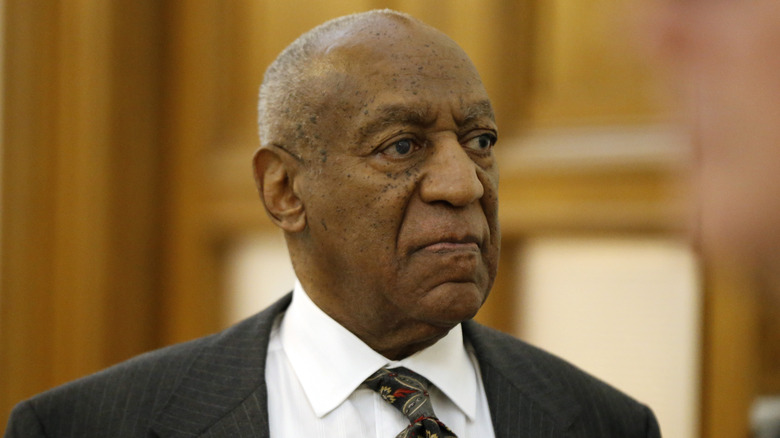 Bill Cosby's criminal sexual assault case revolved around the accusations of one woman, Andrea Constand, whom he met at Pennsylvania's Temple University in 2001, according to Constand's statement to the Cheltenham Police Department. Constand worked for the college's women's basketball team, and Cosby first met her when he attended one of the games for a promotional opportunity. In her 2005 statement, Constand revealed that she continued a friendly relationship with the actor for almost three years, but accused Cosby of drugging and sexually assaulting her at his mansion in Pennsylvania sometime "between mid January and mid February 2004."
By the time Constand reported the incident, she had left Philadelphia and moved to Toronto, but explained that she came forward after sharing what happened with her mother, who'd "confronted" Cosby over the phone about the incident. Constand also told the Cheltenham Police Department that she waited until she had processed the situation on her own to tell others about it, noting that she wasn't sure whether she should say anything. "I had to put my own thoughts and feelings together. I was emotionally shocked. I was still traumatized," she said, adding, "Because I wasn't physically injured … I reasoned that there was no reason to come forward."
However, when Constand did come forward with her accusations, it prompted an investigation into Bill Cosby's actions.
Andrea Constand's allegations weren't prosecuted in 2005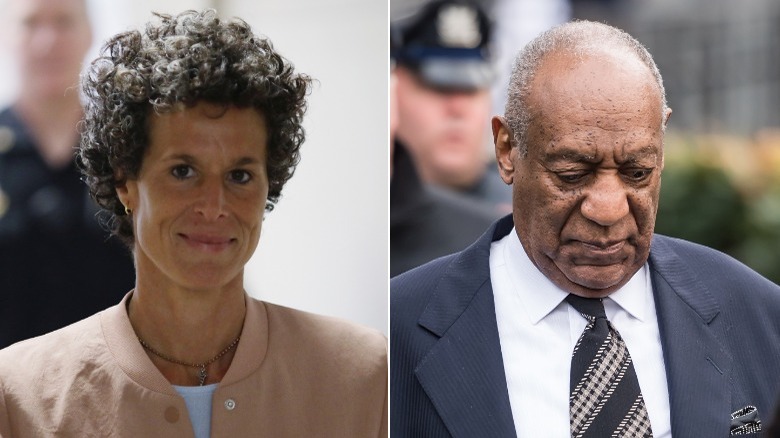 When Andrea Constand first came forward with her allegations, her case was looked into by the Cheltenham Police Department — the region of Philadelphia where Bill Cosby resides and where the incident took place — and former Montgomery County District Attorney Bruce Castor. After an investigation, however, Castor chose not to prosecute Cosby, citing lack of evidence. 
"I didn't say that he didn't commit the crime," he later told NBC News 10. "What I said was there was insufficient, admissible, and reliable evidence upon which to base a conviction beyond a reasonable doubt. That's 'prosecutors speak' for 'I think he did it but there's just not enough here to prosecute.'" Castor also cited Constand's delay in reporting the crime as potentially limiting the amount of evidence he could present to a jury, including performing blood tests or investigating where the incident took place.
In 2016, The New York Times reported that Castor also made his decision not to prosecute in order to help Constand's civil case against Cosby. "I decided that we would not prosecute Mr. Cosby, and that would set a chain of events that would get some justice for Andrea Constand," Castor said, explaining that he wanted to avoid Cosby invoking his Fifth Amendment rights and potentially harming Constand's civil case. 
Constand and Cosby did settle out of court in 2006, and in 2018, it was revealed that Constand received $3.38 million, according to NPR.
Bill Cosby faced criminal charges in 2015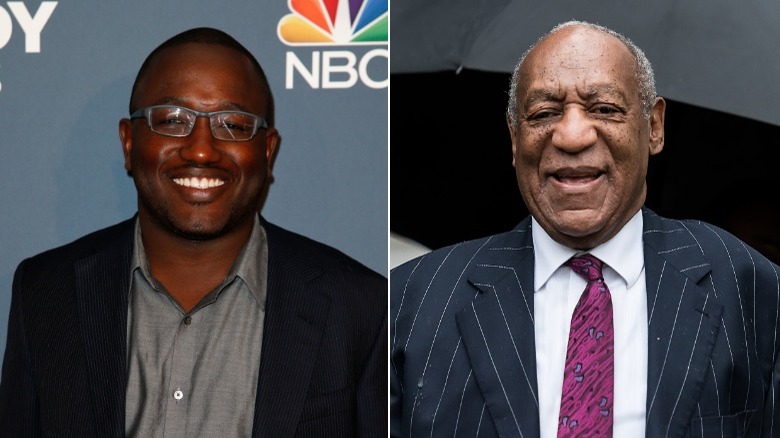 In 2014, a joke about Bill Cosby reignited the firestorm around his sexual assault allegations. Hannibal Buress, a stand-up comedian best known for appearing on Comedy Central's "Broad City" (via Philadelphia), made a joke about Cosby's rape allegations during a set he did in the City of Brotherly Love. The clip went viral, according to Vulture, and prompted one of Cosby's many accusers, Barbara Bowman, to write an op-ed in The Washington Post. Detailing her alleged sexual assaults from the mid-1980s, Bowman lamented the fact that "only after a man … called Bill Cosby a rapist in a comedy act … did the public outcry begin in earnest."
As Vulture reported, the floodgates opened following that op-ed, and many more women started publicly accusing Cosby of sexual assault, including former model Janice Dickinson. In 2015, New York magazine ran a cover article detailing the allegations of 35 women who claimed Cosby assaulted them. According to Reuters, seven women filed a federal defamation lawsuit against Cosby in December 2014, although that was just the beginning of the legal woes the disgraced comedian was to face. 
On December 30, 2015, Cosby would be arrested and charged with "three second-degree felony counts of aggravated indecent assault," per NPR, only days before the statute of limitations would expire on Constand's allegations, according to The New York Times. Citing new evidence, including the deposition Cosby gave in Constand's civil case (via NBC News), the new Montgomery County District Attorney, Kevin Steele, stated he would be willing to prosecute Cosby for his actions against Constand.
The disgraced comedian's trial was not cut and dry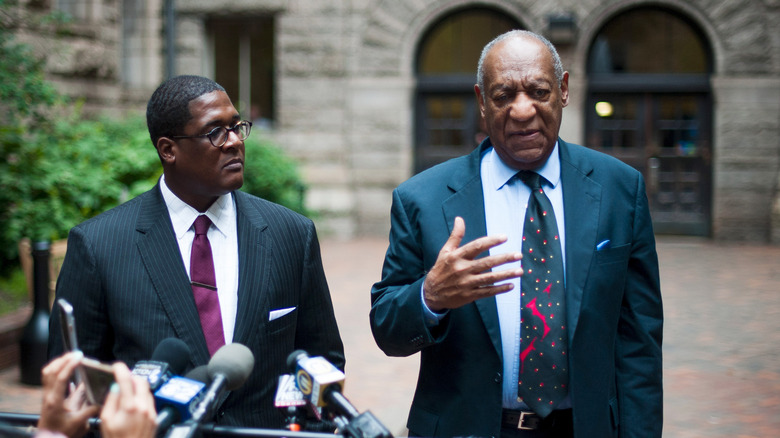 Although Bill Cosby was ultimately found guilty of three counts of aggravated indecent assault against Andrea Constand, per The New York Times, that decision was not immediate. In fact, the first time the trial went to court in 2017, it ended in a mistrial, with the jurors telling the judge that they could not come to a unanimous decision about Cosby's actions after 50 hours of deliberations, reported NPR. However, Montgomery County District Attorney Kevin Steele promised he'd retry the case. "We will push forward to try to get justice done," he said at the time of the mistrial.
Steele did bring the case back to court, and on April 26, 2018, Cosby was found guilty of all three felony counts, according to The New York Times. There were a few key differences in the second trial, namely the addition of five more women to testify that they had been assaulted by Cosby, as well, establishing a pattern of behavior. Although the defense tried to stop these women's testimonies, claiming it would amount to "mob rule," the judge allowed them to testify, which ultimately resulted in a guilty verdict.
At the time, Constand tweeted out in part, "Truth prevails." Meanwhile, Cosby's legal team stated (via Deadline), "We are very disappointed by the verdict. We don't think Mr. Cosby is guilty of anything, and the fight is not over."
Bill Cosby was sentenced to three to 10 years in prison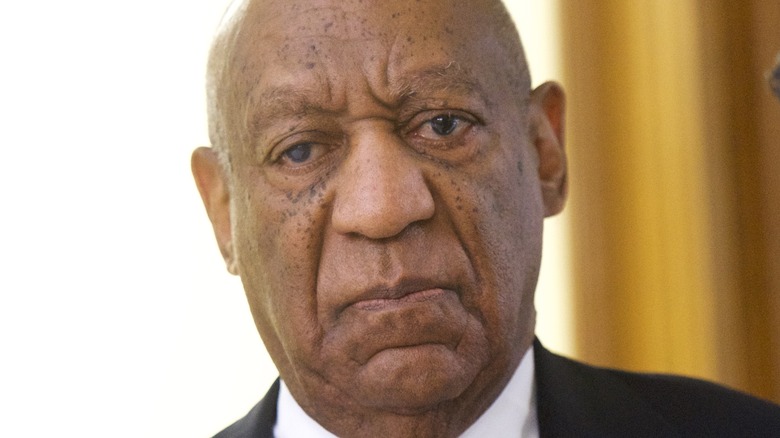 On September 25, 2018, The New York Times reported that an 80-year-old Bill Cosby was sentenced to "three to 10 years in prison for sexually assaulting a woman in his home." He "faced a maximum 30-year prison term: 10 years for each of three counts of assault," the outlet wrote, but the judge chose "to merge the counts into one, as is allowed when they stem from the same event." Basically, Cosby would be eligible for parole after three years and would not serve a sentence longer than 10 years. 
Although Cosby's lawyer argued for the comedian to serve under house arrest, citing his age and legal blindness (and the fact that no further allegations had come out about his actions since 2004) as supposed proof that Cosby isn't a threat to anyone, the judge pointed to the seriousness of the crimes as reasoning for his prison time.
The judge "also upheld a Pennsylvania state board finding that officially categorized Mr. Cosby as a sexually violent predator," which meant that he would need to register as a sex offender. The disgraced star was also required to undergo mandatory counseling for the rest of his life and report to the authorities every quarter, a decision that seemed to make some of Cosby's other alleged victims rest easy. "I'm so glad he has to register as a sexually violent predator," Chelan Lasha, who testified she was assaulted by Cosby in 1986, told The New York Times. "I feel like I'm getting 32 years of closure."
After losing an appeal in 2019, he moved his case to the Pennsylvania Supreme Court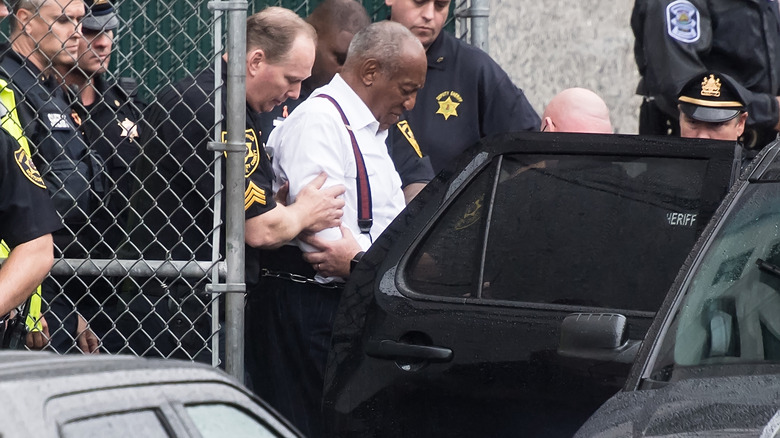 In June 2019, Bill Cosby's legal team filed an appeal in Pennsylvania, citing "the commonwealth previously agreed he would never be prosecuted for the allegations in the [civil] deposition," CNN reported. However, a Pennsylvania appeals court upheld Cosby's conviction that December, per CNN, ultimately rejecting Cosby's claim that the court case "was wrongly decided against him." The publication also noted that "the Superior Court of Pennsylvania reviewed each of the eight decisions and rejected Cosby's appeal in each instance."
That was not the end of Cosby's appeal process, though, and he and his lawyers later took the case to the Pennsylvania Supreme Court. The AP reported that Cosby's appeal was two-fold, focusing on the inclusion of the five other women in the prosecution's testimony and whether or not Cosby's civil suit deposition should have been admissible. According to the AP, Cosby's lawyers argued that the actor had a prior agreement with the former Montgomery County prosecutor that he wouldn't be charged in Andrea Constand's criminal case if he gave a deposition in her civil case. 
While the judge in Cosby's original case reportedly determined that he could find "no evidence of such a pact," it was, in fact, this point that eventually caused the Pennsylvania Supreme Court to overturn Cosby's sexual assault conviction after he served just three years of his 10-year sentence.
A previous agreement allowed Bill Cosby's conviction to be overturned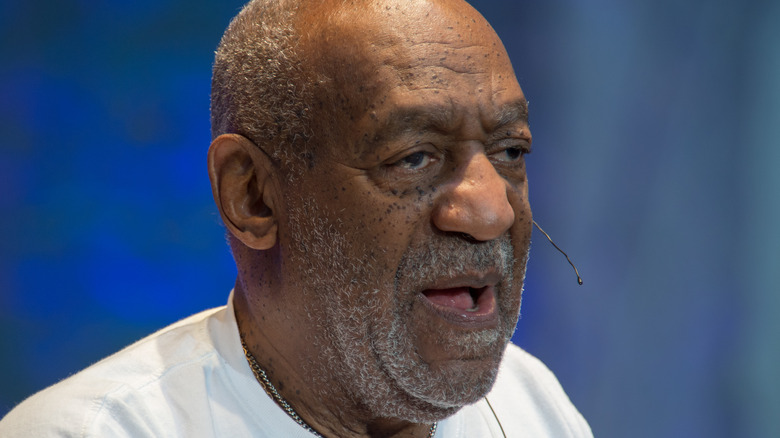 The Pennsylvania Supreme Court ruled to overturn Bill Cosby's sexual assault conviction on June 30, 2021, effectively freeing him from prison, reported The New York Times. In a dissenting agreement, the seven-person bench declared that Cosby shouldn't have been tried for the alleged crimes against Andrea Constand, due to a "non-prosecution agreement" — meaning that a previous prosecutor, former Montgomery County District Attorney Bruce Castor, had told Cosby that he wouldn't be tried for that particular crime nor charged in Constand's criminal case, hoping this would convince Cosby to testify in her civil suit. 
"In light of these circumstances, the subsequent decision by successor D.A.s to prosecute Cosby violated Cosby's due process rights," the court's appeals ruling read. Although the decision ultimately came down to a 6-1 split, the judges weren't in agreement on the future of Cosby's case: Six judges voted to overturn the conviction, but two of those six wanted Cosby to face a retrial without the evidence from his civil deposition. However, the majority ruled that he would not be allowed to face retrial and that particular sexual assault case now falls under double jeopardy, meaning Cosby can never be tried for Constand's assault again.
Constand spoke out against the decision on Twitter, noting that she was "disappointed," partly because the ruling "may discourage those who seek justice for sexual assault in the criminal justice system from reporting or participating in the prosecution of the assailant, or may force a victim to choose between filing either a criminal or civil action."
Bill Cosby's release does not automatically prove his innocence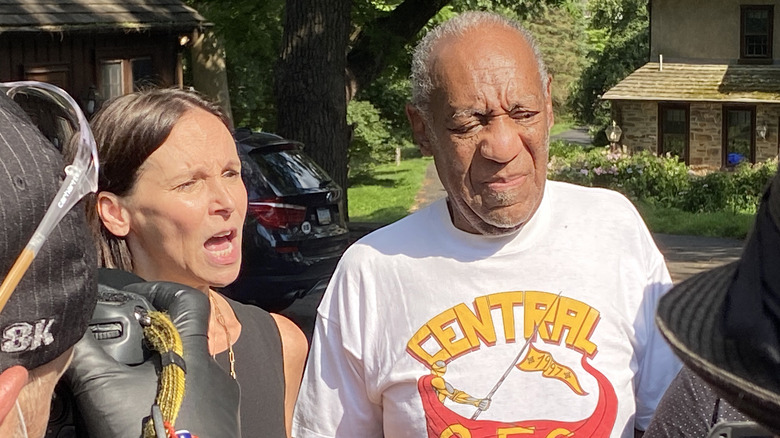 Having returned to his Pennsylvania mansion following his release from prison in June 2021, Bill Cosby tweeted out in part, "I have never changed my stance nor my story. I have always maintained my innocence. Thank you to all my fans, supporters and friends who stood by me through this ordeal." But while the Pennsylvania Supreme Court has overturned his sexual assault conviction, this doesn't necessarily mean that the disgraced comedian is considered innocent of all charges. 
In fact, after the ruling was issued, Montgomery County District Attorney Kevin Steele stated (via The New York Times), "He was found guilty by a jury and now goes free on a procedural issue that is irrelevant to the facts of the crime." Steele also commended Andrea Constand and the other women for stepping forward with their allegations, adding that he hoped this ruling did not dissuade others from coming forward with their own accusations.
While Cosby cannot be tried for this particular case again, this isn't necessarily the end of the road for Constand's criminal case. Steele could decide to pursue the case on a federal level, appealing the Pennsylvania Supreme Court's decision to the United States Supreme Court, The New York Times reported. However, as of this writing, Steele has not indicated if he will pursue the case any further, only promising "to follow the evidence wherever and to whomever it leads," per The Mercury.
If you or anyone you know has been a victim of sexual assault, help is available. Visit the Rape, Abuse & Incest National Network website or contact RAINN's National Helpline at 1-800-656-HOPE (4673).
Source: Read Full Article