Kendall Jenner Wears a Giant Fuzzy Cowboy Hat, Achieves Peak Horse Girl
Kendall Jenner is currently in Aspen enjoying a snow-filled vacation with her sister Kylie Jenner, and the sartorial vibes on her trip are best described as fashion horse girl (she's a self-described horse girl, so makes sense). Which brings us to this massive fuzzy cowboy hat that Kendall posted on her Instagram:
https://www.instagram.com/p/CmFT7_cvRI4/?utm_source=ig_embed&utm_campaign=loading
A post shared by Kendall (@kendalljenner)
Tragically this hat hasn't been ID'd yet (we'll update this article once we know exactly where to shop it), but if you, too, suddenly find yourself needing a fluffy cowboy hat, here's a vaguely similar one in lilac: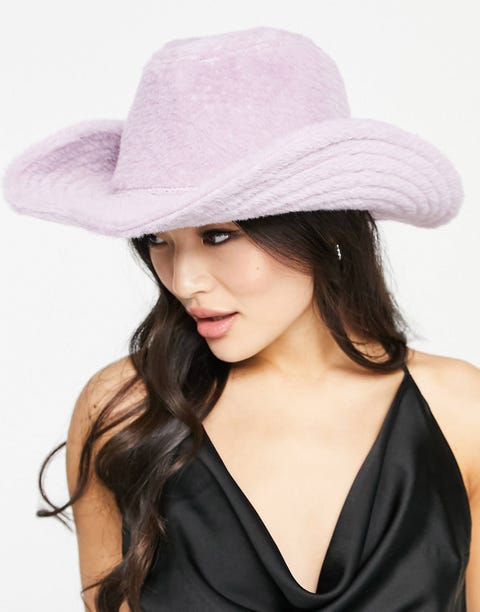 Anyway, yeah: Kendall is clearly in her Western Era right now, and recently revealed that she's expecting a baby horse via surrogate. She broke the happy news on The Kardashians, saying "Oh my God, I'm having a baby! before clarifying that she was talking about a horse.
Have questions / need more info immediately? Apparently, Kendall asked her friend Jen Atkin for horse sperm for her birthday last year (normal), and ended up with some from an Olympian stud.
As she put it, "Like, mine was an Olympian. Do you think I didn't think this through?Only Olympians around here."
Happy for her!
In other Kendall news, she recently broke up with her boyfriend Devin Booker (a People source said they "both have incredibly busy schedules right now with their careers and they've decided to make that a priority") and was linked to newly-single Harry Styles for a moment before another insider shut that down.
"She and Harry are just good friends," a source told E! News."They remained friendly over the years and have kept in touch. There's nothing romantic going on, but they do catch up from time to time and have hung out in social settings."
Source: Read Full Article