Kim Kardashian Accused of Photoshopping Pete Davidson's Nose and Jawline in Instagram Pics
Welp, another day, another Kardashian photoshop scandal. This time, Kim Kardashian is the one facing alteration accusations, thanks to the PDA pics with Pete Davidson she posted on Instagram earlier this week.
In case you need a refresher, Kim hopped on IG to share two pictures of her "late nite snack" with her BF. The first shows Pete nuzzling against Kim's cheek, while the second features Kim and Pete gazing lovingly at each other. Both pictures are very awww, but it's the second that's got some people crying photoshop.
https://www.instagram.com/p/CcOAAnNJSix/?utm_source=ig_embed&utm_campaign=loading
A post shared by Kim Kardashian (@kimkardashian)
The claims seem to stem from the Instagram account @ProblematicFame, which, according to Page Six, highlighted the change to Pete's appearance in Kim's picture by sharing side-by-side shots of the comedian in profile. The first was a screenshot of Pete in a Weekend Update segment on Saturday Night Live with the caption "reality" and the other was from Kim's looking-at-each-other-lovingly IG snap, captioned "instagram."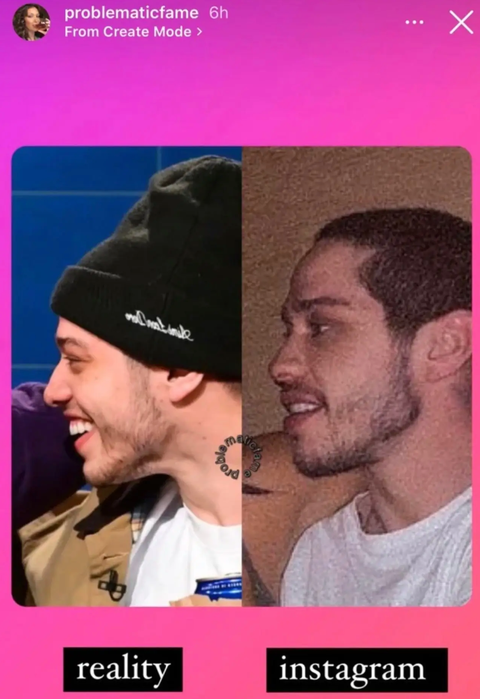 According to @ProblematicFame's Instagram bio, the account is focused on "spreading awareness on how instagram can impact beauty standards" and it stresses that "posts are not accusations" of anything. Still, the post has been cited as evidence in accusations that Kim photoshopped Pete's nose and jawline in the romantic new pic. And, to be fair, the IG account runners weren't alone in thinking that Pete looked different in the pic—people started commenting on it pretty quickly elsewhere online too, including on Twitter.
Source: Read Full Article