Kim Kardashian Forced Tristan Thompson To Unblock Her In The Most Epic Way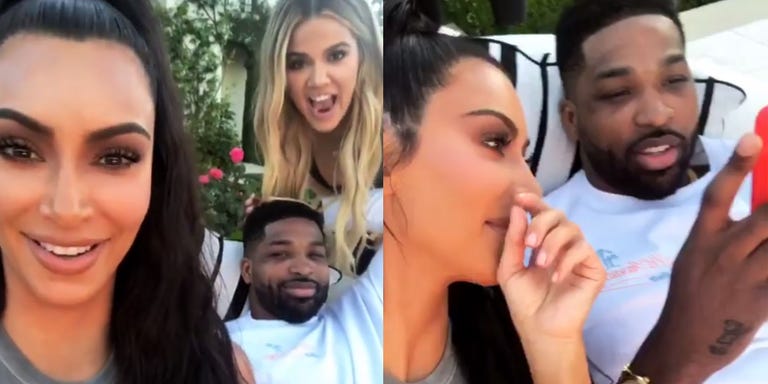 The latest (and maybe greatest) episode of Keeping Up With the Kardashians took place on Instagram stories last night. The epic videos show Kim Kardashian forcing Tristan Thompson to unblock her on Instagram and end their "feud." It all went down at Khloé Kardashian's intimate 34th birthday party at her LA home.
Just to refresh your memory: Kim appeared on The Ellen Show in April and said some things about Tristan that got her blocked.
Ellen asked how Khloé was doing after videos surfaced of Thompson cheating the same week Khloé gave birth to their daughter, True. Kim said, "I just don't even know how to describe it except that it's so f*cked up." She also avoided answering if she was a fan of Thompson's and if she thinks they should get back together.
A few weeks later, Kim appeared on Kelly and Ryan, and when asked about Khloé, said, "Last time I went on TV and answered some questions about her I got blocked on social media."
Since then, Khloé and Tristan got back together and moved home to LA with their daughter True. It seems like they've all moved on from the cheating scandal and are in good spirits—enough to even poke fun at the scandal and ensuing feud.
Last night, Khloé held a small dinner party at her home and Kim seized the opportunity to force Tristan to unblock her on Instagram in an epic series of videos.
Kim starts out saying, "All right guys, it's Khloé's birthday…you think I should ask this guy to unblock me?" as she pans the camera to Tristan on the couch next to her, with Khloé over his shoulder. They all burst into laughter. "For Khloé's birthday will you please unblock me!?" Tristan responds, "Yeah, I got you!"
Kim then sees on Tristan's phone that he also blocked Khloé's two best friends, twins Malika and Khadijah Haqq, who were at the party too.
Kim films as they countdown Tristan unblocking her. "Ok guys, it's happening." He then becomes Kim's latest follower on Instagram—although she has plenty already. 113 million, to be exact.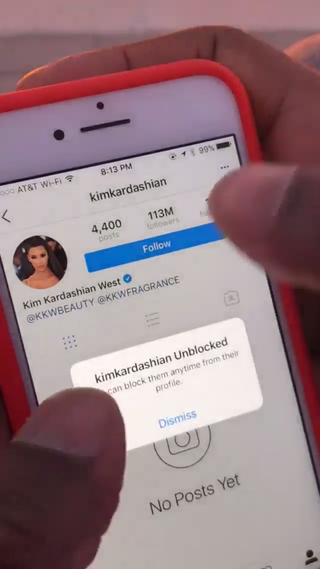 Kendall Jenner, new mom Kylie Jenner, and two of Tristan's close friends were also present for the birthday celebration. They all seemed to be enjoying themselves, dancing, laughing, and of course, taking photos.
Source: Read Full Article