Kourtney Kardashian and Travis Barker Engaged After Less Than 1 Year of Dating
Confirming the news, the former 'Keeping Up with the Kardashians' star shares pictures of the Blink-182 drummer's romantic proposal at Rosewood Miramar Hotel in Montecito, California.
AceShowbiz –Kourtney Kardashian is finally ready to be heading to the altar for the first time in her life. The "Keeping Up with the Kardashians" alum is engaged to marry her boyfriend Travis Barker after less than one year of dating.
The Blink-182 drummer popped the big question on Sunday, October 17 at Rosewood Miramar Hotel in Montecito, California. He surprised his girlfriend with a romantic proposal on beachside with an elaborate floral arrangement being laid out on the sand.
Confirming the news, Kourtney took to her Instagram page to share two pictures from the special occasion. In both snaps, the pair sharing an embrace, placing their hands on each other's waist with sunset in the background. "forever @travisbarker," so she captioned the photos.
Travis, meanwhile, reposted the pictures shared by Kourtney on his Instagram Stories. He also uploaded a clip of the two making out after the proposal. The camera then zoomed in to highlight the new engagement ring, which features an oval-shaped diamond, on her left hand.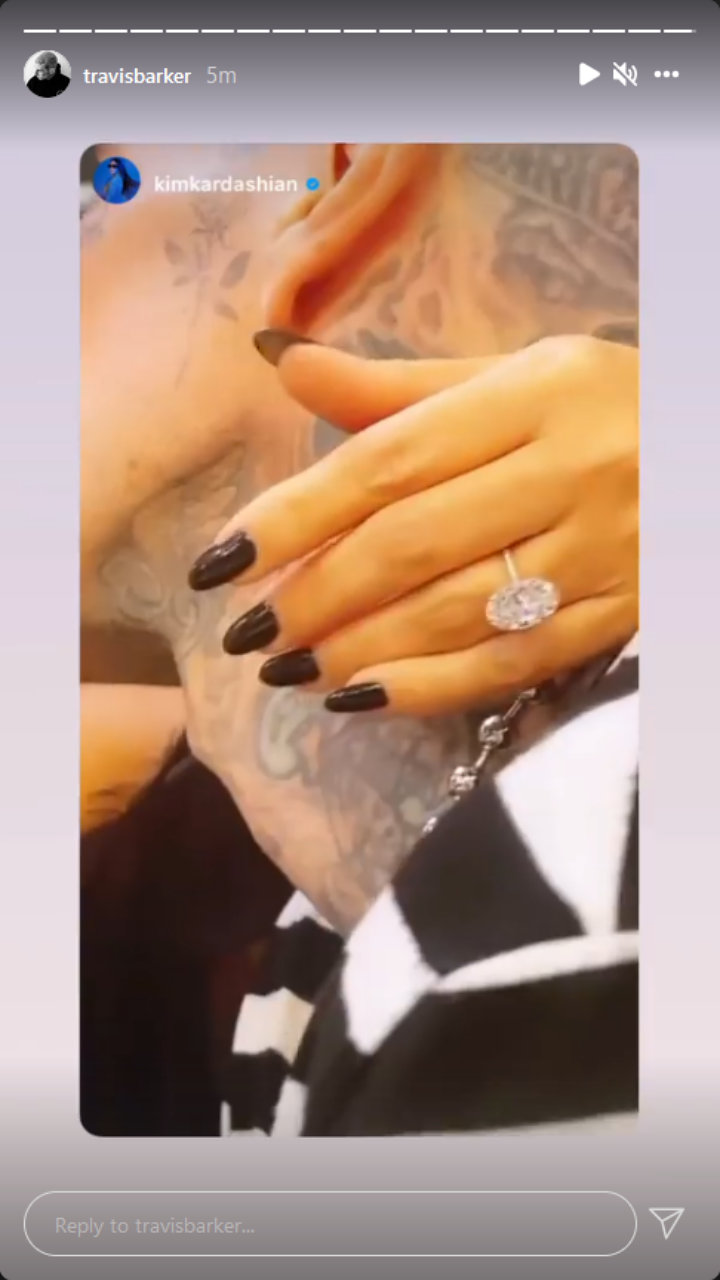 Travis Barker showed Kourtney Kardashian's engagement ring.
In a video obtained by TMZ, Kourtney and Travis were walking hand-in-hand as they were heading to where he was going to propose to her. Once he asked her to be his wife and presented her with a ring, she leaped into his arms and gave him a big smooch, according to the news outlet. Some of their family and friends were reportedly there to witness the beautiful moment as a private photographer joined to capture the moment on camera.
E! News further reports that the proposal took place just as the sun was setting at 6:30 P.M. "Kourtney looked very surprised to see Khloe and Tristan there," a so-called insider spills the beans. "Travis escorted Kourtney down to the beach, where he had red and white florals set up in the shape of a heart. It looked very romantic. I could see Kourtney smiling from ear to ear and put her hand over her mouth looking surprised. The family cheered for them and went back into the hotel."
Kourtney and Travis sparked dating rumors in December 2020, but she only confirmed their romance in February this year. The pair have since been inseparable and often caught engaging in PDA. A source told E! News back in July, "They are head over heels and never experienced love like this. Kourtney is the happiest. Travis adores her and treats her so well. It's very different than her other relationships and all positive."
Source: Read Full Article