Lidia Bastianich's Caesar Salad with Baby Kale and Focaccia Croutons
Celebrity chef Lidia Bastianich's baby kale-centric Caesar Salad fits the bill for a warm-weather meal. Top it off with her flavorful focaccia croutons and it's absolute perfection.
Here's how the public television host makes this hearty dish.
Bastianich on the popularity of Caesar Salad at her restaurants
On her website, Lidia's Italy where you'll find the complete recipe, the chef wrote of this salad being one of the most in-demand dishes at her eateries.
"Caesar salad was one of the most popular things on the menus at my first two restaurants," she wrote. "It is familiar and much loved, but here I add some kale for diversity and flavor. All of the components of this salad—the romaine, the kale, and the dressing—can be prepared beforehand, and kept in the refrigerator until you are ready to dress the salad, just before serving."
For those Caesar Salad purists who prefer the classic dish as it was originally prepared, Bastianich adds, "You can use all romaine for a more traditional Caesar, if you prefer."
Lidia Bastianich's Caesar Salad recipe is a quick weeknight meal
With drained oil-packed anchovy fillets, hard-cooked egg yolks, white wine vinegar, lemon juice, dijon mustard, garlic cloves, chopped romaine hearts, baby kale, and grated Grana Padano cheese, this salad comes together easily and quickly.
"Caesar salad has become so popular, everybody loves it," Bastianich said on her YouTube video, above, for this recipe. "But I'd like to give you a little different version; we'll make Caesar Salad with baby kale. It's easy, it's delicious, and, you know, maybe more contemporary of the times, if you will."
Anchovies give Bastianich's Caesar Salad dressing its zing
The chef departs from traditional Caesar Salad even further here with her preparation of the dressing, which is usually made with raw egg yolk.
In a food processor, she places raw garlic cloves, the cooked yolk of two eggs ("It really kind of emulsifies the Caesar Salad"), the mustard, lemon juice, and white wine vinegar.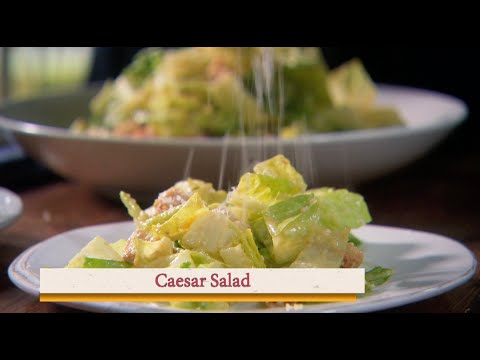 "What gives the flavor to all this is the anchovies," she adds. The anchovies join the other ingredients in the food processor. "You don't have to cut them." Oil is added as the processor blends everything "to give it kind of that creaminess."
Bastianich notes to be careful as you pour the dressing over the lettuces: "I'm confident that it will need all of this dressing. But otherwise, you know, put it in a little pouring cup and you can always add. Once you have the dressing added, you can't take it back. But you can always add, so always hold back some of the dressing."
It's all tossed together with the greens, croutons, and grated cheese. The focaccia croutons are easily made by cutting day-old focaccia into pieces, toasting them in the oven until they're "nice and crunchy," and setting them aside to cool.
"It's delicious," Bastianich says of the salad. "The combination of the romaine and the kale with the caesar dressing, really good."
Source: Read Full Article