Madonna Shares Cryptic Post About 'Karma' After Alleged Split From 28-Year-Old Ahlamalik Williams
The 'Material Girl' hitmaker reportedly calls it quits with the dancer, who is 35 years old younger than her, as 'things have been on and off' between the two for a while.
AceShowbiz –Madonna seemingly has something to say to her rumored ex-boyfriend Alhamalik Williams. After news broke that she has broken up with her 28-year-old lover, the "Material Girl" shared a cryptic post about "karma."
Making use of Instagram Story on Tuesday, April 26, the 63-year-old superstar posted a quote that read, "KARMA SAID: when somebody in your life is not right for you…God will continuously use them to hurt you." The note added that God did that to make "you become strong enough to let them go."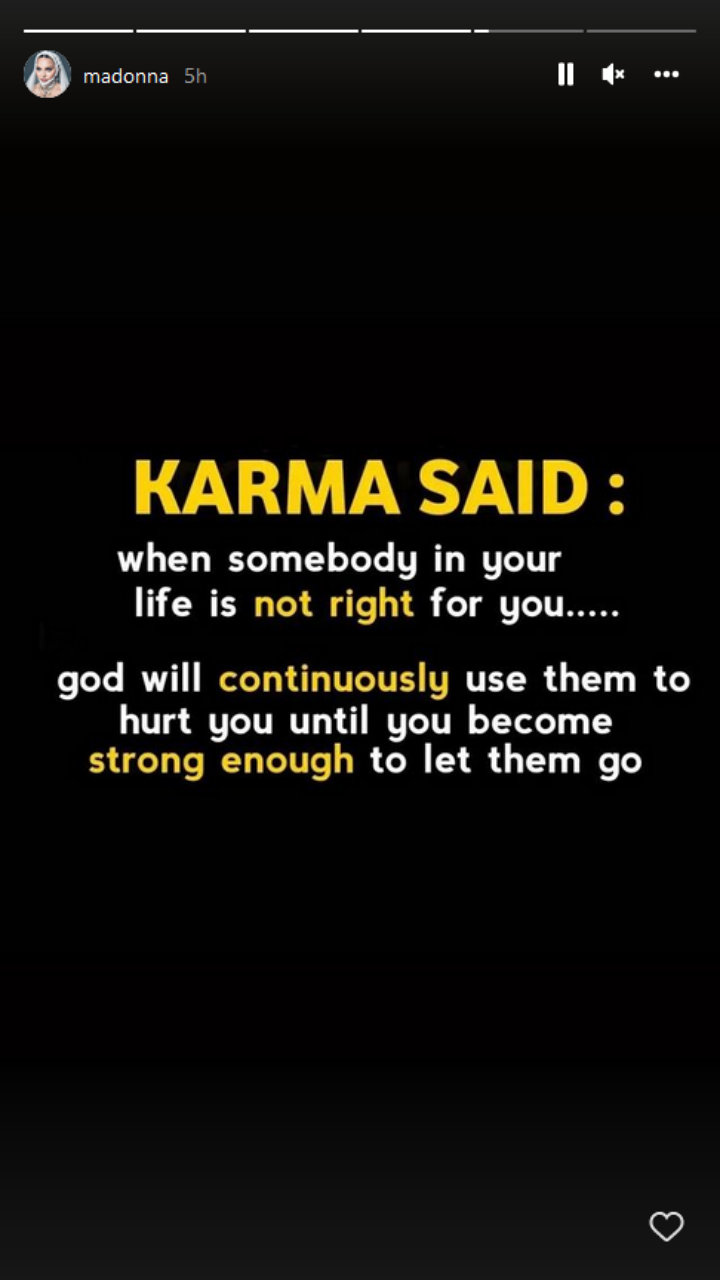 Madonna let out a cryptic post about being with someone who is 'not right.'
Earlier that day, The Sun reported that Madonna is seemingly back on the single market. A source told the outlet that the superstar and her ex went their separate ways after dating for three years. The source explained that "things were not working out" between them.
"Things have been on and off with Ahlamalik for a while. There's a lot of love but for now, they have decided to separate," said the insider. "They are still on good terms and there are no hard feelings but they are at different places with their lives."
The so-called insider went on sharing more details, "They spent months together on tour and in lockdown, but now he has moved out of her home." The informant added, "With them both working on other things, it was hard to keep their romance alight."
Following the separation, Madonna reportedly "has thrown herself into a busy social life and has been seeing her friends and family." The source further said that the "Into the Groove" singer "has a packed schedule, working on her upcoming biopic, new music and looking after her family."
Madonna and Ahlamalik began dating in 2019. After news broke that they were dating, Alhamalik's dad Drue Williams said he supported the relationship, even though the "Like a Virgin" singer is 35 years older than his son.
"She told us she is so much in love with him and that we didn't have anything to worry about as she was going to take care of him," Drue said at the time. "We know there's a huge age gap between the two. Madonna is two years older than me. I asked him how he feels about her and he says he has never been happier."
Source: Read Full Article