Marilyn Monroe Once Revealed a Suggestive Secret to Ed McMahon About What She Wore Under Her Coat
Beloved television icon Ed McMahon is best known to most fans for his decades on The Tonight Show. But he was already pretty well known around Philadelphia before that, way back in the early '50s. Years before he met Johnny Carson about an announcing spot on a game show, he met Marilyn Monroe. And in that brief moment, he said she told him, in no uncertain terms, she was completely naked under her coat.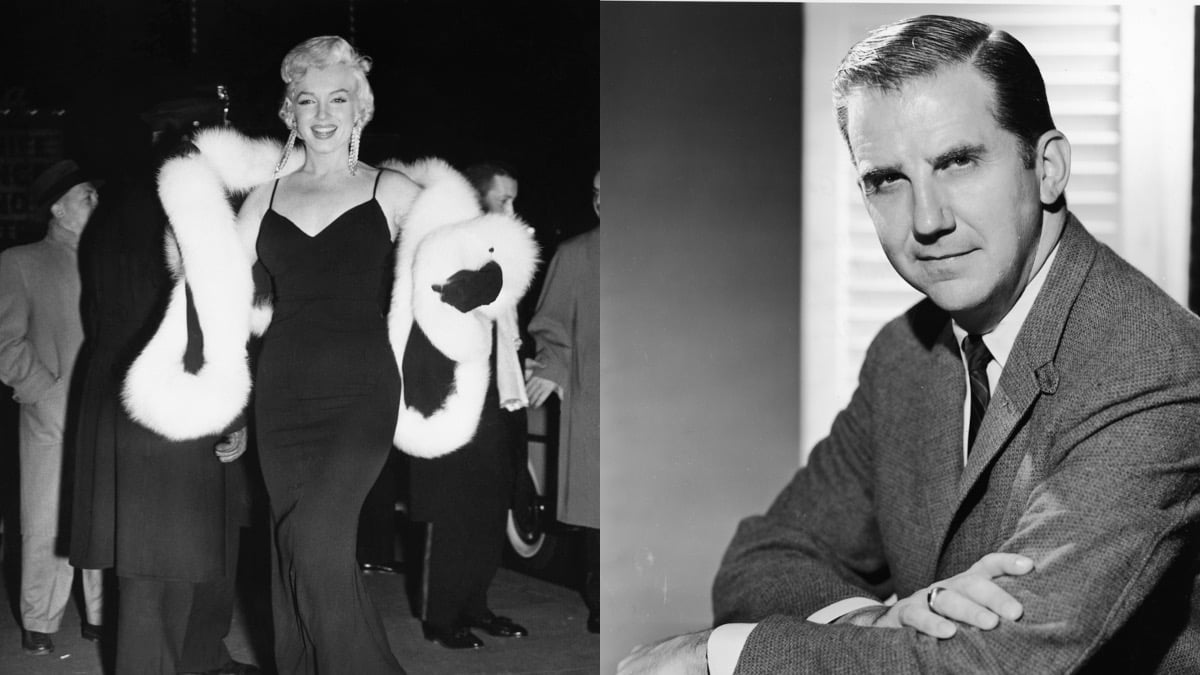 Ed McMahon was 'Philadelphia's Mr. Television'
Born on Mar. 6, 1923, in Detroit, Michigan, McMahon was one of the pioneers of early television. As he joked in his memoir, Here's Johnny, he came from "so deep in TV's prehistoric age that [the] eleven o'clock news ended at nine-fifteen."
He'd hardly thought of working on television in its earliest days, though that's where he would eventually find his lifelong calling. By 1952, he had 13 shows and was called "Philadelphia's Mr. Television" by the magazine that would ultimately become TV Guide, according to his memoir.
And it was around this time the fast-rising star bumped into Monroe on the set of one of her movies.
Ed McMahon met Marilyn Monroe outside her trailer for 'How to Marry a Millionaire'
McMahon recalled the experience of meeting Monroe in his memoir. Along with a short caption about the icon, he shared a picture of her gazing up at him with a big smile. He has his arm around her in the image and pulls her close, looking adoringly back down at her. And one of her hands clasps the front of her coat as if she's trying to keep it from falling open.
"When I met Marilyn Monroe on the set of [1953's] How to Marry a Millionaire, she told me, 'You know, Ed, I don't have anything on under this,'" he shared in Here's Johnny. "But, of course, I saw right through that."
So, maybe McMahon thought she was just teasing him a little. But he seemingly never forgot it. He talked about the experience and picture to Philadelphia magazine in 2005 when the interviewer asked if there was more to the story.
"I met her outside of her trailer. She came out in a mink coat, and just before we snapped the picture, she said 'Ed, I don't have a thing on underneath this,'" McMahon recalled. "A little vixen."
But was he ever romantic with the Hollywood legend, as some have deduced from glancing at the snapshot? "Oh no no no no," he said. "But she was a knockout in person."
Around the time that photo was taken, he was called to again serve in the Marine Corps in the Korean War. And his career completely changed direction upon his return.
Ed McMahon met Johnny Carson in 1958
After returning from war to find all 13 of his Philadelphia shows canceled, McMahon began making regular trips to New York to find work in entertainment.
He eventually got a chance to meet with Carson in 1958 for an audition he recalled lasted only six minutes. He didn't know much about the host but thought he was "instinctively entertaining in everything he said and did."
McMahon believed the brief meeting hadn't gone well for him until he received the call to come to New York to join Carson on Who Do You Trust? And when Carson was offered a hosting spot on The Tonight Show, he took McMahon along as his co-host in 1962. The rest is television history.
But unfortunately, McMahon seemingly never had a chance to cross paths with Monroe again. The same year he and Carson joined The Tonight Show, she died at 36.
Source: Read Full Article