Meghan Markle Might Make This Feminist Change To Her Wedding Vows & I Love It
Start getting your fanciest dress and Claire's rhinestone tiara ready, because the royal wedding is almost here. On May 19, Meghan Markle and Prince Harry will walk down the aisle and profess their undying love for each other in a fairytale wedding. The most romantic part of any wedding is usually the vows, so it has me wondering — is there a traditional oath for royal weddings? Or do they just wing it (I mean, carefully craft their own)?
Turns out that royal wedding oaths are the same as regular oaths. However, Princess Diana, Prince Harry's late mother, set a precedent that has been kept so far by the Duchess of Cambridge, Kate Middleton. Here are the traditional vows,
However, when Princess Diana wed Prince Charles in 1981, she decided to omit the word "obey," according to Town & Country. She vowed to "to love and to cherish" Charles. The duchess did the same when she married Prince William in 2011. Markle is an outspoken feminist and so it's pretty safe to assume that her vows will omit the word "obey" as well for the sake of gender equality.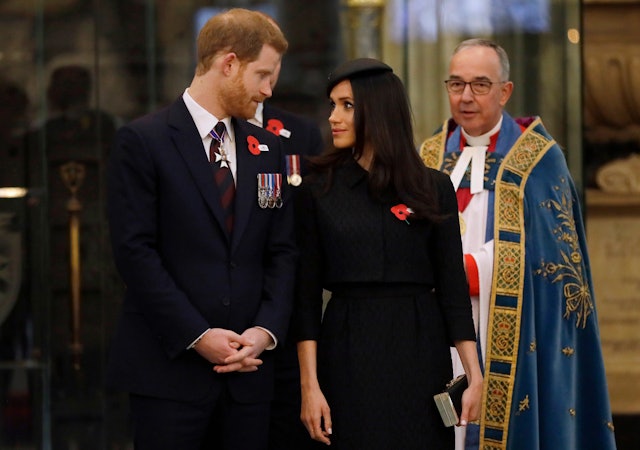 Victoria Arbiter, an expert on the royals, explained to Town & Country that it sounds pretty old-fashioned for any women to pledge to "obey" her husband. "In this day and age it seems a little archaic for any bride to promise to 'obey' her husband, royal or not," she said. Therefore, Arbiter said she thinks it's unlikely that Markle would choose differently than Middleton and Princess Diana before her. She added,
For what it's worth, even though they're not my royal family, I think it's pretty awesome that princesses and duchesses have been choosing to omit the word "obey" from their vows. Let's be real, the idea of promising to "obey" your husband is a little ridiculous in the year 2018. I mean, if that's your thing, go ahead I guess — but for my part, no thank you.
According to Town & Country, the Church of England offers marriage vows that include "obey" and others that don't. But, Kensington Palace still has not released what Markle and Prince Harry will say at St. George's Chapel at Windsor Castle come May 19.
We may not have those details yet, but I think it's reasonably safe to assume that the "obey" will not be in the vows.
Part of me, though, also wonders if the couple might choose to add some vows of their own (if that's even allowed). Markle and Prince Harry are already breaking from convention by inviting members of the public to their wedding, and even their cake won't be traditional. Prince Harry and Markle have decided to ditch the royal fruitcake and go for a spring-inspired cake instead. But, the real reason I think Markle might try to throw in some vows of her own, is because she has already decided to speak at the wedding, which is completely unprecedented. That role is traditionally left to the father of the bride.
I am not up on all of my royal rules, but Markle and Prince Harry have definitely put their own stamp on the royal wedding. So can we hope that might extend to the vows? Think of how much more swoon-worthy that wedding will be if we get to watch Markle and Prince Harry express their love for each other through vows of their choosing? On second thought, it might be too much, I don't know if I could even handle it. I'm willing to try, though.
Source: Read Full Article