Meghan Markle Spotted Her Old Drama Teacher During the Royal Carriage Ride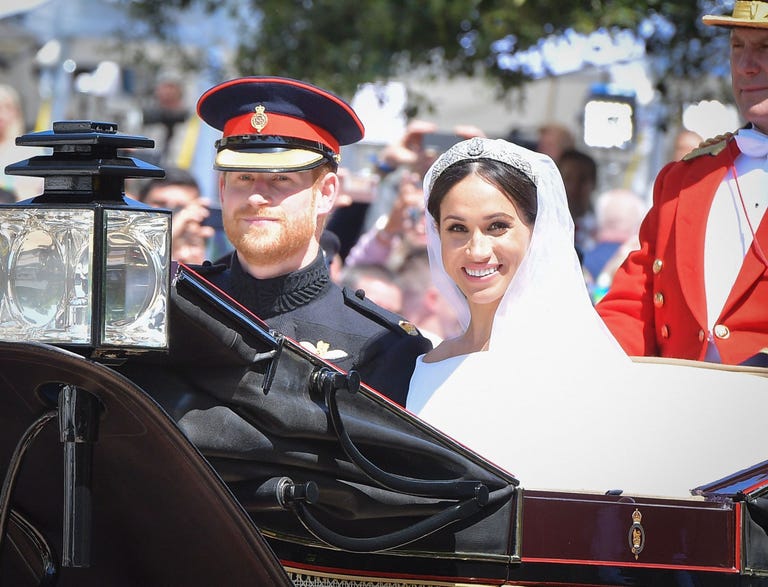 Before Meghan Markle married Prince Harry and became the Duchess of Sussex, she was a working actress in Hollywood.
She appeared on television shows like the US version of Deal or No Deal and films like Remember Me, but her most notable role was as Rachel Zane on American TV show Suits, which she appeared on from 2011 to 2017.
But on her wedding day, her worlds collided when a surprise guest showed up.
After the nuptials at St George's Chapel in Windsor Castle, the happy couple embarked on a carriage ride through London. However, they had no idea that ITV News had a special guest waiting for them.
The moment Meghan saw our studio guest Gigi Perrreau – her drama teacher from #Immaculateheart School in LA. The person you could say helped make today happen!! "Oh my God" Meghan said from her carriage … @ITV #royalwedding https://t.co/aBCNvhWoug
Gigi Perreau, Markle's former drama teacher and 1940s film star, was a guest of ITV as an exclusive contributor. As the carriage grew closer, Perreau wondered aloud if the new duchess would recognize her. She was right.
"Oh my God" screams Meghan as her old drama teacher Gigi Perreau manages to catch her eye in the crowd! Two seconds before I said do you think she'd recognise you! She was right! @itv @itvnews pic.twitter.com/6QMqLV1lp3
In the video, Markle sees her old teacher and exclaims "Oh my God," as she makes direct eye contact before the carriage pulls away.
It causes Harry to look at her as well. Perreau is obviously delighted, and the acknowledgement makes for a sweet moment in the midst of what's a long and exciting day for the new Duke and Duchess of Sussex.
So cute!
Digital Spy has got you covered for Harry and Meghan's royal wedding. We've got a gallery with pictures of all the outfits from today's event, and we've been covering all the unmissable moments from the day right here in our live blog.
Want up-to-the-minute entertainment news and features? Just hit 'Like' on our Digital Spy Facebook page and 'Follow' on our @digitalspy Twitter account and you're all set.
From: BestProducts
Source: Read Full Article