These Photos Of Meghan Markle & Prince Harry At Trooping The Colour Are So Regal
Just weeks after cementing her status as a royal, Meghan Markle already looks like a complete natural at the whole "princess" thing. Fresh off her honeymoon with Prince Harry, the former Suits star was sporting a serious newlywed glow in pale pink as she headed to Queen Elizabeth's annual birthday festivities at Buckingham Palace. It appears that the newest member of the royal family is settling into her duties quite nicely, because these photos of Meghan Markle and Prince Harry at Trooping The Colour are so regal.
On Saturday, June 9, Markle and Prince Harry were giving me serious flashbacks to their May 19 nuptials as they arrived at the celebration in their very own carriage. Post-wedding, it looks like Markle is continuing to stick to a softer, pastel-inspired color palette for her Duchess wardrobe, and I'm so here for it. According to People, she wore a pale blush off-the-shoulder number from Carolina Herrera. The star also topped off her look with a soft pink Philip Treacy fascinator, which she wore oh-so-stylishly askew. Meanwhile, Prince Harry opted for his dapper Blues and Royals ceremony attire, People reports.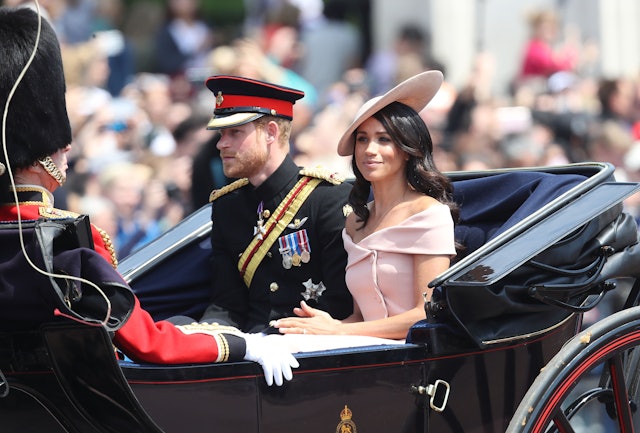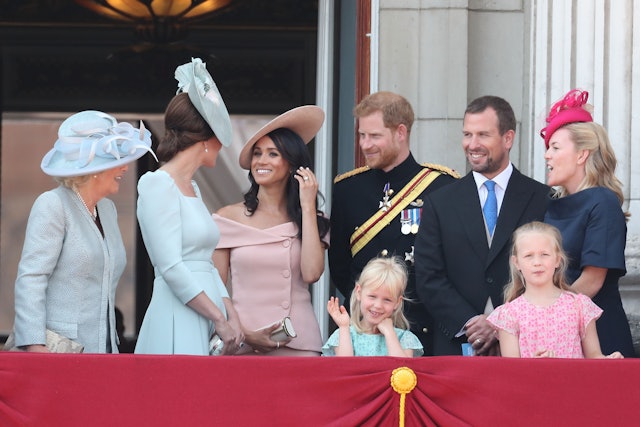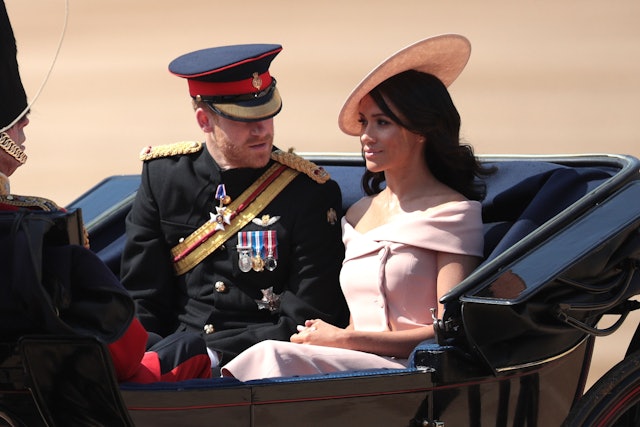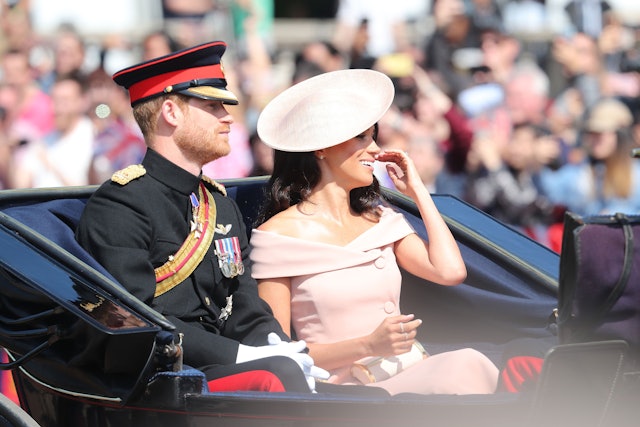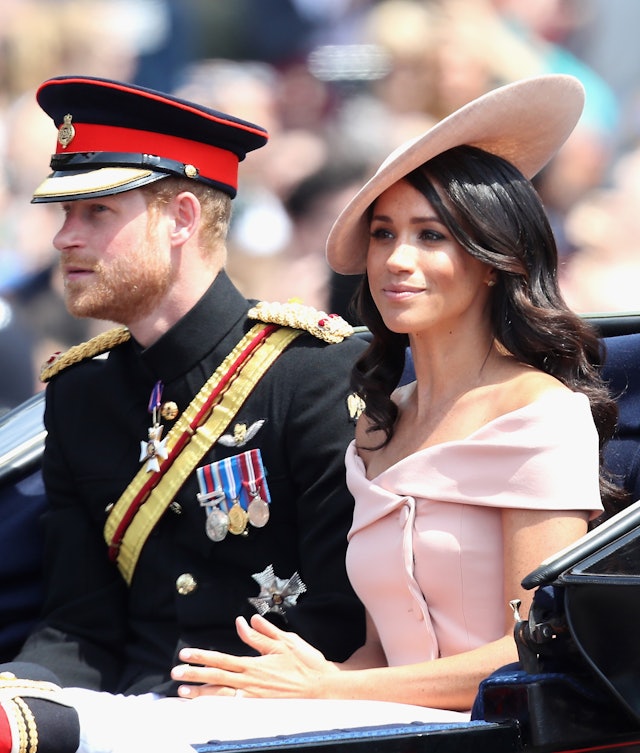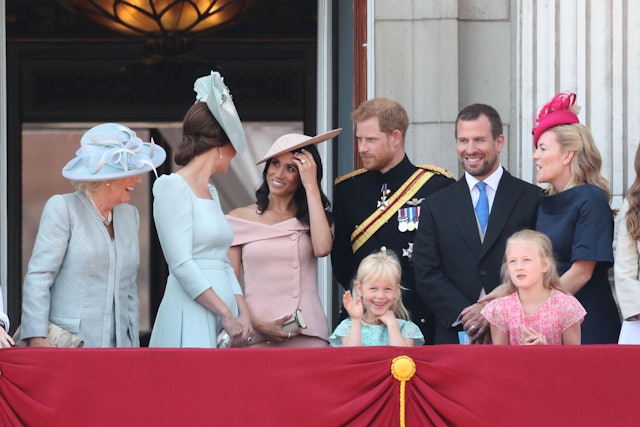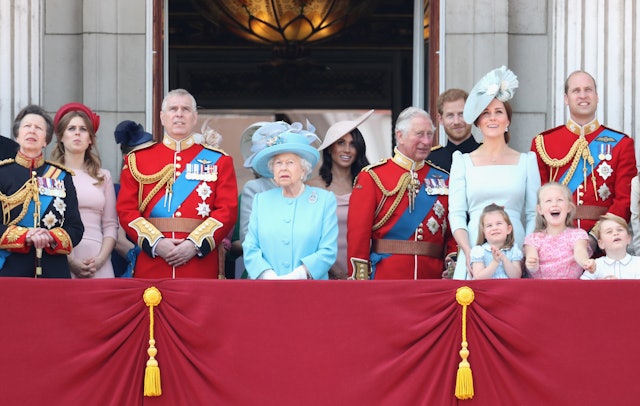 And while there were no epic lip lockings at Queen Elizabeth II's annual birthday celebration, there was a pretty cool moment when Markle and Kate Middleton paid their respects to the longtime monarch by curtsying together. Although the Duchess of Cambridge is definitely an expert by now, Markle definitely held her own with a graceful dip. Prince Harry, who stood next to his wife on the balcony, also nodded his head in reverence to his grandmother.
After the new Duchess of Sussex completely nailed her first post-honeymoon appearance, I have even higher hopes for her biggest royal challenge yet: her first solo event with Queen Elizabeth.
According to Country Living UK, Kensington Palace confirmed to the publication that Markle will be joining the British monarch during a visit to Cheshire on June 14. While it will be a short trip — the pair will reportedly leave London on Wednesday night and spend Thursday in the town, the Daily Mail reports — it's actually a really big deal for a few reasons. First of all, the train is usually reserved for only the senior members of the royal family, including Prince Charles, Camilla Parker Bowles, and Prince Phillip. Second, Markle will be getting the privilege honor first before Prince William, Prince Harry, and Kate Middleton, because none of them have ever ridden on it, according to Vanity Fair. That's a huge honor.
While it's hard to believe that it's been less than a month since Meghan Markle officially joined the British royal family, it seems like she's definitely already impressed the Queen and is holding her own as a Duchess in her first official appearances. Plus, that expert curtsy is just the icing on the cake.
Source: Read Full Article