Prince Harry and Meghan's Ceremony Tribute to Princess Diana Will Make You Cry
At Meghan and Harry's wedding ceremony today, the couple paid tribute to Harry's late mother, Princess Diana, in more ways than one. For one, Prince Harry helped Meghan pick her flowers, and they were Diana's favorite — forget-me-nots.
But you might have missed the empty chair next to Prince William, seemingly left for their mother, who died in a car accident in 1997.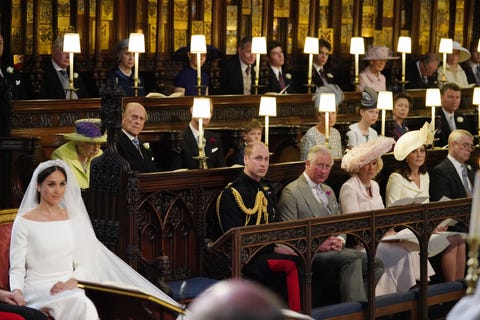 Kensington Palace hasn't confirmed or denied this is the reason for the empty chair. It's a very important place in the line of royals, right in front of Queen Elizabeth and right next to Prince William. Everyone else in their family has a seat, so it doesn't seem accidental.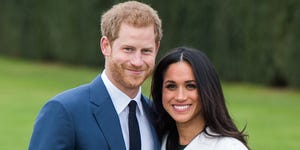 Leaving a chair for the deceased has become a fairly common way to honor loved ones during a wedding ceremony. If you type it into Pinterest, there are seemingly tons of ways to do mark the chair, with flowers, signs, and scriptures. You can even buy these signs on Etsy. The empty chair in Meghan and Harry's ceremony wasn't marked.
Prince William honored his late mother during his wedding in 2011, too. He and Kate visited Diana's resting place before their wedding, and remember that Kate's engagement ring was originally one of Diana's. "It's very special to me," William told reporters at the time.
Although the palace has not confirmed that the empty chair was symbolic, feel free to speculate/assume/cry at your own risk.
Follow Emma on Instagram.
Source: Read Full Article