Priyanka Chopra Just Confirmed She's Going to the Royal Wedding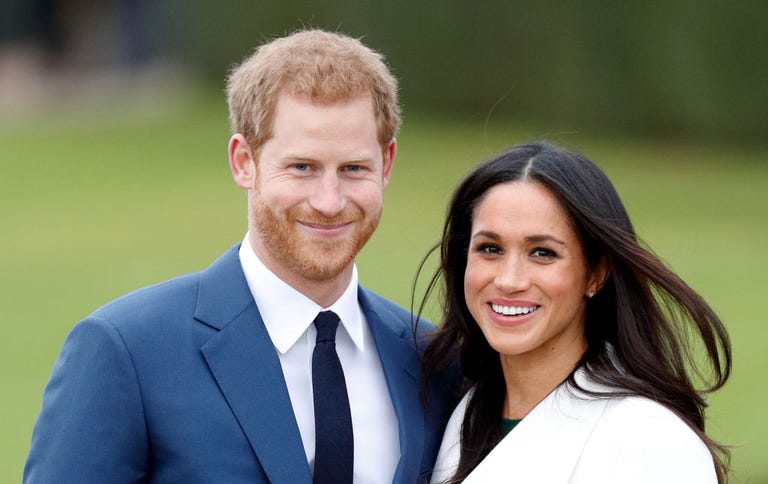 Prince Harry and Meghan Markle's wedding is fast approaching, with the date set on May 19. And now that Markle has allegedly had her bridal shower, it's time to focus on one of the most important aspects of the royal wedding—the guest list.
Prince Harry and Markle are scheduled to have two wedding receptions following the ceremony at St. George's Chapel at Windsor Castle. While the first ceremony will take place during the day, Prince Charles is said to be hosting a private celebration in the evening, and Mel B has already stoked rumors that the Spice Girls will be performing at the royal wedding.
Unfortunately the Obamas were confirmed to not be on the guest list—along with other political leaders like Donald Trump and Theresa May—but here are just some of the other famous faces rumored to be invited to Prince Harry and Meghan Markle's big day.
1. Serena Williams
Williams and Markle have been close friends for several years, and it's been widely speculated that the tennis legend will be getting an invite.
Williams and Markle apparently hit it off when they met in 2014 at a celebrity charity football event, according to the Daily Mail.
Markle wrote about becoming friends with Williams for her now-defunct blog The Tig, and said, "She quickly became a confidante I would text when I was traveling, the friend I would rally around for her tennis matches, and the down-to-earth chick I was able to grab lunch with a couple of weeks ago in Toronto."
"We'll see if I can make it," Williams said of attending the royal wedding in a recent Good Morning America interview, according to ABC producer Carolyn Durand. The nuptials coincides with the French Open, her first major tennis competition since giving birth in September.
2. The cast of Suits
An insider confirmed to Hello! that the "cast and key executives" of the hit legal drama are on the guest list. "The cast has been contacted in regards to invites from Kensington Palace," the source said. Abigail Spencer is one of the co-stars rumored to attend.
Markle's onscreen love interest on the show, Patrick J. Adams, posted the sweetest tribute to his former co-star on Instagram. He wrote, "Playing Meghan's television partner for the better part of a decade uniquely qualifies me to say this: Your Royal Highness, you are a lucky man and I know your long life together will be joyful, productive and hilarious."
After seven seasons of Suits, it seems likely that Markle is still in touch with her co-stars, and that many of them will be invited to the royal wedding.
The staff at Windsor Chapel was reportedly ordered to watch the show to become familiar with Harry and Meghan's wedding guests. "I've told the Stewards to get Netflix and watch Suits, so they know who everyone is at the wedding," Hugo Vickers, the Captain of the Lay Stewards at the chapel, told the Daily Mail.
3. Misha Nonoo
According to the Daily Mail, fashion designer Misha Nonoo is Markle's close friend. Nonoo's ex-husband reportedly attended Eton College with Prince Harry and Prince William, so it's likely she'll be on the guest list.
4. Millie Mackintosh
Markle has allegedly been friends with British reality TV star Millie Mackintosh since 2016.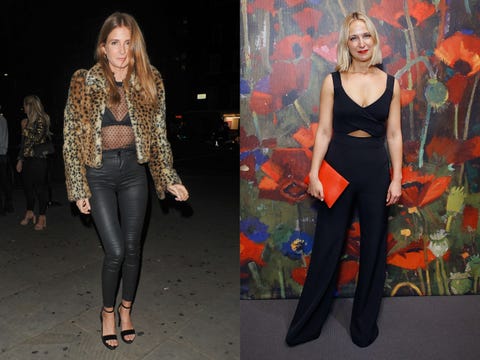 As Mackintosh has royal connections—her co-star on Made in Chelsea, Spencer Matthews, is now Pippa Middleton's brother-in-law—it's unsurprising that she's now friends with Markle. It's likely that Mackintosh will be in attendance.
5. The Spice Girls
While on chat show The Real, when asked whether she'd received an invitation to the royal wedding, Mel B said, "Well, it was [the] five Spice Girls. Why am I so honest?" When pressed for details, she revealed, "Yes… It was proper. I'm not saying anymore! I've said enough… I need to go. I'm gonna be fired!"
However, Mel C responded to the news, saying her fellow bandmate probably wasn't serious. "I think [Mel B] was joking. I think the media ran with it a little bit," she told E! News.
6. Ed Sheeran
It's been reported that Ed Sheeran has been asked to perform "a few songs" at the royal wedding. While the reports haven't been confirmed, Sheeran has previously expressed his interest in performing—if he's invited.
7. Cressida Bonas and Chelsy Davy
It's been widely reported that Prince Harry will invite two of his ex-girlfriends.
He famously dated Davy between 2004 and 2011, and was with Bonas from 2014 to 2016. According to Town & Country, "both women are apparently on good terms with the Prince," so invites aren't out of the question.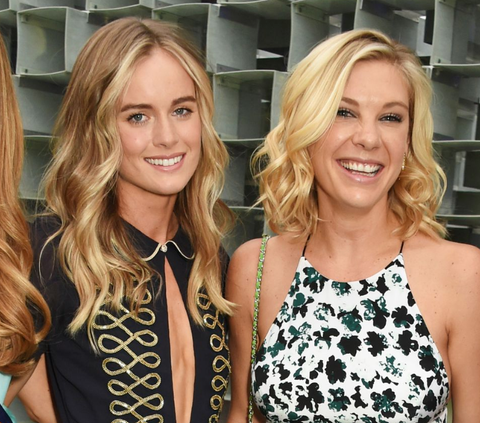 8. Sir Elton John
It has already been reported that Elton John has cancelled two concerts because the dates clash with the royal wedding. While the singer's official statement calls it a "scheduling conflict," it seems highly likely that the singer canceled his May 18 and 19 world tour dates because he got a better offer.
Elton John was a good friend of Prince Harry's mother, Princess Diana, and famously sang his song "Candle in the Wind" at her funeral in 1997.
9. The Foo Fighters
According to The Sun, Dave Grohl has been dropping hints that the Foo Fighters want to perform at the royal wedding. He joked, "I've saved the date. The performance was good. It's nice to feel like a wedding band when everyone's at tables eating tiramisu."
The band apparently played at the Invictus Games in 2014, so they *could* get invited.
10. Sarah Ferguson, Duchess of York
While the majority of the royal family is thought to be invited, the Duchess of York has had a difficult relationship with the royals over the past decade.
She's said to have a terrible relationship with her ex-father-in-law, Prince Philip (she was married to Prince Andrew for 10 years), but as she is Princess Beatrice and Princess Eugenie's mom, it's possible she will get an invite.
11. Priyanka Chopra
Quantico star Priyanka Chopra and Markle met at ELLE's Women in Television dinner in 2016. Chopra famously corrected Wendy Williams for describing Markle as "Prince Harry's girlfriend." She fiercely replied, "Meghan Markle, actress. Suits. Her achievements… just saying."
Chopra recently confirmed to Us Weekly that's attending the nuptials. Now, she's considering what dress she'll wear day-of. "I sort of may have an idea, but no, I haven't picked one out yet," she told the site.
12. Roland Mouret
Of her first meeting with fashion designer Roland Mouret, Markle told Fashion Magazine "I was in a hotel elevator in Istanbul, and this man in a bathrobe said, 'I love to dress you.' I thought, 'Whaaat?' Then he told me who he was and we've been friends ever since."
The pair has been photographed together in the past, and it's likely he'll get an invite to the wedding.
13. 2,640 members of the public
Harry and Meghan haven't forgotten about us normals for their big day. They're also inviting 1,200 members of the public "from every corner of the United Kingdom" (who will be nominated by nine regional Lord Lieutenant offices), 200 people from charities they're associated with, 100 students from local schools with close ties to Windsor Castle (The Royal School in Great Park and St. George's School), 610 Windsor residents and members of St. George's Chapel, and 530 members of the Royal Households and Crown Estate.
14. Daniella Timperley
Who is Daniella Timperley? She's a high school student from Ireland lucky enough to score an invite to the royal wedding. CBS News reports that Timperley's grammar school announced on Twitter that she received an invitation as an ode of gratitude from the couple for her extraordinary charity work. Timperley was invited to sit in St. George's Chapel for the ceremony, and attend the luncheon hosted by the Queen at St. George's Hall.
15. Prince Seeiso of Lesotho
Prince Harry reportedly invited guests from Malawi, with whom he worked on a conservation project, along with Prince Seeiso of Lesotho, who co-founded Sentebale with Prince Harry, a charity focused on providing aid to children diagnosed with HIV.
16. Nacho Figueras
In addition to the other celebrities and VIP's in attendance, the famous Argentinian polo player made the cut for the royal wedding guest list, CBS News reports.
17. The survivors of the Grenfell fire
Last June, a public housing fire at Grenfell Tower in west London killed at least 80 people. In support of those who survived the horrific tragedy, Harry and Meghan have invited the survivors of the fire to be with them in St. George's Chapel as they exchange their vows.
Want more royals? Now you can watch all of the best episodes from Bazaar's Royal Watch—right here on Prime Video.
Source: Read Full Article