The Queen's Wedding Gift to Prince Harry and Meghan Markle Sounds Incredible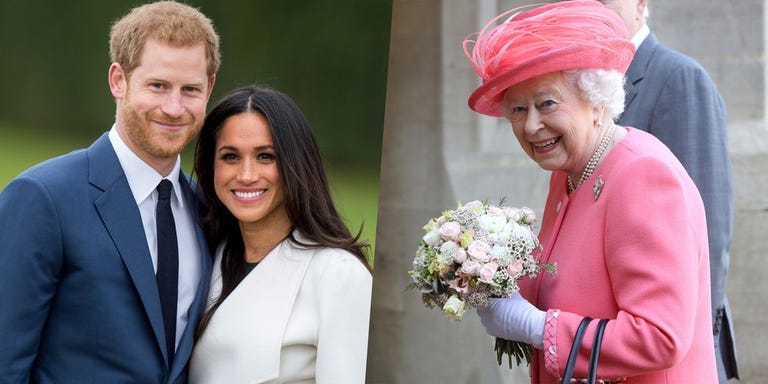 Prince Harry and Meghan Markle are asking for charity donations instead of traditional wedding gifts, but that's apparently not stopping the Queen from giving them a present of epic proportions: an entire house.
Her Majesty is speculated to bestow York Cottage, from her Sandringham Estate, to the couple, Mirror and 9 News reported. Though the news remains unconfirmed, the Queen "has a habit of giving property," royal biographer Duncan Larcombe told Cosmopolitan UK. Her Majesty gave Sunninghill Park to Prince Andrew, Birkhall to Prince Charles, and Anmer Hall to Prince William and Kate middleton.
"So there's every chance that Harry and Meghan might find themselves the proud owners of a nice property outside of London," Larcombe continued. York Cottage will "most likely" end up in Harry and Meghan's hands.
Here's what we know about the property:
It's located on the grounds of the Sandringham Estate.
Her Majesty's sprawling property in Norfolk, England is about 110 miles northeast of Kensington Palace, where Harry and Meghan live now. The estate has been under the British royal family's possession since 1862, according to its official website. It was first used by the Prince of Wales (later known as King Edward VII).
The overall property is 8,000 hectares large (around 19,800 acres), including a 240-hectare public park and 24-hectare garden, which is connected to the main house.
The Queen inherited the estate from her father, King George VI, in 1952. Prince Philip has been in charge of managing and maintaining the venue for future locations, the royal family's website states.
Meghan Markle joined the royal family in their Christmas celebrations there in December 2017. Princess Charlotte was also christened there in 2015.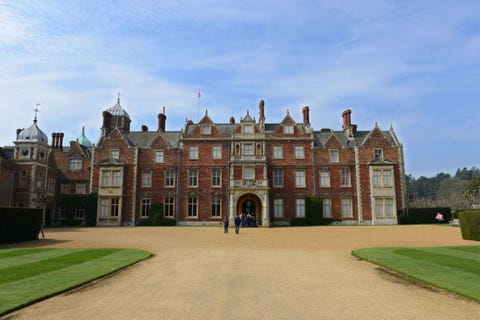 King George V and Queen Mary used to live in the cottage.
The residence was once home to Queen Elizabeth II's grandparents, King George V and Queen Mary (AKA the Duke and Duchess of York, hence the cottage's name). The couple received the property as a wedding gift and lived there until Queen Alexandra, mother of George V, died at Sandringham in 1925.
The structure was previously called the Bachelor's Cottage, as it housed overflow male guests on the property, but was renamed with its new inhabitants, The Telegraph reports. Now, it consists of estate offices.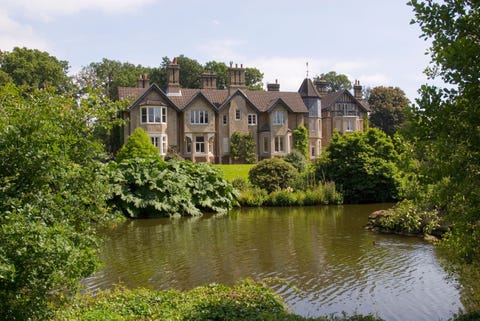 It wasn't always easy on the eyes.
The Telegraph had a less-than-flattering description of York Cottage in 2013, calling it a "perfectly awful house" and shading King George V's interior design preferences:
Archive photos from the Royal Collection Trust reveal that the Duchess of York's room boasted floral wallpaper, a fireplace, a full bookcase, a floral chaise lounge chair, and several portraits on display.
Prince William, Kate Middleton, & co. will still be neighbors.
Harry and Meghan are neighbors with in-laws William and Kate at Kensington Palace, but they'll also share a zip code on Sandringham grounds. The Duke and Duchess of Cambridge were gifted Anmer Hall, which is also located on the estate, after their wedding in 2011.
The couple now uses the 10-bedroom house as a summer home. The Cambridges reportedly housed Harry and Meghan here as during the royal Christmas festivities at Sandringham. Prince William and Prince Harry also vacationed here as children, according to ABC.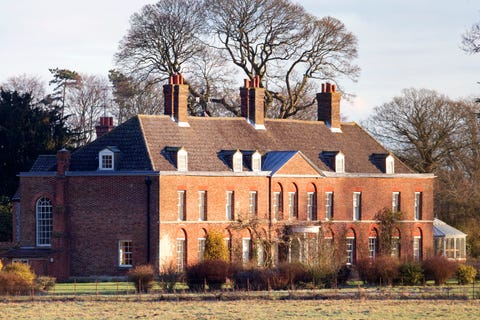 Source: Read Full Article