Real Milli Vanilli Vocalist John Davis Lost Battle With Covid-19
One of the real singers behind the German-French duo passed away at the age of 66 and his death was confirmed by his daughter Jasmin Davis on his Facebook account.
AceShowbiz -Real Milli Vanilli vocalist John Davis has died. One of the true singers behind the German-French duo passed away at the age of 66 on Monday, May 24 after losing his battle with Covid-19.
Confirming John's death was his daughter Jasmin Davis on Facebook. "This is Jasmin , Johns (sic) daughter. unfortunately my dad passed away this evening through the coronavirus. He made a lot of people happy with his laughter and smile, his happy spirit, love and especially through his music," she first wrote alongside a video of her dad performing.
"He gave so much to the world! Please give him the last round of applause. We will miss him dearly," the grieving daughter continued. "I will keep you posted, but Please respect the family's privacy in this time, thank you!"
Jasmin also created a GoFundMe page to cover John's funeral expenses and to give him "one last performance, with people he loved and got loved from." The page has since raised €12,776 of its €13,500 goal.
In the wake of John's passing, Milli Vanilli offered their tribute to him via the group's official Twitter account. The message read, "It's a sad day….. RIP John. We wouldn't be who we are without you….."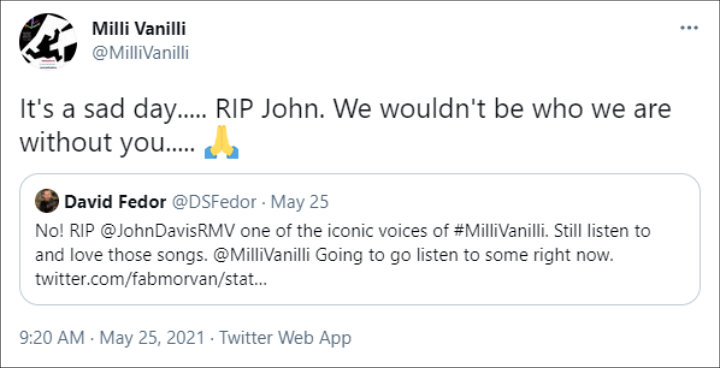 Milli Vanilli honored John Davis following his death from Covid-19.
One of the group's members Fabrice Morvan also honored him on his own Twitter page. "R.I.P BROTHER @JohnDavisRMV. CAN'T BELIEVE IT, THANKS FOR ALL THE LOVE YOU'VE SPREAD THROUGH OUT THE YEARS, FROM THE EDGE OF THE STAGE. YOU AND I HAD A GREAT RUN, IT WAS FUN TO CELEBRATE LIFE WITH THE HELP OF MUSIC. PEACE ONE LOVE. YOUR VOICE WILL LIVE ON. PLAY IT LOUD EVERYBODY," he penned.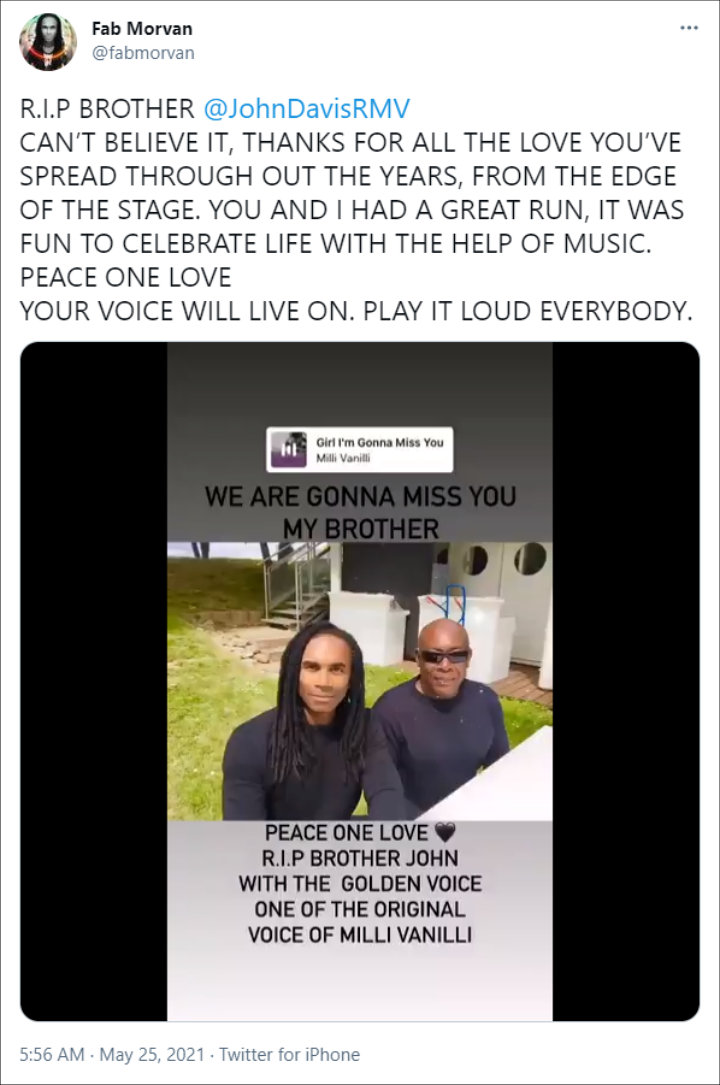 Fabrice Morvan also offered tribute to John Davis.
The South Carolina-born crooner was a backup vocalist for Milli Vanilli. The group, which was created in 1988 by music producer Frank Farian, was fronted by Fabrice and Rob Pilatus. The band won the Best New Artist Grammy Award in 1990 after the U.S. release of its debut album, "Girl You Know It's True".
Later that year, however, it was unveiled that Fabrice and Rob were lip-syncing John and other backup singers for the band. The scandal led to the group getting disbanded and was stripped of its Grammy. John later started his own band called The Real Milli Vanilli with Brad Howell and released an album "The Moment of Truth" in 1991.
Source: Read Full Article