Selena Gomez Pokes Fun At Her Met Gala Spray Tan Mishap
Let's get something out of the way: Selena Gomez is a goddess among us mere mortals and has cornered the market on turning looks time and time again. 
That being said, something was a bit off when she walked the red carpet at the Met Gala in New York on Monday wearing a sheer custom-made Coach gown.
Now the dress, which was admittedly more straightforward than some of the night's outlandish looks (see Katy Perry's literal angel wings), wasn't the problem. It was her presumed over-eager spray tan, which fans were quick to roast on social media after Gomez stepped out looking a bit more orange than usual. 
Unlike every other person in attendance for the opening of the Metropolitan Museum of Art's "Heavenly Bodies: Fashion and the Catholic Imagination" exhibit, Gomez had yet to mention the event on Instagram, where she happens to be the most-followed celebrity in the world.
She broke her silence on #TanGate (yeah, that's what we're calling it) on Wednesday, seemingly poking fun at her Met Gala mishap. 
In the video, Gomez is seen sprinting away from the camera and into the backseat of a van as her dress trails behind her. 
"Me when I saw my pictures from MET ??‍♀️," she captioned the post. 
A post shared by Selena Gomez (@selenagomez) on
Given all that she's gone through in the past year (a kidney transplant, reuniting with Justin Bieber, being dragged on the daily by her mom) Gomez is nothing if not resilient.
And, hey, if you can't laugh at yourself, then who can you laugh at? Just kidding, you can always laugh at Bieber.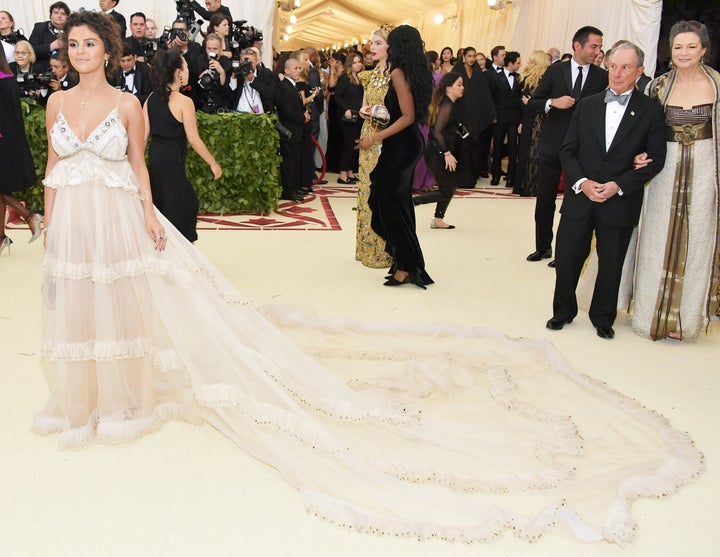 Source: Read Full Article