'Silicon Valley' Episode Points Out The Peculiarities Of Being A Christian In Tech
A recent episode of HBO's "Silicon Valley" highlighted a strange aspect of life in the tech industry ― suggesting that Silicon Valley is one of those rare spaces in American society where it's easier to be gay than Christian.
The show's writers explore this dynamic in "Tech Evangelist," an episode of the critically acclaimed tech culture satire series that aired April 15. Main character Richard (Thomas Middleditch) gathers eight CEOs willing to collaborate on his grand project of building a decentralized internet. One of those leaders is DeeDee, a gay man who runs an LGBTQ dating app and tells Richard that he goes to church every Sunday with his partner.
During a meeting, Richard accidentally "outs" DeeDee as a Christian, a revelation that immediately arouses suspicion and distrust among the gathered developers. One potential collaborator even threatens to back out of the partnership with Richard.
"It freaks people out in the Valley," one of Richard's colleagues says about Christianity during the episode. 
Even DeeDee admits that his religious identity has caused him trouble in the past.
"Dad says my lifestyle makes him sick," he said in the episode. "He just wants his gay son back."
But in the end, DeeDee is relieved that he's now able to be open about his faith. 
"I'm out. My nightmare's over," he said, adopting the language LGBTQ people use to talk about disclosing sexual orientation or gender identity. "I don't ever have to go back to the closet again."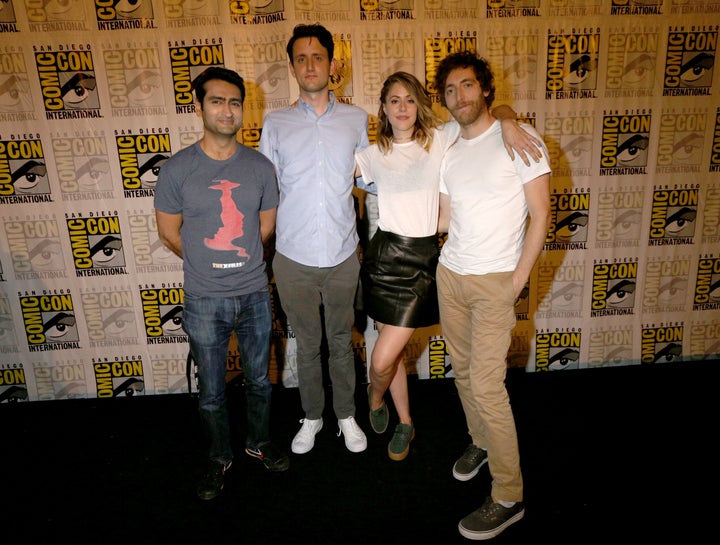 Crystal Cheatham, a queer Christian activist, told HuffPost she "absolutely" identified with DeeDee's storyline. Cheatham is the creator of Our Bible, a Bible app for progressive Christians. The app provides users with devotionals highlighting interfaith inclusivity and LGBTQ acceptance, and hopes to help progressive Christians create healthy prayer and meditation habits. 
Cheatham said she's found it hard to communicate to others in the tech industry about why her progressive Christian app is so innovative.
"More than anything there is a language barrier that inhibits potential investors from 'getting it,' the way they do with some of my other techy counterparts," Cheatham wrote in an email. 
"I think we as a culture would rather hear someone say they are 'spiritual' rather than Christian," she added. "The word Christian is heavy with a lot of baggage that has been tacked on over the years, and especially today in the Trump era."
However, Cheatham said she doesn't think this means Christians ― particularly conservative Christians ― are being persecuted for their beliefs. 
In most parts of the country, "coming out" as Christian doesn't have the same repercussions as coming out as queer. While the number of Christians in America is declining and some (white) Christians in particular are anxious about losing ground in the culture wars, overall, Christians in America are a privileged and influential group. They still make up about 70 percent of the population and, significantly, more than 90 percent of Congress.
On the other hand, queer Americans are still fighting for basic rights ― for protection from discrimination in employment, education, housing, healthcare, adoption and public accommodations. 
By showcasing the awkward and at times hostile reception DeeDee receives in the bubble of "Silicon Valley," the writers demonstrate the struggles Christians can face in these progressive spaces ― and illustrate the trials LGBTQ Americans face elsewhere.
"Unfortunately the divide between gays and Christians has only been codified by the fact that most Christian spaces have been unreachable by LGBTQ people. This, in a way, has backfired," Cheatham said. "By rejecting LGBTQ people as a global church the term 'Christian' has come to mean judgmental, pious, self righteous, strict, conservative, anti-women, anti-choice and quite a few other political things that in my humble opinion seemingly deface the name and practice of being a Christian."
Source: Read Full Article