Taylor Swift Reportedly Won't Return Scooter Braun's Calls Amid the AMAs Drama
If at some point today you've thought to yourself, "huh, I wonder what's happening with all of that Taylor Swift drama?" then pull up a chair friend, cause I've got updates.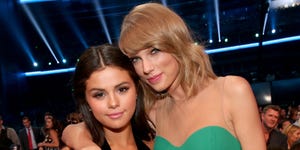 But first, some background for those of you who haven't been following along: Earlier this week, Taylor released a statement on Tumblr saying that Scooter Braun and Big Machine Records (aka her old label) CEO Scott Borchetta didn't let her perform her old songs at the AMAs, and also refuse to let her include her old songs in an upcoming Netflix documentary.
Things have gotten ~messy~, and apparently Scooter, who owns the master recordings of Taylor's first six albums, isn't here for the drama. A source told E!, "Scooter is frustrated because his name is being dragged in the mud. He doesn't run Big Machine or have operational control of [the] company. He hasn't taken part in these negotiations." Furthermore, Scooter has reportedly been trying to reach Taylor, but she's not returning his calls.
However, it doesn't seem like Scooter is totally above the drama—his client and good friend Justin Bieber posted an Instagram yesterday siding with Big Machine Records. He posted a screenshot of an article that said, "Taylor Swift Free to Play All Her Hits During AMAs…Big Machine Can't Stop Her" and included a statement from a Big Machine official who said, "we have no legal right to stop this and have never tried. [Taylor] and her team both know this."
So until Taylor decides to call back Scooter, I'm just going to leave these gifs right here:
Source: Read Full Article