The Transformation Of Naomi Osaka From Toddler To 23
International tennis star Naomi Osaka has the world at her fingertips. She's one of the most marketable athletes in the world and the highest-paid female athlete in history, with a staggering 2020 income of $34 million in endorsements alone, per Forbes. She has deals with Nike, Nissin Foods, Procter & Gamble, All Nippon Airways, and Nissan Motors, among others, and she's one of the faces representing the 2021 Olympics in Tokyo. She's even surpassed tennis great Serena Williams as the highest-paid female athlete in the world.
Osaka came to national attention when she beat Williams in the 2018 U.S. Open Grand Slam, catching the widespread attention of press and fans and winning endorsement deals and opportunities. The Japan-born athlete even has her choice of countries to represent, as she has dual citizenship with Japan and the United States, where she's lived since the age of 3. She'll be representing Japan this summer.
In 2021, fans stood by Osaka when the 23-year-old chose to step back from the Roland Garros and Wimbledon competitions in order to protect her mental health. Ever the activist, Osaka spoke out about the difficulty of doing press conferences while under competition pressure, and despite being (perhaps unfairly) punished with a $15,000 fine, she'll be back in Tokyo this summer, and fans are thrilled. Let's explore Osaka's journey from her early days of training to her current successes. Keep reading to see her transformation.
Naomi Osaka's father was inspired by Serena and Venus Williams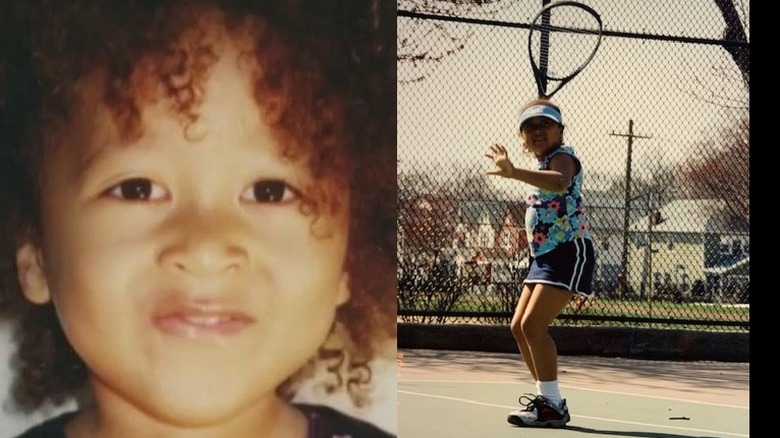 Born in Osaka, Japan, on October 16, 1997, 18 months after her sister Mari, Naomi Osaka started learning tennis when she was only 3 years old. According to Biography, her Haitian father, Leonard Maxime Francois, saw Venus and Serena Williams play at the 1999 French Open and was inspired. He learned how their father had trained them, and he set out to do the same with his two daughters, despite his lack of experience in tennis.
Francois met Naomi's mother, Tamaki Osaka, in Japan in the 1990s. Her family didn't approve of her relationship with a Haitian man, but it didn't stop them from marrying. The girls were given their mother's maiden name with the hopes of an easier life in Japan. Then the family left Japan for the United States when Naomi was 3, settling in Long Island with Francois' parents, where the girls started their tennis lessons.
The family moved to Florida in 2006, focusing on tennis with their father during the day and homeschooling at night. Though Mari showed promise and is also a professional player, she sustained injuries that slowed her down, and the competition inspired Naomi, who soon surpassed her sister. Naomi eventually started training with Patrick Tauma at ISP Academy and eventually the Harold Solomon and ProWorld Tennis Academies. There was no stopping Naomi now.
Naomi Osaka made a splash by going pro as a teen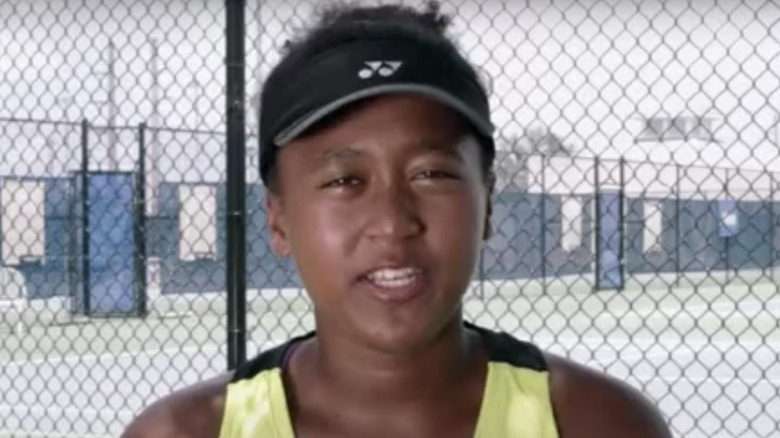 Rather than competing in junior tournaments, Naomi Osaka continued following in Venus and Serena Williams' footsteps by embarking on pro satellite tours. She played her first qualifying match of the International Tennis Federation Women's Circuit in 2011, on her 14th birthday (via Legit), and played other ITF tournaments, including doubles contests with her sister Mari, and even going up against (and sometimes losing to) her sister a few times.
Osaka went pro in September 2013, a month before her 16th birthday (per Forbes), playing the Pan Pacific Open in Tokyo and qualifying for the 2014 Stanford Classic the following year, her first Women's Tennis Association tours. She continued playing for higher prizes and climbing up the rankings, playing ITF and WTA matches in cities around the globe. She was among the WTA's top 40 in 2016, and also won their title of "Newcomer of the Year" that year, according to Biography. These are just the start of her many accolades, even at so young an age.
Osaka and her family are fiercely proud of their legacy. She and her father decided that she would represent Japan in competitions, including in the 2021 Olympics in Tokyo. Though Osaka is not fluent in Japanese, she loves Japanese culture, including its movies and manga. She now even has her own Manga character, per The New York Times.
2018 was a banner year for young tennis star Naomi Osaka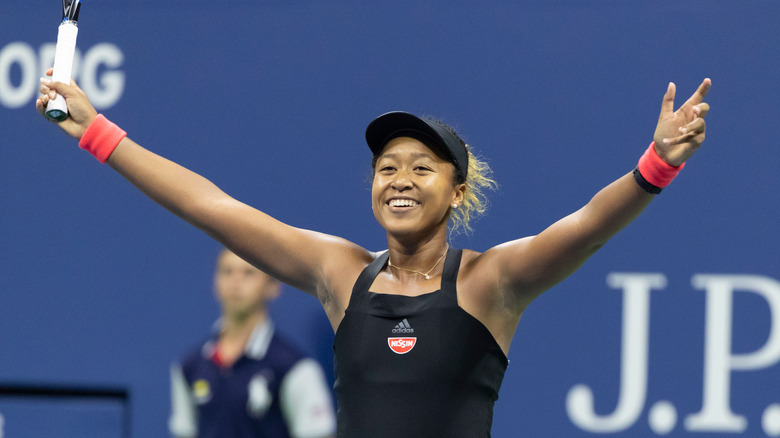 As her star continued to rise, Naomi Osaka won her first WTA tour at Indian Wells, Calif., in March 2018, kicking off a slate of huge wins. In September that same year, Osaka beat her idol, 23-time Grand Slam winner Serena Williams, at the U.S. Open, winning accolades (and some criticism) as the first Japanese player to win the Grand Slam. It turned out to be an extremely controversial match, as fans expected to see Williams tie the record for Grand Slam titles, but instead lost to young upstart Osaka, also while receiving code violations for her conduct. Osaka even received boos from the crowd after winning her first Grand Slam title.
But lest those fans think Osaka was a fluke, she followed that massive win with another, capturing the title at the Australian Open in 2019. With that win, she became the first player since Jennifer Capriati in 2001 to follow her first Grand Slam with a second one, per AO. She also became the first Asian player, male or female, to be ranked at Number 1.
Her power with a racket is unmistakable. Her serve flies in at 125 miles per hour, according to USA Today, and that was in 2016. Racquet Magazine said she had forehand swings at over 100 miles per hour when she was 16. And she's just getting stronger.
Not just a tennis star, Naomi Osaka is an outspoken activist, too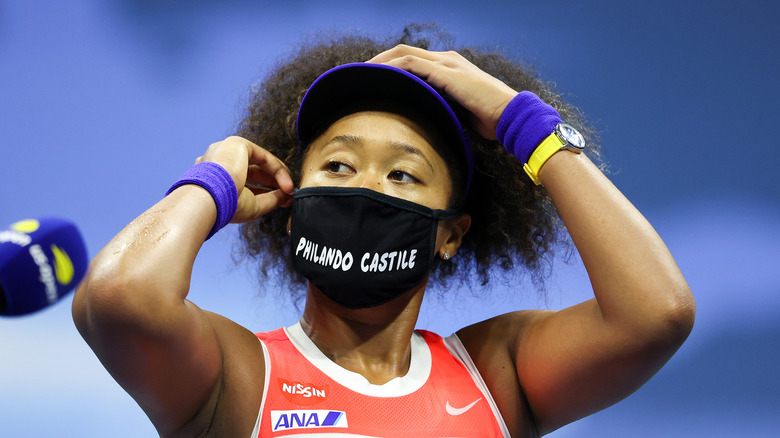 Naomi Osaka is an intriguing athlete in part because of her background. She was raised in the United States and represents Japan in competition. "When I go to Japan, people are confused," Osaka told USA Today. "From my name, they don't expect to see a Black girl." Yet for many, as The New York Times says, she "symbolizes something as large as the world's multicultural future."
Osaka is already making statements and challenging people's assumptions. She's known as an activist athlete, even though "I don't consider myself an activist," as she told Sports Illustrated. "I consider myself a person that has something they believe in and wants to speak about it." She continued to say, "anyone who wants to be an activist or has a lot of things they believe in, they shouldn't be scared."
While playing at the 2020 U.S. Open in the height of the coronavirus pandemic, Osaka made a bold statement by wearing a different face mask for each of her 7 matches. Each mask had the name of a Black victim of violence or police brutality, including Ahmaud Arbery, Breonna Taylor, George Floyd, and Treyvon Martin. While she didn't expect the response it got, she told SI, "the biggest thing was just to, like, make people talk about it." Mission accomplished.
Naomi Osaka is a fashion icon and a spokesperson for mental health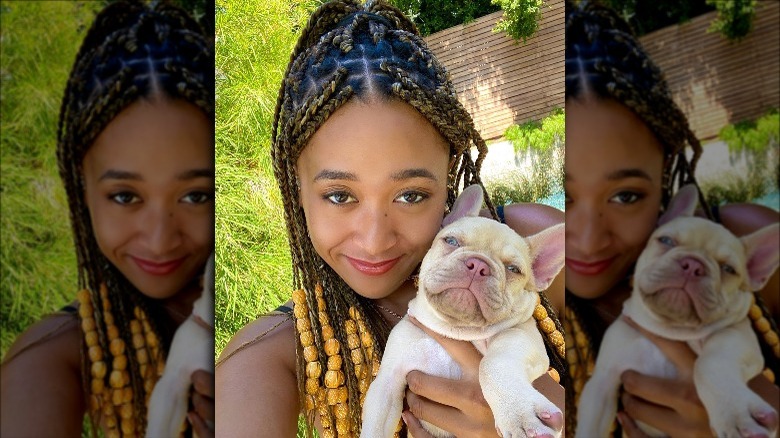 At only 23 years old, Naomi Osaka is only the third person in history to win "all four of her first Grand Slam Finals," according to her website. She's won both the U.S. Open and the Australian Open twice. However, after coming off a dramatic win at the Roland Garros competition in 2020, Osaka declined to participate in a press conference, calling instead for some personal time off. The Tennis Federation was not happy with that decision and penalized her with a $15,000 fine. She then decided to step back from competition, pulling out of the remaining matches, as well as Wimbledon.
Thanks to an outpouring of support from fans (both famous and not), including the Duchess of Sussex Meghan Markle, Osaka will be back for the summer Olympic games in Tokyo, Japan. She continues to use her platform to speak out against inequity and in support of mental health.
She currently lives in Los Angeles and is constantly appearing on magazine covers and in television interviews, especially with her latest endeavor: a new fashion collection co-designed with the Japanese-American designer Adeam, which they debuted at New York Fashion Week. Not to mention in all of her celebrity endorsements.
Source: Read Full Article