Tristan Thompson Labeled 'Disgusting' After Partying With Ally Hilfiger Post-Khloe Baby News
The NBA star is heavily mocked after photos of him having some fun in the sun on a yacht with the bikini-clad daughter of fashion icon Tommy Hilfiger circulated on the Internet.
AceShowbiz –Tristan Thompson's decision to enjoy his single life apparently doesn't sit well with Khloe Kardashian's fans. The NBA star has been labeled "disgusting" after he, once again, was spotted partying with another woman after news broke that he's expecting another baby with Khloe.
This time around, the basketball star was seen partying with bikini-clad Ally Hilfiger on a yacht. The 31-year-old apparently headed to St. Tropez on Thursday, July 21 after leaving Mykonos, Greece.
Taking to his Instagram Story, Tristan reposted a photo of the duo which was first shared by the daughter of famous designer Tommy Hilfiger. In it, Tristan flashed a big grin and looked relaxed wearing a casual striped button-down short sleeve shirt over a white tank top.
Tristan could also be seen putting his hand over Ally, who showed off her fit figure in a copper-toned bikini. "A small height difference here @realtristanthompson," Ally poked fun at the size difference between the pair in the caption.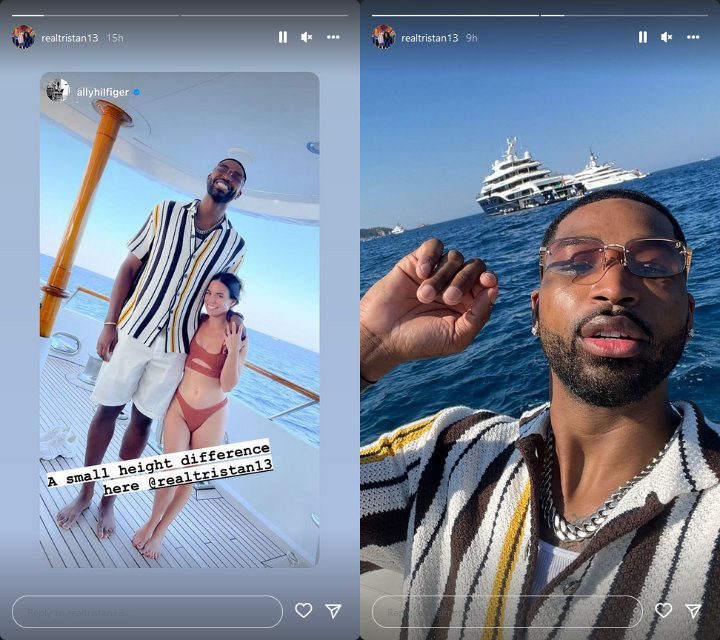 Tristan Thompson was seen partying on a yacht with Ally Hilfiger.
Upon learning of Tristan's new sighting with another woman after he was caught holding hands with a mystery woman and getting flirty with two female companions in Greece, fans were quick to mock him. "ABSOLUTELY DISGUSTING !!!" one social media user wrote.
"This guy is absolutely disgusting.. hard to look at his idiot face. I watched few episodes of 'Keeping Up with the Kardashians' and he is just simply dumb!" a second said. "I don't know how khloe could be with him for so long.. he is an idiot and he doesn't have an understanding of basic protection.. so he will have like 20 kids all with different women." A third quipped, "Unbelievable how many disgusting people populate the world."
A fourth couldn't understand why women want to hang out with serial cheater Tristan. "This man is extremely unattractive, extremely dumb, a horrible person, a horrible father of 4, horrible basketball player, with 0 morals, why are woman attracted to this idiot?" asked the said person.
A separate person added, "Why do women go near him? He is also wildly unattractive & is not intelligent," while someone else noted, "KHLOE'S awaiting the birth. Looks like he couldn't care less."
That very same day, Khloe, who reportedly is "open to dating," shared an empowering message on Instagram. Alongside a photo of herself on a yacht while wearing a black bikini that perfectly showcased her stunning physique, "The Kardashians" star wrote, "Don't forget, the crown may tilt at times but it never falls."
Many showed support in the comment section, including her mom Kris Jenner. "Never," the momager simply commented. Morgan Stewart, in the meantime, left a clapping hands emoji. Also showing some love, her friend Olivia Pierson posted a trio of heart-shaped eye emojis.
Source: Read Full Article