If You Watch 1 Thing All Day, Let It Be the Avengers Cast on a Sightseeing Tour Bus
Next time you're in Los Angeles, you might want to consider a sightseeing tour (especially if it has James Corden's face on it), because you never know who might be joining you for the ride. For his latest skit on The Late Late Show With James Corden, James decided create his own tour bus "James Corden Star, Star Tour, the tour that takes the stars on the tour". The stars joining this particular tour were none other than the Avengers Infinity War cast, including Chris Pratt, Benedict Cumberbatch, Zoe Saldana, Tom Hiddleston, Paul Bettany, Pom Klementieff, *takes a breath*, Winston Duke, Sebastian Stan, Letitia Wright, Elizabeth Olsen, Don Cheadle, Anthony Mackie, and Josh Brolin.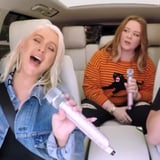 Their first sight was the one and only Coffee Bean, where James made Chris Pratt crack up with his commentary, "when you shout out of a room 'can someone get me a coffee?' someone will run down to a shop very similar to that and wait in line and bring you back the coffee." Other activities included sing-alongs (that could, in all seriousness, top the charts) and a visit to a comic book store where the group surprised some very lucky fans and signed their Marvel comics. It's equal parts sweet and hilarious, and you absolutely have to watch!
Source: Read Full Article