Why Does Andrew Yang No Longer Identify As A Democrat?
In a shocking turn of events, the "Yang Gang" is reportedly set to become its own separate entity. Andrew Yang, the prominent (and now former) Democrat and one-time presidential hopeful, has seen a surge in popularity in recent years with his bids for the U.S. presidency and the New York mayoral seat. Characterized by his calm and collected demeanor, Yang represents a shift in American politics with his eccentric attitudes towards the economy — ultimately playing into his popularity amongst voters across the political spectrum.
Proposing the idea of universal basic income (UBI), Yang's controversial platform initially caught the public off-guard — with "pundits and Democratic strategists" not taking the entrepreneur-turned-politician seriously at first (via CNBC). However, with the advent of the COVID-19 pandemic, Yang received renewed support over UBI, as CNBC noted. Under his UBI strategy, the rollout would seek to "give every American $1,000 a month and his campaign against automation, which he described as a growing threat to the U.S. economy" (per NY1).
And though Yang identified as a Democrat for all of his political career, the entrepreneur has always been at odds with the Republican-slash-Democrat dichotomy in the U.S. Over the course of his career, Yang has seen pushback from the left-leaning Bernie Sanders (via the Hill), while also receiving praise from conservative pundits (via Fox News).
And now, with his enigmatic political status, it looks like Yang is leaving the Democratic party behind to start anew. So why exactly does Andrew Yang no longer identify as a Democrat? Read on to find out!
Andrew Yang wants to form his own third party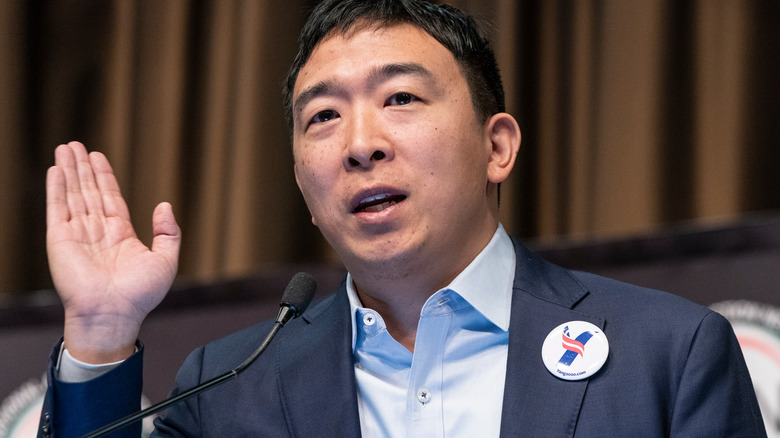 In a September 9 report, Politico revealed Andrew Yang's intentions to form his own third party in October, according to "two people familiar with the matter." Effectively leaving the Democratic party behind, the outlet announced that Yang is set to launch the party "in conjunction with the October 5 release of his new book, "Forward: Notes on the Future of Our Democracy.""
While reps have not responded to the outlet's requests for comment, a quick gander at Penguin Random House's website for the upcoming book gives a small insight as to what Yang's political future may hold. In her critique of the book, the New York Times' Kara Swisher ponders, "Can there be another political party in the U.S.? [And can] we find a way past toxic partisanship to a fact-based government?" "In "Forward, Yang does not just give us a laundry list of intractable problems, but shows how we can find solutions if we think in new ways and summon the courage to do so," she continued.
Social psychologist Jonathan Haidt noted that "Yang surged to popularity in 2020 because he saw — like none of the other presidential candidates — that our problems came from the complex interactions of democracy, economics, and technology." "[Yang] explains how these three domains interact and he proposes solutions that, when combined, would lead us forward to human-centered capitalism and a vibrant, just, and prosperous democracy," he further continued.
Andrew Yang's political beliefs didn't necessarily align with Republican and Democratic ideals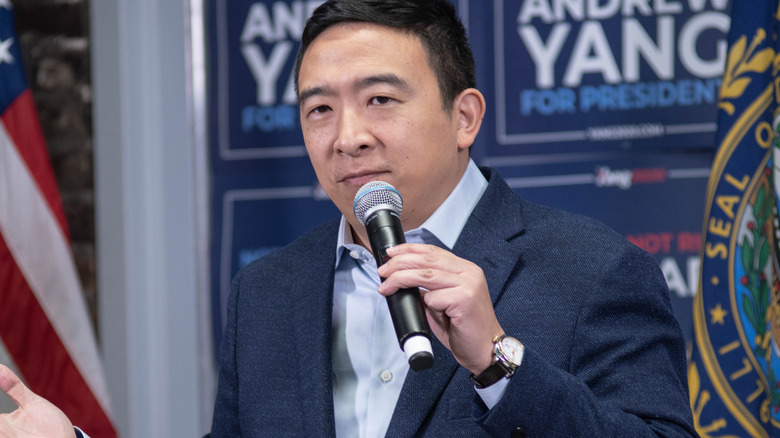 With Andrew Yang's ardent support for universal basic income, the controversial idea has taken swing voters and American citizens as a whole for a spin. In doing so, Yang has demonstrated that the political spectrum is not black-and-white, but rather a complex and dynamic system subject to change — much like his own political beliefs. Politico even noted, "[UBI] was a quirky policy proposal that did not fit neatly into the ideological prism of either party and won Yang converts among many apolitical figures online and in the media."
In his analysis, CNN host Van Jones took Yang's bipartisan effects a step further, stating, "It's no wonder that ever since Yang burst onto the scene with a positive movement that spoke directly to the pain Americans are feeling, both parties have been taking his ideas" (via Penguin Random House).
Yang has even inspired a subset of Republican voters to flip because of how resonant his "Humanity Forward" policies are with the public. Take for example, Elasa and Russell Peterson, a couple who previously voted for Donald Trump in 2016 before proclaiming their allegiance to Yang — even uprooting their lives to support the then-presidential hopeful (via Insider). "Most of us don't want to fight with each other. Most of us don't want to blame each other for all of our problems," Russell, the self-proclaimed "Yangocrat," told the outlet.
Source: Read Full Article