13 Pics Of Jessica Simpson's Best Outfits (And 13 Times Ashlee Simpson Outshined Her)
When they first broke out onto the scene in the early 2000s, no one knew the Simpson sisters were going to be as big as they are nearly two decades later!
Older sister Jessica first gained prominence in the late '90s thanks to the success of her debut album and her subsequent releases. The iconic blonde likewise gained fame for her high-profile relationship with singer Nick Lachey, which climaxed after their 2002 marriage and their short-lived reality show, Newlyweds: Nick and Jessica, which ran from 2003-2005. Since then, Jessica has scored numerous acting roles, released even more music, and is now living her best life as a fashion designer, wife, and mom of two.
Younger sister Ashlee began trying to make a name for herself at the height of her sister's success, which many saw as her trying to ride on the coattails of Jessica's fame. Like her big sis, Ashlee in no time had lead acting gigs and a burgeoning musical career. She also made headlines for her famous marriage to Fall Out Boy's Pete Wentz, with whom she shares son Bronx. Nowadays, Ashlee is leading a more low-key lifestyle ever since she remarried Evan Ross, and welcomed her second child, 2-year old daughter Jagger.
The media has always made it seem like Ashlee and Jessica are in competition, but we think both of these sisters have incredible sense of style. Check out these outfits and tell us who is the more fashionable one- Jessica or Ashlee?
26 jessica – always better in black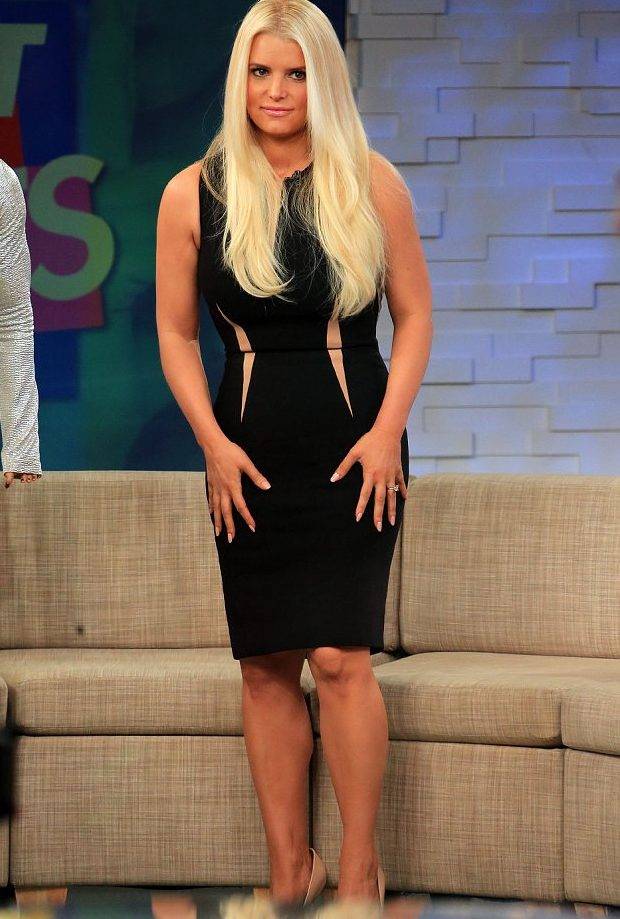 Jessica showed off her curvy figure in this tight little number. Her bleach blonde locks contrasted with the all-black silhouette of her outfit, while the cut-outs on her dress offered a flirty detail to the look. Jess kept the rest of her interview-ready outfit simple with minimal accessories and an au natural makeup look.
For years, Jessica has long been regarded as a symbol in Hollywood. But the celeb has always been adamant that she's tried to tone down her steamy image, much to the distaste of the industry. "S*x sells, but it's not the way I wanted to sell my album," she once told Elle Magazine of not wanting to rely on her looks to promote her music.
"I don't care if my album sells. I don't need the money. I want my album to sell because people want to hear it, not because people want to look at the cover. And guys don't buy Jessica Simpson records. They look at pictures online."
During a different interview with Glamour Magazine, the star also discussed how she's become more confident in her looks and, consequently, her career. "I never want to hurt anyone's feelings, so I used to let people walk all over me," she explained. "But now, especially in my career, I'm definitely more confident in my ideas. Even though I have so many things to figure out, I'm very much at peace. I don't feel like I'm closing the chapter on this phase of life — I feel like I'm closing the book and starting a new one."
25 Ashlee – Getting Hip(pie) With It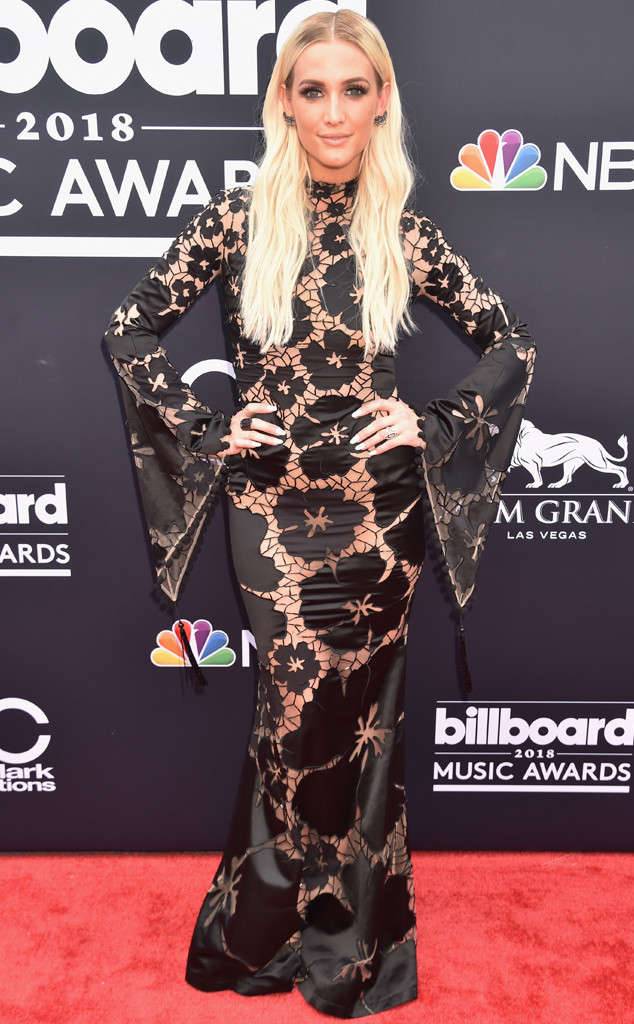 Ashlee has always had an edgy, vintage-inspired style that she exemplifies in all of her fashion-forward, red carpet outfits. For the 2018 Billboard Awards, the musician-actress showed off her slim figure in this 70's-inspired black and nude dress, with retro bell sleeves and a dark floral print. The celeb's bright blonde locks contrasted the edgy dress, but her smoky eye makeup and chunky silver jewelry added an edgy flair to the unique gown.
Ashlee has always been revered for her modelesque figure, but the star has been open about the distressing lengths she'd go to in order to maintain her small physique. "I was around a lot of girls with eating disorders, and I actually had a minor one myself,"Ashlee once to People Magazine in 2005, admitting she did have an eating disorder at one point.
"My parents stepped in and made me eat after about six months of not eating too much at all." She added, "It really helped a lot."
The celeb went on to say that she loves being a bit curvy. "I think I have good curves, and they're womanly. I hate it when girls lose their curves," she said. "I have amazing boobs. I do, I know it. They're not too big, not too small. They're just perfect."
24 Jessica – She's Mad For Plaid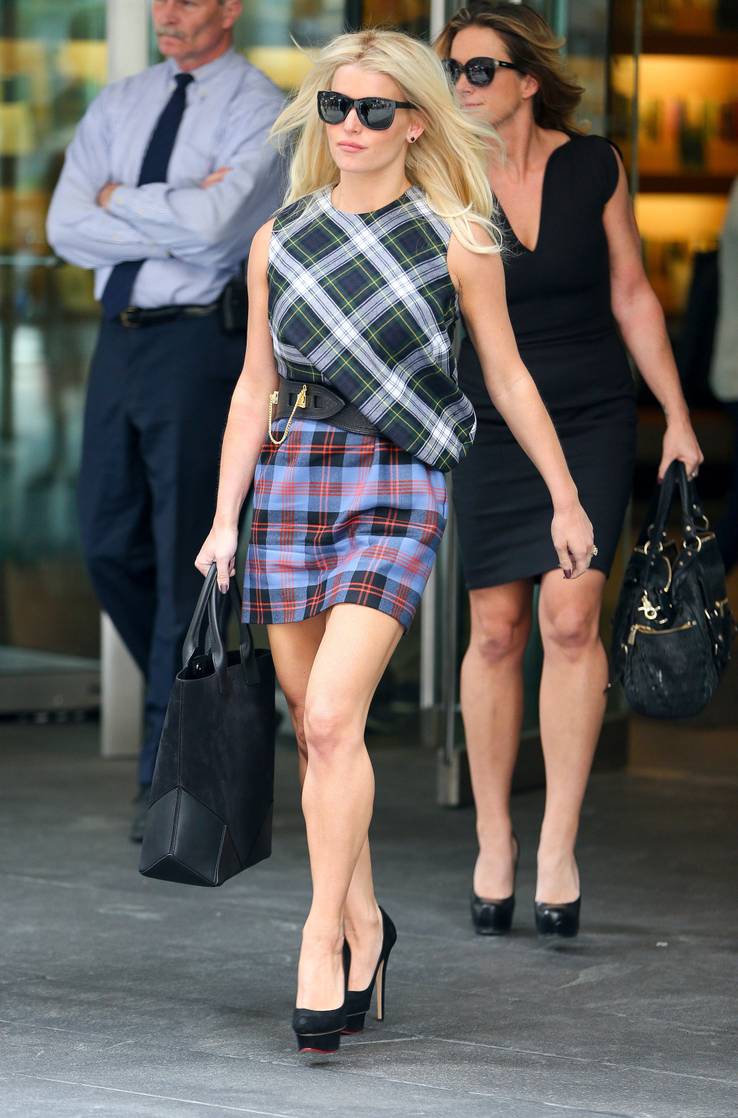 Jessica let her fashion-forward side come out when she stepped out in this daring mixed prints look. The fashion designer paired a dark blue plaid top with a contrasting plaid skirt, for a funky yet edgy, street style outfit. She finished off the bold outfit with a pair of square sunglasses, a black tote, and killer heels. There's a reason this girl is taking the fashion industry by storm nowadays!
"I find myself going for more sophisticated looks, but I do think that's kind of trendy right now — just a classier-looking woman," Jessica told People Magazine in 2013 about how motherhood has changed her style.
"I love to show off my curves, but being a mom, I guess I do it in a little bit more classy way, even though for Halloween I was a milkmaid – but there are moments."
"On some of the days of Fashion Star, I'm awake before [my daughter Maxwell] is awake, and I'm not home until she's already back to sleep," the celebrity added, explaining the difficulties of being a working mom. "That's only happened about four times, but it makes the day awful. I definitely need to see my baby." Jessica continued, "I get really sad if I don't get to see her. And then when Maxwell sees me, she just stares at me and touches my face. I can tell she missed me. That breaks my heart."
23 Ashlee – It's Sheer Fabulousness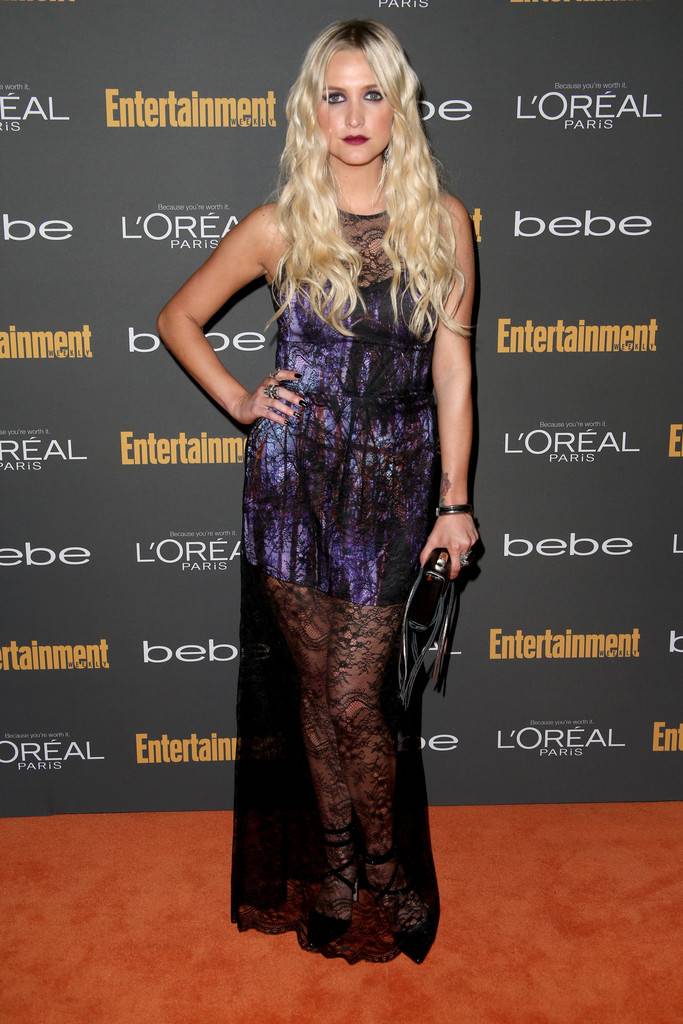 Ashlee let her rock n' roll side come out in this edgy little number. For a red carpet event, the celeb chose a purple patterned mini dress with a sheer, lace skirt and sleeves. She matched her smoky eye makeup and bold lip to the colors in her outfit, while her messy yet fashionable waves were the perfect funky touch.
If her style wasn't a sure fire sign that she's a rocker at heart, then perhaps Ashlee's taste in men is! Before settling down with her current husband, musician Evan Ross (son of the legendary singer Diana Ross), Ashlee was married to Fall Out Boy's Pete Wentz, proving she definitely has a type. Ashlee and Pete married in 2008 after she became pregnant with their son, Bronx.
"Hey everyone! I haven't written in a while. Motherhood is the most fantastic experience," Ashlee wrote on her MySpace Celebrity page in 2008 shortly after giving birth. "[Bronx] makes me laugh and smile everyday […] Every time I see my son, it looks like he's landing on the moon and discovering new rocks and stuff," he said. "I mean, every time he looks at his hand, it's like he's Christopher Columbus making it across the ocean. It's pretty awesome."
22 Jessica – Time For Her Close Up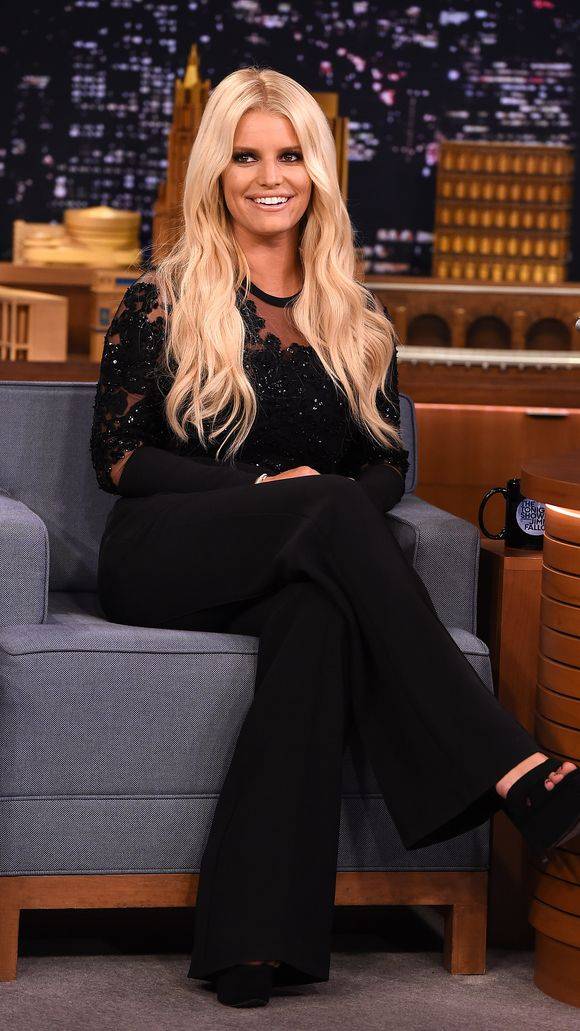 Jessica looked totally polished and put-together when she showed up for a televised interview in this smart, all-black look. The star went a bit glam with her sequin, brocade top, but she kept the rest of her look simple with a pair of black trousers and a sleek hairstyle. Jessica made being a mom of two and a business woman look like a breeze in this carefree look.
Despite being able to put on a good face for the cameras, Jessica has faced a lot of backlash throughout the years for her alleged wild partying ways. The rumors and allegations haven't even stopped since welcoming her two kids. Recently, in 2015, a source came forward claiming that the starlet wasn't slowing down her wild partying ways despite her new role as a mom.
"[Jessica] goes on these massive booze binges and works her way through too many cocktails [and] […] doesn't stop drinking until she's totally bombed," the insider said while speaking to OK Magazine. "The biggest worry is that she is incapable of slowing down." The source also added that her husband, Eric Johnson, is getting increasingly worried. "Eric's lost count of the number of occasions he's had to help Jess to a car and then carry her through the door when they get home," they continued. "She winds up embarrassing herself and then not remembering anything about the night before." Yikes!
21 Ashlee – Straight Up Gorgeous In Stripes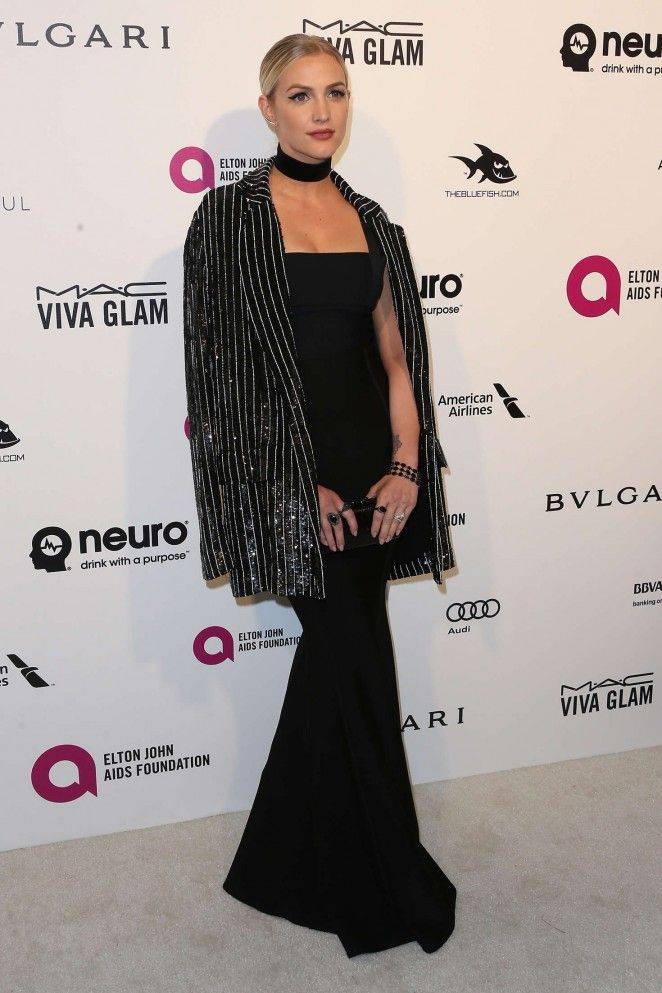 Ashlee looked stylish and sophisticated when she walked the red carpet in this dark look. The celeb draped a pinstripe blazer over a long, black gown. She kept her blonde locks out of her face in a tight up-do, and added to the edginess of her look by opting or a choker and winged eyeliner. This girl can make anything look good!
Despite always being so polished on the red carpet, Ashlee has gotten her fair share of headlines for her alleged partying ways, just like her big sister Jessica. Specifically, Ashlee's packed social calendar was one of the reason sources claim her marriage to Pete Wentz fell apart in 2011.
"They have been talking about splitting up forever. Ashlee has been out late partying for the past few months he felt he couldn't trust her," an insider told US Weekly at the time of their divorce.
The source continued, "He started getting burnt out. He would constantly check in on Ashlee and he'd have his friends call the house and her cell to make sure she said she was where she said she was going to be." They added, "Pete has been crying a lot to her about this. He is crushed, and does not want it to be over. Ashlee is done, she loves him, but she's ready to move on. When he traveled for work, she had a lot of time to think and in the end just felt happier without him."
20 Jessica – A Glamorous, Golden Goddess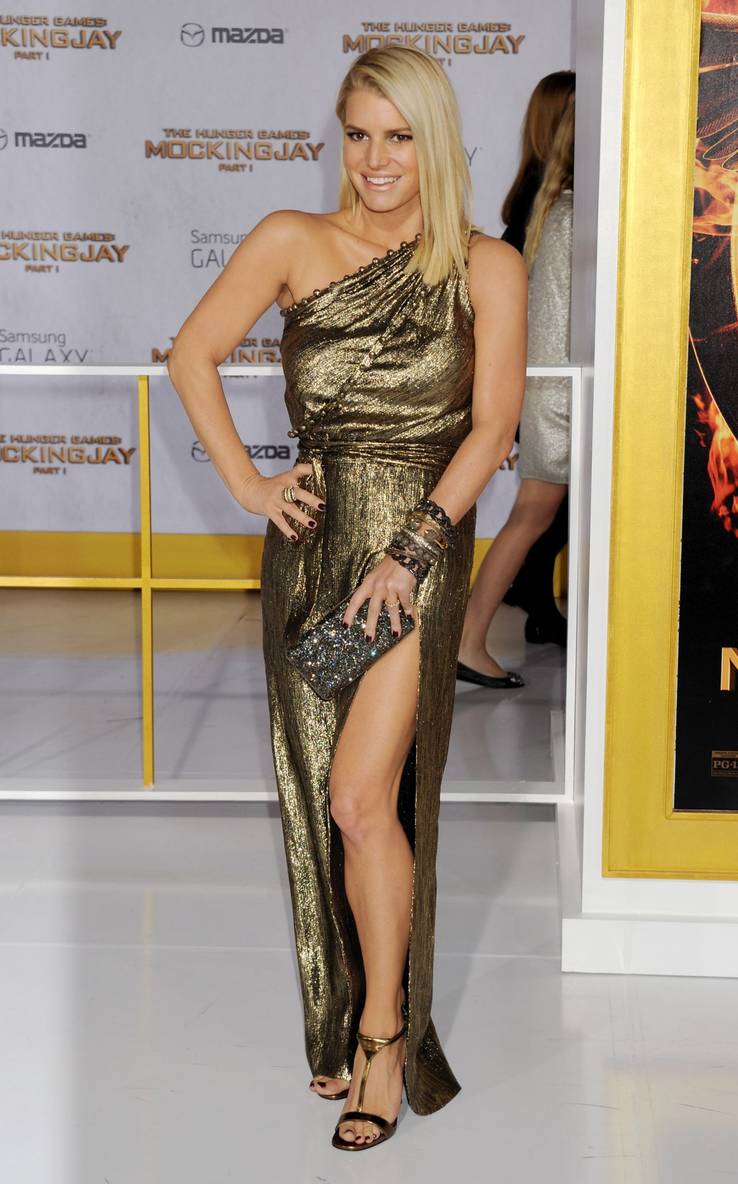 Jessica looked as fit and fabulous as ever when she showed up to a red carpet event in this striking gold gown. The one-shoulder dress perfectly showed off the actress' toned physique, while the gold hue of the frock complimented her bronzed tan and golden hair. Jessica toned down the drama of the look by styling her hair in a straight lob, and opting for simple strappy heels and minimal jewelry.
One thing many fans have pointed out is just how much Jessica's weight has fluctuated throughout the years, especially thanks to both of her pregnancies. In this photo, the celeb was at one of her lowest weights, and she's struggled to get back to her pre-baby weight since having her two kiddos. Despite the difficulty shedding the pounds, sources say the designer is more dedicated than ever to reaching her lowest weight.
"She likes walking in her neighborhood, and people often see her doing that," one insider told People Magazine about Jessica's intense workout regimen.
"She goes for walks with her kids and her [fiancé] because she likes to keep moving when she's not with him. She's very adamant about making sure she's active when he's not around so she tries to get in 10,000 steps a day." That's got to be brutal!
Featured Today
20 Surprisingly Cute Outfits That Miley Cyrus Has Worn Recently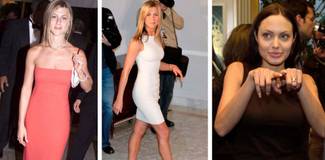 20 Pics Of Jennifer Aniston That Show She Is A Ten (But Not Exactly Angelina Jolie)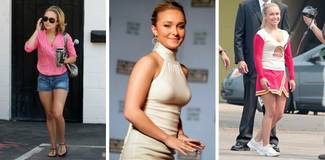 13 Pics Of Hayden Panettiere Pre-Motherhood (And 12 From After)

19 Ashlee – Just Go With Jeans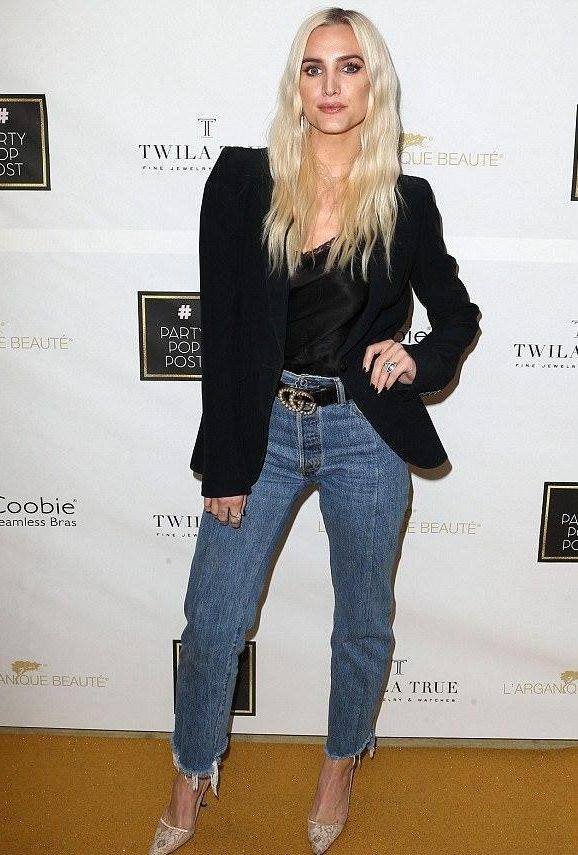 Ashlee is usually all glammed up in a gorgeous gown when she hits the red carpet, but the celeb decided to go a bit more casual with this look. For an A-lister event, the mom-of-two styled a black blazer and silky tank with boyfriend jeans and pointed heels. She kept her eye makeup smoky and her hair tousled to complete the effortless look.
Despite her laidback look, some sources have suggested the star is more of a wild child IRL. Ashlee's hard-core partying was blamed for the dissolution of her first marriage to rocker Pete Wentz in 2011. But even after their divorce was finalized, insiders claimed Pete was concerned about how his ex's partying was affecting their then-4-year old son, Bronx.
"Ashlee is in the dog house right now with Pete. He's concerned that she's burning the candle at both ends and worried about the effect on Bronx if she continues in this current state," the insider told Radar Online. They continued, "He's even spoken to [Simpson's mother] Tina to get her take on the matter and make sure that he's not overreacting in any way. She reassured him that he isn't and said she's been worried about Ashlee too." Yikes!
18 Jessica – The Bolder The Better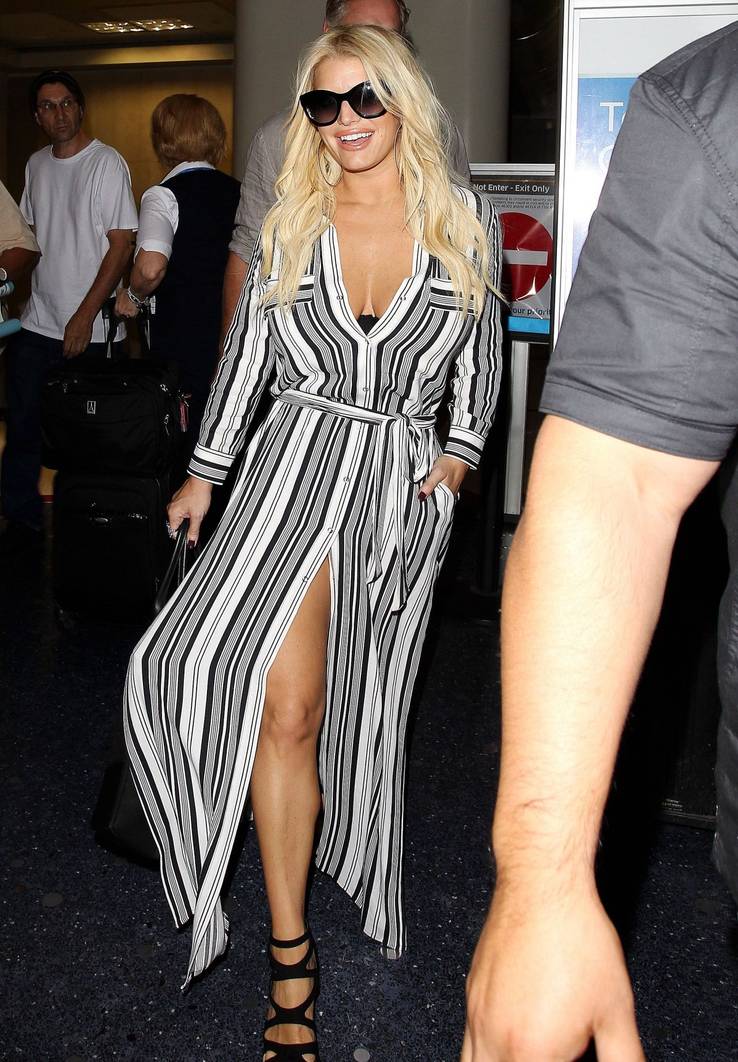 If there is one rule that Jessica has when it comes to fashion, it's to go bold! The celeb is never afraid to rock a bright pattern or color combination. She got fashion-forward when she rocked this striped maxi dress at the airport. Her voluminous blonde hair and oversized sunglasses added to the glam looks of their airport outfit. Who knew flying could be so stylish?
"I'm vulnerable in any moment," Jessica once told Allure Magazine about staying true to herself, regardless of who's' watching. "I don't care if the cameras are on or not, you're going to get the real me. There's no reason to mask that, because that's what has given me the chance to be in a powerful position." On the topic of body positivity and avoiding haters, she added,
"When I walk through an airport and people go, 'You're not fat!' I'm like, 'Thanks. Thanks. That's great. Good to know I'm not fat today. Thank you!'"
And, as for just how steamy she'll go when it comes to an outfit or movie role, she added, "But I will never do nudity. I don't care how dark and intellectual the role could be, you know? I don't care if I frickin' get an Oscar for it, I'm not going to do it. Those accolades mean nothing to me […] I don't think people deserve to see what's underneath my clothing. That's only for my next husband."
17 Ashlee – Keeping It Classy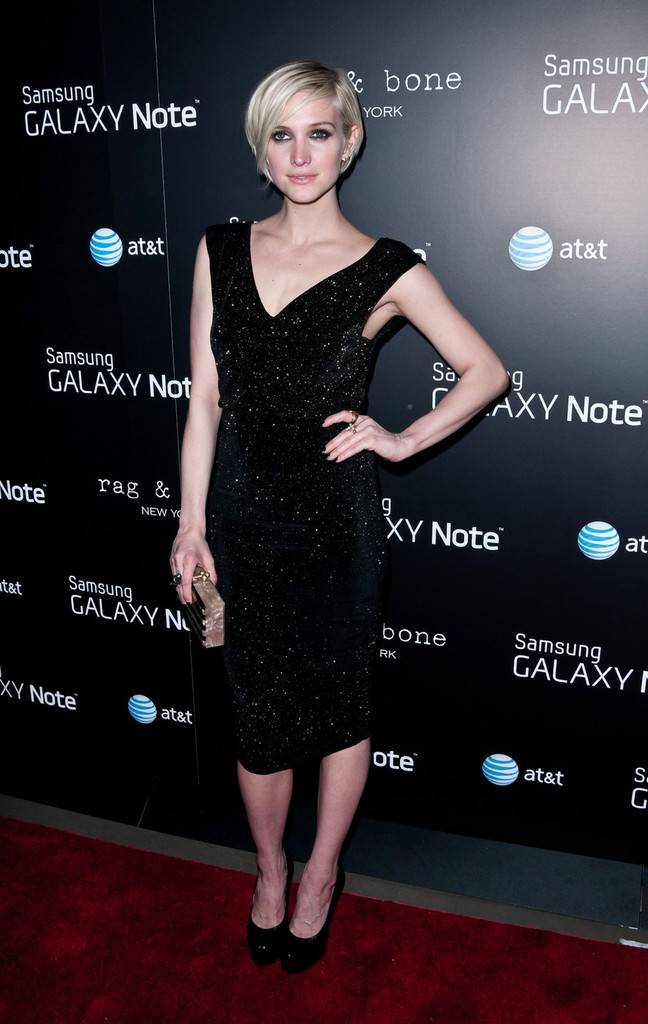 Ashlee showed off her feminine side in this sophisticated little black number. The sparkly black-frocked highlighted the singer's petite frame, while her chic blonde 'do made her appear polished and more grown-up. Ashlee stayed true to her edgy sense of style by piling on the statement rings and not holding back on the dark eye makeup.
Many fans have wondered if Ashlee's edgy persona is just for show, but sources claim the celeb loves to go out and party hard a bit more than the average person. Just a few years ago, sources claimed her family was getting worried that she wasn't slowing down her social appearances.
"Tina's asked Jessica to look out for Ashlee and make sure she doesn't start partying too hard once again," a source told Perez Hilton, referring to Ashlee's mom and older sister.
"With Jessica focusing on her second pregnancy, she's a calming influence on Ashlee because she doesn't want to go out on the town," the insider continued. "Instead, she prefers family nights in relaxing and has encouraged Ashlee to join them when they are all together, which she has been doing." Maybe this encouraged Ashlee to slow down a bit- it wasn't long afterward that she announced she was expecting baby no. 2!
16 Jessica – Romancing Us In Red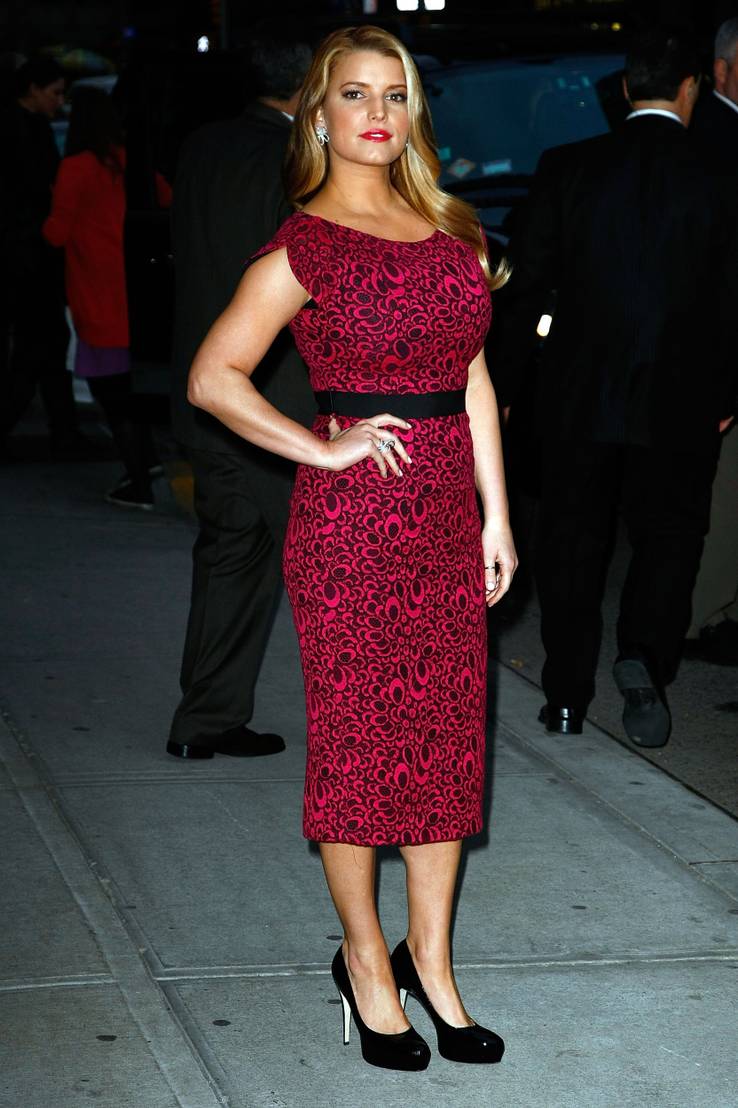 Jessica was red hot in this steamy little ensemble! Her black and red patterned dress showed off her hourglass figure, while her newly dyed brunette locks made her bronzed tan pop against the bold hue of her dress. Jess even went so far as to match the color of her lipstick to her outfit, which was the icing on the cake.
Despite looking poised and demure, Jessica was going through a rough time when this photo was snapped. The singer had been bouncing to and from relationships following her divorce from Nick Lachey, with one of her most high profile break-ups happening between her and NFLer Tony Romo. Sources alleged that Jessica's partying and wild ways were to blame for their failed romance.
"Jessica would get really drunk and obnoxious, it was out of control. She would be sprawled everywhere with her head on his lap and the look on Tony's face said it all," a source told Tarts Magazine about why the cute couple eventually split up.
"He was so embarrassed in front of all the guys and his teammates were really harsh on him over it. Breaking up was a really hard decision for Tony to make." They added, "She was devastated and it did come as a shock, however."
15 Ashlee – When Gothic Turned Girly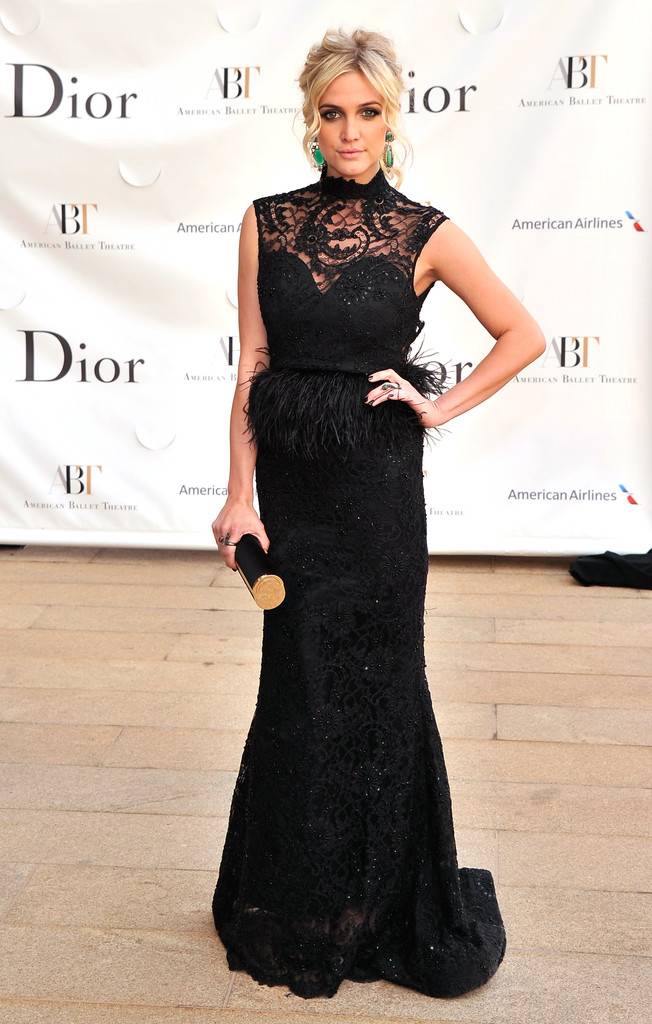 Ashlee brought out her gothic side when she rocked this edgy black number on the red carpet. The high neckline and feminine lace detailing added a Victorian vibe to the look, while the feathered skirt and beading gave the frock a modern flare. Ashlee added to the edginess with dark eye makeup, a cluster of costume jewelry, bold emerald earrings, and a tousled up-do. This look was the perfect balance of edgy and girly, and we are totally obsessed.
"It's an exciting time having two kids in the house," Ashlee recently told Today Magazine about being a mom to two kids- son Bronx is 9 and daughter Jagger is only 2.
"But your priorities in life shift. Your priority becomes your children, and that's something for every woman that becomes a mother," the celebrity continued. "It's all a change for the better. Life is so good with the kids." You can definitely tell she's enjoying motherhood!
Years ago, Ashlee was making headlines for allegedly partying too much, which sources say caused concern amongst her husband and family. Luckily, nowadays, it seems like the star has slowed things down and is enjoying a more low-key life with her hubby and kiddos. Motherhood is definitely suiting Ashlee!
14 Jessica – The Boss Look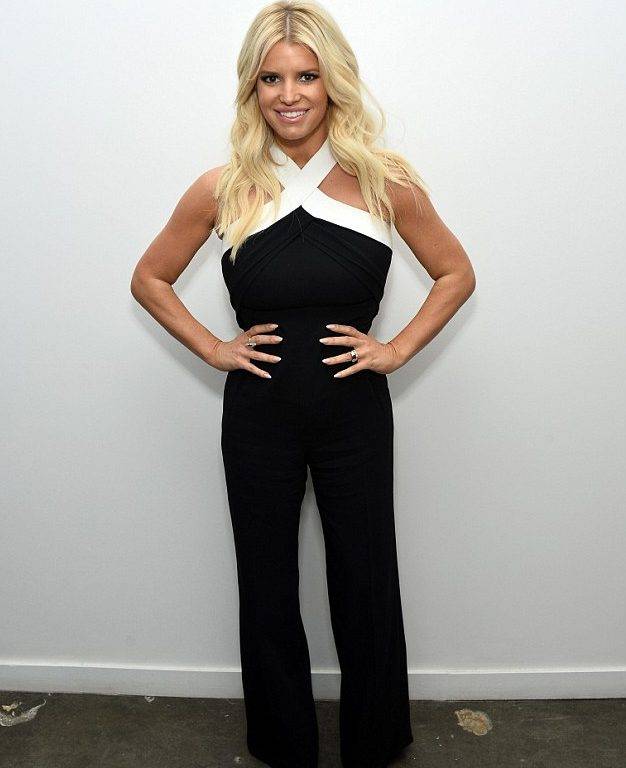 There's no denying that Jessica is a total boss nowadays! She's an accomplished fashion designer, actress, and singer who shows no signs of slowing down. Not to mention, she's a wife and mom of two kids and has a ton of side hustles (just take a look at her Instagram page). Jessica looked like a total mom boss in this gorgeous black and white jumpsuit, which showed off her toned figure. There's no denying that she's in control when she steps out looking as good as this.
Despite how accomplished and successful she is, Jessica has been adamant about having to always fight the dumb blonde stereotype- especially following her stint on her reality show Newlyweds, with her ex-husband Nick Lachey. "They'd never show me having an intellectual conversation," she told Cosmopolitan about how the show wrongly portrayed her. "You see a lot of depth in Nick. And me, it's just spending too much money and not knowing how to do housework. I'm actually a good cook. I may be a mess with flour on my nose, but I'm a good wife."
Jessica has been adamant that the show never painted an accurate picture of who she is or of her life. At least nowadays she's proving the haters wrong!
13 Ashlee – Whimsical In White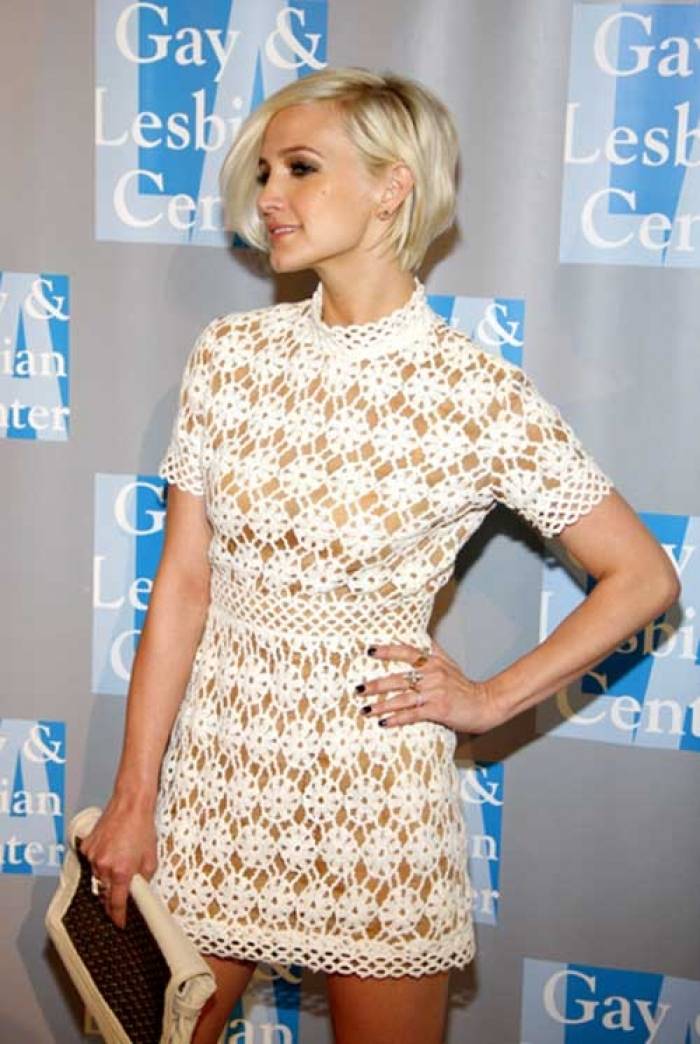 Ashlee showed off her petite frame in a whimsical white mini dress, which was a fresh change from her usual go-to color of black. The star's crochet frock complimented her short, silvery hairstyle and flaunted her killer body.
In the past, Ashlee has been open about her struggles with a disorder, which she says climaxed after she was trying to make it big as a ballet dancer. After having two pregnancies, the star admits she has finally reached a healthy relationship with her body, and is able to shed pounds the right way when she wants to do it. We're so glad to hear that Ashlee has made positive strides towards reaching body positivity!
"While it's often tougher to lose the baby weight the second time around, it is possible!" her personal trainer, Ramona Braganza, said of Ashlee's workout routine after delivering her daughter Jagger.
"Seven years ago, after the birth of her son Bronx, Ashlee lost 25 lbs. in two and half months," she continued. "This time around, at 30, with slightly more weight to lose, what helped her drop a consistent two pounds a week was exercising five days a week and burning 800 or more calories per workout session."
12 Jessica – Fashion-Forward In Floral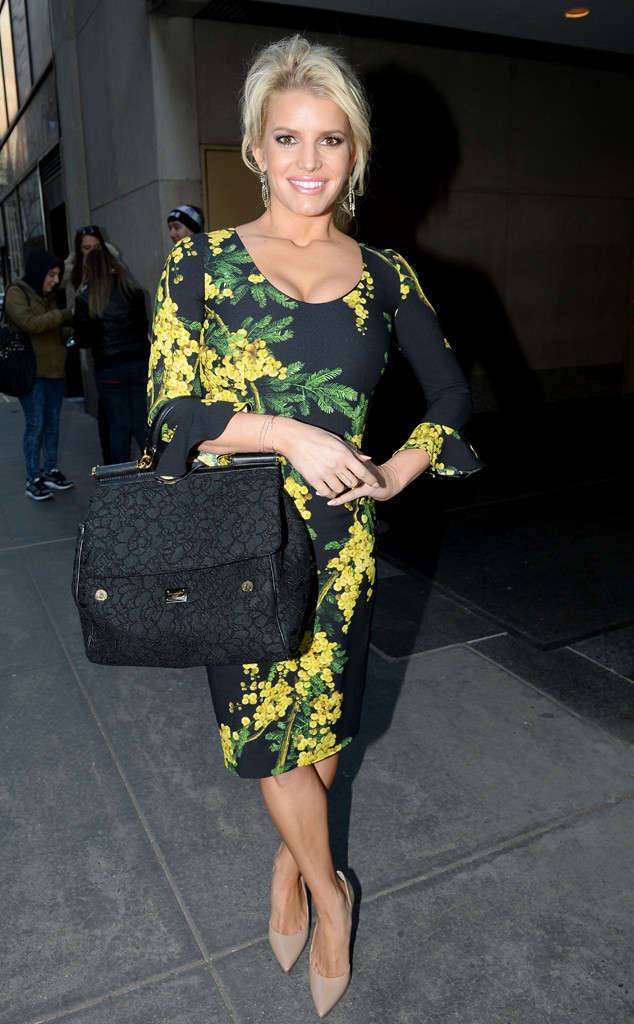 Jessica was totally feeling herself when she rocked this gorgeous floral frock for a day of A-list events. The green and yellow floral pattern set against the black background made the celeb's blonde hair pop. Her classic nude pumps and oversized pursue accentuated the sophisticated vibe of the whole look.
Regardless of what's going on in her life, Jessica has always put on a brave face for the cameras. But recent sources say there's more going on behind closed doors that what Jess likes to make it seem.
"Jessica has a problem," an insider told InTouch Magazine back in 2017, referring to her issues with alcohol and prescription medication. "It's been occurring on a frequent basis lately. The combination makes her loopy and disoriented," they continued.
The source added that Jessica's problems are affecting her marriage to NFL star Eric Johnson. "They'll fight about Jessica's drinking for a few days and then apologize to each other until it happens again," the source explained. "Eric just deals with it now. Of course, he's embarrassed, but there isn't much he can do. Jessica can be really stubborn and if she doesn't want to do something, no one can make her," they continued.
11 Ashlee – Jumping Into A Jumpsuit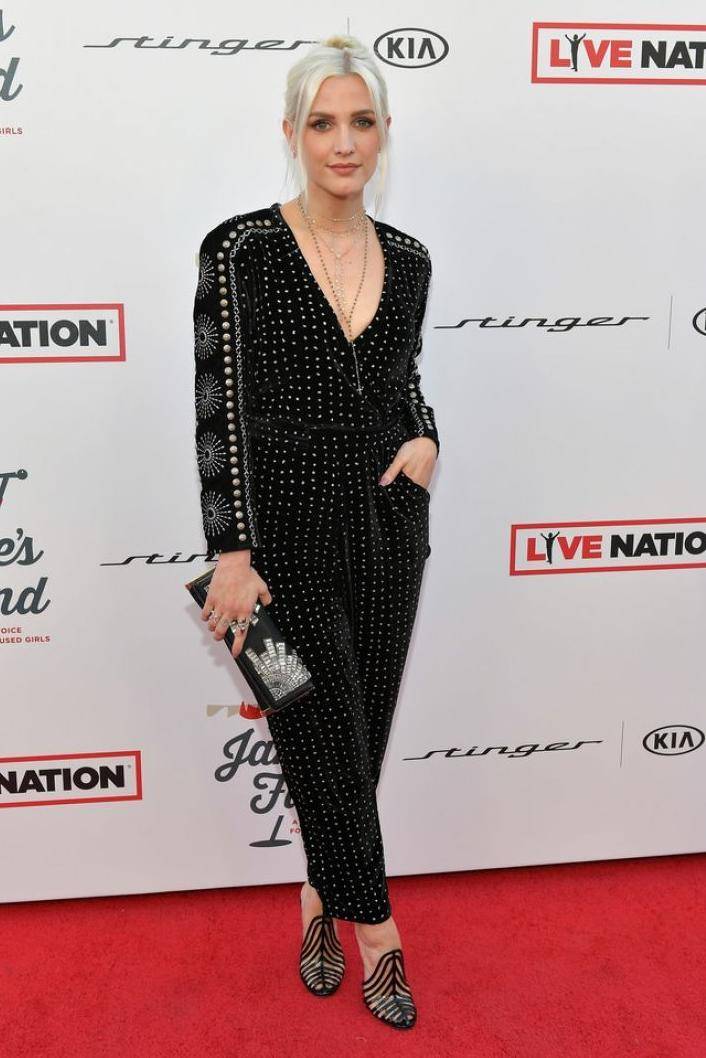 Ashlee looked all grown up in this stunning, studded jumpsuit that she rocked on the red carpet. The silver detailing coordinated with the star's eclectic mix of costume jewelry. Her loosely tied top knot added an extra bit of edge to the all-black look, while her caged heels elongated her legs.
It's clear that Ashlee has come a long way since she was first an awkward teenager attempting to make a name for herself in show business. Many fans often forget just how young she was when she first made it big, especially since she got married to Pete Wentz and welcomed her first child around the same time.
"It was honestly a classic case of marrying young, having a kid young and growing apart over the years," an insider told People Magazine in 2011 about why their marriage ended in divorce.
"When you don't spend a whole lot of time together, things become challenged," they continued, adding that their hectic schedules were to blame. "Ashlee was the one with Bronx a lot of the time, and that's a lot. Ashlee loves being a mom, but she also loves being a performer and she wants to badly get back to that."
10 Jessica – The Little Black Dress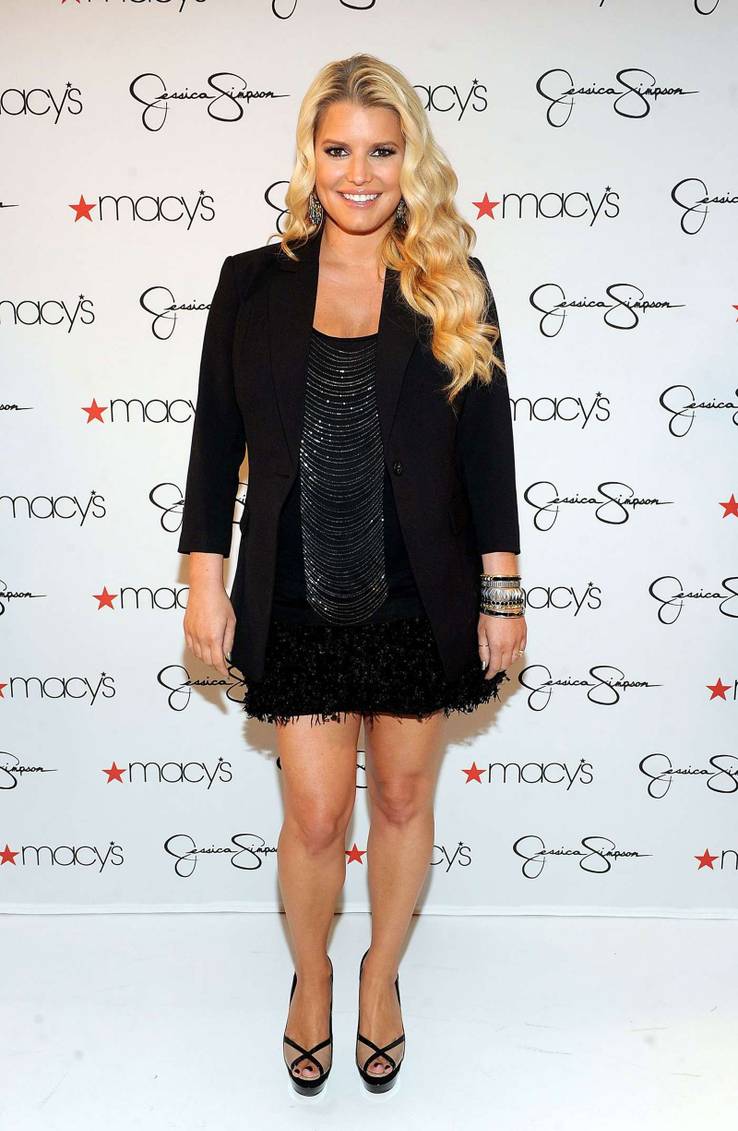 Jessica knows that black doesn't have to be boring! The celeb more than often chooses darker pieces to rock on the red carpet, but she always finds a way to make the look interesting and fashion-forward. In this look, Jessica opted for an eye-catching black mini dress with feather and silver beaded detailing. She toned down the bold dress with a conservative, oversized blazer for a stylish look.
"There's no way you're not going to be affected by the ugly things people say about you," Simpson told USA Today in 2010 about learning to accept her body and ignore the haters.
"It's very hurtful. It definitely brings up a lot of your own insecurities." She continued, "It takes a great family and wonderful friends – and love definitely helps, too – to get through it," she says. And it turns out her future husband was also helpful, too! "He definitely makes me happy and makes me very comfortable being who I am," she said of her then-boyfriend. "It's nice to be with somebody who praises you for all the right reasons."
Jessica says that reaching the magical age of 30 was when she truly found happiness within herself. "I love being 30," she added. "The moment I turned 30, I really did feel a switch in my life I had this coming of age moment I love the woman inside of me."
9 Ashlee – Finding Her Best Angles
Ashlee stunned fans when she showed up to the red carpet in this sequin mini dress, which left little to the imagination. The fitted frock showed off Ashlee's long legs and slim figure. Her bold statement earrings added a bit of edginess to the look, as did her smoky makeup and short 'do. The celeb's platform heels and handbag added an air of sophistication to the sultry look.
Though Ashlee used to be all about showing up to the red carpet and going out with friends, the star seems to be enjoying a more low-key life nowadays. The celeb never shies away from talking about her two kids, and how much being a mom brings joy to her life.
"Bronx is such a sweet big brother," Ashlee told Today Magazine about her kiddos. "They have such a different age gap, so it's really sweet to see them interact together."
The star continued, "I can already tell that it's going to be different raising a girl than a boy. She's dainty, and when I'm getting ready and Jagger is watching me, I keep thinking how this is going to be fun when she gets bigger." Ashlee added, "Jagger just started crawling around, so we're adjusting to that because you see every speck of dirt on the floor."
8 Jessica – Dare To Go Dark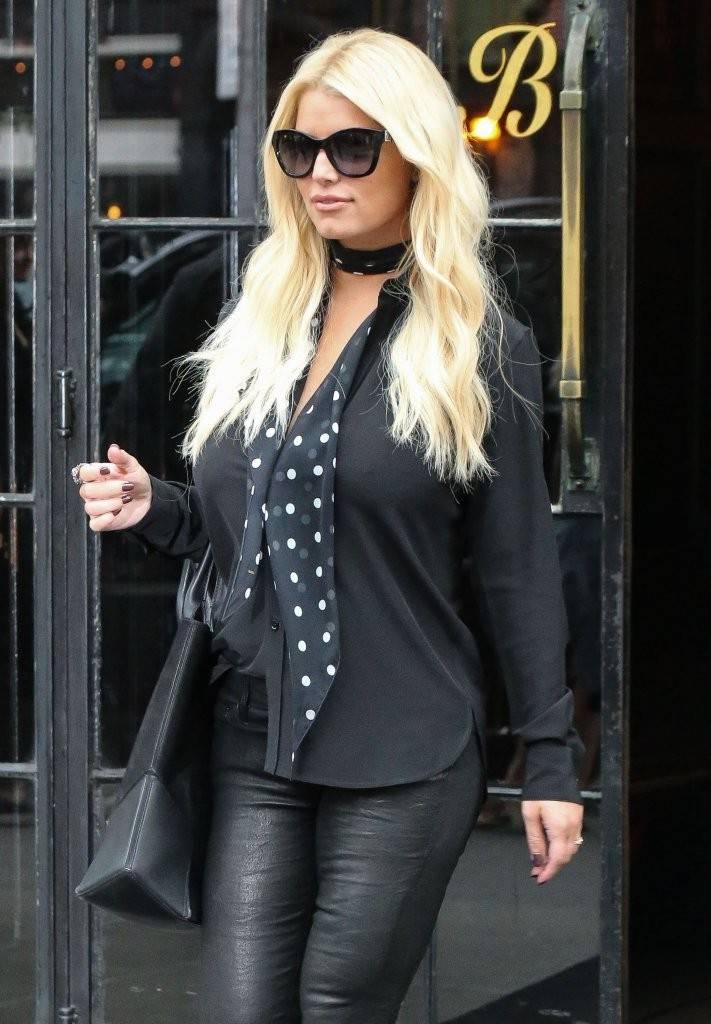 Jessica has sure seemed to find her style in the past few years. Though she's no stranger to rocking bold patterns and colorful pieces, the star seems her most comfortable in a dark outfit, just like this one. While on her way to a press event, the designer showed off her style in an all-black outfit consisting of a flowy blouse, dark jeans, and a massive purse. Jessica added a bit of dimension to the dark outfit with a black and white polka dot scarf styled around her neck.
In the past, Jessica admits she used to let negative media attention get to her. But now the celeb is happy and confident in her clothing choices, despite what anyone may say. "I know that every day the media's going to challenge me, is going to want to bring me down," she previously told Vanity Fair. "But I feel like I'm at such a place that I own myself, and it's authentic. I own that authentic part of myself, and none of those words are harsh enough to make me believe them." Not only does Jessica sound confident, but we can totally tell how incredible she feels in her own skin any time she steps out for a picture. You go girl!
7 Ashlee – Topping It Off (With A Top Knot)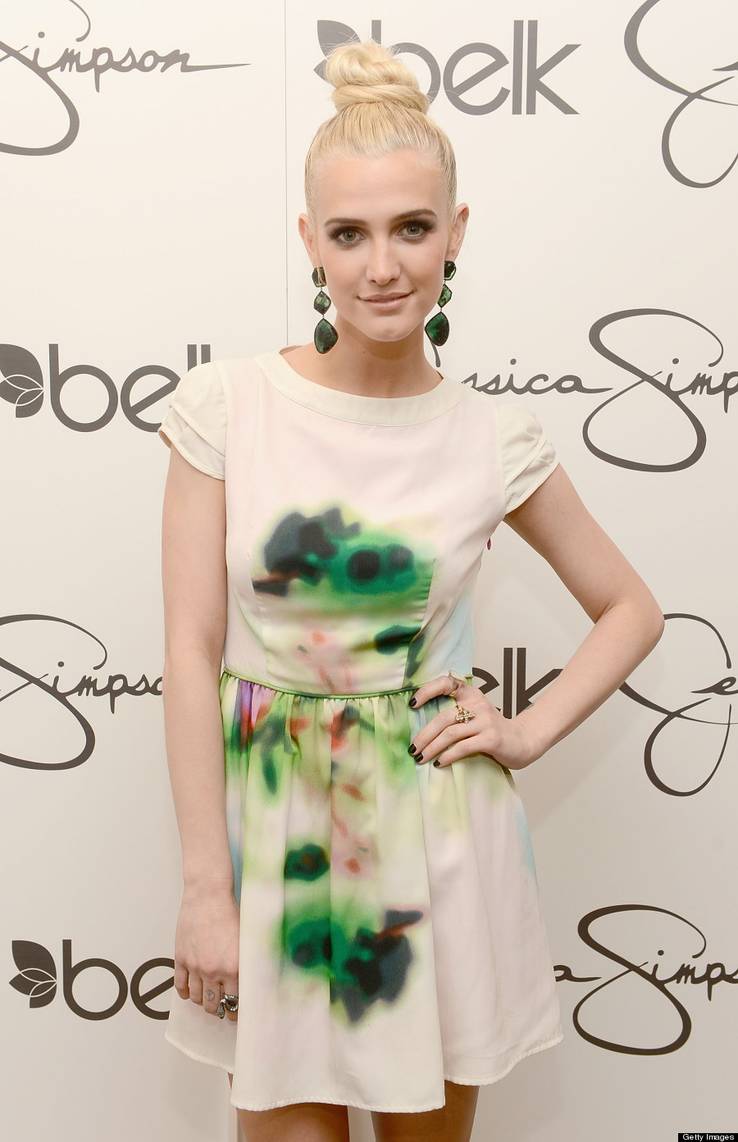 Ashlee dazzled in this white-and-green coordinating look. Her cocktail dress featured a fresh water color design that mixed elements of green and red, while her statement earrings tied in the emerald colors throughout her outfit. Ashlee made the look all the more fashion-forward by styling her light blonde hair in a bold top knot, adding to the modern feel of this look.
Fans would definitely agree that Ashlee has done well for herself in terms of her professional and personal life, but the star didn't always know what direction her life was going to take. "Growing up in the industry has been sort of crazy and sort of been awesome for my family," she told MTV in 2003 about growing up in a family obsessed with show business.
"Back in Texas, we weren't as close as we are now. Usually, when you're 14, you're like, 'Go away, Mom. Go away, Dad,' but I was going on tour with my family. They were all that I had. All of us are very different and loving of each other and very supportive of whatever and whoever."
In the same interview, the star added that she was unsure if she wants her kids growing up in the spotlight. "I don't know if I'd want my kids to do it," she told the interviewer. "But I think that if it's what they wanted to do, then it'd be cool. Then, if not, go play soccer and have fun."
6 Jessica – She's All Grown Up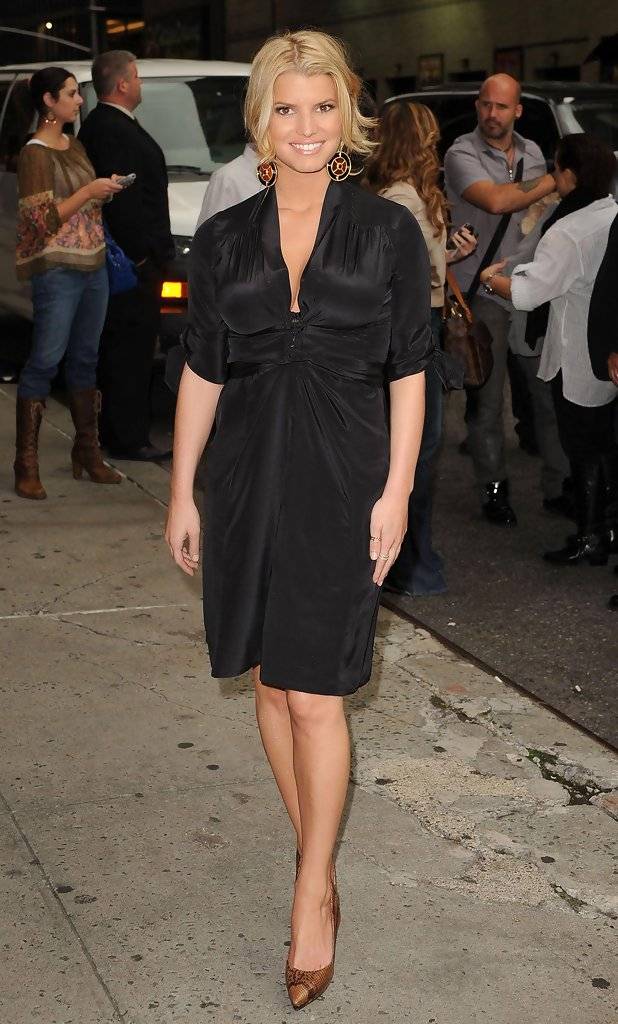 Jessica showed off a more conservative side of her style when she rocked this little black dress to a press event. The forgiving frock slimmed the celeb's curves, while her simple up-do and statement earrings added a sophisticated vibe to the charming look. She added a pair of brown, snakeskin heels to contrast the dark LBD.
As evidenced in this photo, Jessica tends to shy away from figure-hugging outfits when it appears as though she's gained a bit of weight. And with how cruel the media has been to her in the past, we can't blame her.
"She is determined to get even thinner," a source told InTouch Weekly in 2014 about the star's dieting plans following her second pregnancy. They continued, "She's the smallest she's been in years, and she still doesn't think it's good enough."
"[Jessica] wants to get down to 93 pounds. She's become an exercise addict," a second source told the magazine. "She walks six miles a day, strength-trains three times a week and constantly runs on a treadmill. She's gotten so carried away, she's fainted on a few occasions." They concluded, "She still likes to drink, so if she has a cocktail, she won't eat! She never wants to be made of her weight ever again."
5 Ashlee – So Many Sequins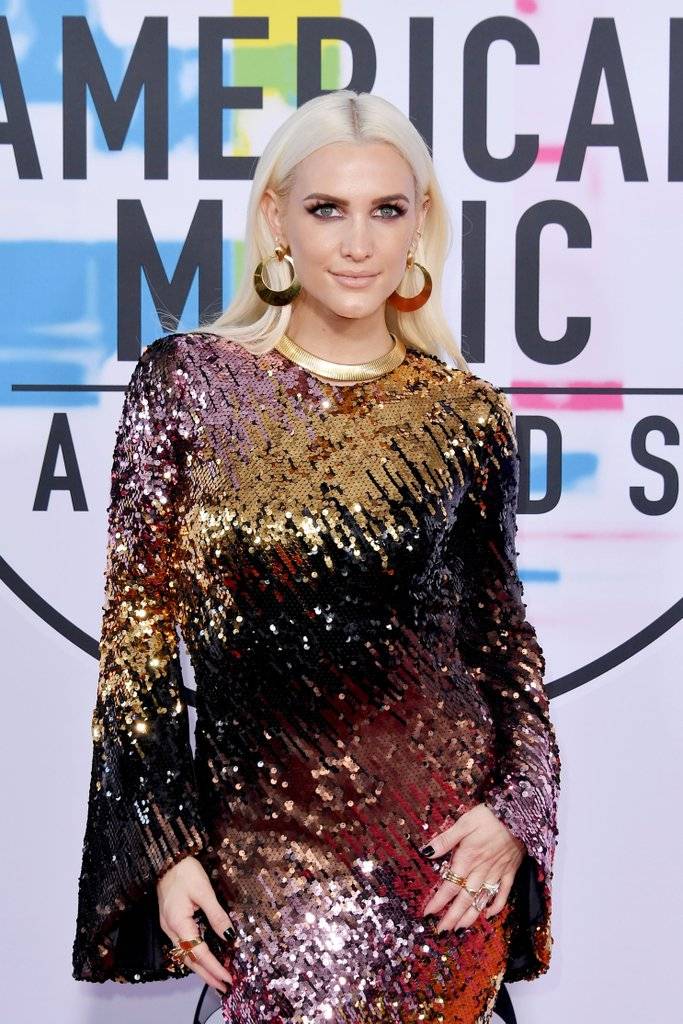 Ashlee shined brighter than a disco ball when she showed up to the 2017 American Music Awards in this dazzling, sequined gown. The bright dress featured a variety of dark colors that matched Ashlee's oversized earrings and gold jewelry. The bold dress contrasted with her white blonde hair, while her smoky eye makeup coordinated with the look perfectly.
"I'd love more kids. We're definitely having another one," Ashlee's husband Evan said during an interview on The Raw Word recently when asked about if they'll expand their family further or not.
"I want to finish this album and then definitely, for sure. Definitely one more, and then we'll see what happens after that," Ashlee added.
"As long as you give your children love and they understand what's going on in the world and have compassion, I think it's not the hardest thing in the world," Evan continued. Ashlee added, "And being a mom is my number one thing in life. Our kids are incredible. Bronx is creative and sweet and he's got an old soul. And Jagger is the boss," She went on. "She's already like, 'Give me the microphone and the shiny dresses and I am going to be [Grandma]."
4 jessica – a look for the night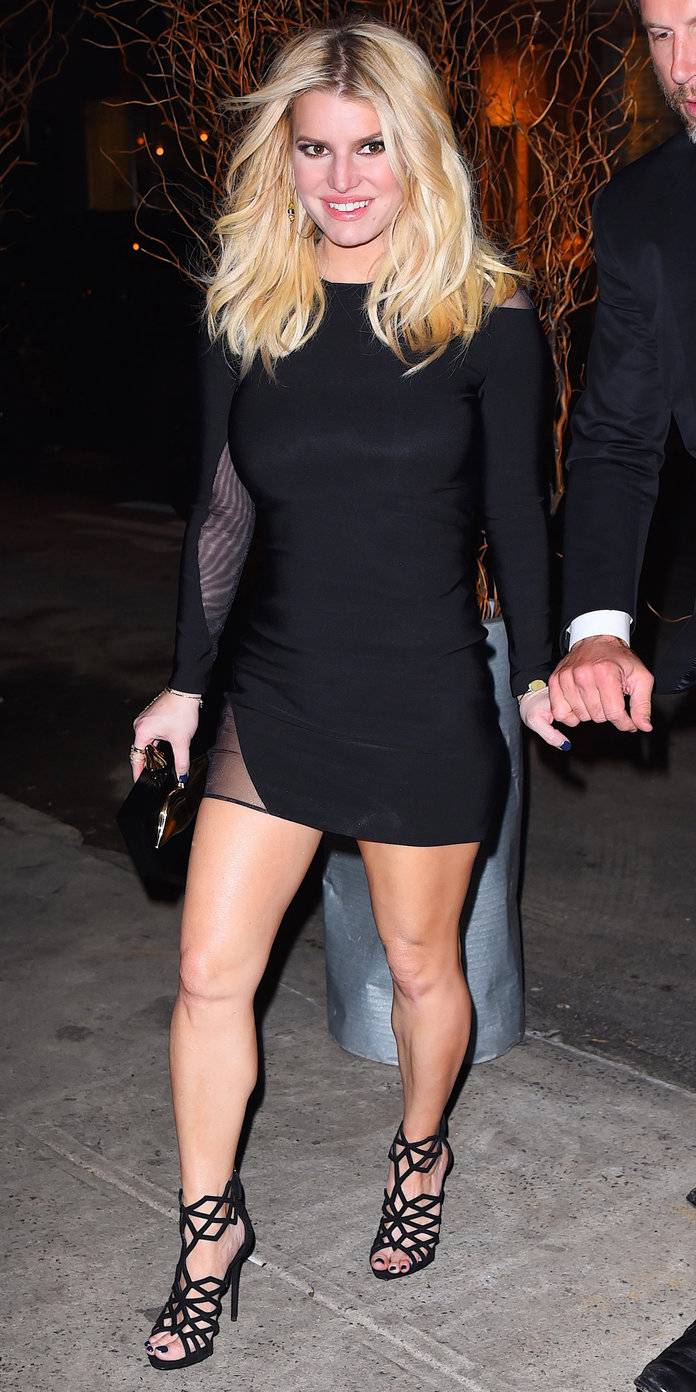 Jessica left little the imagination when she stepped out in this risqué little number. The black, figure-hugging frock featured several cut-outs that highlighted the celeb's curvaceous frame. Jessica added to the trendiness of her look with a pair of oversized hoops and caged heels. The star flashed a big smile as she made her way to her waiting vehicle.
Despite how well dressed she always looks, sources say the celeb is still struggling a lot in her personal life. Back in June 2017, a source told InTouch Magazine that Jessica was dealing with issues- and her family was getting worried. "Jessica is reviving her music career, her fashion empire continues to thrive, she has a husband who loves her and two of the cutest children in Hollywood, but she's blowing it all due to her self-doubt and drug and alcohol issues," the insider explained, adding that her issues with eating disorders are also resurfacing.
"It's gotten out of control," the source added, explaining Jessica's family had recently staged an intervention over dinner.
"The family dinner started off as a nice conversation about how she should maybe cut back on her workouts and dieting, but it turned into a heated fight," They said "[Her sister] Ashlee really called her out and told her she needed to get help, but Jessica freaked and ran out in tears. Now everyone's on pins and needles about what to do."
3 Ashlee – Feeling The Floral
Ashlee proved that floral doesn't necessarily mean feminine when she stepped out in this edgy outfit. The star showed off her petite frame in a red and pink floral, brocade dress set against a black and gold background. She paired the look with leather, thigh-high boots that rose above her hemline. Ashlee kept her silver locks in a messy u-do and added a casual crossbody bag to finish off the look.
"One more," Ashlee told E! News when asked how many more kids she and her hubby are planning on having. "I definitely want to have another one, for sure. I love being a mom. I mean there's really nothing greater than my kids. So, for me, that's something I continue to want to do in life."
During the same interview, Evan didn't hold back in praising his wife's mothering skills. "I got lucky. The fact that I've got a wife who is such an amazing mother, but also so extremely talented," he gushed. "I think there's always a time for everything. She's ready now to show her entertainment side and all that kind of stuff. It's amazing to watch cause she's so talented." How cute is this couple?
2 Jessica – Nothing But Knee-Highs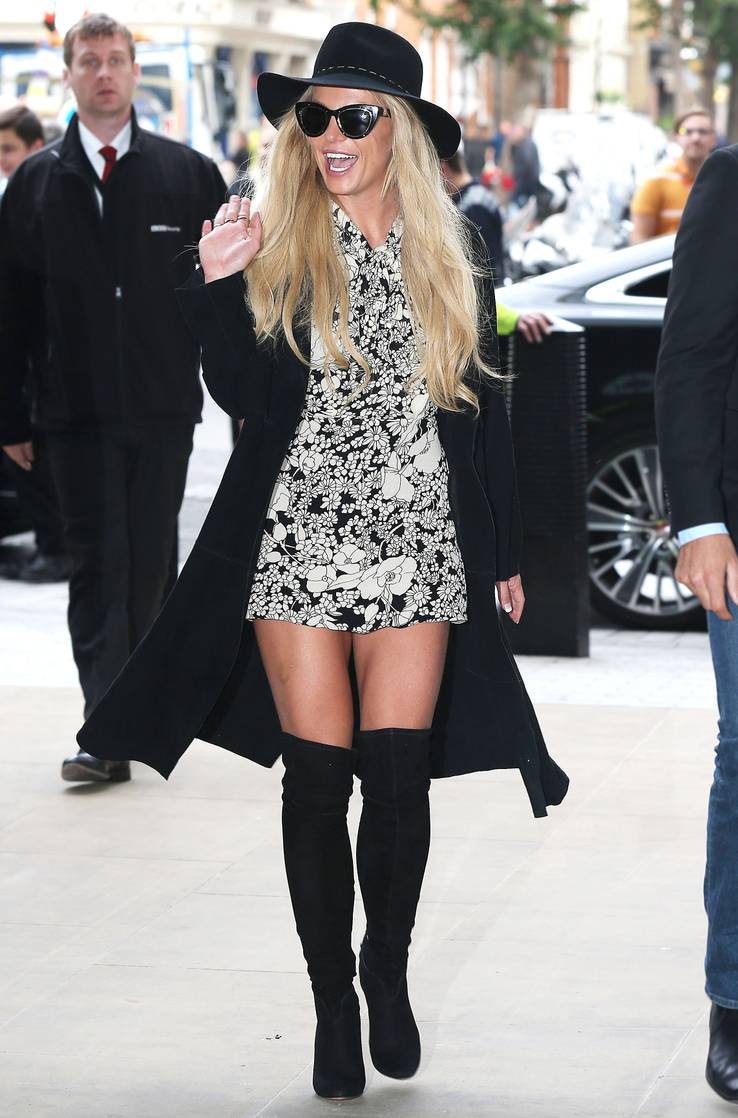 Jessica was all smiles as she showed off some serious leg while strutting her stuff through the Big Apple. The celeb kept her famous face hidden behind a wide brim hat and oversized sunglasses. Jess kept stylish in a black and white floral mini dress with a black trench coat draped over the top and a serious pair of thigh-high boots. The star waved the cameras as her bodyguards followed her into a nearby establishment.
Despite the dozens upon dozens of photos that are published of Jessica every week, the star says the public doesn't have a good idea of who she is IRL.
"I'm actually very different than I seem on the show," she once said to Cosmopolitan, referencing the old reality show she and her ex-husband Nick Lachey used to star on. "I'm a deep thinker, and I'm very intuitive. I read people like that, and I'm also a good judge of character," she added.
Jessica continued, "The show is very real, but I knew when the camera was on me, and it was hard not to give the cameramen what you know they want. I did those Chicken of the Sea comments on purpose, but I did those before. I've done those my whole life. That was my way of flirting with the boys and being a charmer."
1 ashlee – the skinny jean effect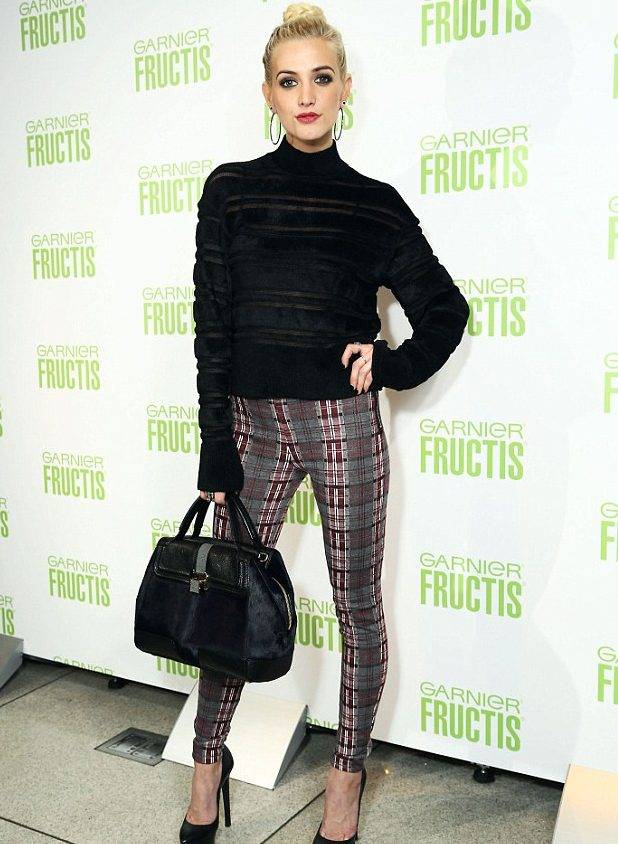 Ashlee took a break from her typical go-to choice of a dress and heels, and rather opted for this edgy pant-shirt combo for a red carpet event. Her plaid skinny pants elongated her tall legs, while the billowy black sweatshirt and oversized bag contrasted the preppy vibes of the trousers. Her smoky eye makeup, edgy topknot, and silver jewelry finished this rock n' roll look off perfectly.
"I think in any relationship in this industry, there's a stress on relationships," Ashlee's husband Evan Ross once told Entertainment Tonight about their relationship.
"I think that's reality, but in no way do I think that if a relationship is meant to be together and a marriage is meant to be together, that anything like a show or being in this industry can change that."
During the interview, Ashlee went on to speak about the couple's upcoming album and their new reality show, Ashlee and Evan, which will explore their musical collaboration. "We decided to make this album out of love and kind of going back to duets when that was such a thing," she explained. As for if their two kids will make appearances on the show, Evan added, "It's impossible to keep them away because we're with them every day, so they will be, but we're strategic in how we do that. We don't overdo it with them."
Refernces:Bustle,OK Magazine, Fox News, InTouch Weekly, InTouch Weekly, ET Online, People Magazine,People Magazine, People Magazine, People Magazine, Shape Magazine,Today.com,MTV.com,Zimbio, The Huffington Post, OK Magazine, EOnline,DailyMail,Perez Hilton
Source: Read Full Article