20 Female Celebs Who Dress Like They Don't Care About Their Age
Hollywood is a dangerous place. The yellow brick road may bring fame and fortune, but it brings something else, too — the paparazzi. This lot will literally camp outside for days just to catch a star looking at their worst, although, given how some celebs are choosing to dress, the job kind of does itself. For every actress, singer, reality star, and "that guy's wife" dressing way too young, there's a polar opposite— the new kid on the block dressing like she's 85.
Having a signature edge used to mean something. Singers could become literal style icons and many have. Racking up the millions is something these ladies are used to. Racking up the years? They're putting up more of a fight. For the select celebs who've found themselves on this list, it's for one of two reasons. Either they're refusing to accept that… amazingly, you can't be 25 forever. Or they're actually 25 and dressing like they're eligible for the Early Bird Special.
Paris Hilton and Anna Faris aren't 21 anymore …. or 31, for that matter. Some of these women are rocking teen outfits decades after they graced the red carpet in pregnancy gowns. The message may have been delivered, but it isn't being received. From the cast of Friends to music and fashion's biggest icons, these ladies didn't get the memo. Committing more wardrobe crimes than the fashion police can keep up with, here are 20 female celebs who definitely dress like they don't care about their age.
20 MILEY CYRUS: DRESSES LIKE SHE'S 12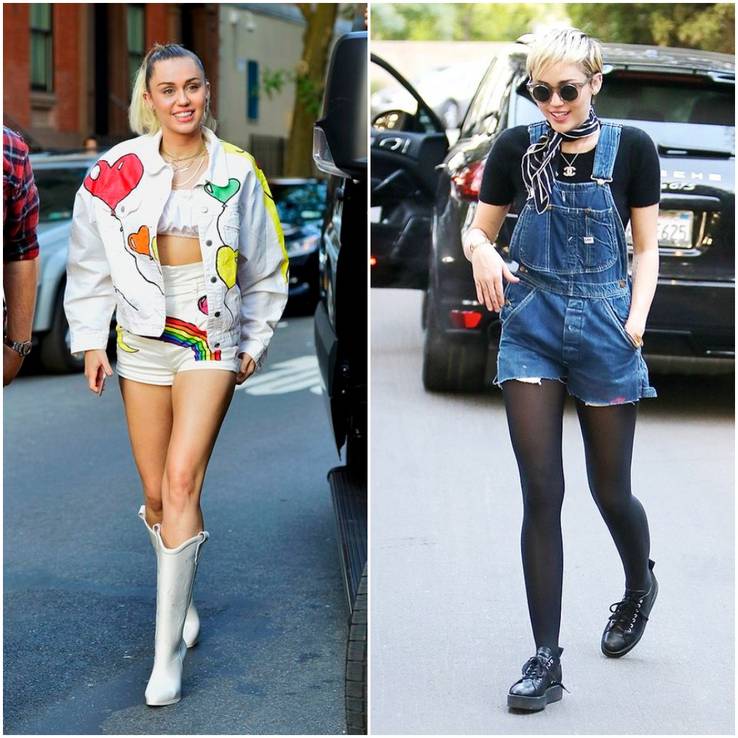 Seriously, Miley, grow up. You trawled us through a good five years of proving your point— WE GET IT. Hannah Montana is long gone, and Miley Cyrus has landed. Insisting on wearing "ripped everything" when you're that rich and that famous, though? Isn't that kind of bringing you back to where you started? Miley has had a pretty impressive fashion evolution. The butter-wouldn't-melt child star has shed her cutesy image in a frenzied unleashing of fishnets, cut-off denim, and studded leather. Whack on the shaved head and solid Instagram of: "Here's My Tongue," this singer has definitely changed. But is Miley just a walking portfolio of her lyrics?
Younger Now is what Miley chose to name her 2017 album. Good name. Between the neon yellows, mismatched jeans, and rainbow motifs, this star is getting younger by the minute. In many ways, Miley has proven she can embrace womanhood. The "Nick Jonas boyfriend days?" They're one big Disney memory. Replacing him with Liam Hemsworth was a major statement, but the wardrobe still won't budge.
Miley will turn 26 in the fall of 2018. Just think about that figure when you look at these pictures. Dungarees and pixie crops can be chic. When you're layering on the fuschias and John Lennon shades that much though, the most you'll get is turned down for a fake ID. Miley has a powerful voice. She needs a powerful wardrobe. Also, Miley could totally pull off the ScarJo look, right?
19 KIM K: CALLS HERSELF A ROLE MODEL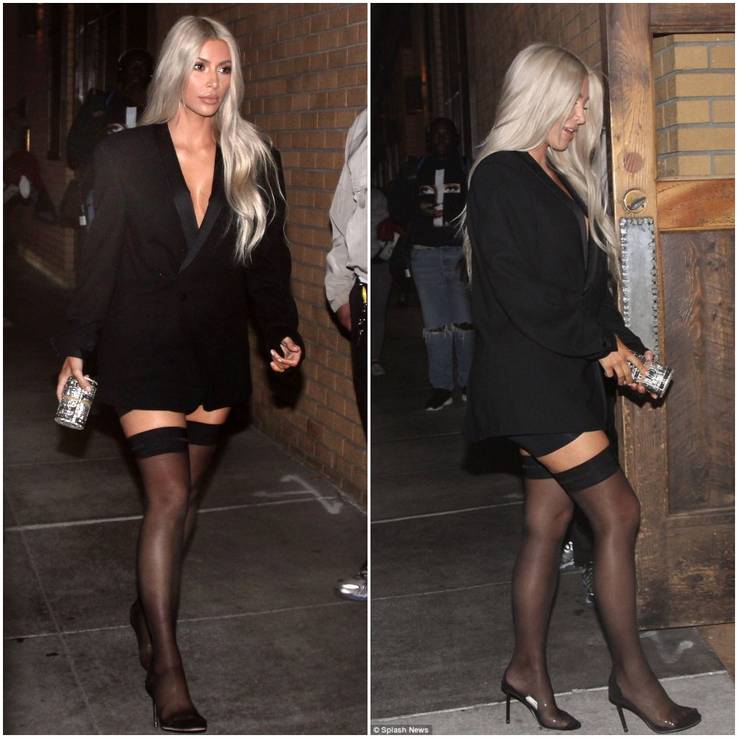 If she isn't posting selfies of her biggest obsession— herself— Kim Kardashian is feeding us a steady stream of wholesome family pics. The Keeping Up With The Kardashians star wasn't 100% wrong when she called herself: "A role model." Kim has shown the world that you can build an empire from just being yourself, and the family's feminine curves have inspired millions of women to accept their bodies the way they are. While Kim doesn't stumble out of nightclubs at 3 a.m., the wholesome "mom image" is going to need some work.
Eye-popping outfits have become Kim's trademark. Less is more, leather is "in," and apparently, going out to dinner in a nightgown is acceptable. At 37 years old, Kim might have youthful skin, but she isn't applying it to her wardrobe. #MomVibes?
When mommy talks, you listen, right? Just watch any episode of their show. Kourtney's kids are three years old and they're asking whether food is gluten-free. North West may still be in ballet wardrobes, but she's seeing her mom leaving the house looking like this. Kim, if you want to protect the #Mom image, you're going to have to dress like one.
18 BRITNEY: IF YOU'RE GOING TO CALL YOUR ALBUM CIRCUS…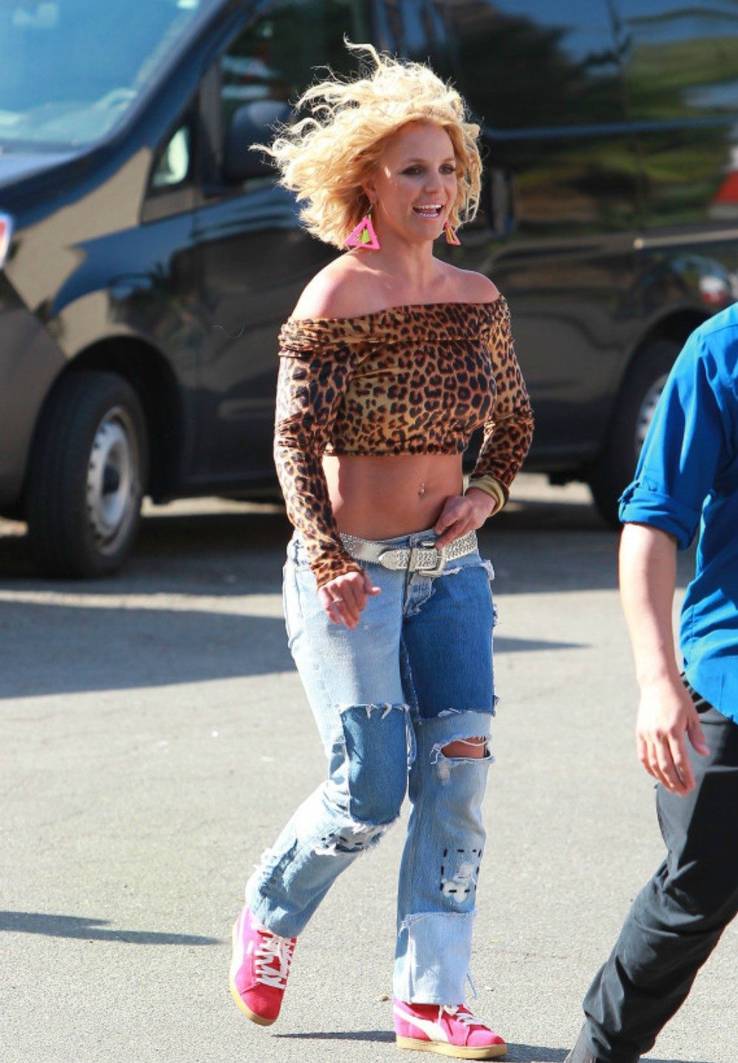 Britney Spears needs to understand something. She'll always be a legend. Human bodies are less dependable, though. Britney remains one of the greatest pop icons we'll ever see. From the early days of "Hit Me Baby One More Time" through to her latest releases, the "Toxic" star has built an empire on her girl-next-door looks and all-American vibe. No-one cares that Britney isn't 21 anymore– including most guys. Britney was 35 when this pic of her shooting a video with Iggy Azalea was taken.
"It's tricky because as a mother, you don't take as much risk with your style," Britney told Vogue. "I hold back from that out of fear of embarrassing my kids and out of respect for them."
It's unlikely that Britney's two kids, Sean Preston and Jayden James, will have their mom's wardrobe as "most embarrassing mom moment." This is, after all, a mother who has infuriated the entire parenting world. Getting papped driving with your toddler on your lap will do that. Still, between the teeny tiny t-shirts, bodycon dresses, and this look, it's time Britney embraced a little bit of class. The lyrics make sense, though: "I'm Mrs. Lifestyles of the rich and famous… I'm Mrs. Oh my God that Britney's shameless!"
17 BEYONCE: FOUR YEARS 'TIL THE BIG 40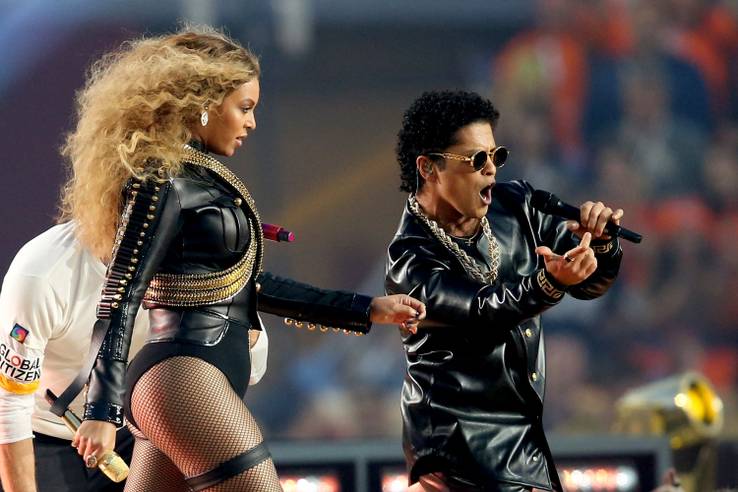 Beautiful? Yes. Idol? Always. Fashion role model? Not anymore. At 36 years old, Beyonce is definitely proving that she can "Run The World." But there's a husband and three small kids waiting at home for her. This music mogul has monetized on every moment of her fame– and why not? When Forbes reports you raking in a staggering $104 million over 2017 (making you richer than your husband), you can march onto that stage with confidence.
Beyonce's performance outfits haven't changed much since she became the biggest woman in music. What has changed though, is her age. The Destiny's Child years are now decades behind Bey, but the skin-tight outfits, daring leathers, and stockings haven't gone anywhere. We know she can sing. We know she can dance. This 2018 Superbowl outfit had a lot of fans outraged, though. While some were rooting for Beyonce's #Power, others were hollering at the three kids she has.
Beyonce clearly doesn't care about her age. The singer has just four years before she hits the big FOUR-OH. $100 says that wardrobe stays the exact same. Although Bey's 2018 Coachella performance saw her rock awesome yellow in a #Yonceclaw Harry Potter twist, it's been straight back to her way-too-revealing wardrobe since.
16 DONATELLA VERSACE: IT'S GETTING EMBARRASSING
This is 63-year-old stopped counting the candles on the cake a good two decades ago. Donatella Versace is arguably the most powerful woman in fashion. The head of the Versace empire is dressing everyone from Drake to Angelina Jolie, although, posing at the 2017 Met Gala with Kylie Jenner was a risky choice. Sure, standing next to a 20-year-old with over 100 million Instagram followers can do wonders for your image, but it's the wardrobe we're looking at here.
Donatella established her signature glitter gowns and "shimmer everything" a long time ago. Her floor-length, cut-out dresses have put red carpet appearances from Jennifer Lopez and Amy Adams on literal Walks of Fame. The "Donatella hair" is likewise a firmly established poker-straight (and often waist-length) blonde. When you're inching your way to 65 years old and pulling a bit of a leather handbag face though, you don't get to pull the "I'm ageless" card.
Donatella told Vogue that her personal hashtag would be: #Blonde. That was a 2018 interview Donatella gave in her unimaginably glamorous Milan apartment. That's all fine. The pastel pink Versace logo t-shirt she was wearing, though? That's something we'd expect Ariana Grande to wear when she goes shopping. It's like Donatella doesn't care about the Versace legacy (or her age).
15 KATIE HOLMES: BEING OUTSHONE BY HER OWN DAUGHTER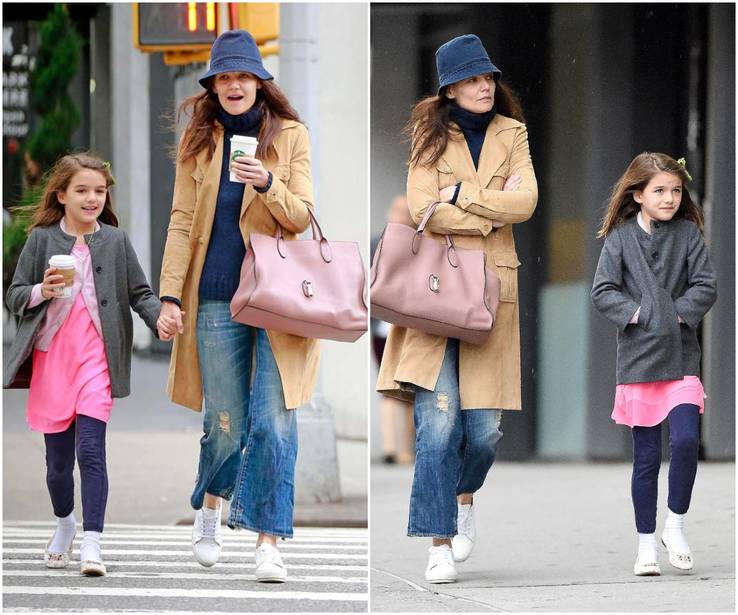 When a marriage breaks you down, it breaks you down. Many moons ago, Katie Holmes was the effortlessly beautiful Hollywood starlet who totally earned her spot on the TV show, Dawson's Creek. That dimpled smile was a look that everyone loved— including Tom Cruise. Their marriage may have ended in 2012, but the Scientology rules that broke it down are still shocking the world. The Mission Impossible actor may lay down the law on-set by pulling his own stunts, but his controlling nature has been reported by every media source out there, including People.
From reports that Katie had to follow rules like silent labor, forced interrogations, and invasion of privacy as Tom's wife, to Paramount's rep's calling Tom's on-set behavior "simply unacceptable," it seems like a life with Tom Cruise will bring you one thing: unnecessary stress. 
Cutting a lonesome figure these days, this 39-year-old is dressing like she's 75. Katie reportedly has a blossoming love life with the actor, Jamie Foxx. But with a reported divorce clause forbidding Katie from dating for five years after the split, this is a girl who is still very much under the Tom Cruise grip. The Daily Mail's report continued to outline Suri's reported $2 million wardrobe. When your 12-year-old is outshining you, it's time to stop and get some perspective. This girl just breaks our hearts.
14 CHRISTINA AGUILERA: STILL FIGURING OUT HER LOOK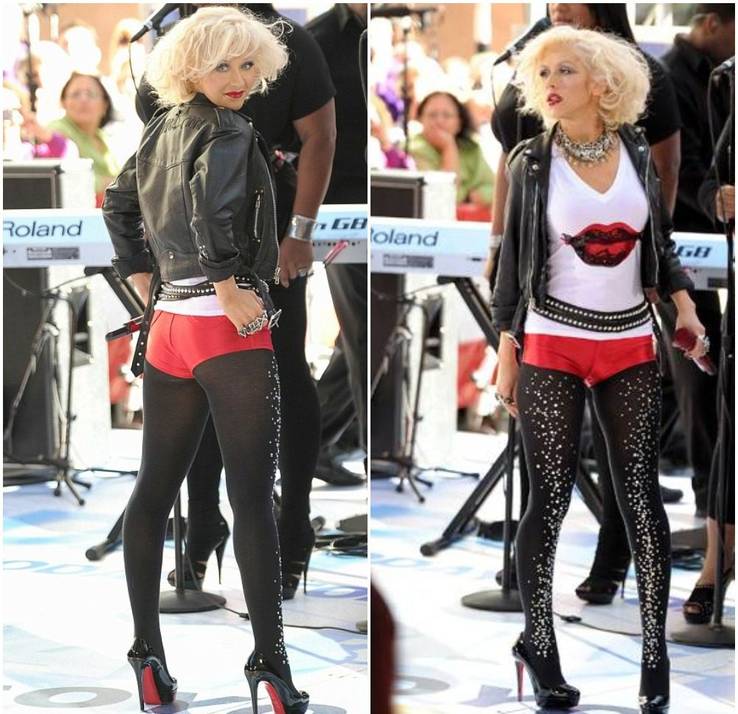 Oh, Christina. What happened? This singer was dominating the industry for good reasons– once upon a time. Songs like "Beautiful" and "Hurt," showed us a raw and powerful woman willing to show her true colors. With vocals like Christina Aguilera, who needs a burlesque wardrobe? Apparently, Christina does. 2018 gave us a brief peek into a makeup-free Christina, as she bravely posed for Paper Magazine (and looked literally unrecognizable). But this girl continues to hide behind the furs, fishnets, and Lady Marmalade costumes. At 37 years old, Christina has dug her heels into the ground, and she'll probably still be wearing those platforms until she needs a cane.
#Transformation was the caption that ran alongside staggeringly beautiful pictures of the singer, as she stripped off the makeup and went bare for the camera just this month. 24 hours later though, Christina was back in her leather. Her makeup is probably the reason Kim K's beauty line sold out in just three minutes.
Wearing a ring that said "Mom," Christina told Paper that "taking risks" was the secret to her appeal. "Madonna had to go through it in her day, and she paved the way for my generation. And paying it forward, now a younger generation is coming up." Yes, Christina. They're rising in age and so are you. Maybe "pay it forward" in other ways?
Featured Today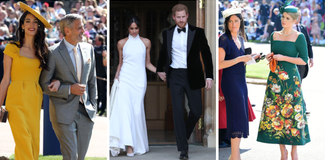 Royal Wedding: 12 Best-Dressed Guests And 12 Who Should Have Hired A Stylist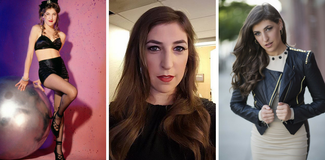 20 Photos Of Mayim Bialik Looking Way Better Than Big Bang's Amy

25 Embarrassing Pregnancy Outfits These Celebs Should Have Left In The Closet

13 ANNA FARIS: LITERALLY MY SUPER EX-GIRLFRIEND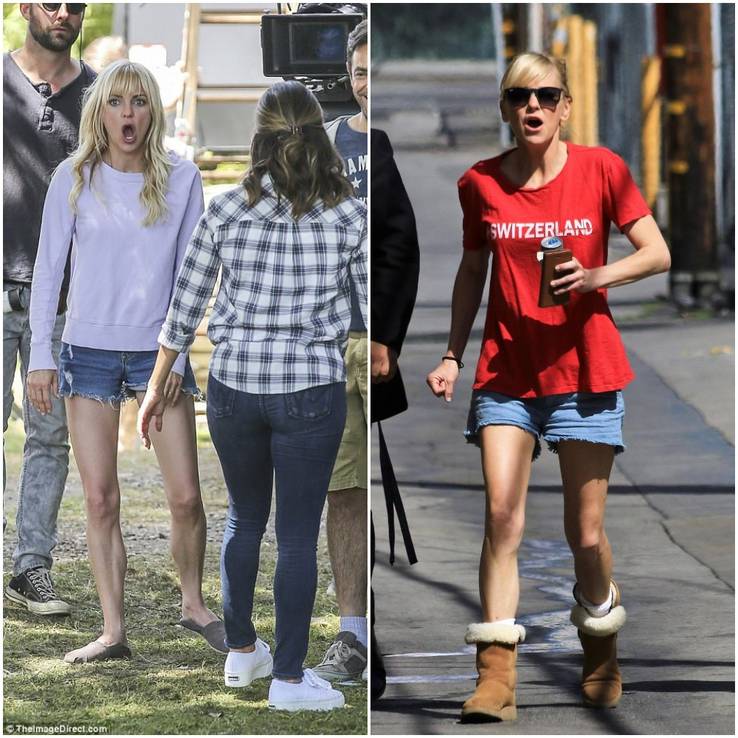 Anna Faris is going to have to try harder than just hiding behind shades. The Scary Movie actress is fronting every headline out there– that'll happen when you're divorcing the star of Guardians of the Galaxy. Anna built her career on making the world giggle. But when you're 41, twice divorced, and a mom-of-one, it's time to buy some decent clothes. Anna is frequently papped in her usual wardrobe of bundled-up sweaters, oversized hoodies, and ripped jeans. Why these millionaires continue to insist on looking flat-out homeless, we'll never know.
This one turns ironic  when you look at who Anna Faris just divorced. Chris Pratt started out broke. Well, homeless, actually. The Avengers: Infinity War star was once a Bubba Gump Shrimp employee, dishing out seafood for minimum wage before returning to his RV in Hawaii. Chris has more style than Anna.
Anna has been pretty lucky. At 41, she's got genes that say: "I'll be looking young for a while." So why not make the most of it:? The least you could do when you're in the spotlight is to make an effort at award ceremonies. Sadly for Anna, red carpet style has proven unlucky. Even in Diane von Furstenberg at the Oscars, Anna was called "a total miss" by celeb stylist, Felix Mercado. He told CBS: "Sorry Anna, but you looked like an overdressed showgirl with bad hair." 41, Anna. Not 15.
12 J-LO: PUSHING 50 (BUT NOT BUDGING)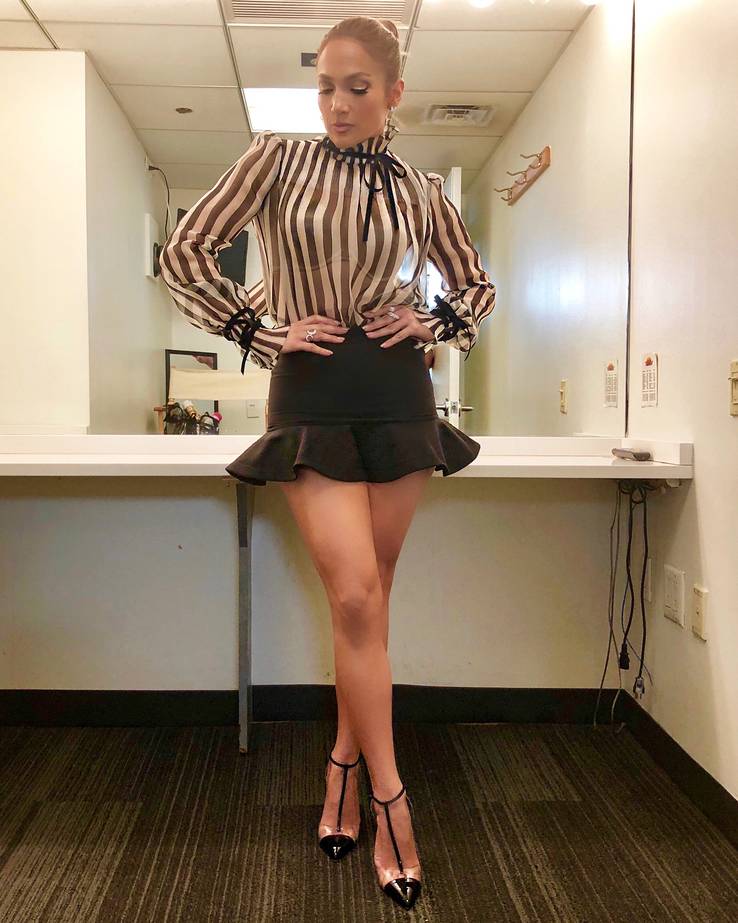 If you're going to project the image of a timeless icon, you should probably pay attention to the details. You know…maybe the clothes? Jennifer Lopez and her insanely good music have made her an undeniable icon– not to mention making her insanely rich. Over two decades of records, collaborations, tours, and that judging spot on American Idol have turned "Jenny From The Block" into someone who buys the entire block. Not happy with her 2013 American Idol fee of $15 million, Ms. Lopez whacked on another $5 million for what is her current $20 million per cycle, according to Time. Yes. $20 million. This Latina lady needs to watch her back, though.
The "I'm Real" singer literally ignores her own private jet attendants – as they're trying to serve her beverages. J-Lo will also only consider marrying A-Rod if he doesn't speak to women under the age of 40.
As The Daily Mail released this 48-year-old's diva demands, we couldn't help but take a good look at the pictures. You'll see Jen in workout gear or age-appropriate jeans (from time to time). The default look is still plunging gowns and itsy-bitsy dresses– from a mom-of-two who will be 50 in less than two years.
11 KATE MIDDLETON: DRESSES LIKE THE QUEEN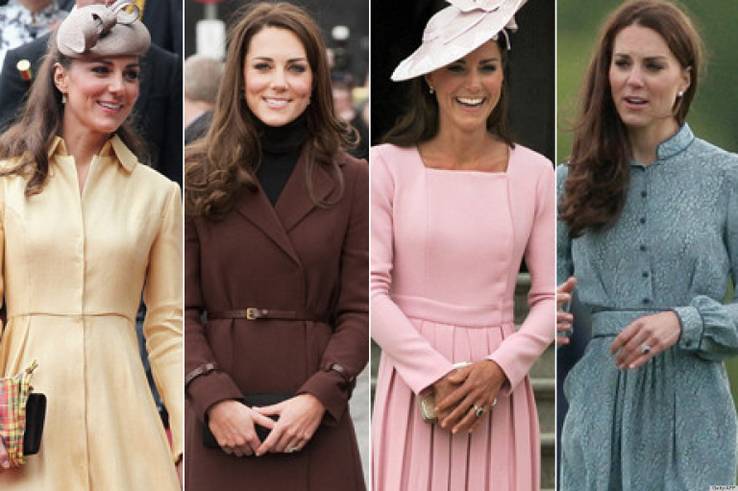 When you're a royal, you're always making headlines. Kate Middleton has pretty much lived out every girl's dream come true. Her 2011 fairytale wedding to Prince William saw her walk down the aisle in a custom-made lace panel dress. The world briefly lost its mind (and again with Meghan Markle's wedding). $36 million is what People reported that Kate's wedding cost, and there's no denying this girl has married into money. Here's the problem, though. She's also married into the world's strictest family.
The royal dress code is just one of the dozens of rules that a royal has to follow. Kate had to ditch her formerly carefree wardrobe of casual jeans and tees for the preppy ivories and tans that make her look way older than her 36 years. For a girl who's this good-looking— not to mention having such a great figure after three kids— her wardrobe is pretty depressing.
Kate will have the occasional event to properly dress up. Royal galas have their tiara pros, but once again, the wardrobe is dictated from above. This family even has to travel with an all-black wardrobe in case of a funeral. According to Marie Claire, Kate "must wear a hat, never wear short skirts, and must stick to specific colors." So much for the princess dream…
10 PARIS HILTON: NEEDS TO CHANGE THE RECORD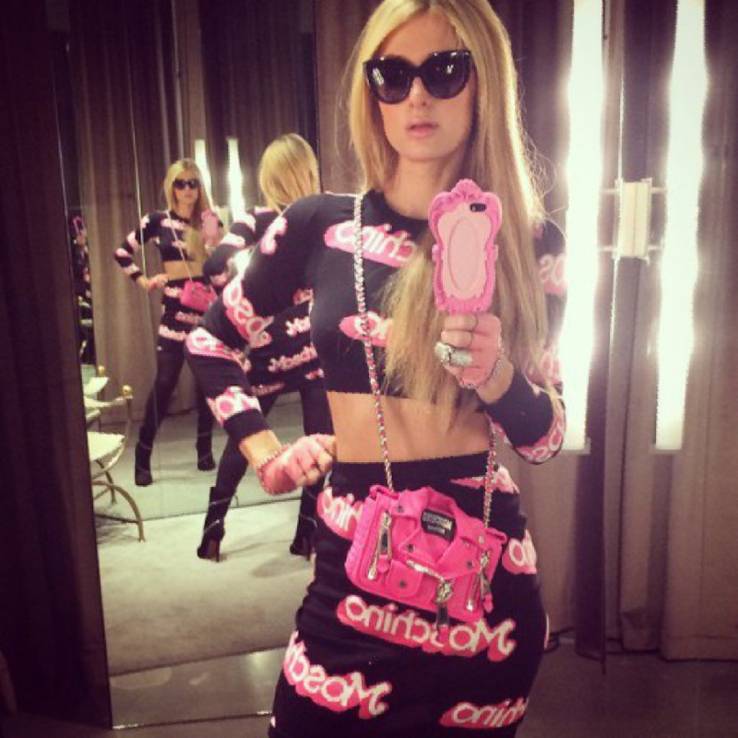 Most stars put their money where their mouth is. Instagram feuds exist for a reason, but we're looking at a girl who's putting up her own fight. Paris Hilton is 37 years old. The Californian socialite has spent decades building her candy-cute, all-pink image of cuddly puppies and diamond watches, but Paris seems to have forgotten to check the time. Or the date. Tiny, clingy dresses and showers of glitter are what Paris loves, and she won't give it up.
"I'm like, a really shy person," Paris has said. At 37 years old, the blonde look is fast becoming a giant yawn of glitzy dresses that are putting this reality star up there with Donatella Versace.
Having found fame on the reality show, The Simple Life, Paris spent the 2000's in a solid wardrobe of peachy jogging outfits, belt-size mini skirts, and glitzy dresses. Diamond-encrusted chokers were as much an accessory as her chihuahuas, but even these dogs are looking more stylish than their owner. Paris is desperately trying to stay "relevant" by establishing herself as a DJ. To be fair, she's doing pretty well. The $1 million she has reported she can earn per set isn't anything to ashamed of. The wardrobe? More questionable…
9  JENNIFER ANISTON: SWEETHEARTS HAVE A SHELF LIFE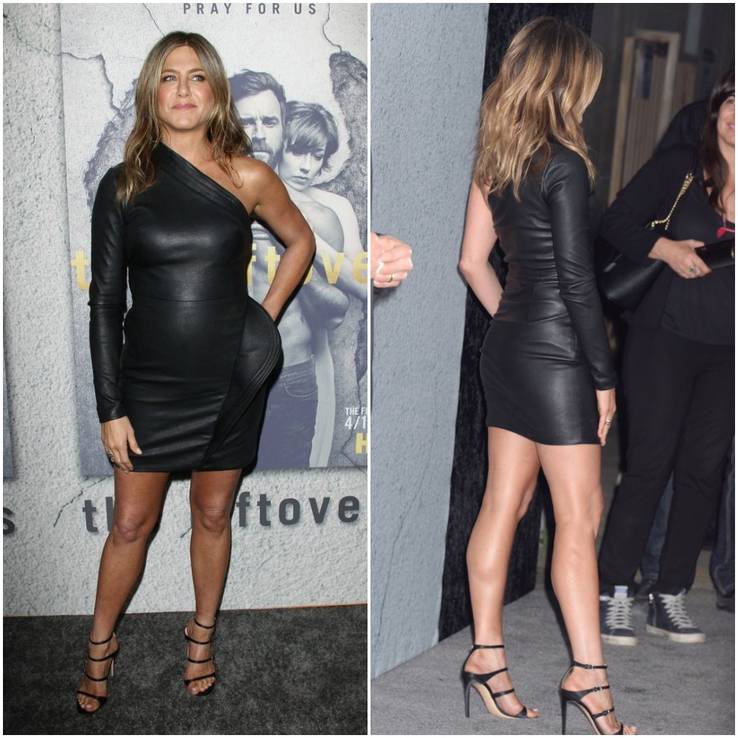 Let's get something straight. America's sweetheart hasn't gone anywhere. Decades after Friends ended, Jennifer Aniston is still one of the most worshipped women in Hollywood. At 49 years old, Jen may not look a day over 35, but she's also dressing that way. This girl has had a hard time. Just when we thought the "Brangelina" love triangle had finally ended, Jen's second marriage to Justin Theroux goes and falls apart. At nearly 50, Jen may be rich, but she's also very (very) single.
Jen's style was always kind of "mid-way." We never saw anything fully outrageous– if anything, Jen's street style of boyfriend jeans, fitted jackets, and white tees have made her somewhat of a style icon. It's as the sun sets though, that Jen starts to get it wrong. The actress is still rocking up to red carpet events in tiny fitted dresses and leather— hardly appropriate. Jen is respected. She's the rom-com movie queen, and magazines are waiting in line to hear what Jen has to say about health and fitness.
In an interview with Glamour, Jen listed Blake Lively and Kate Moss as her style icons. So, let's see. A 20-year-old A-lister and a "past her hay day" model who is starting to look a bit of a wreck? An appropriate dress, Jen. That's all we're asking…
8 KATY PERRY: SOMEHOW, IT'S ALWAYS HALLOWEEN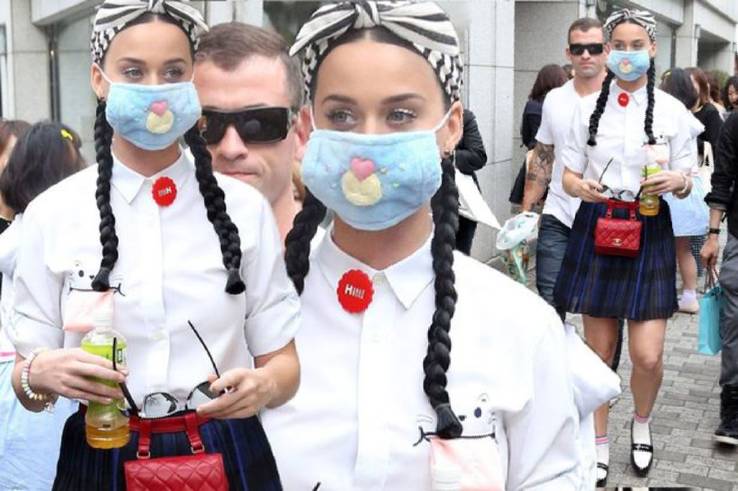 We get it, Katy Perry. You have a personality. Neon wigs, rosy cheeks, and a big fat statement that says: "I escaped my religious childhood." You kissed a girl, you liked it, and so did we. This girl has had more style evolutions than Madonna, but unlike Lourdes Leon's mom, Katy isn't reinventing herself. She's recycling the same old style, and it's getting a bit stale. First, there was the retro, pinup look. Then came the polka dots, monochromes, and pyrotechnic quirks— like the holographic "Cute Circuit" dress Katy wore to the 2010 Met Gala.
Katy's "Teenage Dream" look is fast becoming a recycled 20-something nightmare. At 33 years old, Katy is dressing like your 12 year-old sister on Halloween. "I feel super lucky," Katy said. "I can get anything I want now."
Right, except a stylist you'll listen to. In an interview with WWD, Katy outlined how her relationship with fashion has been "interesting." "In the beginning years, I think I was a parody of fashion– colorful, bright, crystal, bedazzled. I think five years ago, it was more about label and price and now it's about personality." This is probably the only time we'll ever say this to a celebrity, but how about reversing them? A smartly dressed Katy in designer pants with a vintage bag? That could actually work…
7 KOURTNEY KARDASHIAN: MOM OF THREE (JUST SAYING)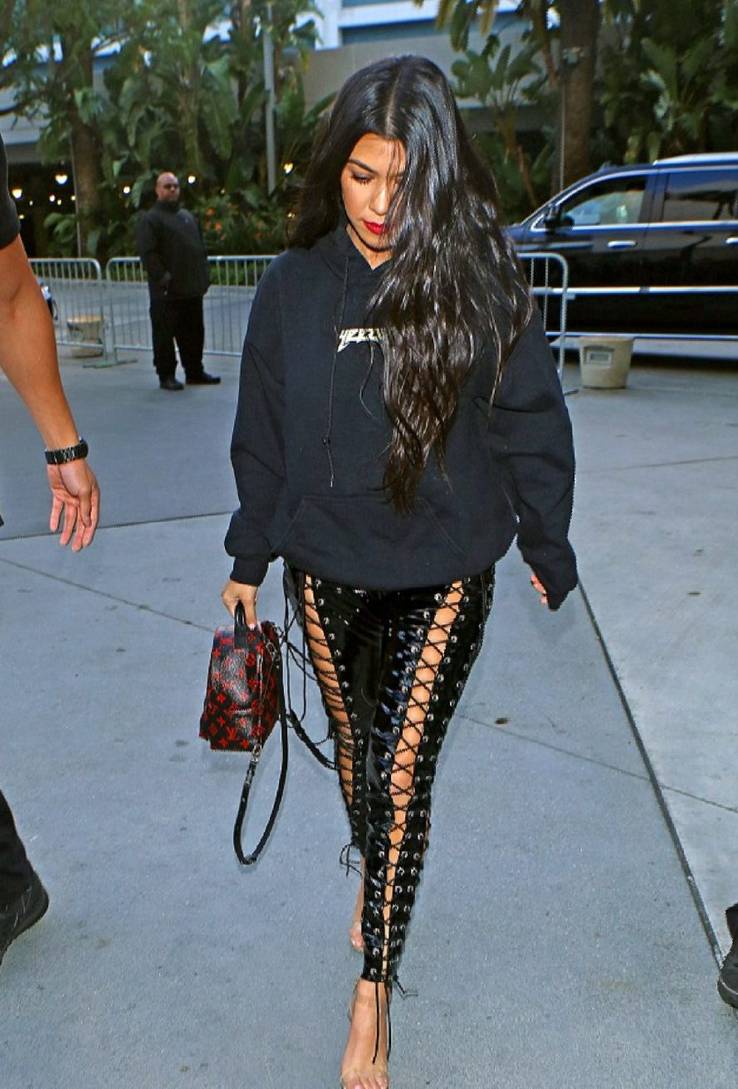 This family needs a re-vamp. Kourtney Kardashian may have a solid mom following, but the person she's following is her little sister, Kim. Seriously, it's like this woman wakes up, walks into her impossibly huge closet, and thinks: "Which of these clothes will make me look most like Kim?" We see Kourtney as the stressed-out, time-strapped mom on KUWK. To be fair, Kourt is already alienating us, there. Lounging by the pool in your Calabasas mansion while your kids decide which of their 25 mini racing cars they want to play with? Yeah, we really relate to your "stress," Kourt.
Kourtney will be blowing 40 candles out on April 18th, 2019. Yes, 40. While this girl is lucky to have youthful genes, what kind of example is she setting for her three kids? Wait, don't bother answering that one. You just need to watch one episode of that show to see that Kourt is totally not over baby daddy, Scott Disick.
Kourtney isn't just turning to her wardrobe to feel like she's still 25. Whether she's actually in love with her 25-year-old boyfriend, Younes Bendjima, isn't really known. Much like her mom, Kris, though, Kourtney has gone down the "younger guy" route. More of the Yeezy hoodies and jeans, please. At any rate, less of this?
6 BETHENNY FRANKEL: A DESPERATE HOUSEWIFE?
Yes, you can powerful at 47. The Real Housewives Of New York star has proven that being a woman in The Big Apple can bring you a healthy bite of profit. Bethenny Frankel is known for her hard-hitting attitude, no-nonsense negotiating, and of course, being a mom. Every restaurant in New York wants this woman booking a table, and every talk show wants her as their guest. With $25 million to her name, Bethenny can shop where she likes, when she likes.
What is this reality star choosing to dress herself in, though? That's getting more questionable by the day. Tiny Hello Kitty outfits might be what this mom wears when updating her Instagram with the kids, but her evening wear is one giant fail. Way too much glitter, way too much flesh, and harsh blacks won't do you any favors as you approach 50.
While TMZ reported that a court actually told Bethenny: "No more pajamas!" this mom has taken her "Manhattan Boss" power wardrobe a bit too far. Those parties she attends? Bethenny is mingling with 20-somethings and their 30-something husbands. With two of her own (who've left her), Bethenny might want to stop and take a look in the mirror.
5 CAMERON DIAZ: YOU'RE 45, NOT 75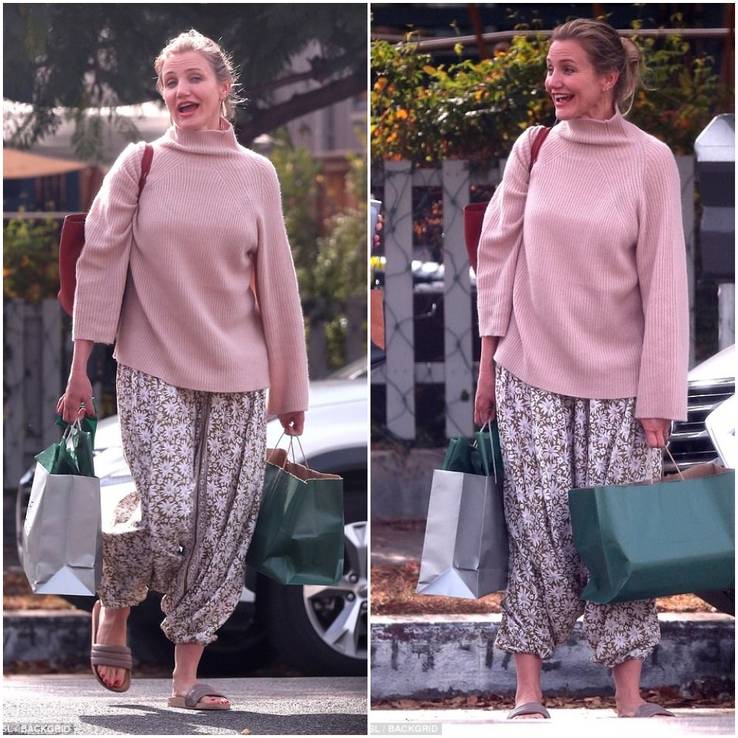 What happened, Cameron? This model-turned-actress was dominating Hollywood with her cute, blonde image, leggy surfer physique, and baby blue eyes. Movies like There's Something About Mary and Charlie's Angels were perfect for Cameron Diaz– in fact, most people considered Cameron herself to be perfect.
Currently pregnant, 45 years old, and enjoying a bit of an "anti-Hollywood" lifestyle, Cameron is being papped in clothes that would be more suitable for someone approaching 75. The Charlie's Angels star looks like she lives at the thrift store.
Patterned florals, messy hair, loose harem pants, and sandals are making Cameron look at least 30 years older than she is. Wanting to "normalize" her life is reportedly the reason Cameron has taken a firm step back from Hollywood, and The Daily Mail has also reported that Cameron has grown to fear crowds. "I'm very happy with the way I look. I wake up some morning, catch myself in the bathroom mirror and go: Hey girl, you're alright." Precisely.  This actress is beautiful, talented, naturally photogenic, and she's throwing it all away. No-one is asking her to kit herself out head-to-toe in Versace and Louis Vuitton, but looking like you live at the thrift store? That's never necessary.
4 KYLIE JENNER: NO WORDS…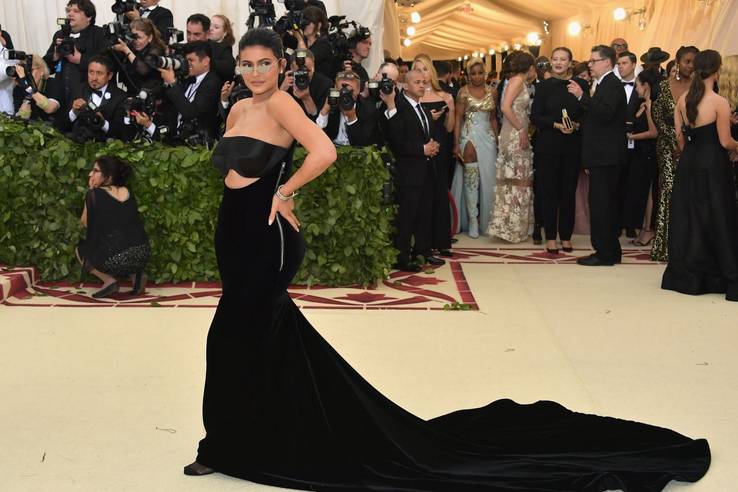 It's been a bit of a rollercoaster for Kylie Jenner. The youngest member of the Kardashian-Jenner clan has had to grow up fast since becoming a mom. The super-clingy dresses and revealing outfits were fine back when Kylie was posing on her $400,000 Lamborghini Aventador, but the Kylie Cosmetics businesswoman is now a spokesperson for little Stormi Webster. Well, that and trying to prove to the world that her baby daddy is actually Travis Scott.
Kylie was definitely opting for "statement" just this month at the 2018 Met Gala, where Morticia from The Addams Family seems to have been her inspiration. All-black paneled velvet from the designer, Alexander Wang definitely said "grown up." The weird glasses and cut-out angles? Why?
As TMZ and every other media outlet fuels rumors that Kylie's baby daddy is, in fact, her bodyguard, Tim Chung, Kylie has a lot on her plate. The pressure to prove that she can actually handle being a mom so young is clearly reflecting in Kylie's fashion choices. Looking older than all of her sisters put together, Kylie's Met Gala gown wasn't best received. Fans even noticed a band-aid on her arm, with one fan tweeting: "Did Kylie Jenner have a band-aid mark because she got a blood test to see who the baby daddy is?"
3 MEGHAN MARKLE: THAT WENT FRUMPY REAL FAST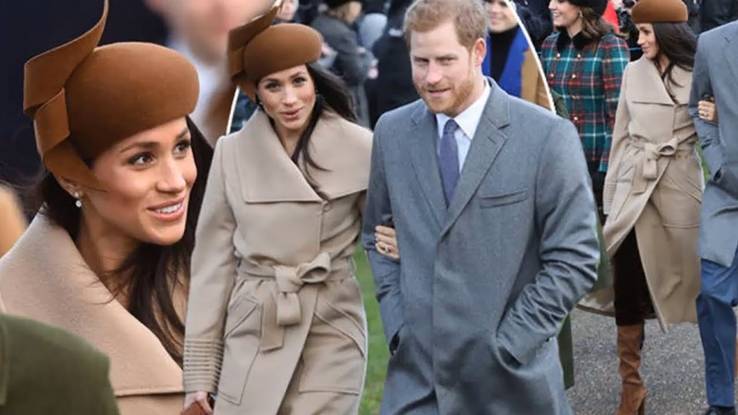 It was supposed to be a whirlwind romance. Meghan Markle and Prince Harry's relationship fast became the most talked-about wedding of 2018, and Brits lost their minds when she actually married him. Marrying into royalty doesn't come without its rules– Kate Middleton is living proof. From being coached on how to sip her tea to nearly not getting the green light for the wedding on account of her old divorce, Meghan has faced a huge learning curve. The biggest one? Well, aside from having to delete her entire social media and kiss her Hollywood career goodbye, Meghan has had to adopt the royal wardrobe.
The Californian jeans, pencil skirts, and mini dresses have been thrown out and replaced by a solidly frumpy wardrobe of drab beiges, tans, and matching everything. Meghan is 36 years old (although, she doesn't look a day over 25). The more we see her arm-in-arm with Harry, the more we're wondering if this prince is basically just marrying his grandma.
The Queen is 92 years old. Her wardrobe of block color coats, gloves, and matching hats may be age-appropriate, but they've trickled down to Meghan, and it's a sad look. Kate just about gets away with her pleat skirts and gala dresses, but Meghan kind of shocked us with this look. And she's just getting started…
2 ANGELINA JOLIE: LOST THE PLOT A WHILE AGO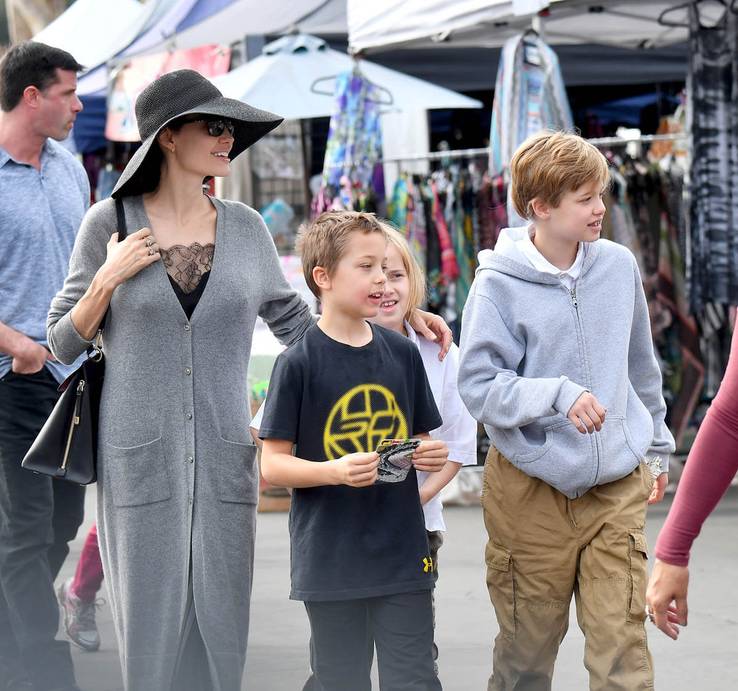 Angelina may be winning points on the "mom" front, but the actress is losing the fashion wars one flea market outfit at a time. Most Hollywood stars have the lens on them for their glittering careers and million dollar mansions. While Angie has both– or should we say "had," it's her 2017 split from Brad Pitt that's still leaving us reeling. If you're going to break up Jennifer Aniston's marriage by fooling around with her husband on-set, the least you can do is make it last. At 42 years old, the Maleficent actress is a single mom-of-six.
When Brad Pitt compared living with Angelina to a "mental institution," the world was horrified. Angelina's controlling grip leaked its way out, and the casual wardrobe isn't fooling us. The world's "most beautiful woman" is now the  frumpiest.
Angelina rose to fame for her unconventional beauty, epic stunts, and of course, being voted The World's Most Beautiful Woman by Vanity Fair. Angie's younger wardrobe was an edgy mix of leather pants and tanks that showed off her tattoos. She even had some fantastic red carpet moments. Now, though? Angie looks like an 85-year-old whose grandkids have come to visit her in a senior home.
1 MADONNA: NEEDS REMINDING SHE ISN'T LOURDES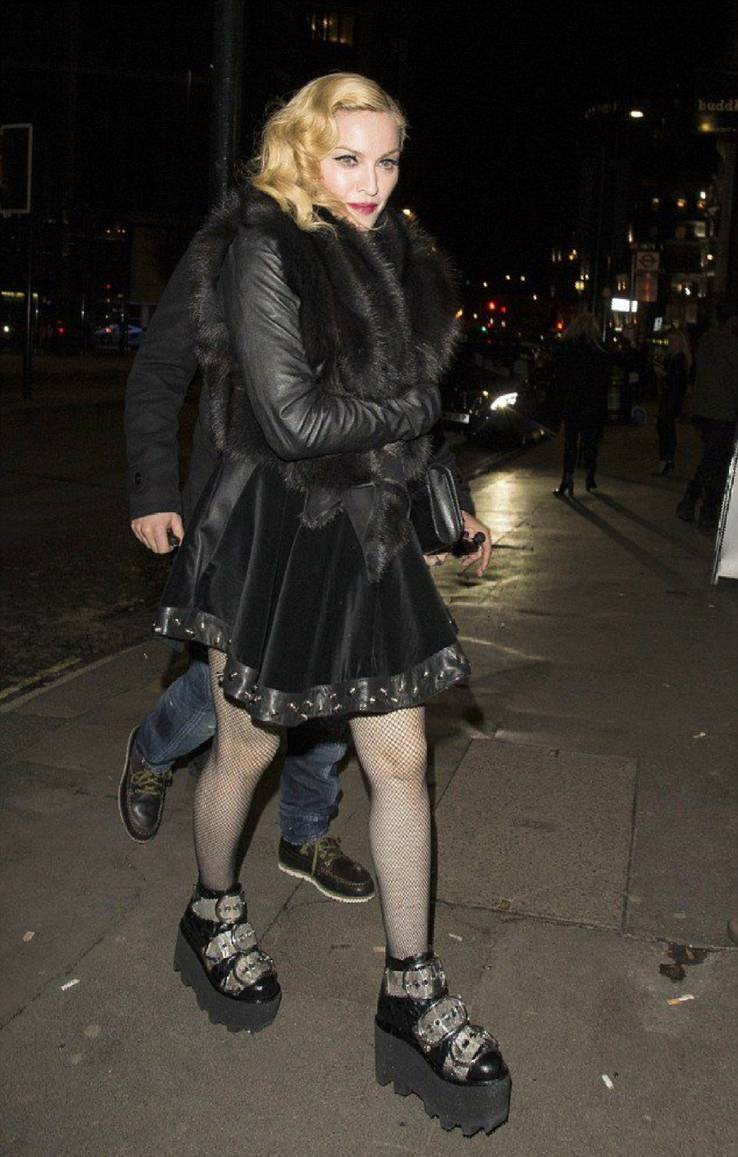 Want to learn something neat? Lourdes isn't just the name of Madonna's daughter. It's a medieval French town, known for its supposed healing miracles. Its literal translation though? It means "heavy" in French. Madonna's refusal to accept that she's isn't 30 (or 40, or 50) is leaving a heavy footprint wherever she goes. $600 million may be what Madonna has in the bank, but 60 is the figure she'll be turning later this year. While Lourdes Leon shines in her punkish biker jackets and dyed hair, the Hollywood squad doesn't want the 59-year-old mom "tagging along." They certainly don't want her looking like this.
Madonna built her career on reinventing herself. She did a pretty awesome job – for a while.
The singer's style file has included iconic '80s looks, peroxide blonde Marilyn Monroe vibes, and some pretty big statements. Crucifixes were Madonna's accessories, while lace gloves were her finish. In the 2000's, a sinewy looking Madonna emerged as the fitness enthusiast she's known to be, but age is catching up with her. As she racks up decades of old looks, Madonna seems to be entering new ones with one statement: "I don't care about my age."
Whether you worship these ladies, or you can't stand them, you'll have an opinion on their wardrobe. More importantly, your friends will. For anyone reading this with a diehard Beyonce, Christina, or Kardashian Facebook friend, you should probably let them see this. Of course, you can also hit share as a gentle nudge (if you know someone who's doing exactly what these celebs are). If you've got an opinion, leave us a comment. We always read them.
Source: Read Full Article