20 Recent Photos That Prove Miley Has Done A Total 180
It seems that Miley Cyrus' style is constantly changing. Years ago, Billy Rae Cyrus' daughter, Destiny Hope (her real name), got her start as the star of Disney Channel's Hannah Montana. As a teenager and young adult, she struggled to find her identity and went through a rebel phase. Now, it appears that the singer has grown up and finally figured out a sense of self and her sense of style.
After years of an on-again-off-again relationship with the actor, Liam Hemsworth, the two are officially back together and engaged. Miley's devotion to her relationship and her music are some of the reasons why she decided to make big changes in her life. Over the past year or so, the pop star has quit indulging in illegal activities, which she was previously a huge advocate for, and lives a healthy, vegan lifestyle.
Cyrus' style has changed along with her lifestyle. She used to be known for going out on stage in ridiculous and outrageously obnoxious outfits. Now, she has been presenting a much more casual, laid-back look for her everyday fashions and chooses much classier, more elegant outfits for the red carpet and public appearances. The singer's new sense of style is overwhelmingly more flattering than the types of things that she used to wear. For instance, she nailed her looks at the Grammys with a classic, black jumpsuit and a ruby red princess gown. Without further ado, let's take a look at 20 photos that prove that Miley Cyrus has done a total 180.
20 The Black Jumpsuit She Wore To The Grammys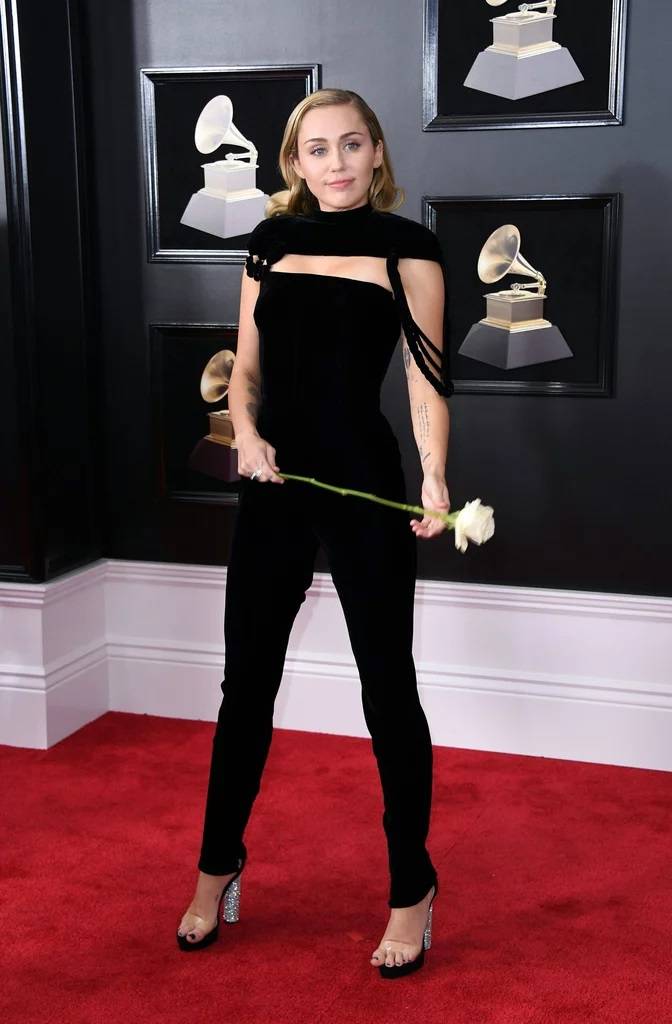 Miley Cyrus wore a sleek, black jumpsuit to the 2018 Grammy Awards. This look is something much more sophisticated than Cyrus' fans are used to seeing her in. The black, velvet jumpsuit was designed by Jean-Paul Gaultier. She posed with a white rose on the red carpet in support of the #MeToo movement, wearing a pair of block-heeled, glittery shoes.
The 25-year-old looked mature with her honey-colored hair worn in glamorous, Old Hollywood waves. She wore a light pink shadow on her eyelids, with some mascara, and a swipe of light pink lip gloss. She accessorized with some rings but kept things simple with the accessories overall, which allowed the focus to be on her stunning jumpsuit.
19 The Floral Dress She Wore For Cosmopolitan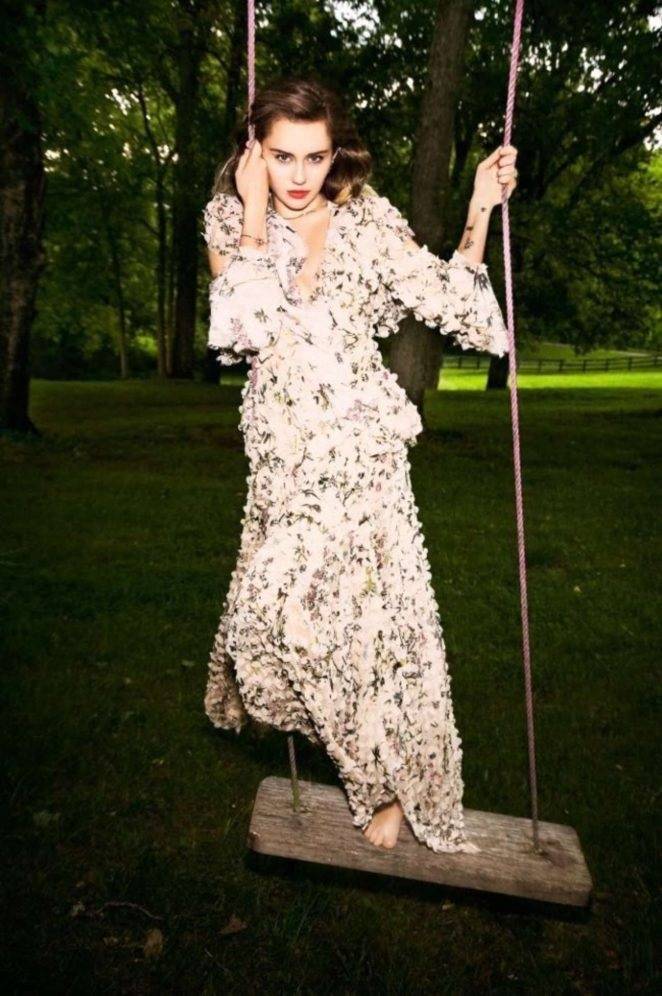 Miley gave off a whole different vibe with this floor-length, long-sleeve, floral gown that she wore for a photo shoot with Cosmopolitan. The singer looked soft and innocent as she posed for the camera, standing on a wooden swing outdoors. The ruffled, floral dress consisted of white, green, and purple flowers that complimented her skin tone and hair color perfectly.
She wore some bold, red lipstick and her eye makeup was subtle, adding to the ethereal vibe of this look. Cyrus covered the September 2017 issue of the popular fashion magazine and discussed her ever-evolving sense of style saying, "Nothing and no one stays the same."
18 The Glamorous Red Dress She Wore To The Grammys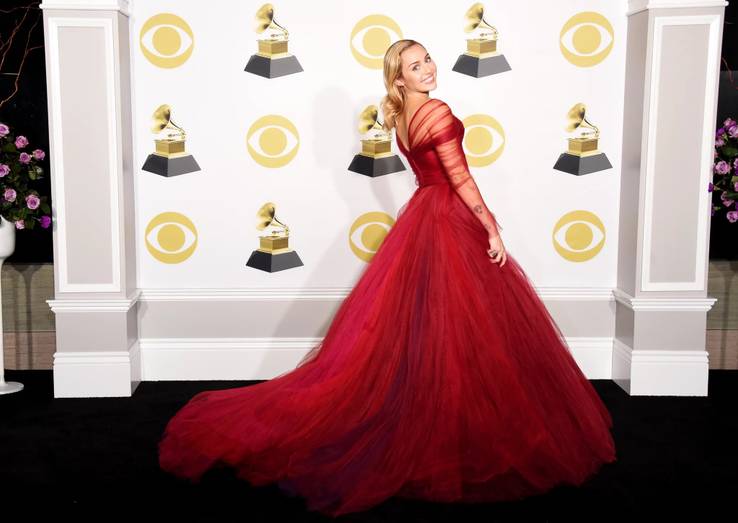 After making waves with her black, velvet jumpsuit on the Grammy red carpet this past January, Cyrus impressed everyone again with a gorgeous red gown. The floor-length dress, designed by Zac Posen, featured a princess-like tulle skirt that had Cyrus looking extremely glamorous. The off-the-shoulder, ruby red gown featured long, sheer sleeves, which flattered Miley's form in the best way.
Her hair was worn in the same sleek, old Hollywood waves that she wore earlier but the style suited both looks perfectly. The pop star sang on stage at the Grammy Awards with the legendary Sir Elton John. This performance marked the fifth year since the former rebel's infamous twerking performance with Robin Thicke.
17 The Floral Strapless Get-Up She Wore For Cosmopolitan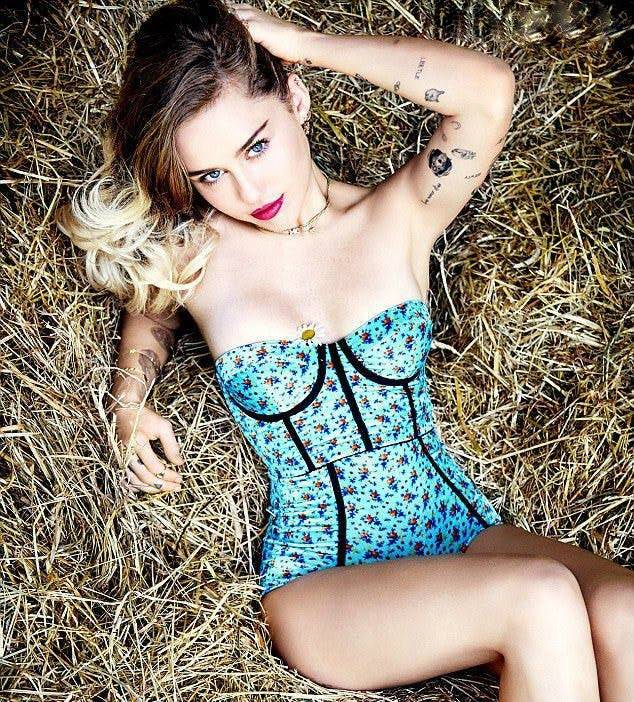 Miley looked stunning in the photos she took for Cosmopolitan. She posed in what looks to be a pile of hay, wearing a baby blue, floral set. The strapless bustier and high-waisted shorts appear to be vintage-inspired. The black lines in the material accentuated her curves in all of the right places.
Cyrus wore her hair long and in loose curls, which is a nice change from her formerly bleached, buzzed hairstyle. Her skin was clear and radiant, she wore minimal eye makeup but had a pop of color on her lips with some magenta lipstick. She accessorized with some gold chains around her neck, some gold bangle bracelets, and a few rings on her fingers.
16 The T-Shirt Dress She Wore Leaving Soho House In Malibu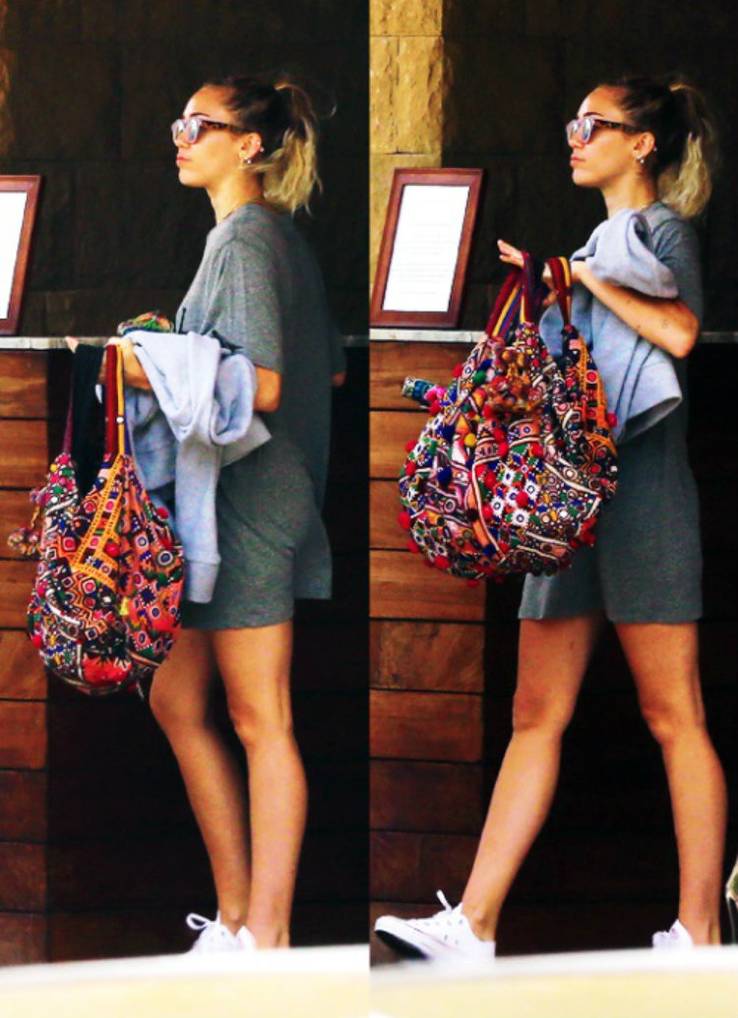 Miley was spotted leaving the Soho House in Malibu wearing this casual t-shirt dress. The Soho House is a hip, exclusive, members-only club where celebrities and people in creative industries can hang out, meet up, and do other cool things we can only imagine because normal folks are not allowed in.
T-shirt dresses have been a huge trend among stylish, young women. She wore a pair of white sneakers on her feet and carried a large, colorful bag with a sweatshirt to cover up with in case she got cold. She wore her hair up in a high ponytail and accessorized with a pair of brown sunglasses.
15 The Checkered Pants She Wore To The One Love Manchester Concert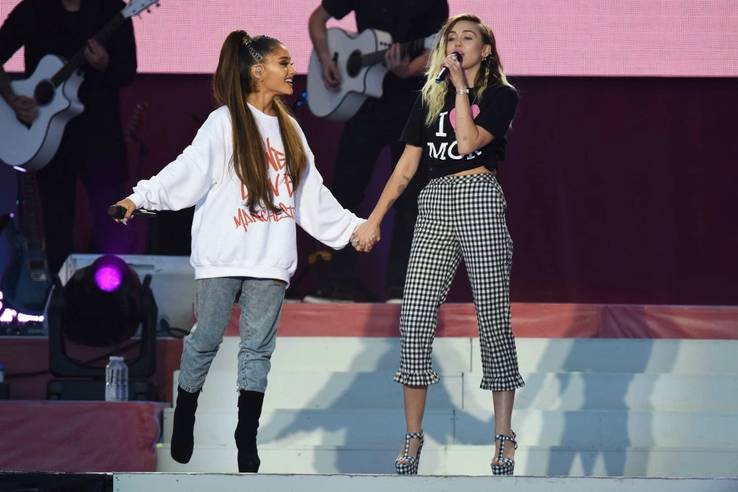 After the horrific Manchester Arena Bombing at the Ariana Grande concert, Miley Cyrus joined her friend on stage at the One Love Manchester benefit concert in June of 2017. Other performers included Justin Bieber and Katy Perry. Cyrus looked super stylish on stage for her performance, wearing a black "I Love Manchester" t-shirt with a pair of cropped, checkered pants and matching checkered sandal heels.
The pants flattered her figure perfectly and the ruffled edges are very trendy right now. She wore her newly grown-out hair loose and parted to the side. Ariana stood happily by her friend's side as she sang, wearing a white Manchester sweatshirt, jeans, and ankle booties.
14 The Baseball Hat And Denim Shorts She Wore To Lunch With Liam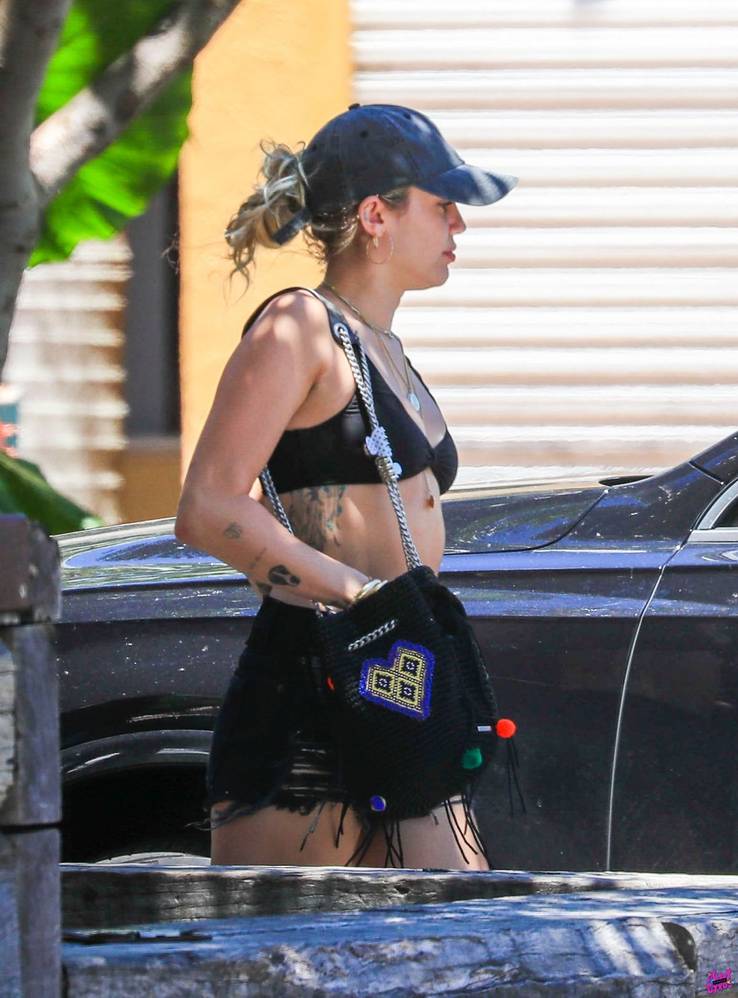 Somehow in Hollywood, celebrities are able to get away with wearing very little out in public without covering up. We've all seen the paparazzi photos of Kim Kardashian heading to dinner in a skirt and a very small crop top and now, it looks like Miley has jumped on the bandwagon. She was spotted out to lunch with her fiancé, Liam Hemsworth, wearing what appeared to be a small black crop top.
She wore a pair of black, distressed denim shorts and attempted to cover her face with a black baseball cap. However, the paparazzi spotted her and snapped multiple pictures of the star in her outfit. Regardless, Miley looked amazing and she proudly showed off her toned physique, thanks to her new, healthy lifestyle.
Featured Today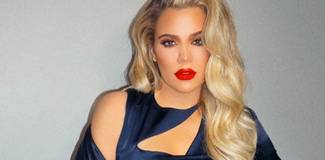 Khloé Kardashian Drops Big Money On Her Baby's Travel Gear

Jennifer Lawrence Photo Sparks Fury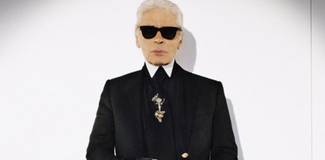 Famous Designer Speaks Out On #MeToo Movement

13 The Casual White Look She Wore To The Billboard Awards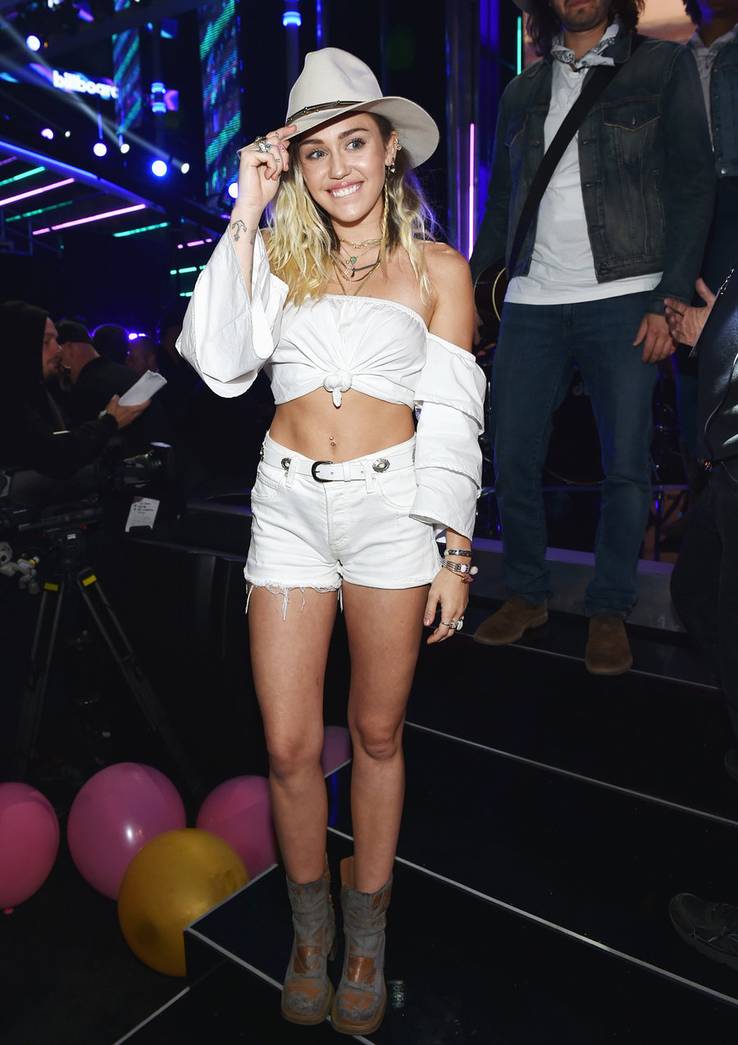 Miley performed at the Billboard awards in May of 2017. There was a time when she would come out on stage with a ridiculous and over-the-top outfit, but this time she graced the stage looking like the graceful superstar she has become. Without any of her old antics to distract from her performance, she sang her hit song "Malibu," and it went off without a hitch.
Cyrus wore her hair long, blonde and wavy, with a beige Stetson hat. She looked youthful and stylish in a pair of white, denim shorts, which she wore with a white, leather, western-styled belt. She showed some skin with an off-the-shoulder, tied-up crop top but looked classy overall. She made sure to remain comfortable on stage, wearing a pair of khaki green boots.
12 The Comfy Shorts And T-Shirt She Wore Out With Liam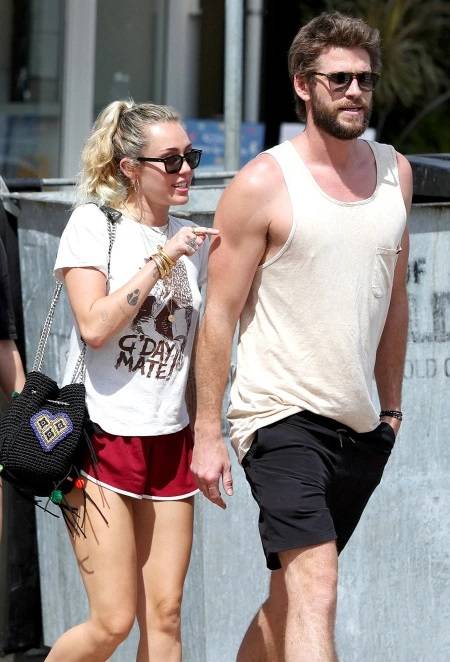 Miley has got her casual style down to a "T." She wore this "G'Day Mate!" t-shirt and short, red athletic shorts, and a pair of glittery slide sandals while heading out to lunch with her fiancé, Liam, in his native Australia this January. She carried a black, woven bag with a heart on it.
Cyrus protected her eyes with a pair of black, squared sunglasses. She wore her hair up in a messy, high ponytail. Although it may be colder in the States, it is summer in Australia during this time of year and the pop star did not mind soaking up some sun. Liam looked to have gotten too much sun, as he appeared to be displaying some sunburned skin in his tank top.
11 The Warm Sweater She Wore In The Chilly City Weather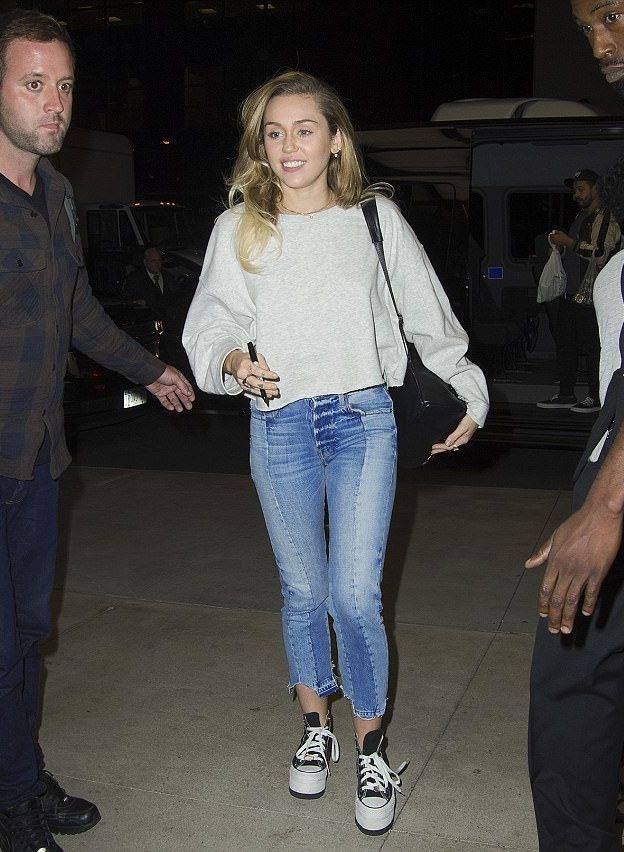 Miley was in New York City in October for her appearance on The Tonight Show Starring Jimmy Fallon. After the show, she exhibited a more natural look, wearing minimal makeup and loose, wavy curls in her hair. She kept things comfortable, opting for black and white platform sneakers.
She wore a simple, gray sweater and a pair of FRAME jeans, which were cropped at the ankle. She wore just a few rings on her fingers and no other jewelry. This outfit proves that Miley never needed the over-the-top ensembles to get attention; she looks even better without so much makeup caked onto her face and glittery, obnoxious outfits.
10 The Platform Sneakers And Cut Off Denim She Wore In NYC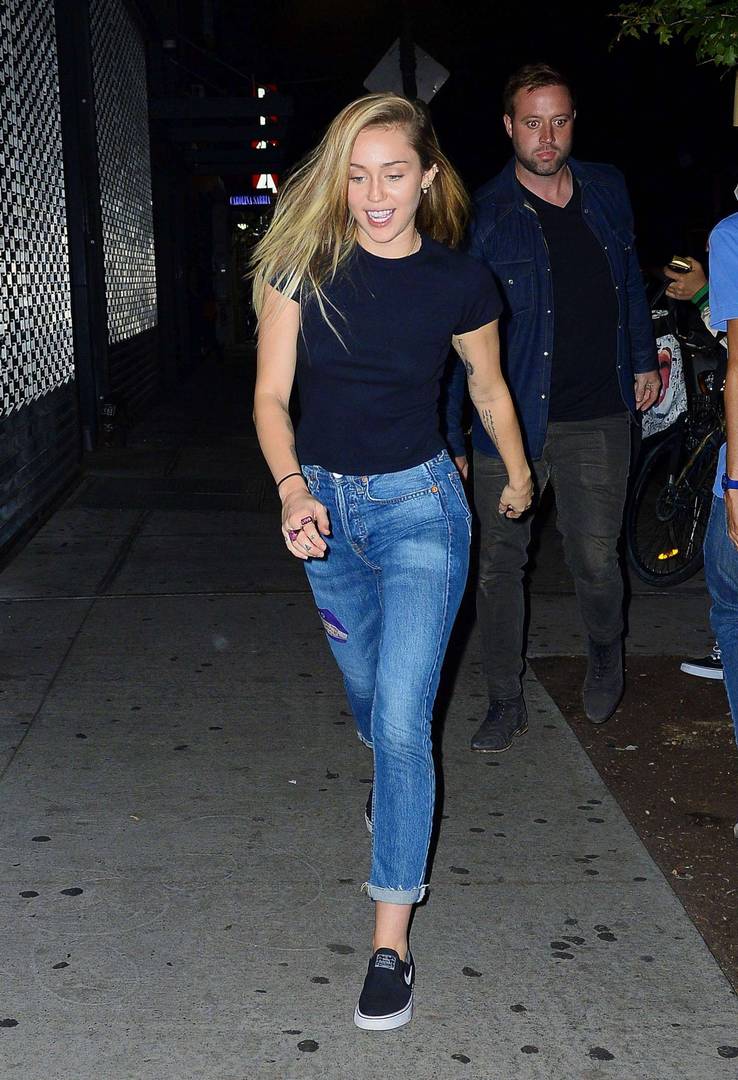 Recently, Miley has made a point of wearing casual, more subdued outfits than she has in the past. Ever since getting back together with her fiancé, Liam Hemsworth, the public has noticed a big change in the singer. For starters, the former bad girl has stopped consuming illegal substances, which she was once a huge advocate for. She has also scaled back on her party girl ways to focus on living a healthy lifestyle with her dogs and her fiancé.
Cyrus' style evolved a lot over the years and this laid-back, casual look suits her well. Miley's true beauty is visible because she has not slapped loads of makeup onto her face. Her body looks to be in amazing shape, which was clear given the form-fitting jeans she wore with a tight, navy t-shirt.
9 The Denim On Denim Look She Wore For Taco Tuesday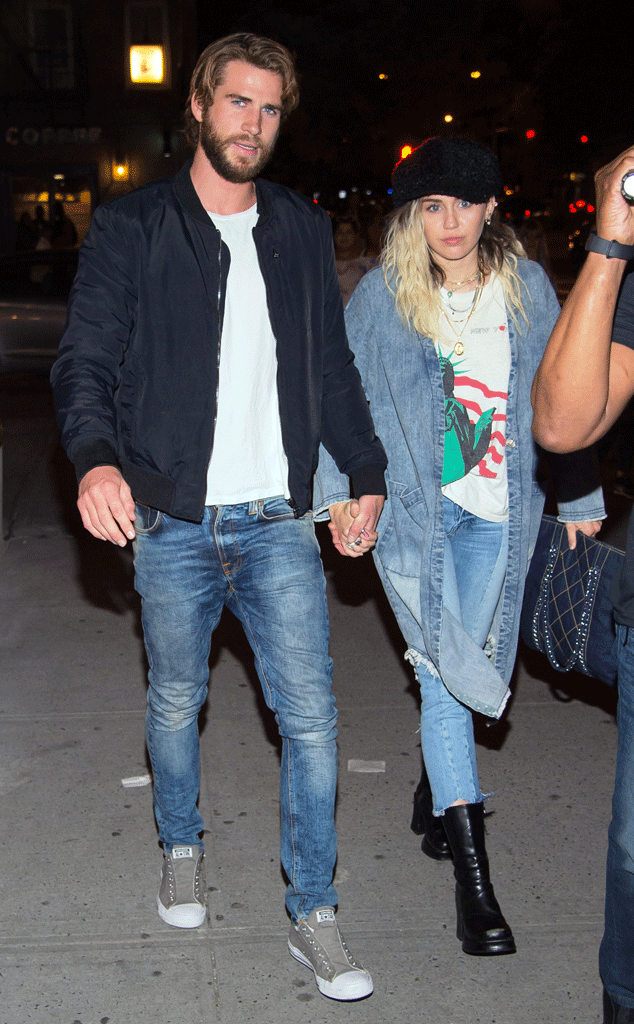 While Miley was in New York City promoting her single "Malibu," she and Liam hit up Dos Caminos for a taco Tuesday date night. Cyrus looked trendy, wearing an oversized denim shirt with a Statue of Liberty t-shirt, a pair of light-wash jeans, and black, lace-up boots. She also wore a black cap on her head and some gold chains around her neck.
She carried a navy blue handbag in one hand and held onto Liam's hand tightly with the other. Liam was also looking trendy, wearing a bomber jacket, t-shirt, and jeans for the couple's casual date night in the city. The pair even stopped to take photos and sign autographs for a few adoring fans.
8 The White Gown She Wore To The Billboard Awards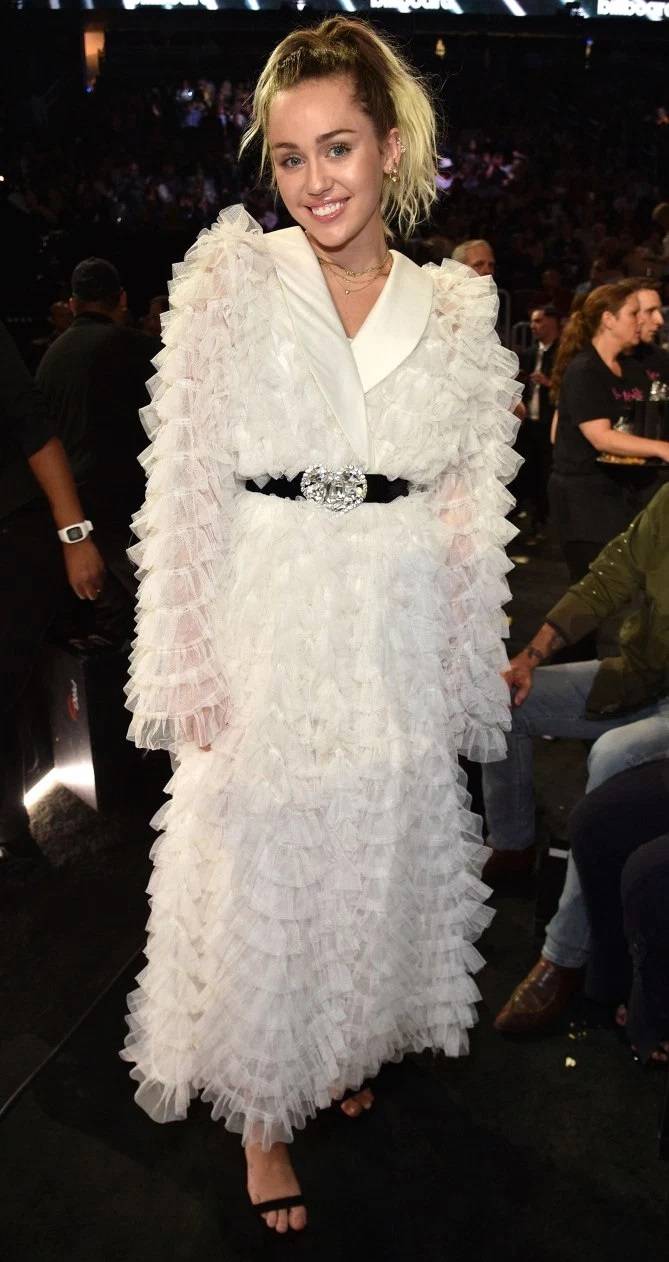 Miley wore this white, tulle ruffled coat dress to the 2017 Billboard Awards. She looked incredibly glamorous in the '80s-inspired look. This outfit is straight from the Alessandra Rich Fall 2017 runway, although Miley chose black shoes as opposed to the gold ones the model wore. The black shoes matched perfectly with the black, bedazzled belt around the dress.
She did not do anything fancy with her hair, opting for a messy, high ponytail. Her makeup was light and matched the vibe of the dress, which looked great in photographs. This look is much more fashion-forward and modest than anything Miley's fans were used to seeing in the past.
7 The Rock & Roll Vibe She Gives Off With This Look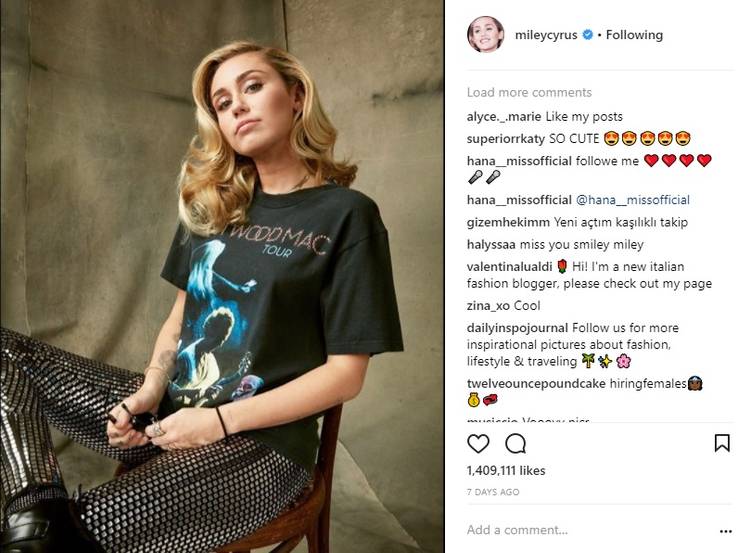 One of the great things about being a superstar is the fact that you can dress so many different ways. Miley Cyrus was totally having a rock star day when she picked this outfit out of her closet. The pop star wore a vintage, Fleetwood Mac t-shirt and a pair of metallic leggings.
She posed for the camera while sitting on a chair in front of a colored backdrop. Her hair was worn in loose, glamorous curls, which looked flattering with the shape of her face. Like many rock stars, Miley wore an excessive amount of rings on her fingers but other than that she did not wear any jewelry.
6 The Sparkly Pantsuit She Wore To Perform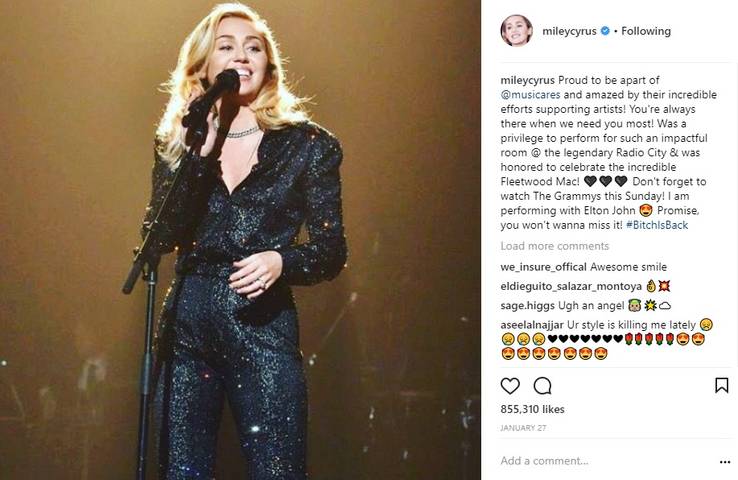 Miley's performance looks have certainly varied over the years from tiny tops and cash-covered leotards to this classy, sparkling jumpsuit. It would seem that Cyrus has finally learned to dress appropriately, which is great for her and even better for those of us who have to look at her. This glittery long-sleeved jumpsuit hugs the singer in all of the right places.
This outfit is the perfect example of a look that does not show off a lot of skin but accentuates her best features effortlessly. Miley does not have to wear ridiculous outfits or makeup to get attention because this look is more show-stopping than any of her crazy looks!
5 The Embellished Jeans She Wore To SiriusXM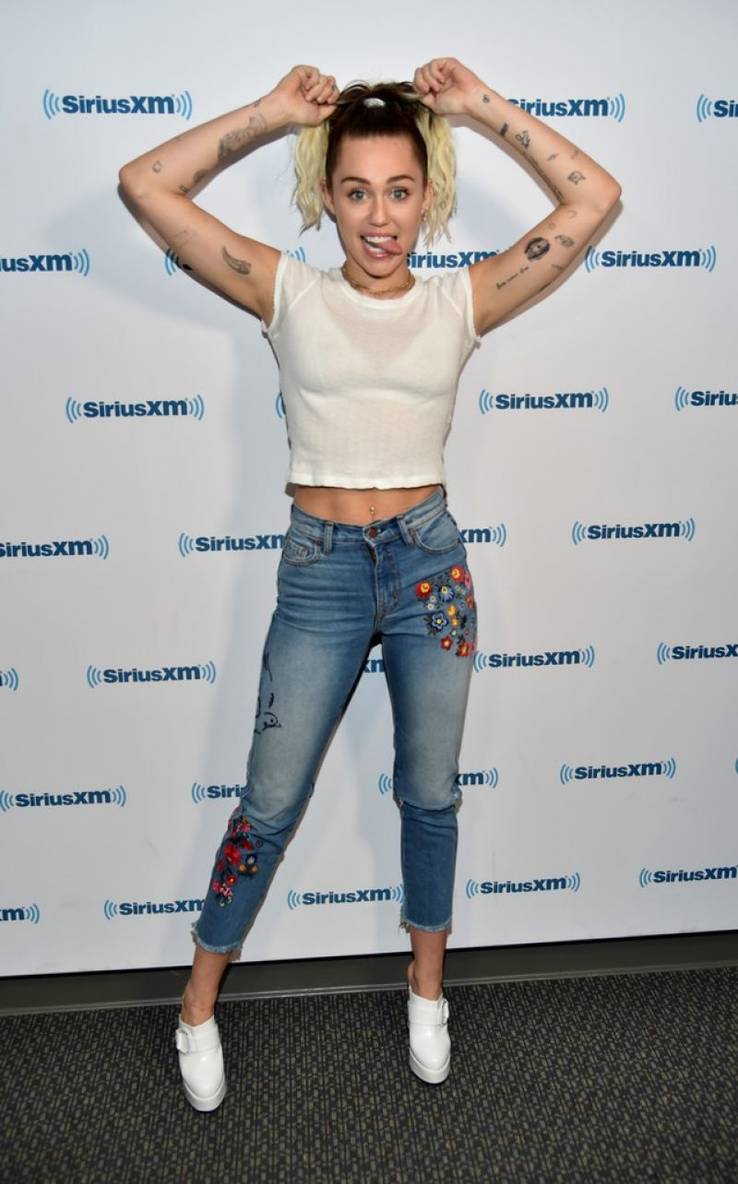 Miley wore this cute, casual outfit for some radio appearances at SiriusXM back in May to promote her new music. These trendy, embroidered cropped jeans look remarkable on her, especially with the frayed bottoms. She paired them with a white t-shirt from Lily Ashwell, although her undergarments were slightly visible underneath.
She pulled the entire look together with a pair of '60s-inspired, white heels. She wore her hair in a high ponytail, accessorizing with a few chain necklaces and silver and gold rings. This kind of "girl next door" outfit is the most flattering on Cyrus because she looks like she is dressing for her age, rather than looking like a pre-teen in cartoon-covered clothes.
4 The Cowboy Hat She Wore To Promote Her New Single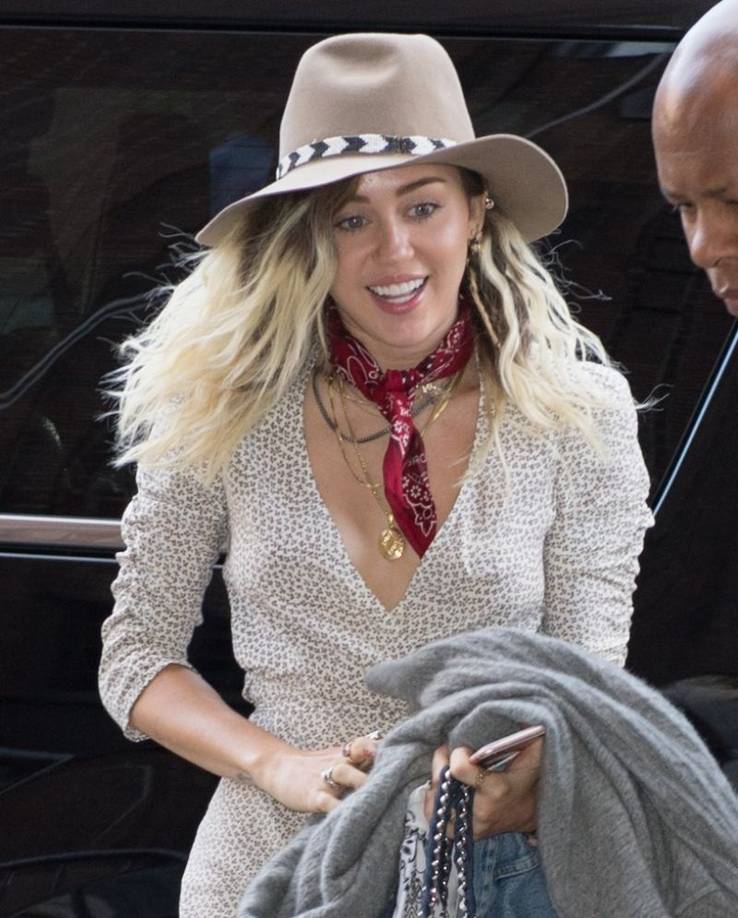 While heading out on the road to promote her new single "Malibu," Miley made sure that her style choices were always on point. She had the perfect look for every occasion, including this one. Cyrus wore a stylish, beige cowboy hat with a chevron-stripe around the center. She wore a white and beige patterned dress with a low-cut front.
To add to the country vibe of the outfit, the singer wore a red bandana around her neck, along with a bunch of gold chain necklaces. She also accessorized with a number of rings on her fingers. She looked happy and healthy, displaying a fresh face with just a touch of mascara and lip gloss.
3 The Distressed Denim Outfit She Wore For Date Night
Miley definitely hopped on board when the distressed denim trend became stylish again. The singer wore a pair of extremely distressed, ripped jeans that were cuffed around the ankle with a little, white crop top. She threw a denim jacket over the top but the jacket was unique because the sleeves were not denim. Instead, they were sheer and lacy.
Cyrus went so far with the all-denim theme that she wore denim slide sandals! She accessorized with a gold body chain that fell past her hips. Somehow, the pop star managed to make the whole thing work because she looked great. She was photographed smiling, heading out for a date night with Liam.
2 The White Overalls She Wore On Stage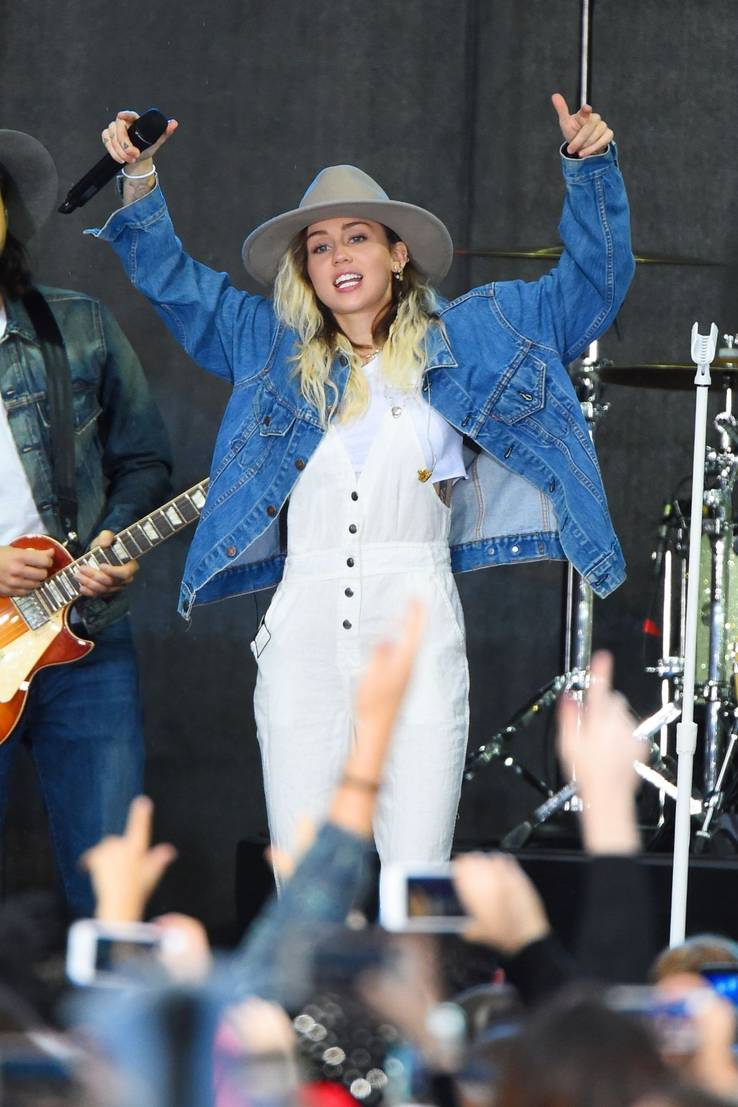 For her performance on the Today show back in May, Cyrus wore a pair of stylish, white overalls. The 25-year-old wore a white crop top underneath, leaving some of her midriff out on display on the sides, revealing her many tattoos.
Miley covered up with a denim jacket as she sang outside on stage in front of a crowd of adoring fans. She accessorized with a beige hat, some necklaces, and multiple pairs of earrings. Her ombre hair was worn in loose, messy waves, which seems to be a favorite style for the superstar. This type of performance look is much more flattering than what she was known to wear in her rebel days.
1 The Classic Black Bikini She Wore For A Beach Day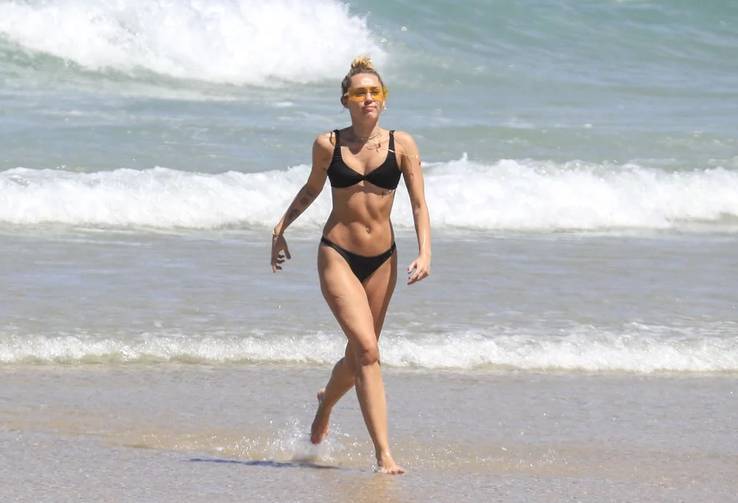 There was a time when wearing a bathing suit with cartoon cupcakes and unicorns would be something that we would expect to see Miley wearing. Times have changed and thankfully, so has Cyrus' sense of style. She looked elegant and grown-up walking down the sandy beaches of Malibu wearing this timeless and classy bikini. You cannot go wrong with a black bikini and Miley is perfect evidence of that.
The singer showed off the results from the many hours of practicing yoga. She also enjoys hiking with her dogs and her fiancé. The pop star is a dedicated vegan and although she has demonstrated some unhealthy choices in the past, she is now committed to living a healthy life.
Source: Read Full Article