Banana Republic Has Reissued Ruth Bader Ginsburg's Iconic Dissent Collar
The late Ruth Bader Ginsburg used her Supreme Court position to advocate for women's rights and equality for decades. But in the process, the justice also became a style icon in her own right—namely for her many statement-making collars. To celebrate her legacy in the wake of her passing, Banana Republic is reissuing one of RBG's most famous accessories, her "dissent collar," and it's all for a good cause.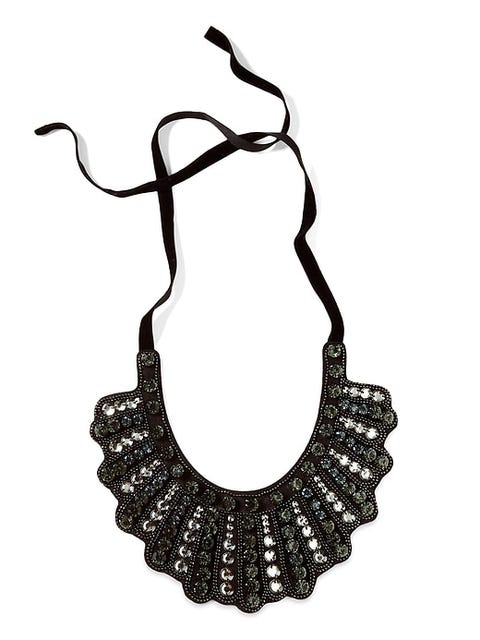 Since 2012, RBG had worn the sparkling Banana Republic bib necklace as a sartorial way to express her disapproval. She frequently wore it whenever she disagreed with a Supreme Court decision, and, more notably, she opted to wear it the day after Donald Trump was elected president in 2016. The justice once told Katie Couric that she chose the piece as her "dissent collar" simply because it "looks fitting for dissents." (And that is why they call her the Notorious RBG, folks.)
RBG: "This is my dissenting collar… It looks fitting for dissents." pic.twitter.com/luNmrN4BCX
Because we all have reason to frequently show our dissent these days, Banana Republic is offering the collar for a limited time—and donating 100 percent of its proceeds to the International Center for Research on Women, honoring Justice Ginsburg's legacy for women's rights and equality. She received the Champions for Change Award for Vision from the organization in 2016.
Banana Republic previously rereleased the necklace in January 2019, when 50 percent of proceeds from each necklace benefited the ACLU Women's Rights Project, which was cofounded by Ginsberg to advocate for gender equality and women's economic rights.
The $98 Notorious RBG–approved necklace, featuring glass stones and velvet laces, is now available for preorder.
Source: Read Full Article