Bella and Gigi Coordinate Suits for Serena Williams' Premiere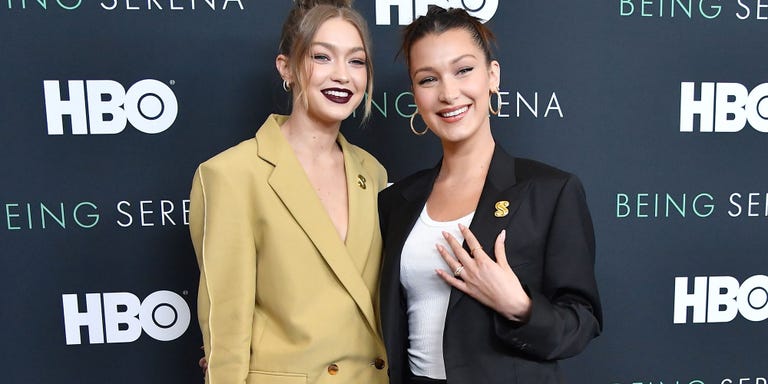 Gigi Hadid has quickly become America's Sweetheart of the modeling world—with her California Girl good looks and sunny disposition—but her style says bonafide bombshell. Hadid knows how to dress her curves—from midriff-baring two pieces, to curve-hugging dresses and plunging necklines. The top model even makes a white t-shirt and jeans look totally sexy. Hey, if you got it, flaunt it. Click through to see her best looks, plus shop model off duty must-haves on ShopBAZAAR.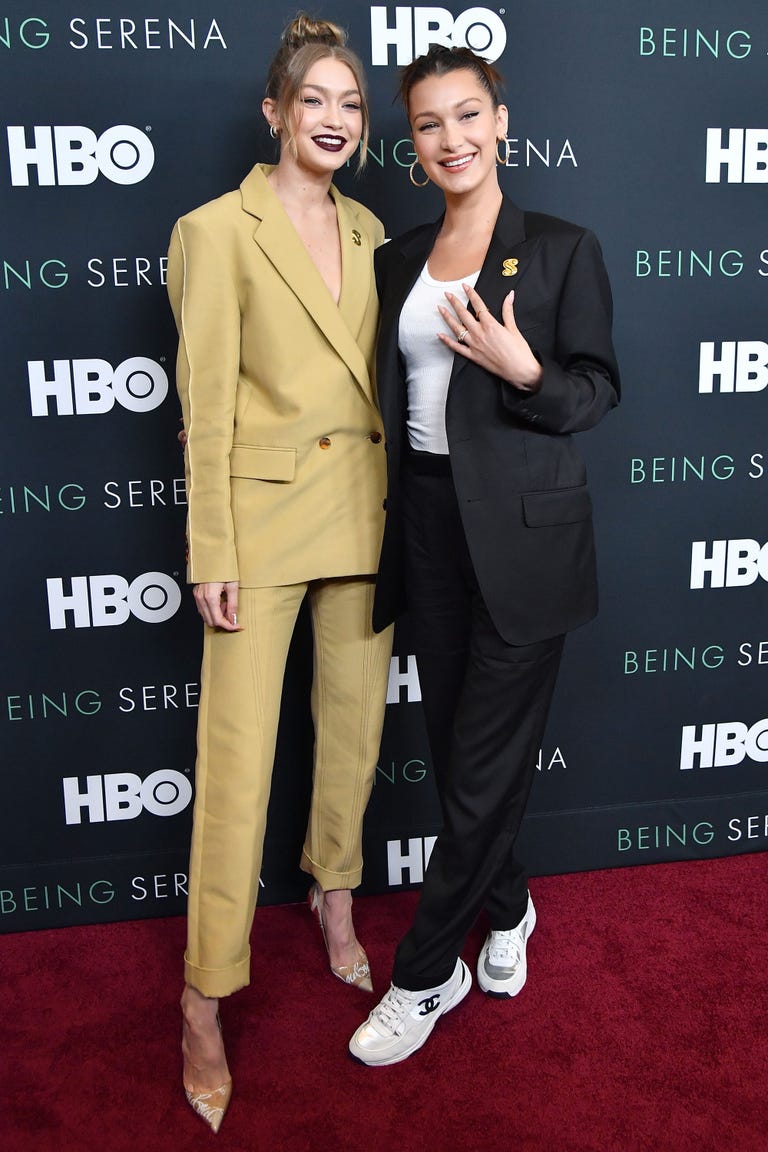 in a double-breasted beige suit, wearing nothing underneath, styled with stiletto heels and a gold "S" pin for Serena worn on her lapel. Bella wore a black menswear suit by Tom Ford, blazer open with a white undershirt, Chanel sneakers, hoop earrings, and the same "S" pin as her sister at the NYC premiere of Serena Williams' new documentary, Being Serena.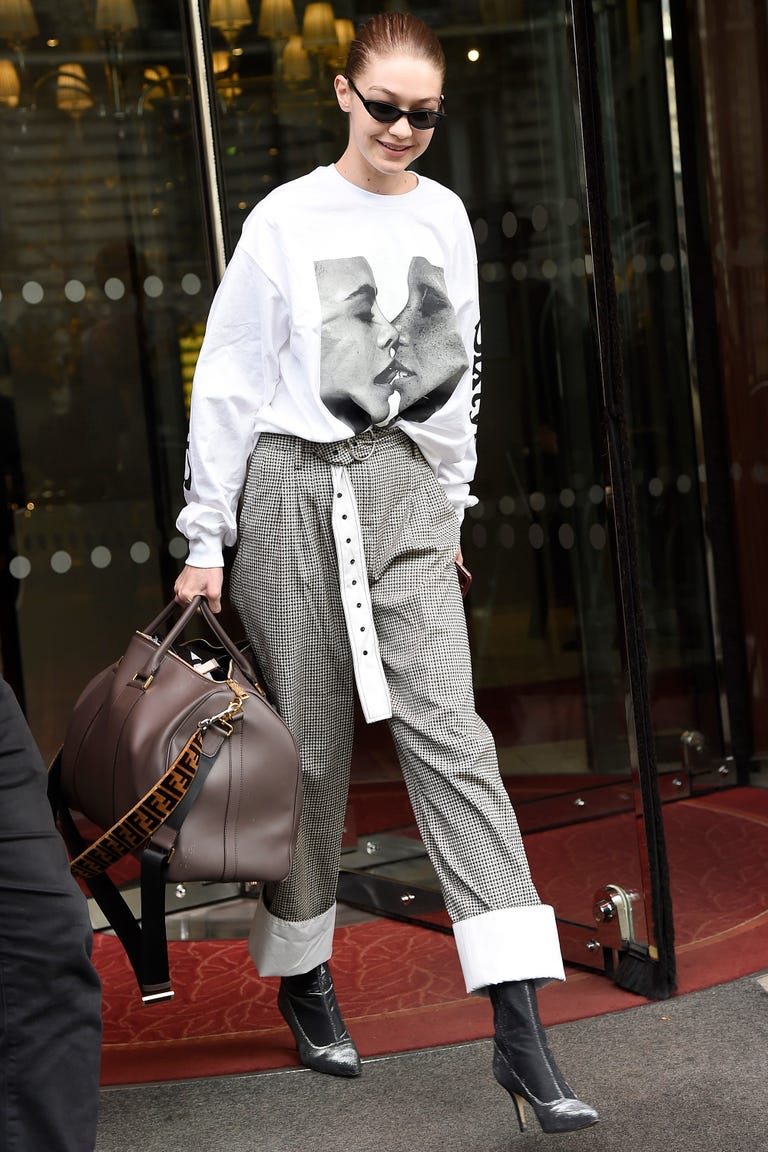 In a Chaos SixtyNine graphic tee (featuring Cara Delevingne and Adwoa Aboah's kissing cover shot), cuffed houndstooth trousers, sock boots, Fendi duffle bag, and cateye sunglasses while out in Paris.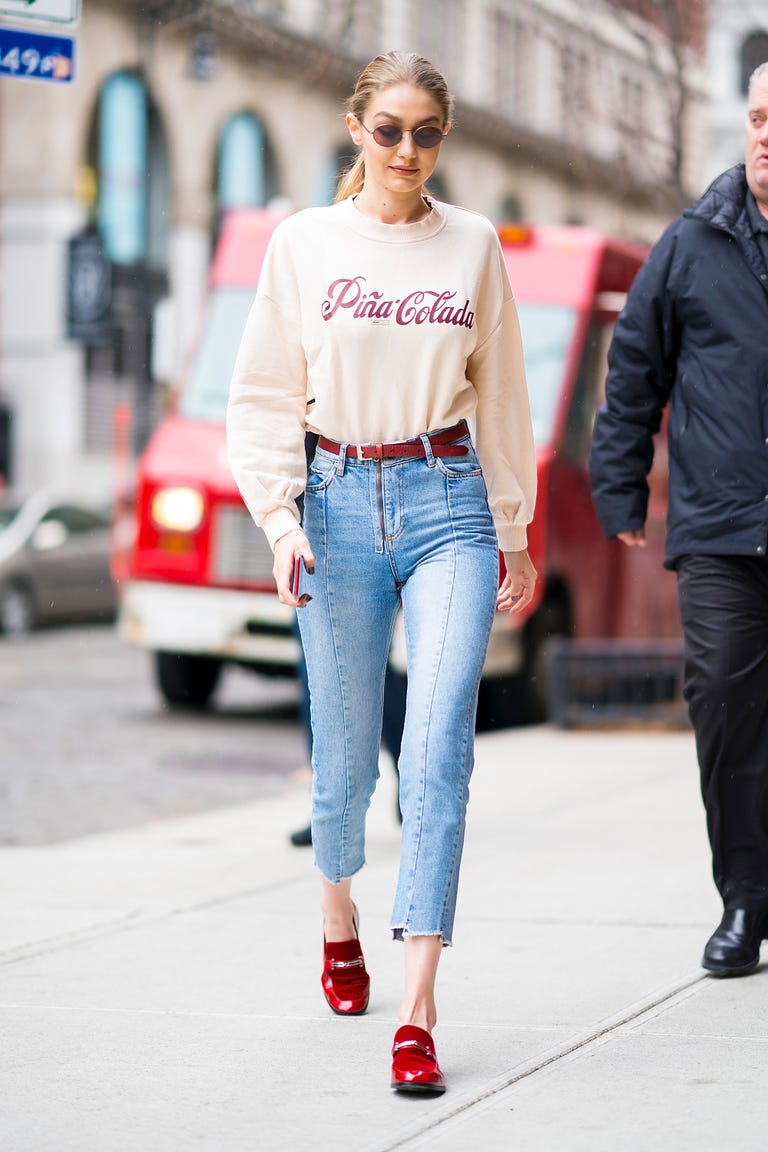 In high-rise denim cinched with a bright red belt, a nude-colored crewneck sweatshirt, red loafers, and circular sunglasses while out in New York.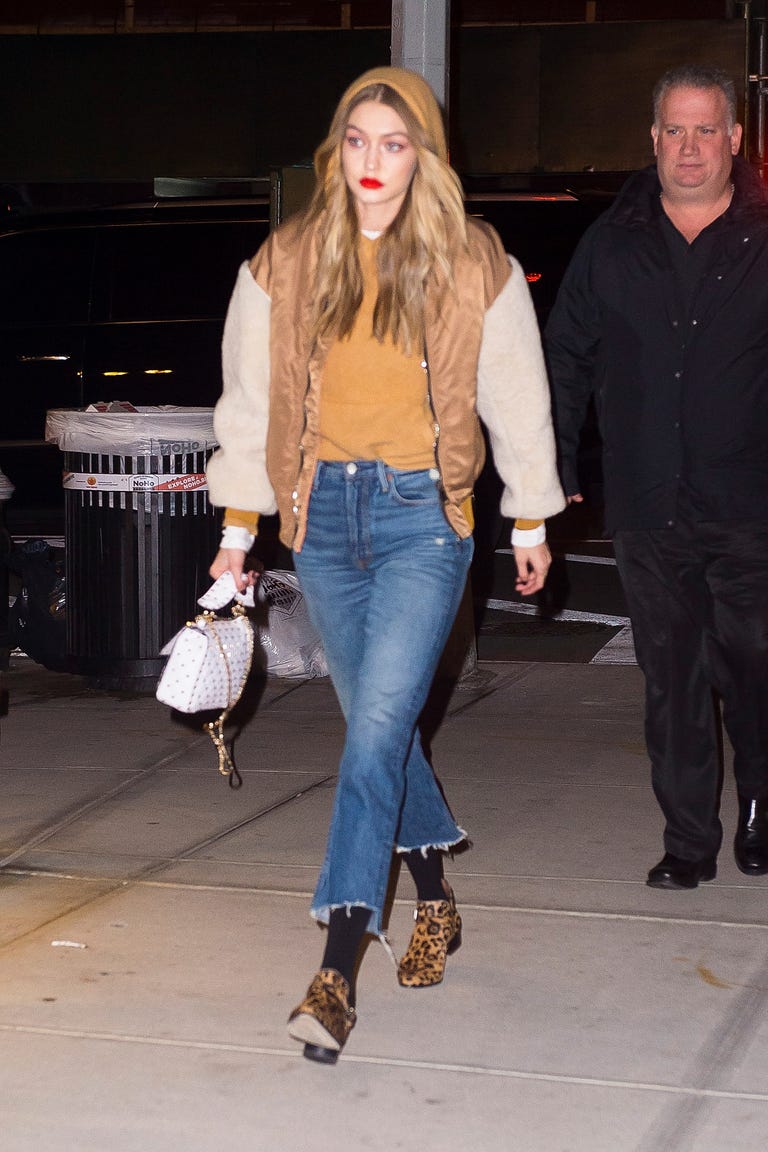 wearing frayed jeans, a Vince camel hooded sweater under a shearling bomber jacket, a small white micro-purse, and leopard print boots.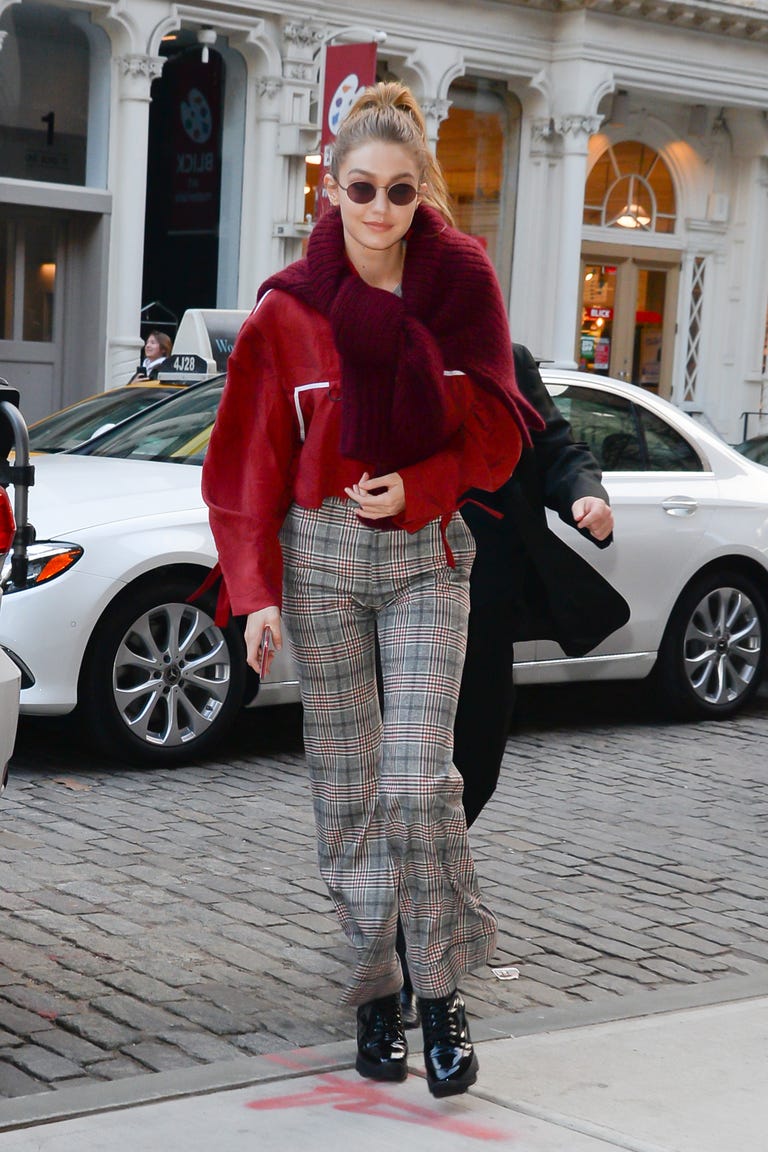 in oversized plaid pants, a crimson cropped sweatshirt, a chunky knit sweater worn as a shawl, black leather boots, and circular-framed sunglasses walking around NYC.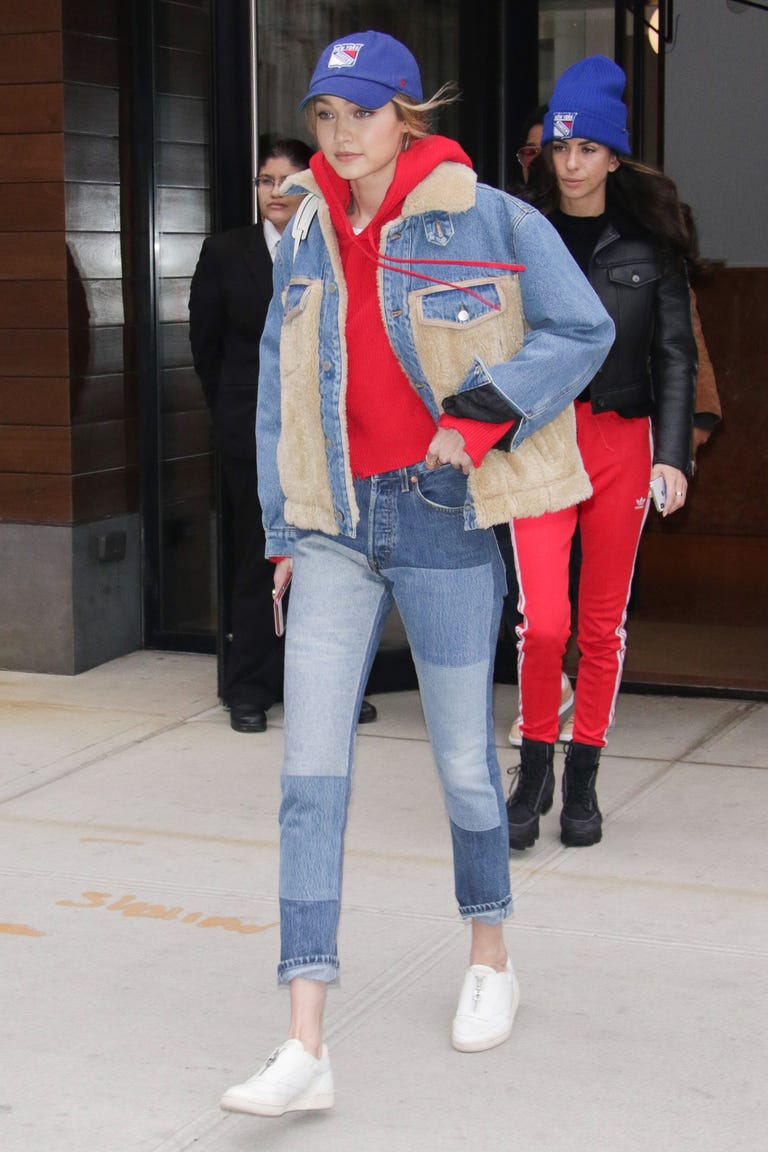 in patchwork denim, a red sweatshirt under a denim and shearling coat, with a 'Rangers' baseball-style hat, and white sneakers while out in New York,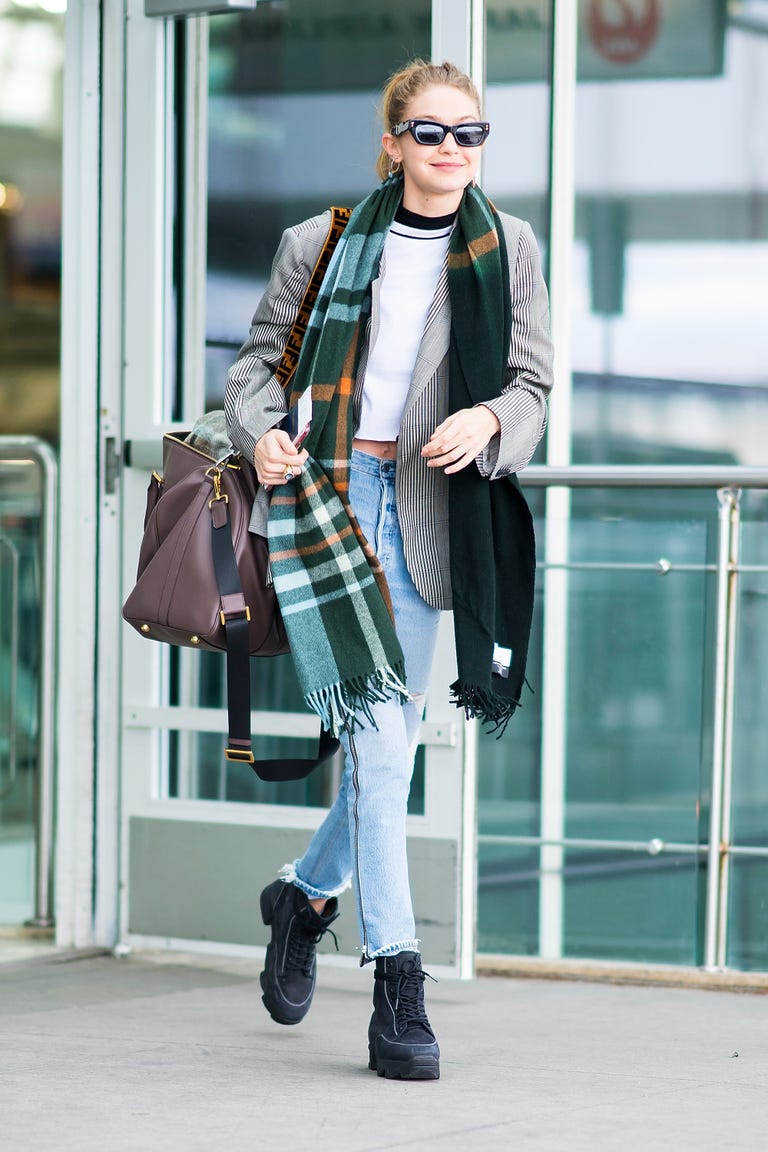 wearing light-wash high waisted jeans, a white t-shirt, a striped blazer, a green plaid scarf, black lace-up boots, and a oversized leather shoulder bag.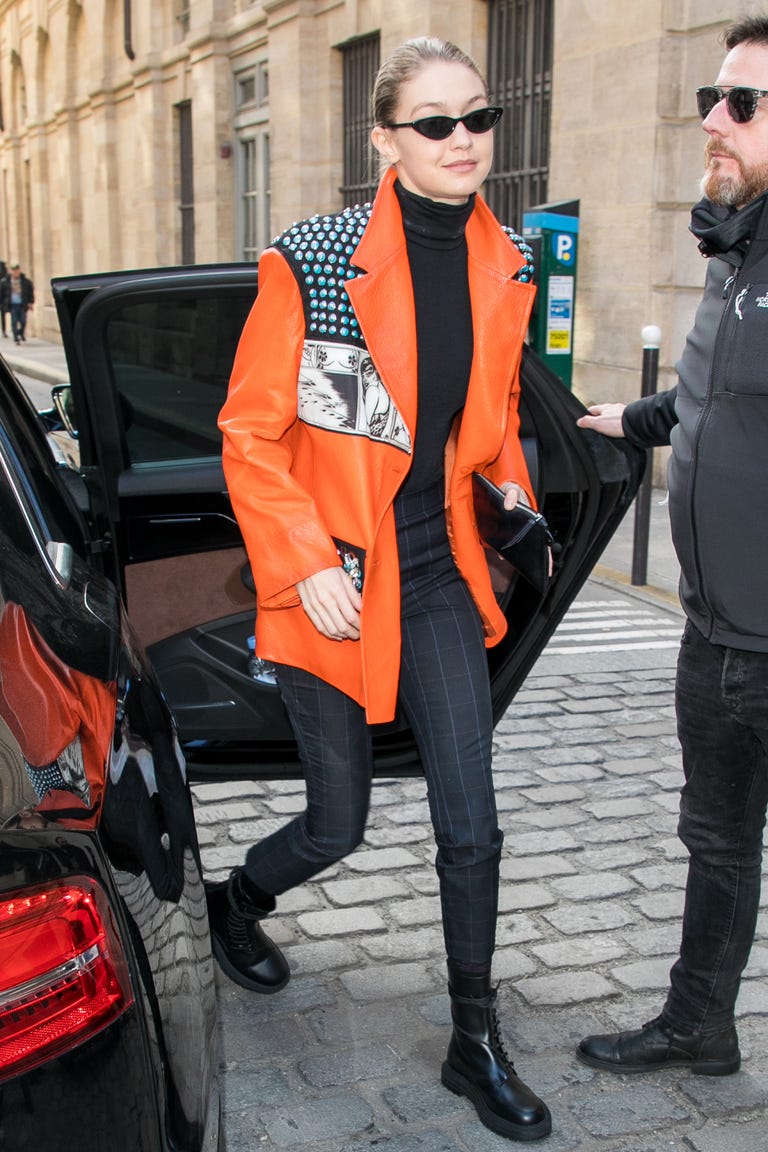 in a bright orange patent leather oversized blazer over a tight black turtleneck, with black plaid pants, lace-up combat boots, and sunglasses.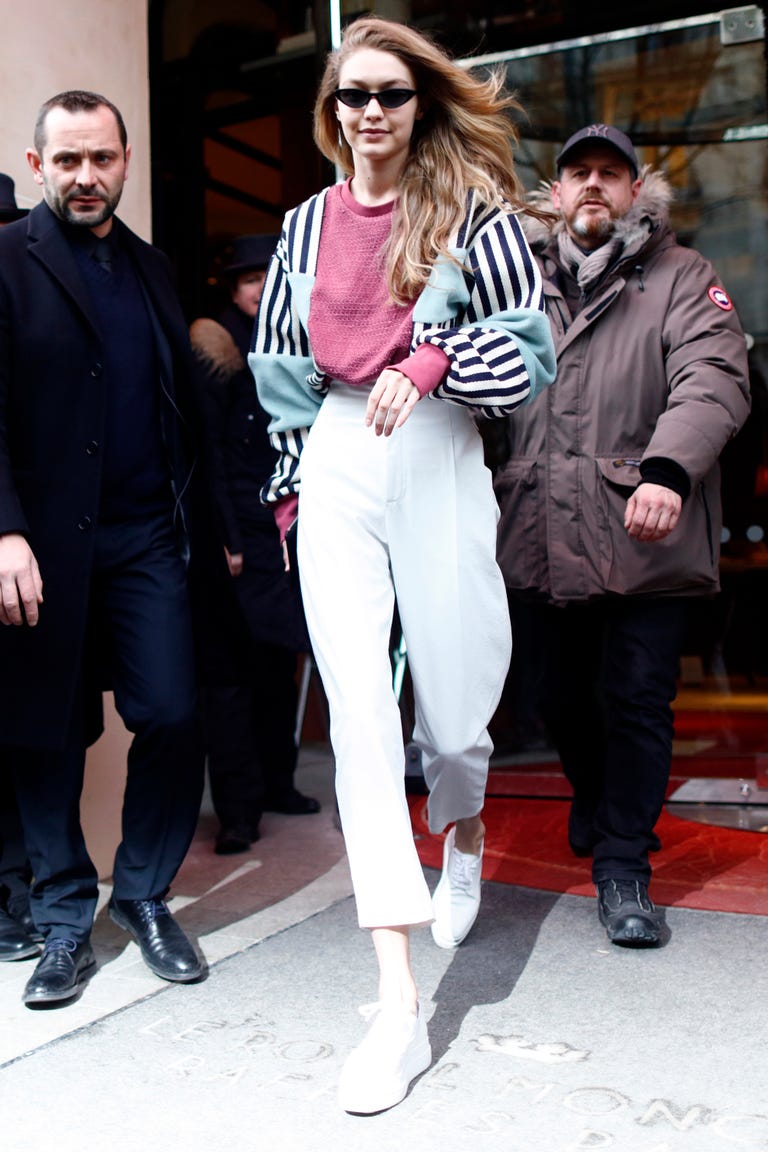 wearing a multi-colored striped sweater, high-waisted white pants, white sneakers, and her signature black cat-eye sunglasses while out in NYC.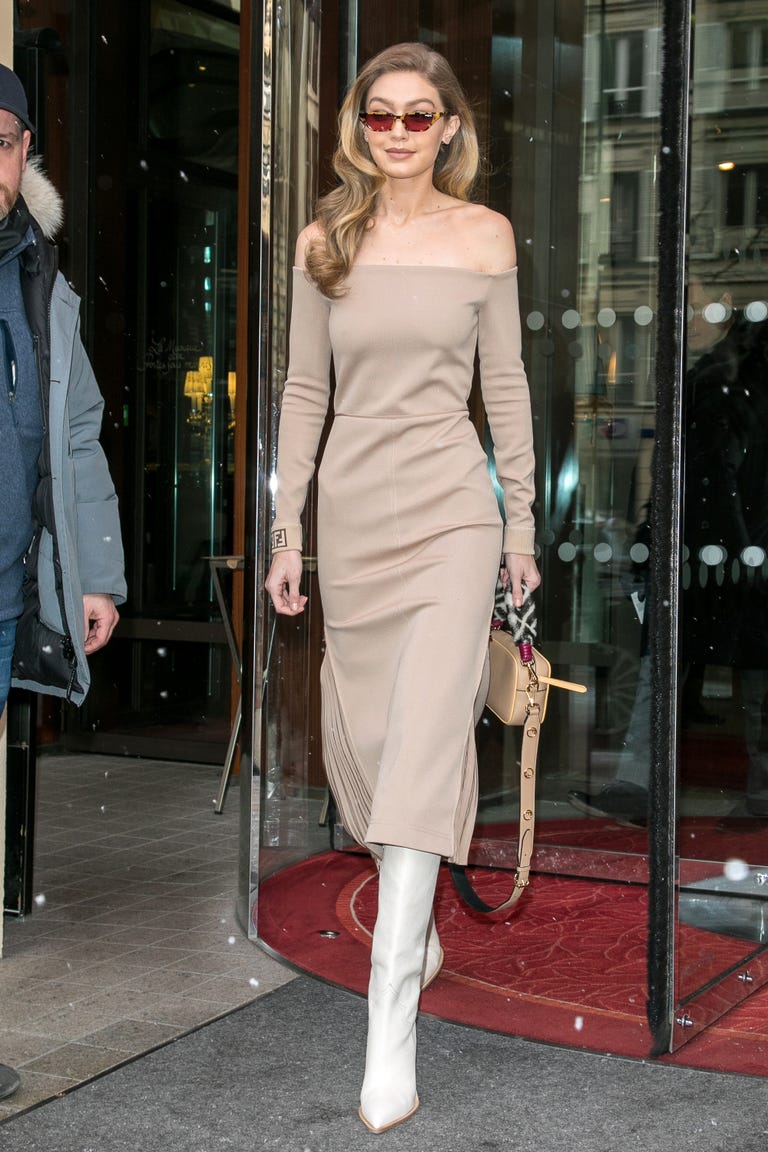 In a nude off-the-shoulder midi dress, small cat eye tortoiseshell sunglasses from her latest Vogue Eyewear collection, a fuzzy-handled Fendi bag, and white leather pointed-toe Fendi boots from the Fall 2018 collection while out and about in Paris.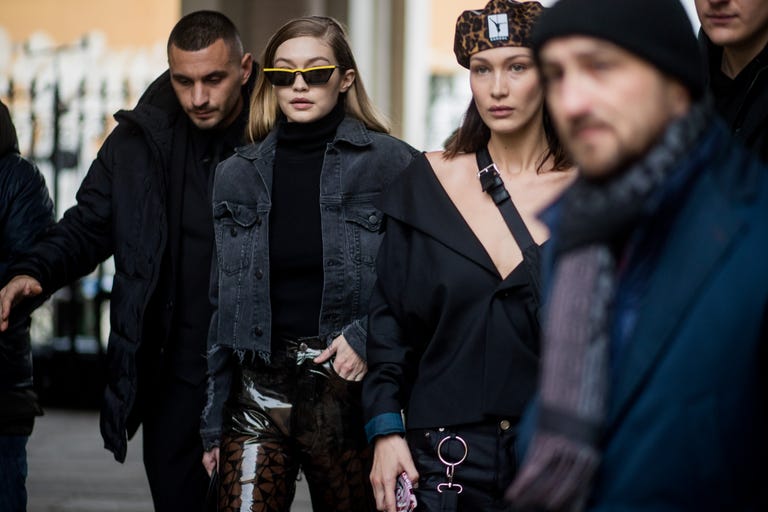 In a denim jacket and very shiny pants while out in Milan with her sister, Bella Hadid.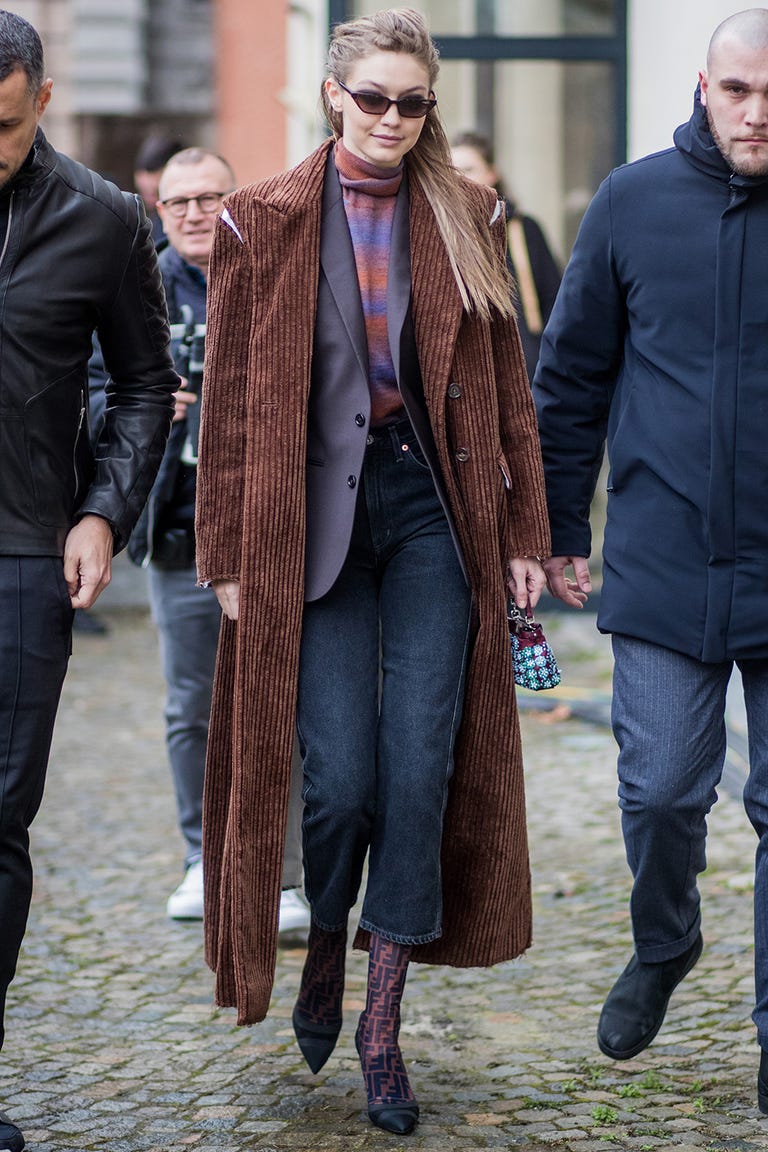 In a Christian Dada corduroy double-breasted overcoat with subtle split shoulders detail, over a deep plum Paul & Joeblazer, over a red and purple striped turtleneck, finished with Fendi mesh monogram boots tucked under cropped jeans, a tiny micro purse, and small cat-eye sunglasses while out in Milan.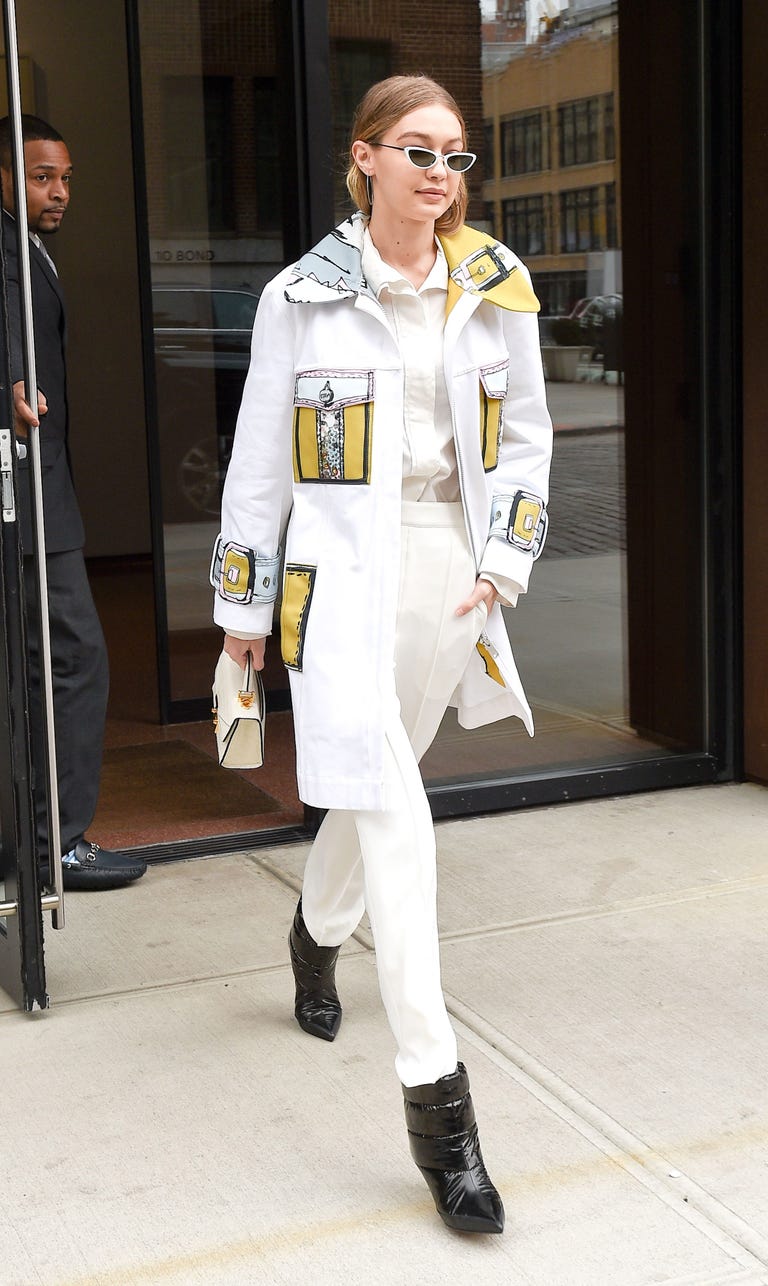 In a blue and yellow-accented white jacket, layered over a white collared button-down top and white pants, accessorized with pointed-toe black ankle boots, Linda Farrow sunglasses, and a white mini bag leaving her apartment building in NYC.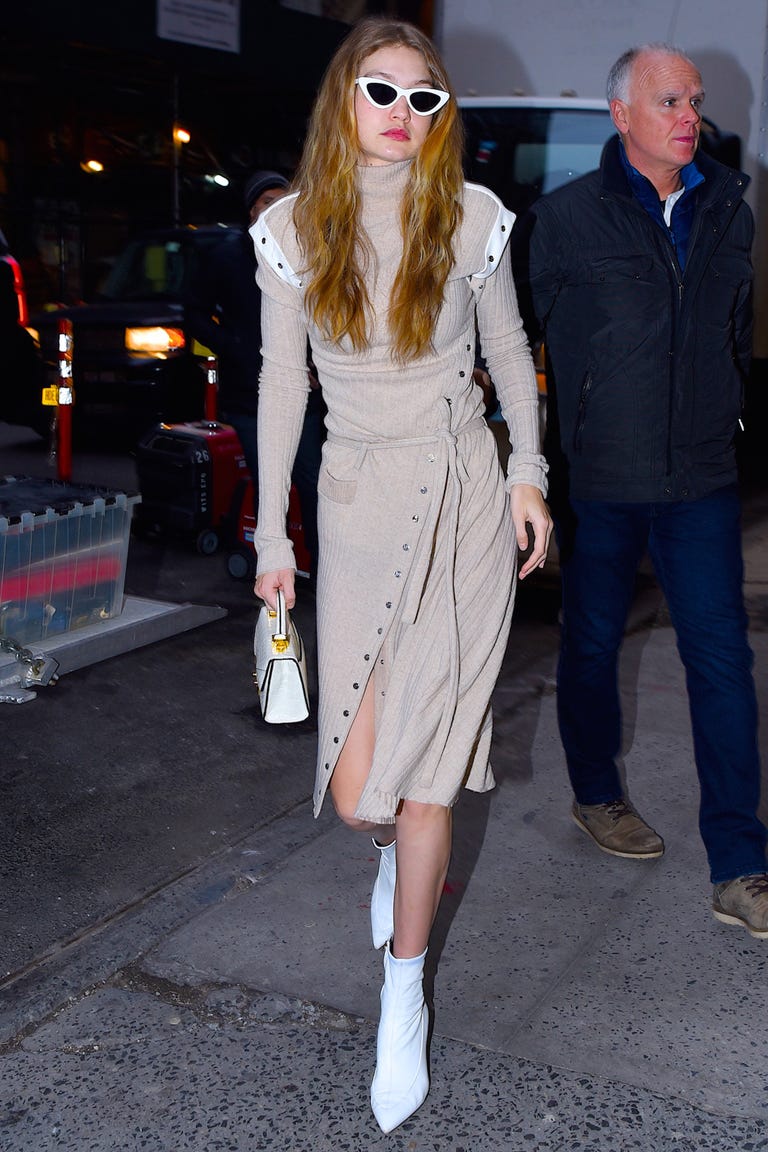 In an asymmetrical thigh-slit nude sweater dress, white ankle boots, and Adam Selman x Le Specs sunglasses while out in Manhattan.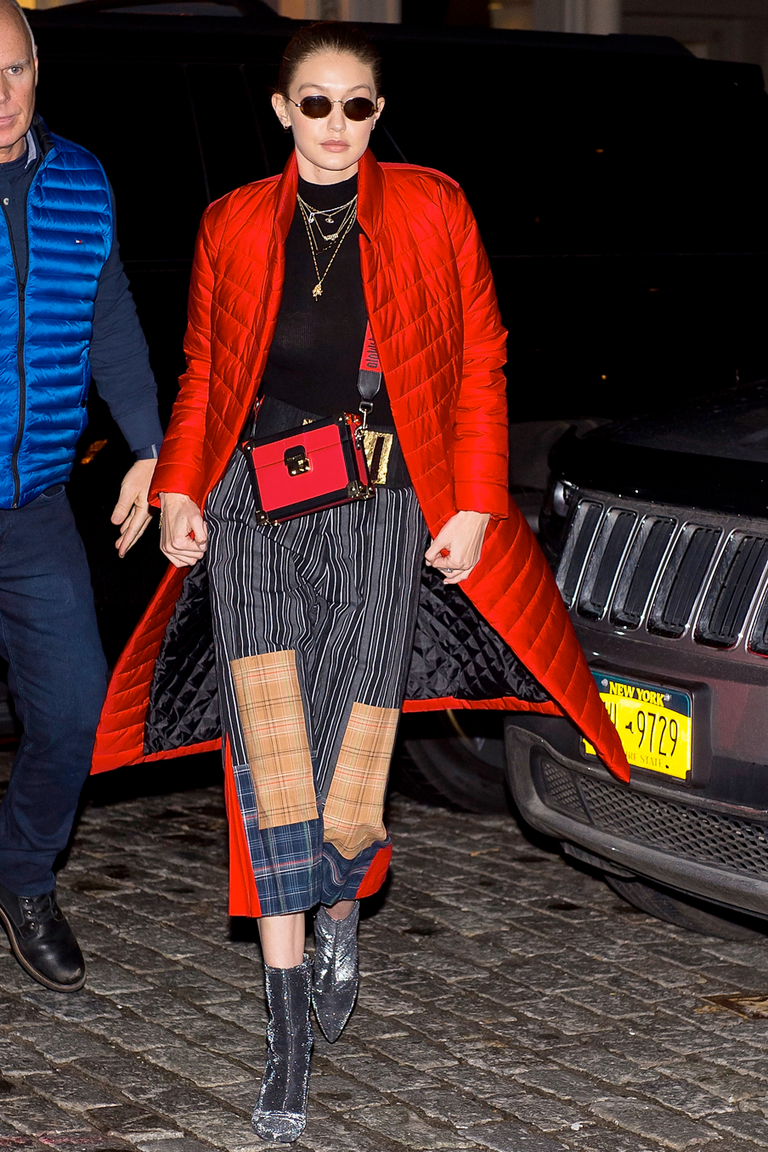 In a long red quilted puffer jacket, striped patchwork pants, a mini crimson boxed cross-body bag, small circular-framed gold specs, and sparkly silver Stuart Weitzman kitten-heeled sock booties for a night out in NYC.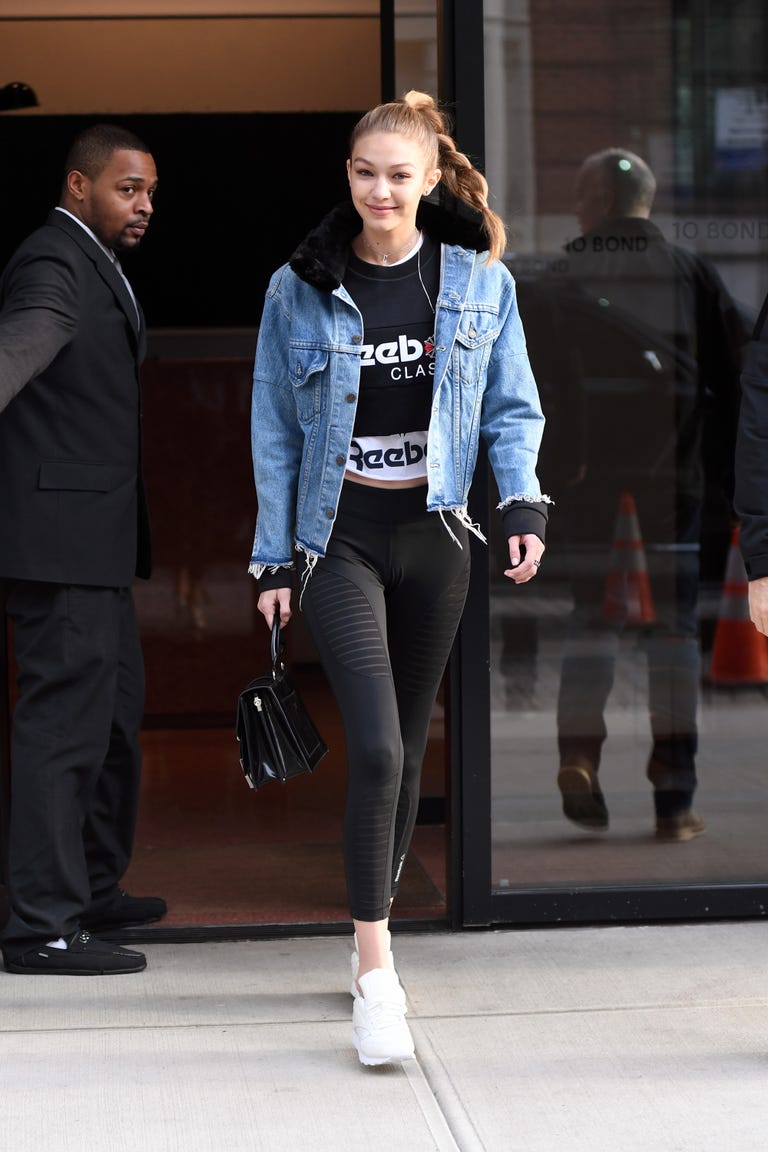 In a Reebok shirt, cropped sweatshirt, workout leggings, and sneakers, a denim jacket with a fur collar, and mini handbag while out in New York.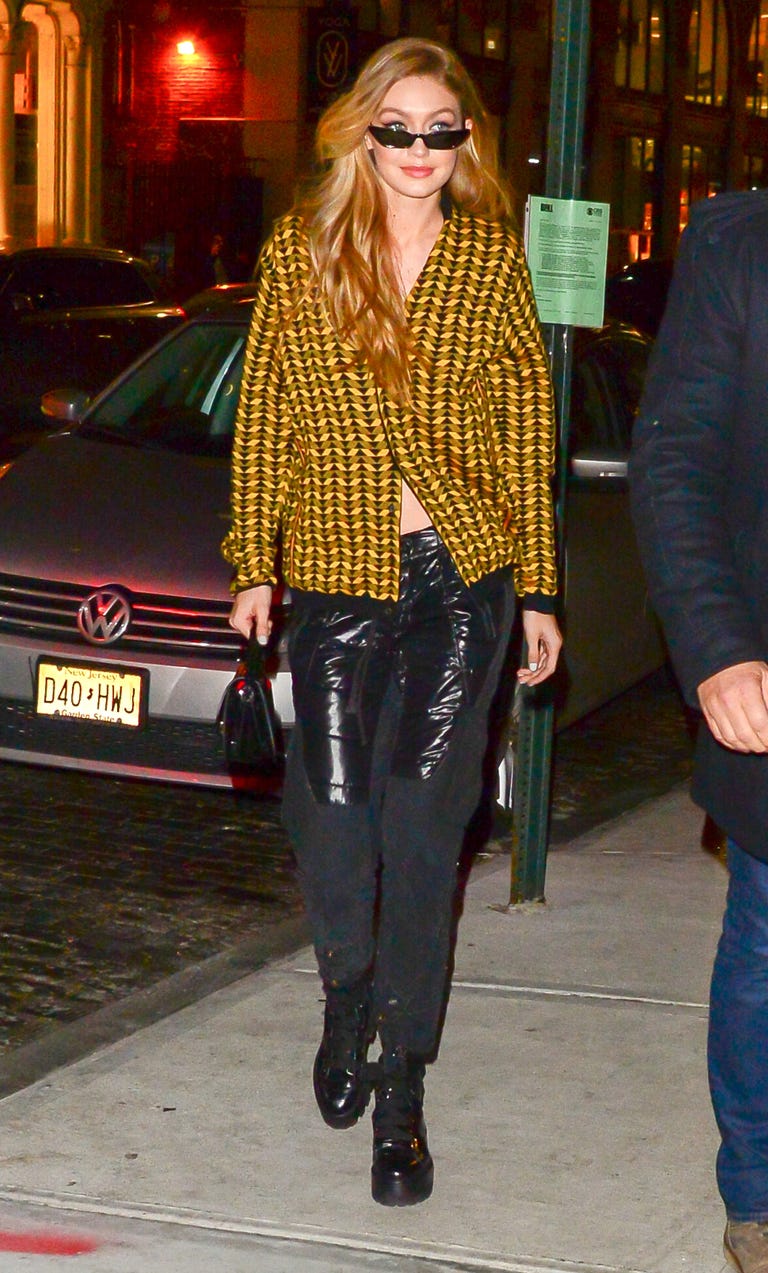 In a mustard yellow chevron shirt, leather padded pants, platform boots, and slim cat eye sunglasses while out in NYC.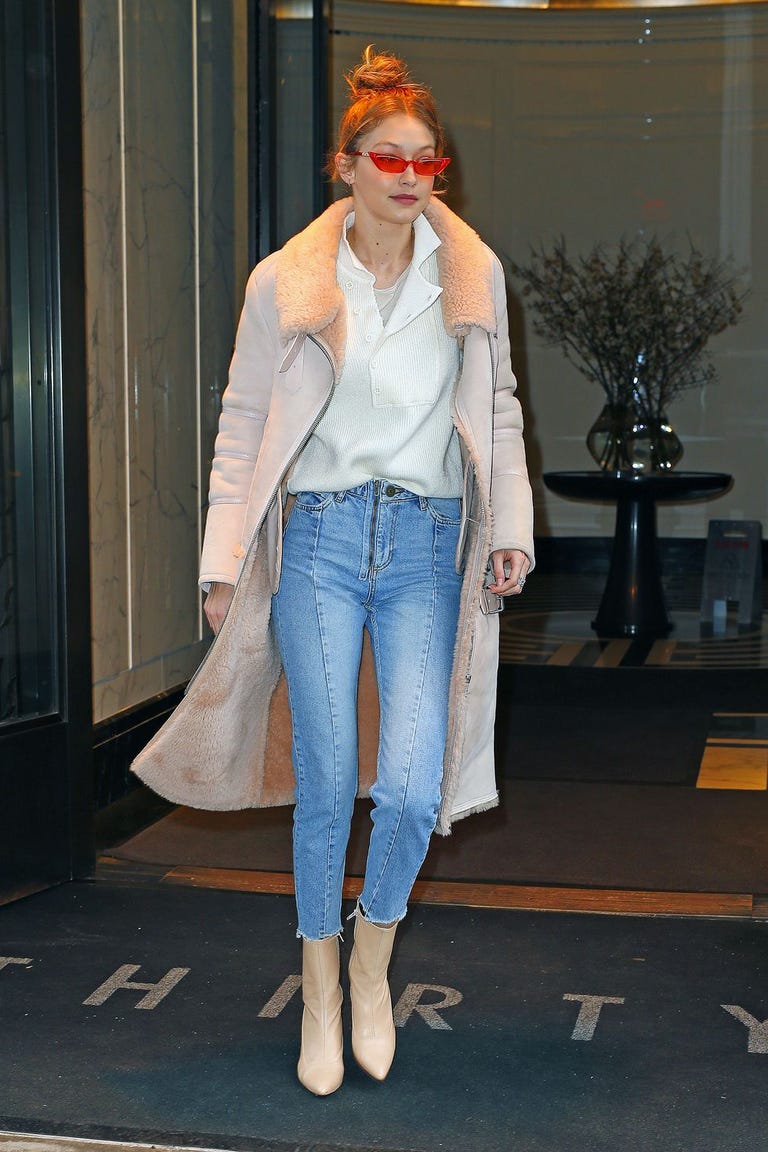 In a fur-lined hushed pink coat by Iro Paris x Kith, white sweater, lightwash Sandro Paris jeans, tan boots, and orange sunglasses while out in NYC.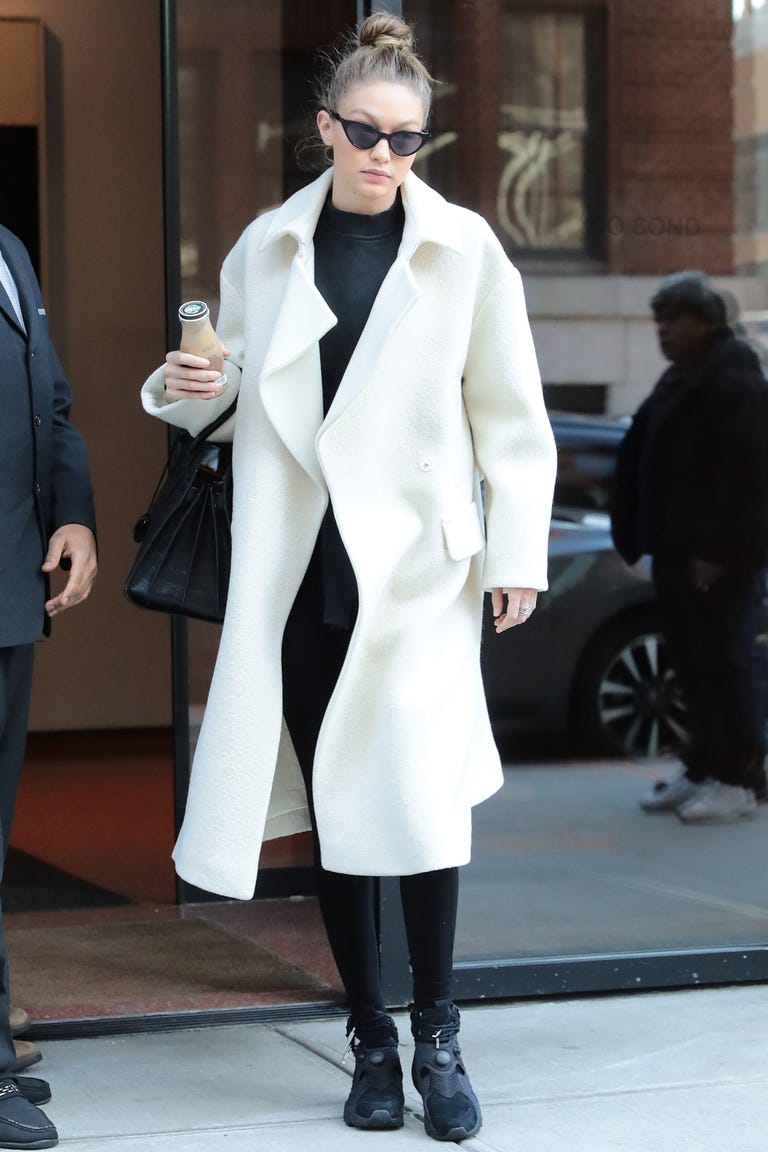 In a white coat, black workout gear, black high-top sneakers, a black tote bag and black cat eye glasses while out in New York.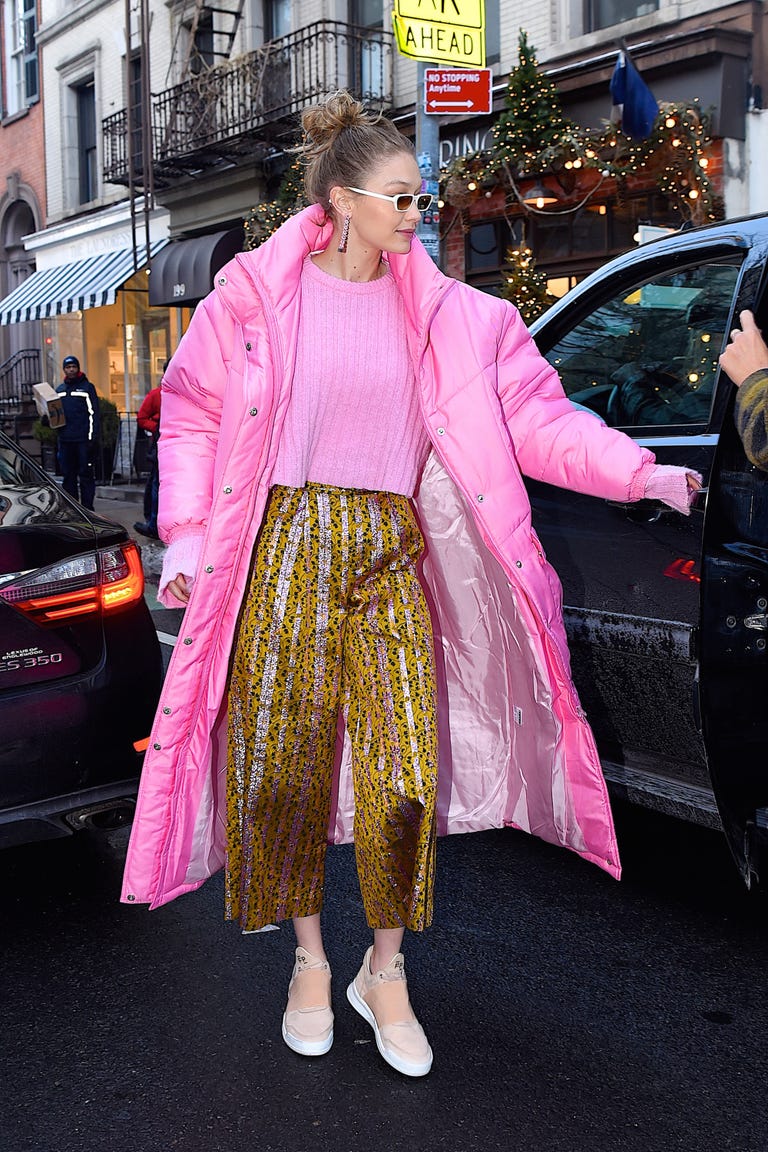 In a pink Christina Ledang puffer coat and sweater, Christopher Bu pants, Filling Pieces sneakers, and Illesteva sunglasses while out in NYC.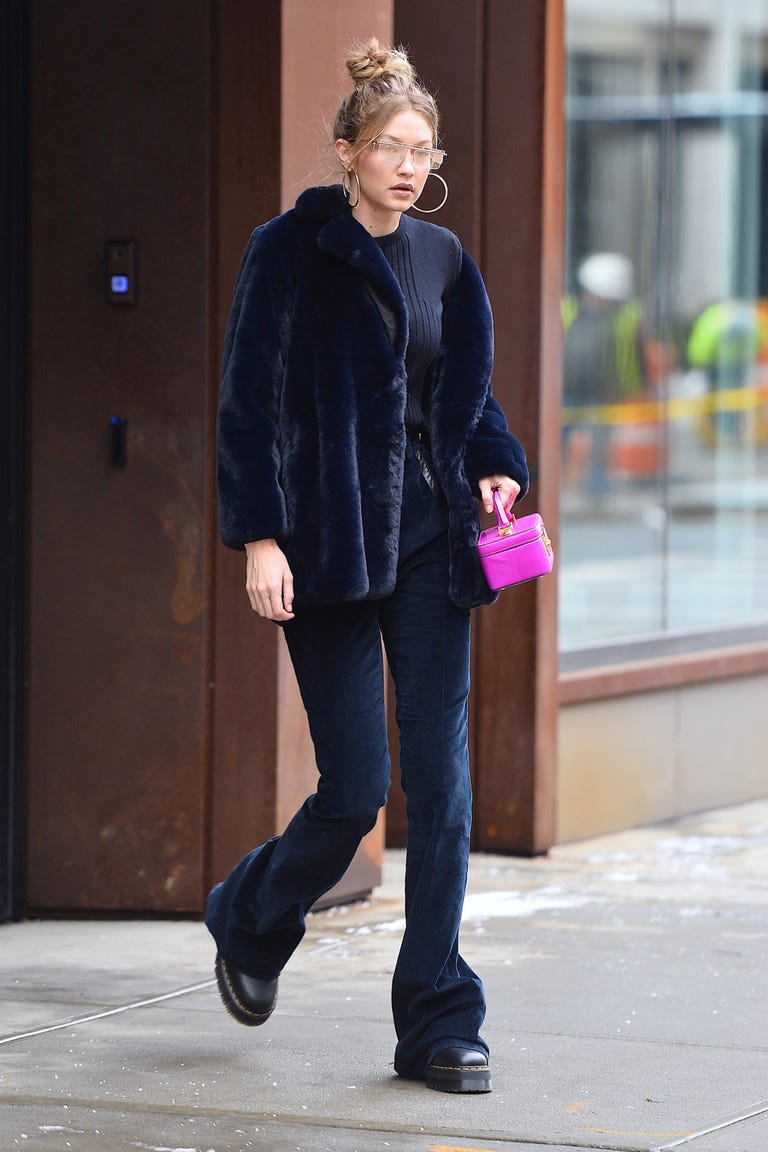 In a navy fur coat, ribbed sweater, ribbed corduroy pants, platform boots, pink mini handbag, gold hoop earrings, and clear rectangular glasses while out in NYC.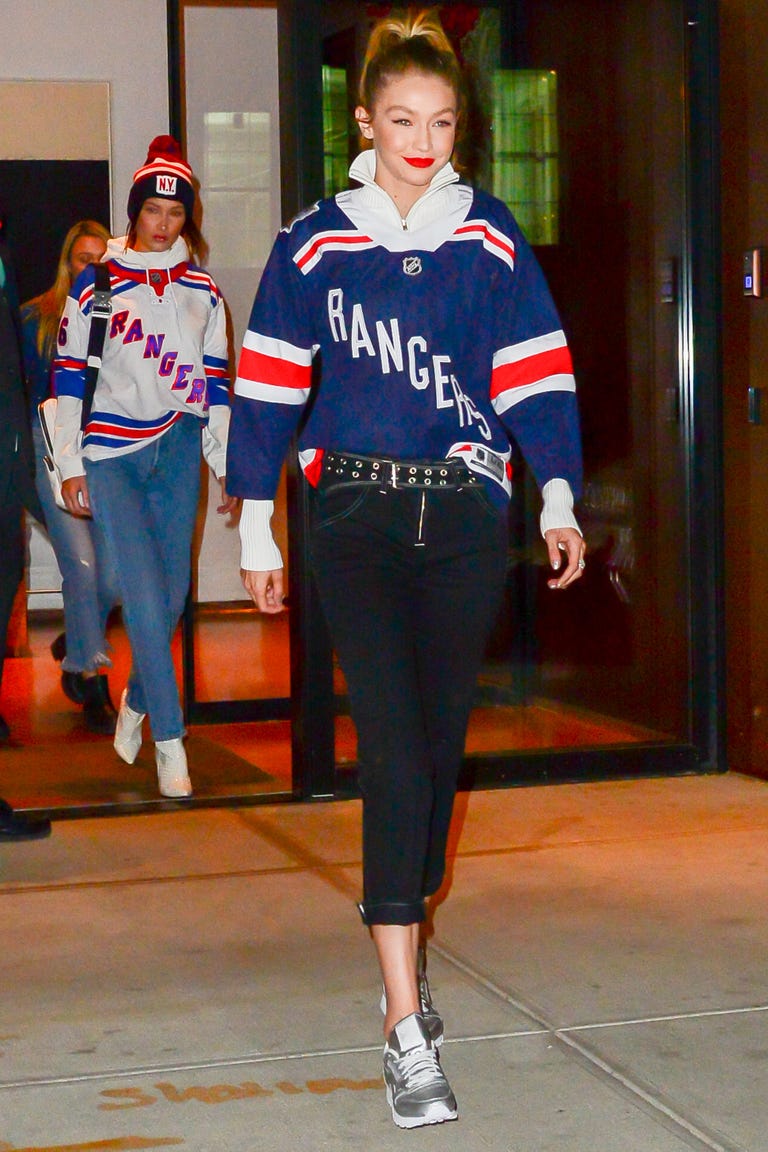 In a Rangers quarter zip, grommet belt, cropped jeans, and silver sneakers while heading to a New York Rangers hockey game with Bella Hadid, who wears a team hoodie, jeans, white boots, and a beanie.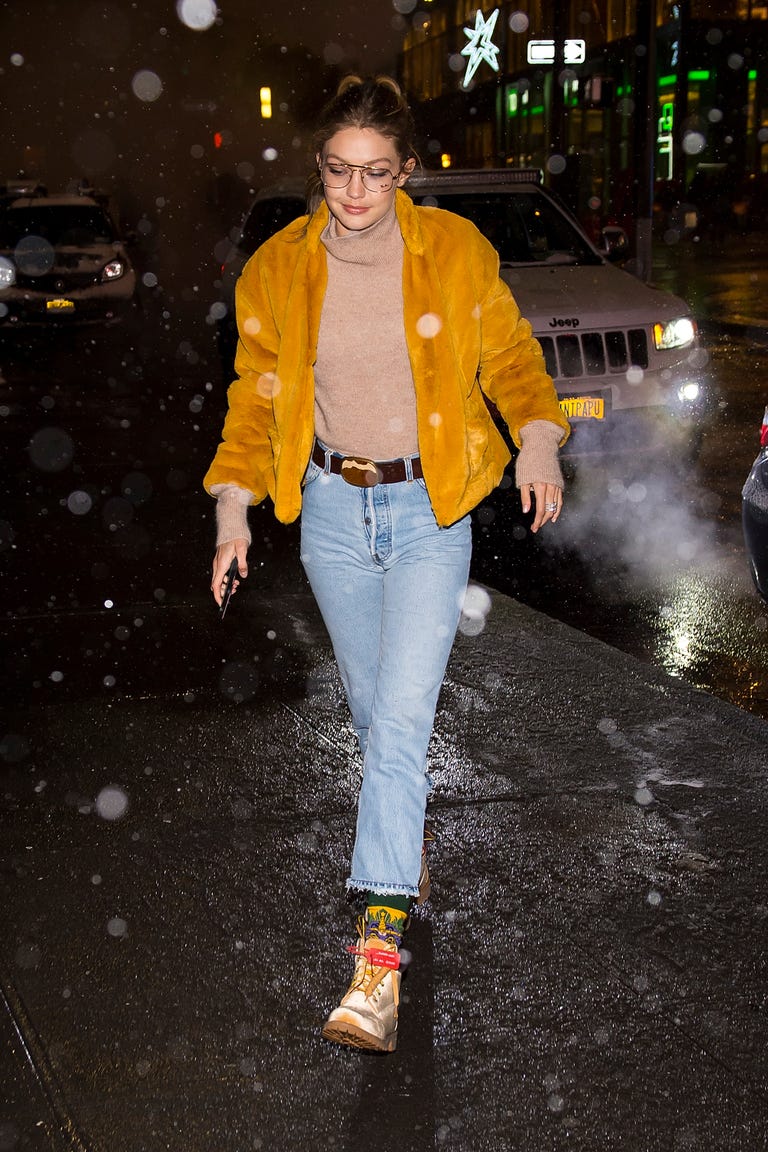 In a tan top, faux fur coat by dRA Clothing, and jeans while out in New York City.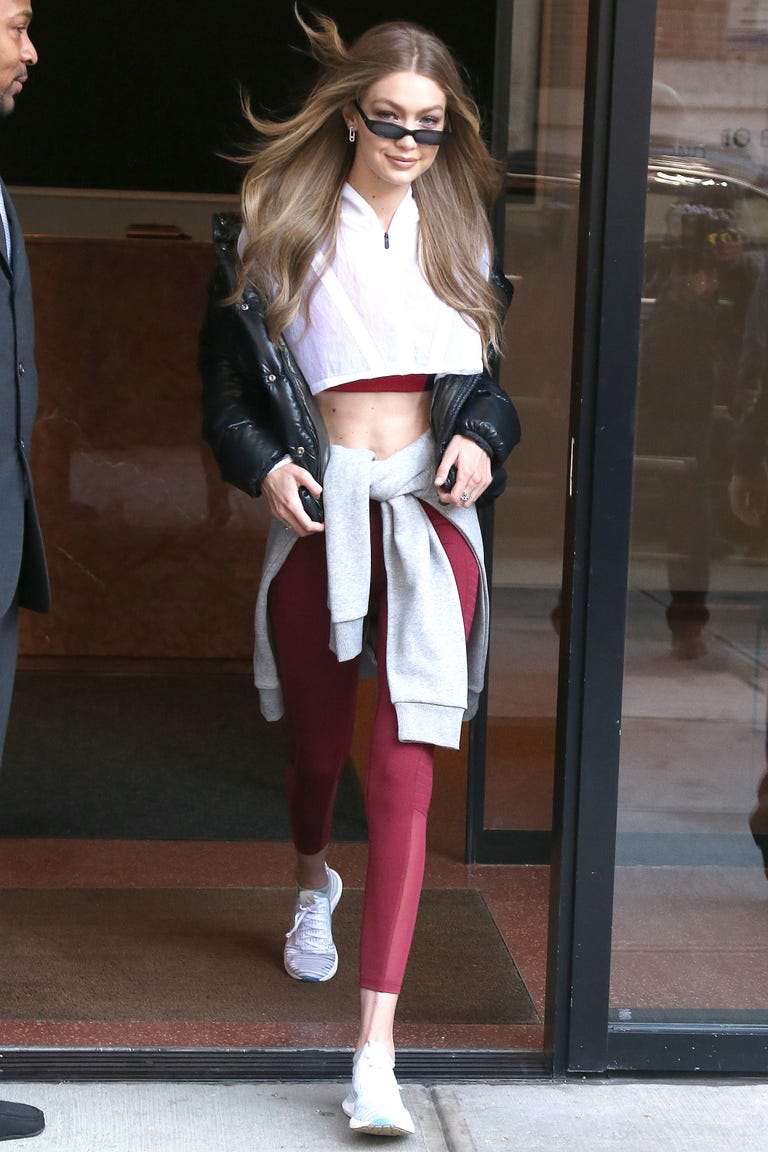 In red workout leggings and cropo top, cut-off sweatshirt, grey sweatshirt, black puffer jacket, trainers, and Roberi & Fraud sunglasses while out in NYC.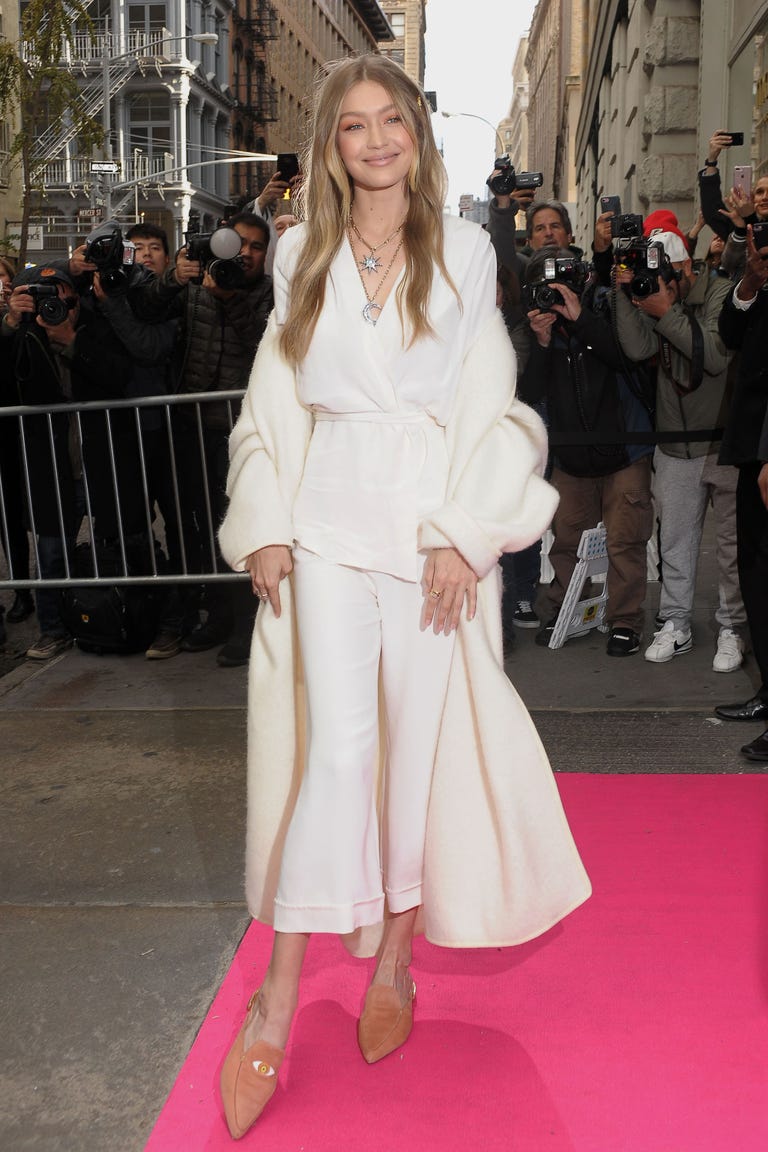 In a white wrap blouse and flared cropped trousers, a white mohair coat, layered necklaces, and her new Gigi Hadid x Stuart Weitzman mules at a launch event for the collab in NYC.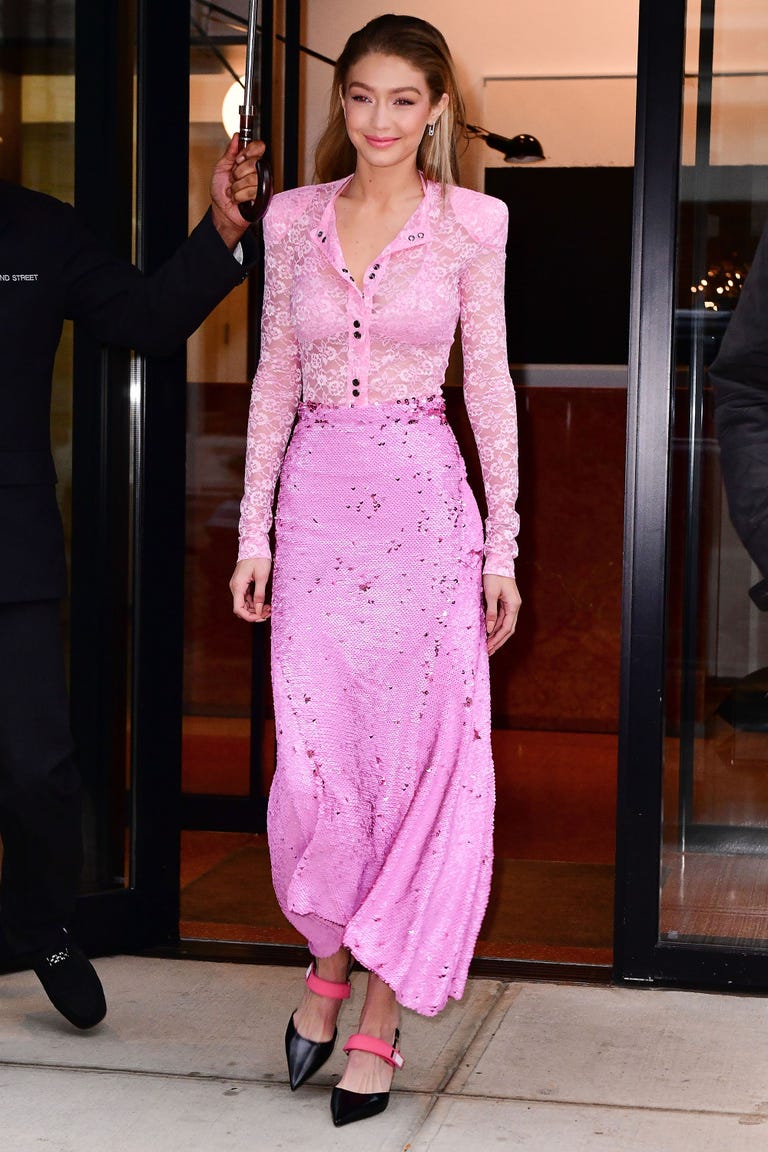 In a Nina Ricci sheer pink lace bodysuit and floral maxi skirt, Prada slingback heels, and Messika white gold earrings while out in New York.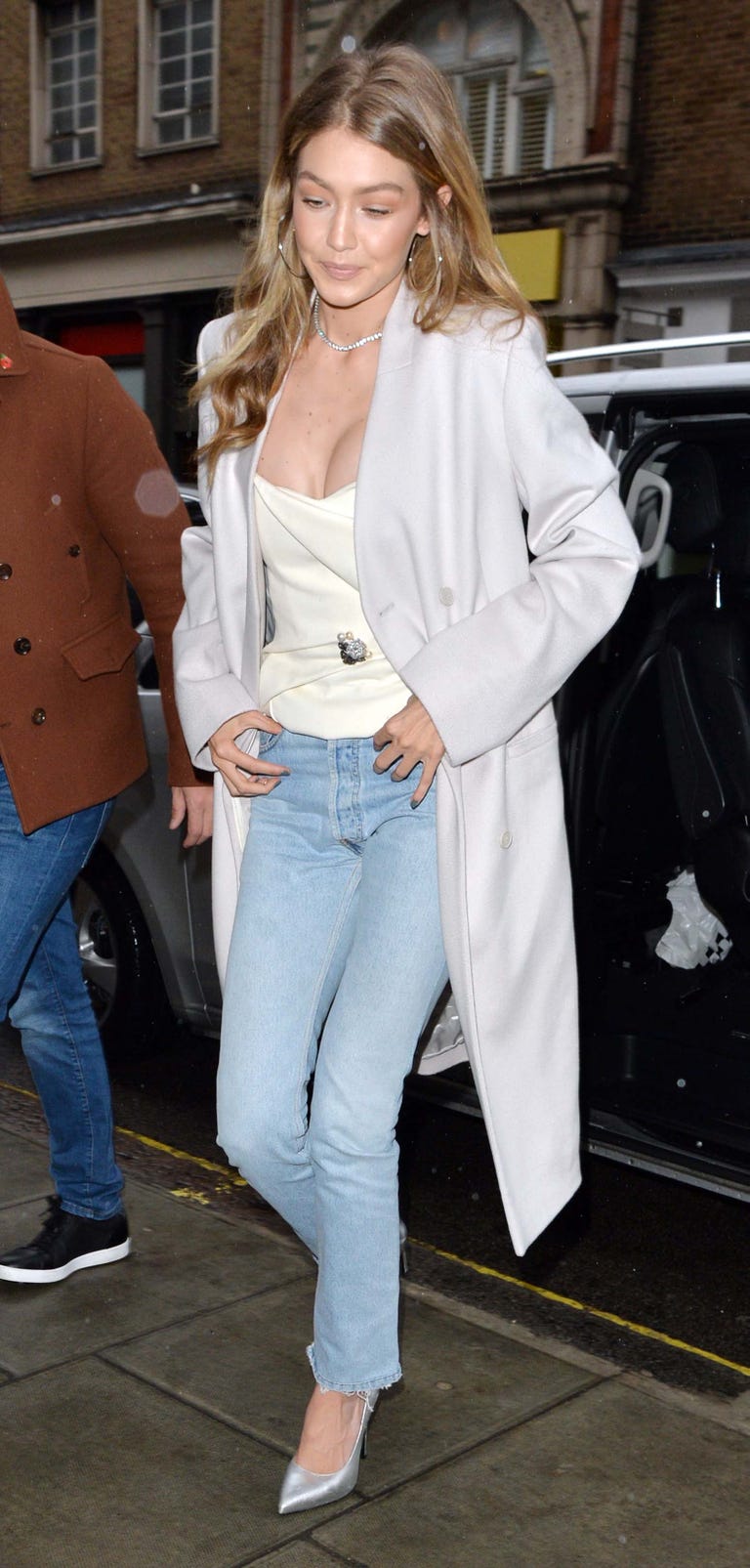 In a light gray coat, white tank top, light wash jeans, and silver pumps while out in London.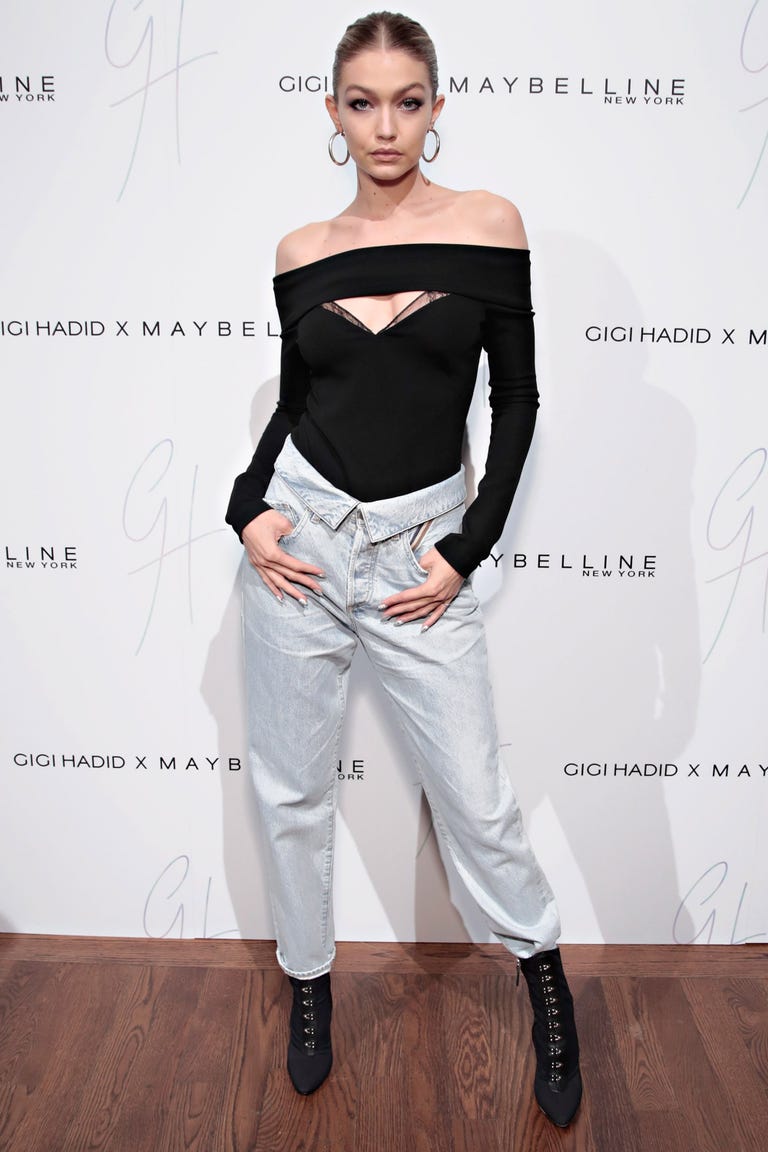 In Jean Atelier body suit and jeans, Giuseppe Zanotti booties, and Luv AJ hoop earrings at the Gigi Hadid x Maybelline New York International Launch Party in NYC.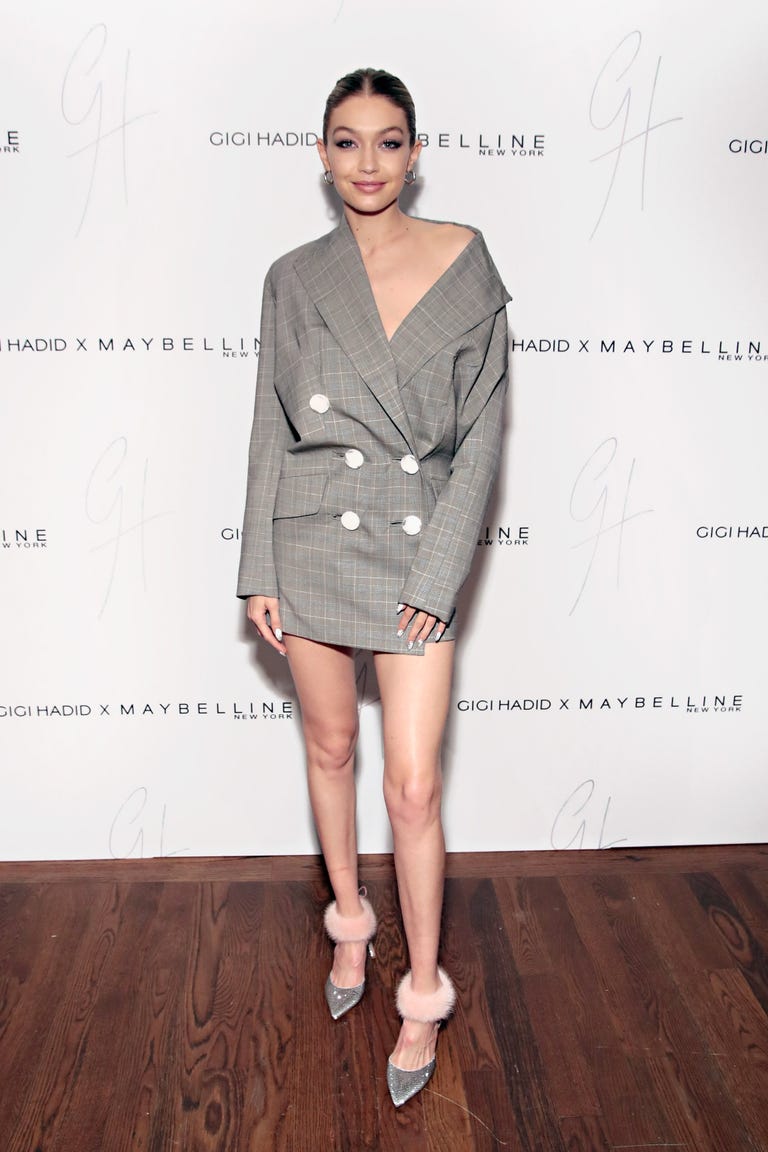 In a suit jacket dress at the Gigi Hadid x Maybelline New York International Launch Party in New York.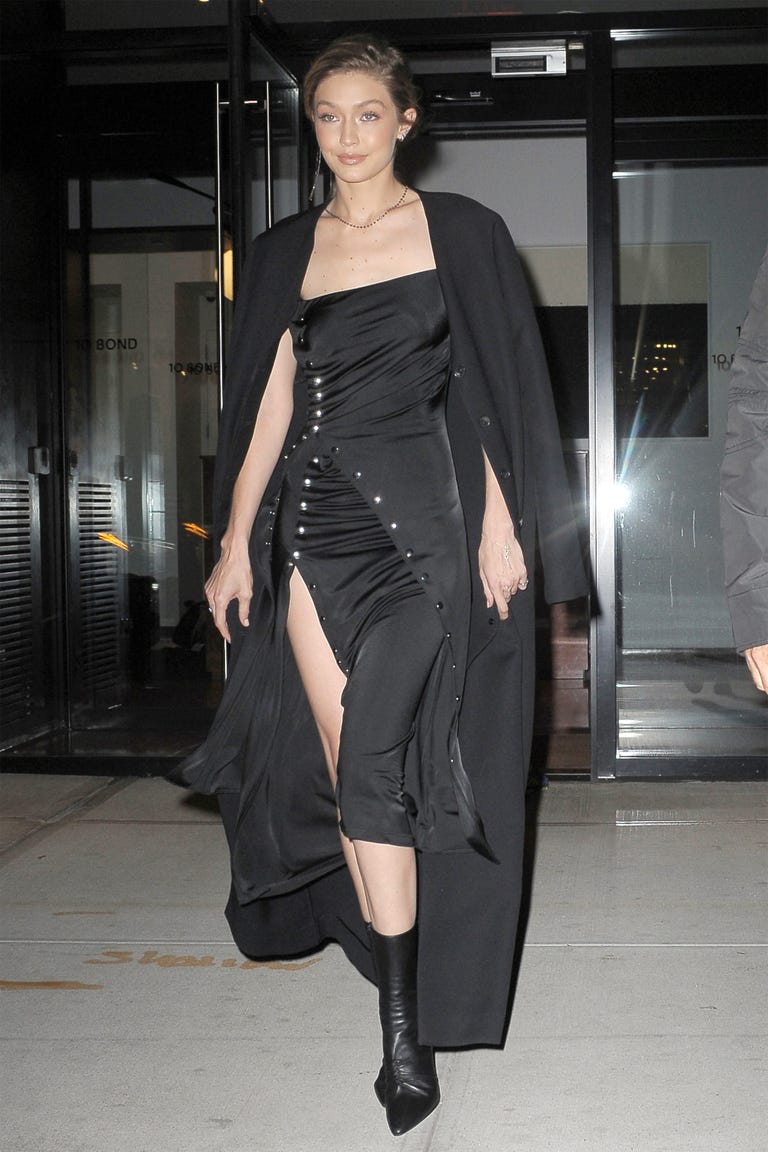 In a layered black silk dress, draped coat, and black leather sock boots while leaving her apartment in NYC for the Aperture Gala.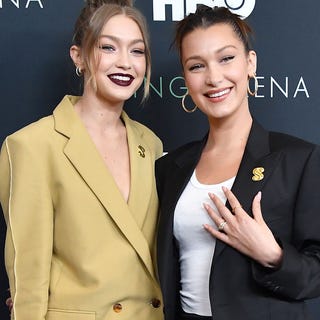 Source: Read Full Article