Christopher John Rogers and Isaac Mizrahi on Queer Identity, Design, and Teletubbies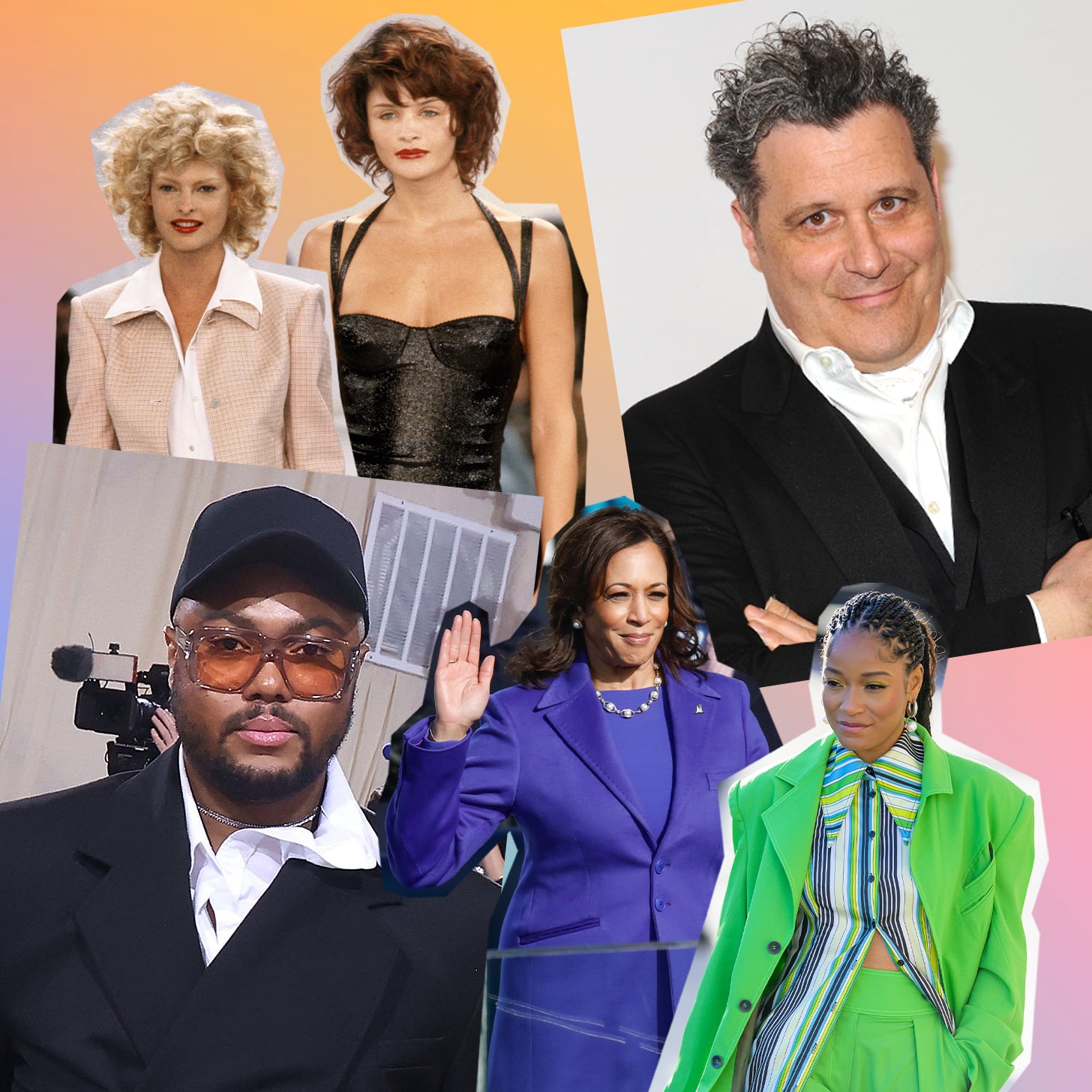 Design legend Isaac Mizrahi needs no introduction. From his forward-thinking approach to contemporary design to his seminal fashion documentary "Unzipped," he is the blueprint for how fashion designers work today. Fresh off a stellar Resort 2023 show, industry darling Christopher John Rogers (CJR) is constantly paving his own lane as well. With his distinct design language that is helping the masses rediscover color, CJR is one of the most promising designers on the New York Fashion Week calendar.
Isaac Mizrahi and Christopher John Rogers are kindred spirits. They're both Libras (born two days apart), maestros of color theory, fans of the "Teletubbies," master artisans, and lovers of the art of fashion. In fact, at Rogers's "The Atelier with Alina Cho: Christopher John Rogers" talk at the Metropolitan Museum of Art back in April, he mentioned Mizrahi as one of his "fashion parents."
POPSUGAR brought the two powerhouses together over Zoom to discuss everything from the evolution of the fashion industry to establishing their queer identities within religious confines. Read on for their conversation.
Christopher John Rogers: Hi Isaac! It's so lovely to chat with you.
Isaac Mizrahi: Christopher, what a pleasure, pleasure, pleasure to meet you. I'm such a big fan.
CJR: Thank you! But same — the biggest fan, probably. My first introduction to you, Isaac, was through an old interview on YouTube. With your banter, personality, and how you eloquently jumped from idea to idea so quickly, I felt familiar with that tone. Then I found "Unzipped" and was really obsessed with the honesty in that collection and the documentary as a whole. It just felt like a spark hit me. I was forever changed from that moment because it felt like I could do or make the work that I wanted to without needing to perform.
IM: Well, that's so incredibly inspiring to me, and it's so touching. You know, I've heard people say how Unzipped inspired them, and I can never believe it. Especially someone like you, who I consider to be so talented and so in touch with something divine — if I had anything to do with bringing that out of you, that's a gift to me.
CJR: How do you feel fashion has changed since you started? Like, when did you start, in 1988?
IM: I started in 1986/87. I worked for all these different designers — Calvin Klein, Perry Ellis, and Jeffrey Banks — for years before I started on my own. To be quite honest, I don't know how fashion has changed. I left [Isaac Mizrahi left the fashion space in 1997, returning in 2002 to design a Target capsule collection before eventually selling his namesake brand in 2010]. I look at your work because I really like it, but I don't really look at a lot of other stuff.
Even back then, I couldn't bear to see other people's work. I just couldn't understand any of it. Everyone who worked for me knew that I didn't want to see magazines at all. If there was a credit in Vogue or Bazaar, they would flag that page so I could see it and write to Grace Coddington, like, "Thanks a million for the beautiful picture." I felt it was much better for my own processes as an artist to keep this idea, this vision I had of a woman.
For us, it was really fun. We did the shows, we didn't pay people to sit in the first row, and then we had a mad party backstage. Somebody had the idea to start serving Champagne backstage at shows, and it became this culture. Kevyn Aucoin, André Leon Talley, all these beautiful models, and four cases of Champagne backstage — that's what it was like.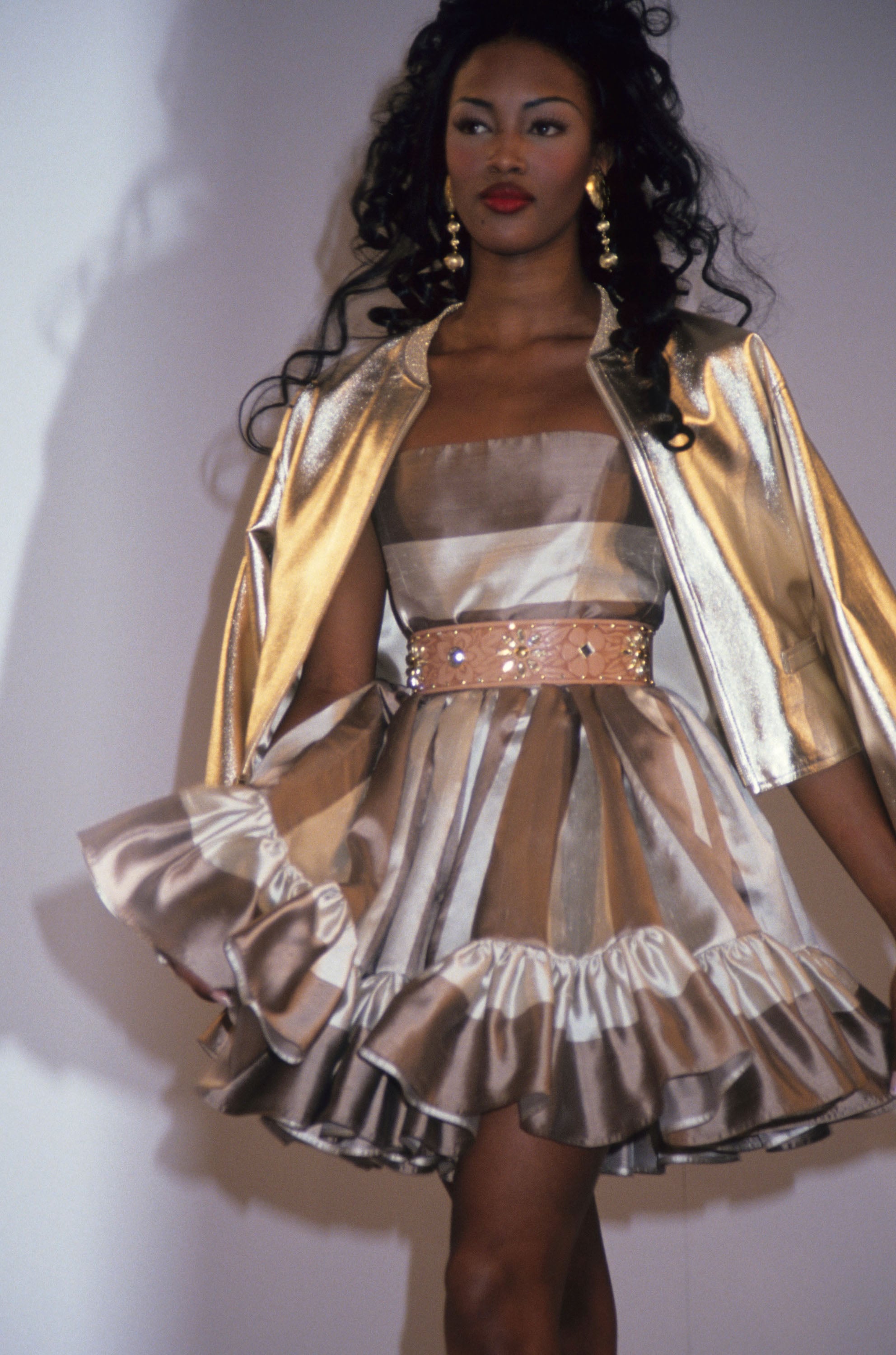 Isaac Mizrahi's Spring Collection Fashion Show, 1991. Image Source: Getty Images / Rose Hartman
IM: You tell me: how has fashion changed? What's it like today in your experience?
CJR: It feels, in some way, less pure. There are so many things happening at once, and I wish I could just worry about making clothes. If you wanted to reach someone before, it was just a landline phone call. Now it's a cell phone call, email, Instagram, like, "Oh, you didn't respond to my DM." How can I respond to your DM when there are thousands of DMS? And then I have to call my mom, feed my dog, and I also had to do this deck in Asia, and then Italy. At the same time, you don't get a vacation—
IM: Ughhh, God!
CJR: You know? No vacation, but then I have to do another collection. It's a lot, and we're a small team of six. Fashion has always been quite mysterious and veiled, but I feel like now people think they know what happens but don't really understand all the nuances. There's less of an understanding but a lot more expectations about how to best do it.
IM: How do you keep anything original? Like, how is that possible in the age that you live?
CJR: It's interesting because I grew up on the computer. My dad always taught me to use the computer as a tool, and that's it. Whether it was journaling or Tumblr, I would just look at things online and find out what I liked that way. Everything that I was absorbing was through a screen. Even now! I'm such a fan of fashion that, in my spare time, I'll go on Firstview and look at collections from the '70s, '80s, and '90s. What I'm trying to find a balance with now is how to enjoy looking at the things that make me happy, which are fashion, movies, etc., but also guard myself against the infiltration of other ideas that don't feel pure to me. That's the hard thing.
IM: How important is it for you to have followers? That's really important for a designer working today, right?
CJR: It is important, but for me, that isn't necessarily a reflection of the business. There are many people who might conflate the two, like, "Oh, you have this amount of followers, so you must be doing this in volume." Then some brands that have 10,000 followers that are in 200 stockists but are very small. We're really small and intentional with our stockists. We're only sold in 12 stores.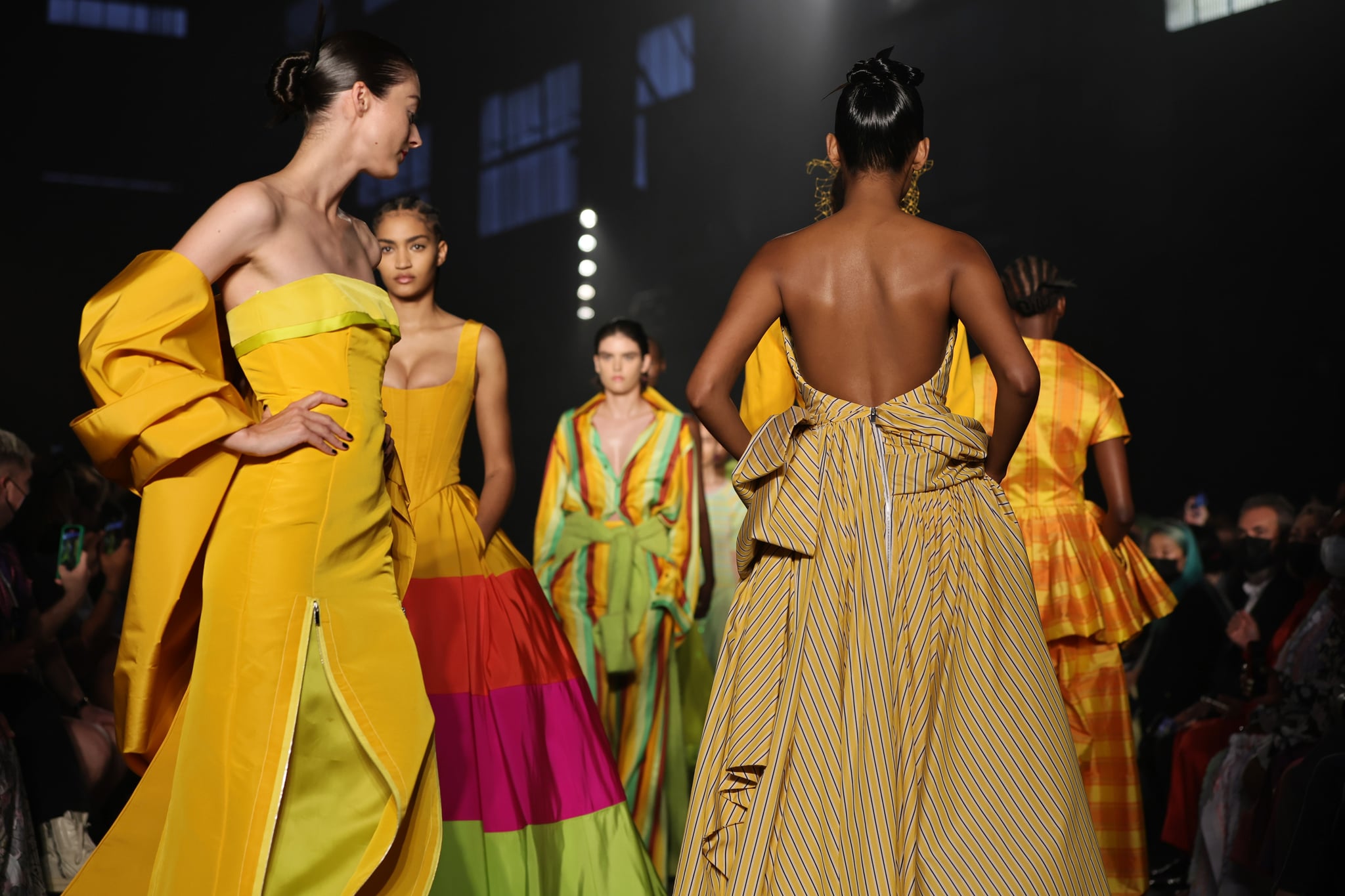 Christopher John Rogers Collection 010 Runway Show, June 2022. Image Source: Getty Images / Theo Wargo
IM: That's great. That's an honest business. I love it, darling. As far as Christopher John Rogers, the business, do you have a partner? Does anybody own a part of your brand?
CJR: It's just me.
IM: Keep it that way.
CJR: Having to run the business alongside designing is a lot, but I'm grateful that I get to answer to just me, my whims, and the things I want to try.
IM: Your name is getting very developed. Many people know your name. Give it another five years and then another, and you'll be a name everybody knows, and then people will want you to do licenses. Just build it slowly, darling; that's my advice. You build it slowly because I know that you're going to have a massive, massive, massive career. And if you don't know that, trust me, I know that. What sign are you? When's your birthday?
CJR: I'm a Libra.
IM: Me too!
CJR: Iconic! October 16.
IM: Get out, October 14.
IM: Wait, do you have synesthesia? Because I do.
CJR:: I know that's when you confuse your senses, but I don't know if I have it.
IM: I'm telling you, you do. Look into it! You know when people say, "Oh, you love color?"' You know what? I also hate color.
CJR: [Bursts into laughter.]I feel the same way. People expect a riot of color, and I've been leaning into that a lot because it's what people respond to, but I love a biscotti, a cabernet. I love a deep blue that's almost black.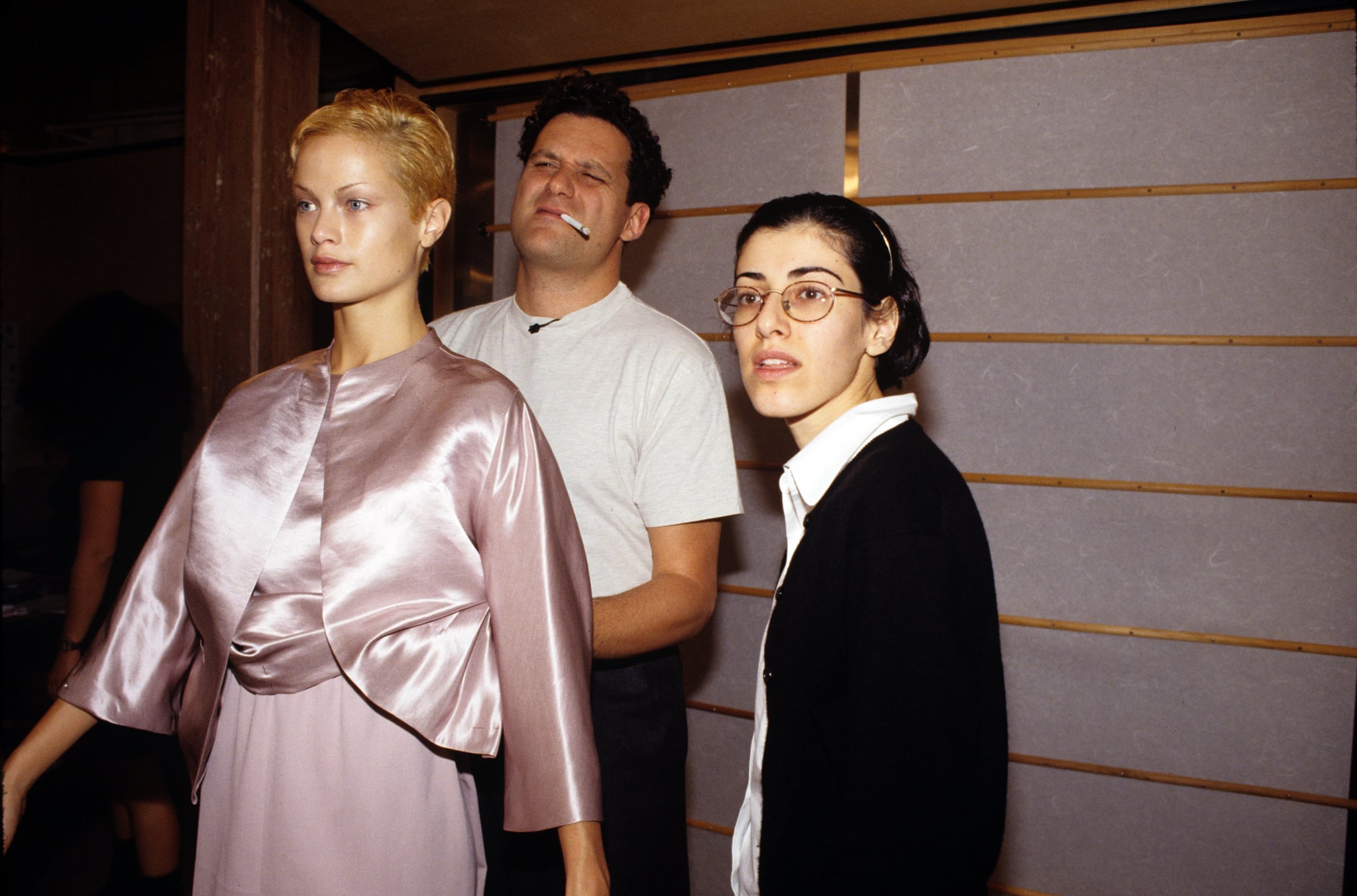 Isaac Mizrahi during a showroom fitting, October 1995. Image Source: Getty Images / Catherine McGann
IM: Exactly! I love color. But there are colors I hate. One of the things I hated so much was that people expected me to do all these bright, happy colors every season. Colors aren't always nice and bubbly; sometimes, they're dark and spooky, black or neutral. Neutrals are colors, too. I fall in love with taupe in the same way that I fall for bright pink or orange. But if you don't have yellow and turquoise, they think, "Oh, he's not doing his best work." In fact, I am doing my best work, so don't come with these expectations. They hated those collections, but those are the most iconic. That's my best work if you ask me.
CJR: I know it's a tricky question but what's your favorite collection?
IM: My favorite collection was this one I did with all these tartans. Everything was adorned with these beautiful embellishments that looked like garbage can covers; these giant sequins that I made in this gorgeous matte silver and tortoise shell. That was my favorite collection. What's your favorite?
CJR: Not to be cliché, but my most recent collection. I know everyone says that, but I just think it was really fab. Did you ever feel that because your name was on the label, every collection needed to have all the parts of you in it? Or did you feel like each collection was more of an idea or one moment?
IM: A little bit of both. I have to say it's so ironic that here I am at this late stage of my career, and I don't care that much about runway. All I really care about, when it comes to clothes, are values. It's like, "Wow, this T-shirt is cut beautifully, and it's constructed in a really quality cotton." I don't really care about clothes for Instagram or the Met Ball. Yeah, I look at that stuff, and I find some of it amusing. But it's also like, this is what we care about now?
CJR: Right! That's not transient. It's not forever, and people are paying a lot of attention to Instagrammable and viral moments, but they're microwavable. Also, people just buy a lot of stuff.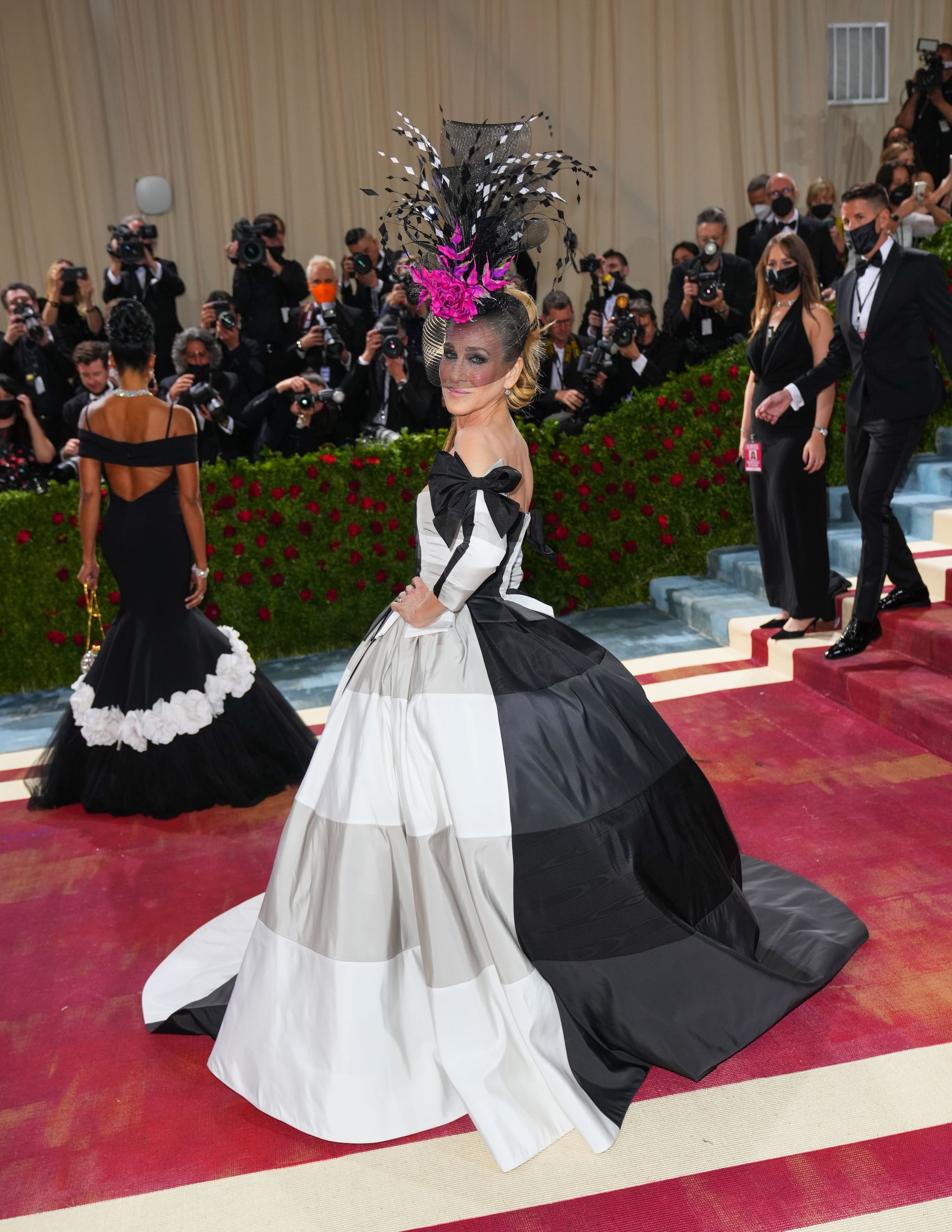 Sarah Jessica Parker at the Met Gala, May 2022. Image Source: Getty Images / Gotham
IM: That's so true. And that's my generation's fault, you know, if you watch "Sex in the City," Carrie Bradshaw rarely wears the same thing twice. Whereas, when I was growing up watching Mary Tyler Moore, the greatest thing ever made for television, in my opinion, she wore the same suit on Wednesday, and the writers were like, "Oh, it's Wednesday, so she should be wearing the Wednesday little dress," you know? There was a little bit more reality.
CJR: One of my earliest fashion memories in television was the Power Rangers, which isn't necessarily fashionable, but I liked their uniforms. I especially loved the pink ranger. Sometimes she'd be in an all-white look and then just have a sliver of pink, and that was enough to be the Pink Ranger. That sort of optimism was really cool. Also, I would say the Teletubbies like those big, fuzzy, colorful things.
IM: Oh! My favorite things in the world. You know, the last collection I ever did, which I never showed because I closed my collection right before the show, was inspired by the Teletubbies.
CJR: Obsessed.
IM: Yes, darling. The set was going to be this big grassy knoll with a blue sky and white clouds. There were only four colors because of those four colors of the "Teletubbies." There was one picture of Gwyneth Paltrow for a preview in W Magazine in one of the dresses, and then there was one Vogue preview. It was this purple dress on Shalom Harlow that was a ballgown with stitched white cotton like the inside of a little slipper. The whole interior of the dress was white cotton, and the outside was purple. Like, you know, what's the purple one's name?
CJR: Tinky-Winky.
IM: Yes, there it is. I made puppets as a kid. That's how I learned how to sew, sing, and play the piano. Everything was through these puppets because I grew up in this very religious household that wasn't fun. So, I learned to escape this way by creating these worlds for myself.
That's how I formatted my lens of the creation of those puppets. For me, it was always theater and movies. My mom took me to see plays, ballet, and films. I remember seeing "Funny Girl" when I was about seven. It was at this fabulous old movie house with a curtain and an intermission. It was really something. Watching the film, I remember connecting with Streisand. I know this sounds so gay.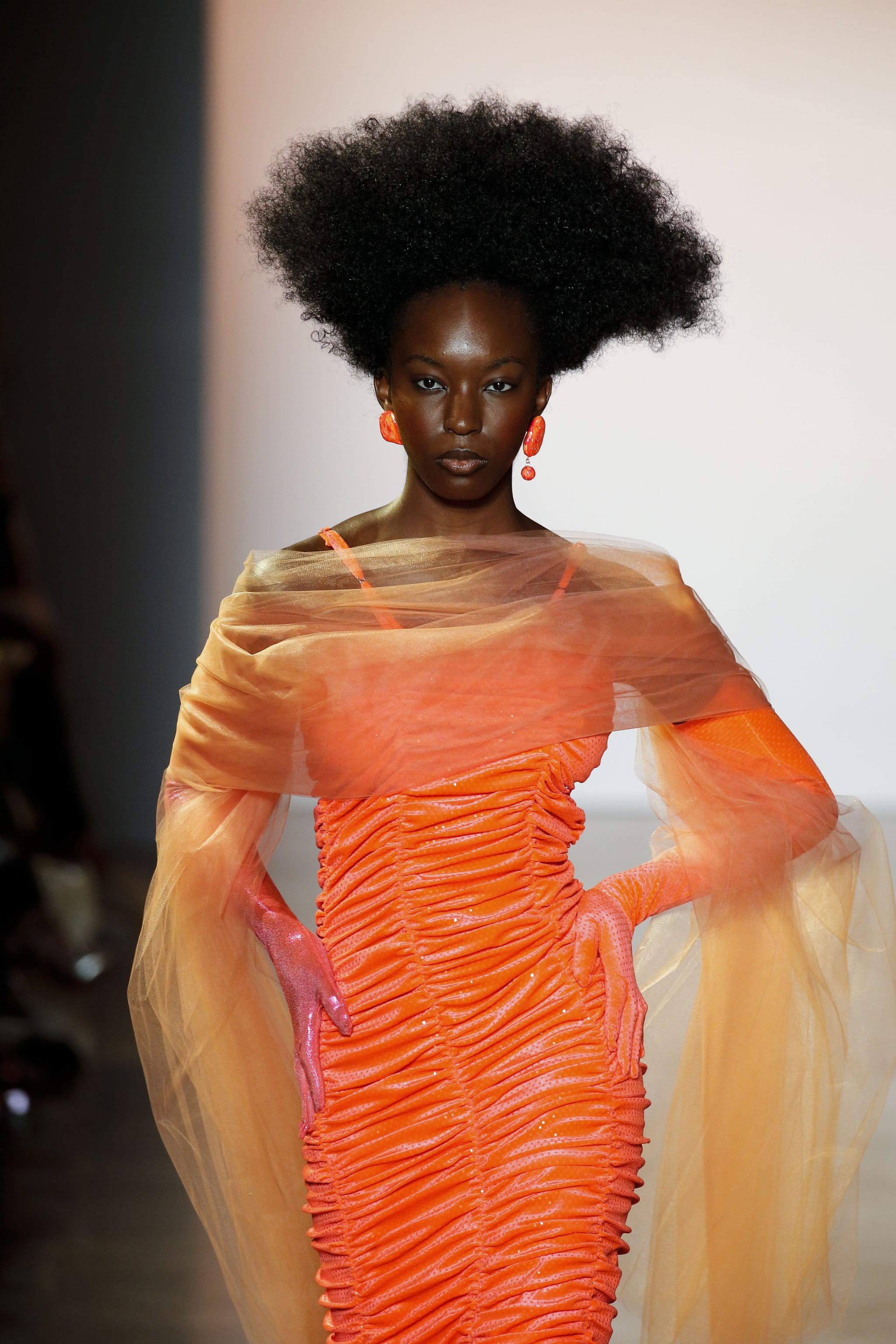 Christopher John Rogers Spring 2020 show, September 2019. Image Source: Getty Images / Victor Virgile
CJR: [Laughs.] Hey, we can be as gay as we want.
IM: I know, darling. But yeah, I connected with her on such a level because I think I saw my sister, I saw myself. She had this Brooklyn sound, like me, and she was Jewish, like me. That was the first time I really saw the power of clothes. And it wasn't just about the fashion, but the glamour. Seeing her in all those beautiful vignettes and those impeccably-designed gowns was just so inspiring. It was something new and exciting, unlike what I was used to, like the synagogue, Yeshiva, and the Torah.
CJR: I also grew up in the church. I don't know if that space helped me find my identity, but I knew that I shouldn't feel bad for being who I was and thinking and feeling the way I was then. I wouldn't say I liked going to church, but the fashion influenced my design aesthetic. I have a penchant for monochromatic looks and things that feel aligned simply by color. Something that was hammered into me growing up was you need to match, like you must match.
IM: So funny, wow! Growing up in those days, you were not supposed to be matchy-matchy. It was supposed to look stylish like you casually put it together. I personally love matchy-matchy, darling. My mother always said that the reason my father married her was because her shoes matched her cashmere sweater. She had her shoes dyed to match those sweaters. But speaking of church and hearing you share your experience, you should see that outstanding play called "A Strange Loop." Have you seen it?
CJR: I haven't. That's my problem, I need to go see more things.
IM: You need to go, like today. It's about being Black, queer, and big and how the church relates to all of that. I loved it because the whole religion thing really resonated with me. There's this one scene with the mother that you just freak out at — it's basically my mother. You know, she loves me, and she tries to accept me, but in the end, she just can't fully go there. But because I love her, I allow her grace. You'll weep when you see that scene. It's so beautifully written, funny, and gorgeous.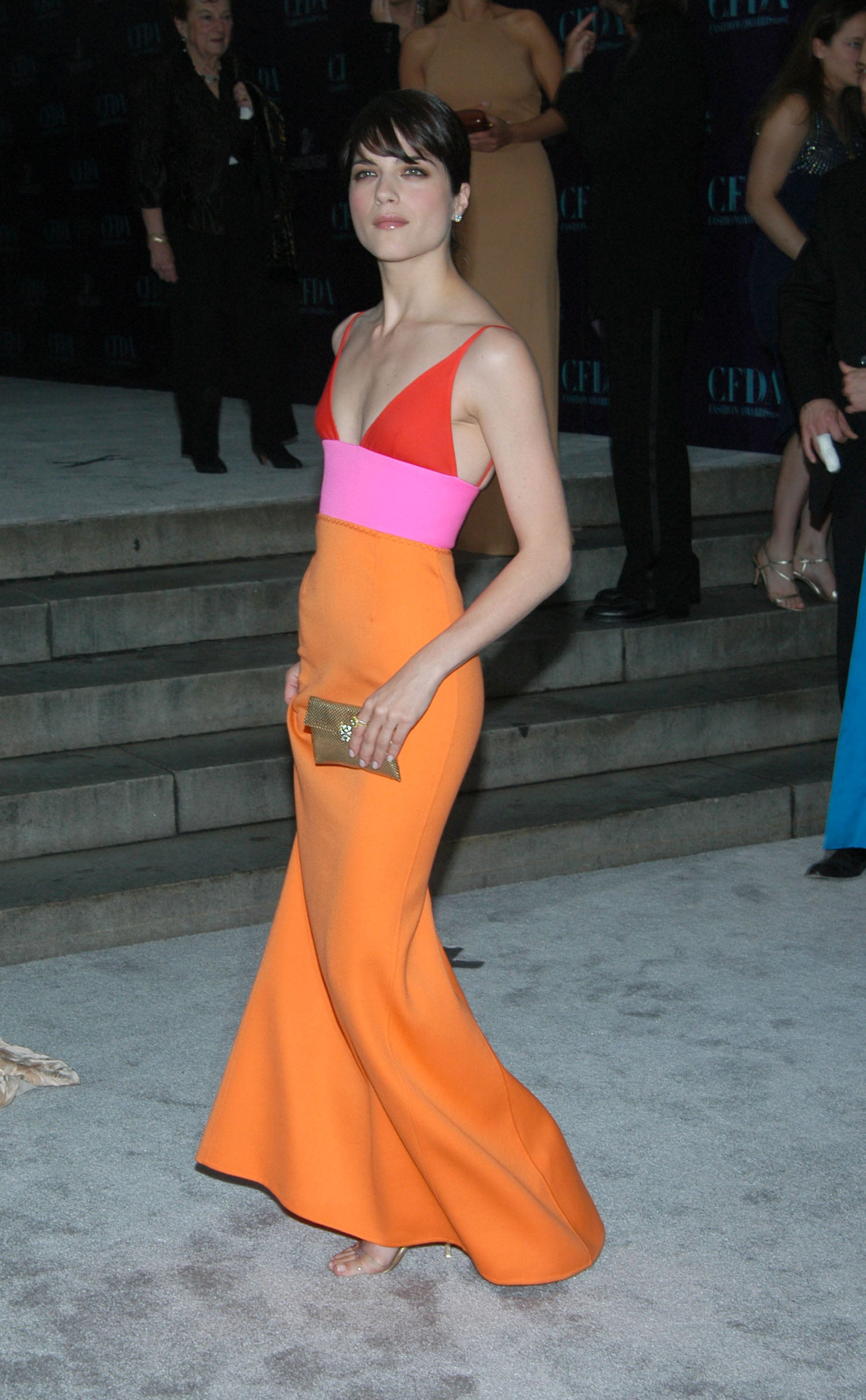 Selma Blair at the CFDA Awards in Isaac Mizrahi, 2004. Image Source: Getty Images / Stephen Lovekin
POPSUGAR: Isaac, you have an iconic Ballroom house named after you, the House of Mizrahi. How does it feel to have them choose your namesake to label their house?
IM: I don't know what made me so lucky. Honestly, it just fell into my world, and I can't even thank the gods enough. It feels incredible. I'm so blessed with that. And not to go on darling, but it is one of the more famous houses.
CJR: And the chant "Miza-rahi" — iconic!
IM: Beyond! I mean, the whole thing is just fabulous.
CJR: What's one thing you did when you were younger or earlier in your career that you wish you hadn't done or approached differently?
IM: Well, this is going to shock you, but I think I might not have gone into fashion.
CJR: Really?
IM: Yes, I would have gone into show business. The reasoning behind it is a bit deep, but all these years later, I'm pursuing a career in showbiz. It's fun, expressive, and completely ridiculous. It's much more interesting to me to do it now than it would have been all those years ago.
CJR: Good for you. I love that.
IM: Good for me, right? And also, now I have a brand. A lot of times, successful actors and performers can't get a brand to save their lives, so having that built-in is lovely. So, maybe that's my advice, darling, to start thinking of yourself, your talent, and who you are as a brand.
CJR: That's what I'm hoping to do. I feel like I have a really strong point of view in terms of home and the way things smell and the way things feel. Lifestyle is next, although I cringe at that word.
IM: Lifestyle is what it's all about, darling. It's just a bad word. Think of a better word. Listen to this, I hated the word resort. And so I thought, 'then what should I call it?' So, I started calling it "spa" instead.
CJR: I remember that. OK, I'll come up with another chic word like that. Thank you so much for doing this and for your advice. I'm verklempt.
IM: Really? Thank you, darling. I'm so inspired.
This interview has been edited and condensed for clarity.
Source: Read Full Article