Here's Everything (Yes, Everything) You Need to Know About the 2022 Met Gala Theme
Ah, the Met Gala. A celeb highlight we look forward to every year for so many reasons. I mean, there are fabulous 'fits! There are spontaneous proposals! There is…Jared Leto carrying his own head?! Okay, you get it. Luckily for us, we get not one, but two Met Galas over the course of just a few months, with the first in September 2021 due to COVID. And though we're still reeling over the excellent Kim Kardashian Balenciaga memes, we're simultaneously looking forward to the second prong of the event's two-part installation. But if you don't know the 2022 Met Gala theme, this whole "two-part" thing might be kinda confusing, so let us break it down.
With that, grab a bottle of bubbly (and your finest robe, obvi) and let's get into everything you need to know about the 2022 Met Gala theme.
First of All, What Is the 2022 Met Gala Theme?
The theme for part two of the Met Gala is dubbed In America: An Anthology of Fashion. "The stories really reflect the evolution of American style, but they also explore the work of individual tailors, dress-makers, and designers," said Andrew Bolton, the Wendy Yu Curator in Charge of the Costume Institute. "What's exciting for me is that some of the names will be very familiar to students of fashion like Charles James, Halston, and Oscar de la Renta, but a lot of the other names really have been forgotten, overlooked or relegated into the footnotes of fashion history."
In many ways, this year's theme will serve as a bonus addition to the 2021 Met Gala theme, In America: A Lexicon of Fashion, in that it presents an opportunity for celebs to explore the grandeur associated with the Gilded Age. The New York Times's Vanessa Friedman initially confirmed the theme was "Gilded Glamour" and added, "Point is: this one is going to be very dressed-up indeed."
Scoop: and the next Met Gala celeb co-chairs are…Regina King, Blake Lively, Ryan Reynolds, and Lin-Manuel Miranda. Honorary chairs Tom Ford, Instagram's Adam Moressi and Anna Wintour. Theme is "Gilded Glamour." Point is: this one is going to be very dressed-up indeed.
When Is the Met Gala This Year?
As per tradition, the 2022 Met Gala is slated for *drumroll, please* the first Monday in May, aka May 2, 2022 at the Metropolitan Museum of Art in New York City.
Is There an Exhibition Open to the Public?
In America: An Anthology of Fashion will be available for public viewing at the Met beginning May 7 and will feature installations in the American Wing of the museum. On display will be stunning pieces created by a bunch of designers who worked in the United States between the 19th century and the late 20th century.
Here are some pics from the first installment's collection to tide you over in the meantime ❤️:
https://www.instagram.com/p/CbnzNhOPf04/?utm_source=ig_embed&utm_campaign=loading
A post shared by The Metropolitan Museum of Art (@metmuseum)
Who Is Hosting the 2022 Met Gala?
Just some of our absolute faves, that's who. Regina King, Blake Lively, Ryan Reynolds, and Lin-Manuel Miranda are the event's official co-chairs. Designer Tom Ford, Vogue's Anna Wintour, and the head of Instagram Adam Mosseri will be continuing their roles as honorary co-chairs this year as well.
Given that Blake lively is sure to walk in a masterpiece, let's take a moment to admire all of her past Met Gala 'fits, like this one…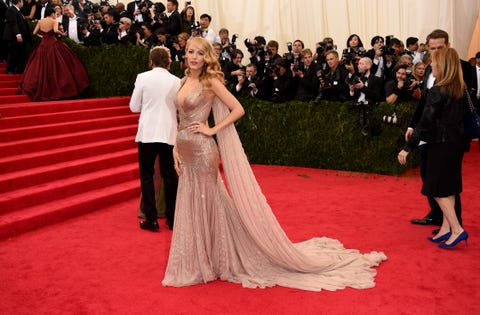 Oh, and this one…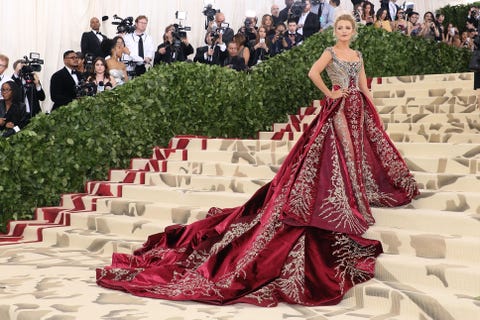 Right, right! Aaaaand this one…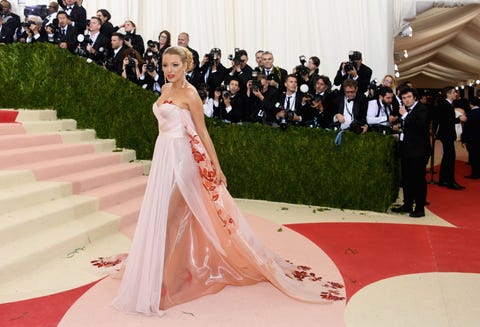 TL;DR: Blake Lively 🤝 The Met Gala
Who Will Be Attending?
The Met Gala typically hosts around 600 attendees, but a smaller number attended the event last September due to COVID. And though there's literally never a publicly-confirmed guest list so as to keep things ~interesting~, we mayyyyyy see Kim and Pete (Kete? Pim?) make their couple's red carpet debut at the gala *grabs box of tissues*. Also, shoutout to the miss Kimberly for adding to the suspense. On April 7, she said to Access Hollywood, "You're going to have to wait and find out [if we go together]. I think we're still figuring it out!"
I mean, not to be dramatic but…
Kim also shared some info about her potential look, saying, "I think [if I go, it will] be up to the last minute, because it can't be tailored. So I have to fit in it exactly. So we will see if I can shape shift for the night."
As for other possible guests in attendance, viewers are hoping to see the usuals make their return, aka Jennifer Lopez (with "the ring"™️, we hope), Billie Eilish, Lady Gaga, and hopefully Rihanna, who has been absolutely crushing it with her maternity style.
Additionally, the eight film directors Andrew Bolton partnered with to create the vignettes for the exhibition—Sofia Coppola, Martin Scorsese, Regina King, Chloé Zhao, Janicza Bravo, Julie Dash, Autumn de Wilde, and Tom Ford—will likely be in attendance too, especially given that two of them (Regina and Tom) are already co-chairs.
Can I Score an Invite??
Traditionally, designers attend the Met Gala with the celebrities they dress as each other's date. So if you're not tapped by a designer (don't worry, we weren't either LOL), there's always a price you could pay outright for a ticket. However, even those tickets are still so highly coveted and pricey (think $35,000 per person and $275,000 for a table pricey) that there's an annual waitlist, which brings us to the question we really want answered…
How Can I Watch?
Last year, Vogue streamed the red carpet live, and the outlet is expected to do so again this time around on its website and Twitter beginning at 5:30 p.m. EST. The 2021 coverage was hosted by Keke Palmer and Ilana Glazer, who interviewed guests as they arrived on the Met Gala red carpet. And we don't know about you, but we're seriously considering starting a petition to bring Keke back after this moment:
KeKe Palmer interview with Tracee Ellis Ross was everything I didn't know knew I needed!
Ha! #MetGala #MetGala2021 pic.twitter.com/zLpOY3pSre
Well, that's it folks! Here's to all of the looks we're going love and all of the memes we're going to be sending to our group chats come May 2.
Source: Read Full Article