Katy Perry Just Showed Up To The Met Gala Wearing The Most Enormous Angel Wings
Katy Perry isn't afraid of a theme. In fact, even if there isn't a theme and it's just a regular day, the singer is famous for donning the wildest, boldest, and most creative costumes just because she feels like it. So when Perry was invited to attend this year's Met Gala, you know she was going to do the most. Katy Perry's 2018 Met Gala look involved the most gigantic pair of angel wings you have ever seen and her fans could not be more excited about it. While many other celebrities in attendance did not dress to the theme (in typical Met Gala fashion), Perry decided to make up for everyone else's boringness and go all out.
Katy Perry's giant wings were so enormous, she had to arrive on the red carpet in a convertible (but a sleek white retro one that complemented her look, of course). These wings are not even Victoria's Secret angel wings size — this pair has to be at least seven feet tall and five feet wide. To make them stand out even more, the wings were adorned with gold and silver embellishments at the top and were dusted with silver glitter all over. To match her wings, Perry wore an all gold ensemble — a shiny gold strapless mini dress with a gold overlay made by none other than Versace. Perry completed the look with a pair of killer thigh-high gold boots.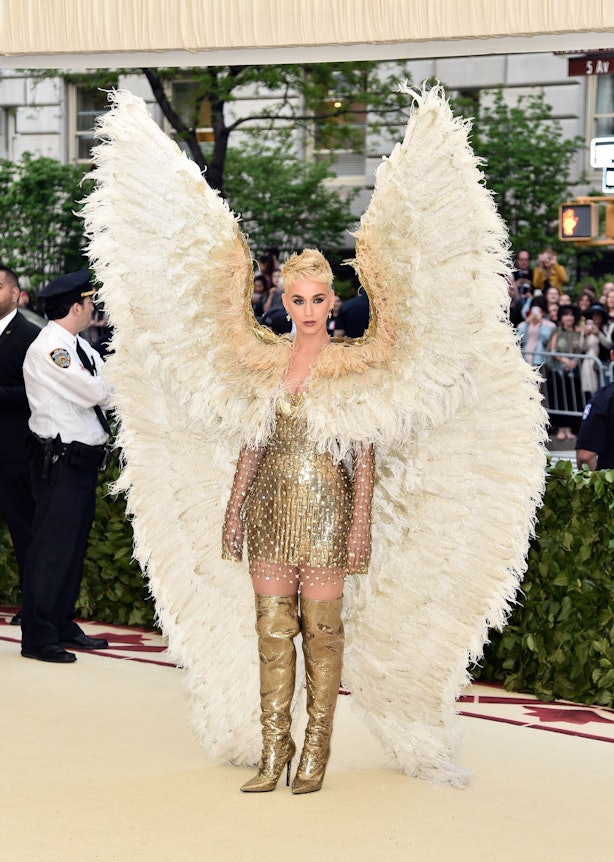 Now that is how you dress for the Met Gala, ladies and gentlemen.
Source: Read Full Article