Keri Craig-Lee: the extraordinary life of Queensland's 'empress of style'
Keri Craig-Lee is standing in her dressing room, in the section devoted to fur coats. Outside, it is another muggy morning in sub-tropical Brisbane. In here, it's pre-revolutionary Russia: hanging from one rack is enough sable, mink, lynx and fox to outfit the Romanovs for a sleigh ride through Saint Petersburg. "I love fur," says Craig-Lee, who is small but commanding, with a purposeful air and a surprisingly deep voice. "I am a fur freak."
"I don't know why the fountains aren't working," she says, as we pass an internal courtyard.
Little-known elsewhere in the country, Craig-Lee, 60, is a semi-legendary figure in her home state of Queensland. For almost three decades, she was a doyenne of the local fashion industry, producing and marketing her own luxe label, Keri Craig. These days, she is a globetrotting grande dame, a role to which she brings the same zest and ambition that made her a force in the rag trade. Whether drinking martinis on the deck of her super-yacht on the Mediterranean, or whooping it up with US rapper Sean "Diddy" Combs at his New Year's Eve bash on the Caribbean island of St Barts, or flying first class from Los Angeles to Brisbane with 20 pieces of luggage weighing a total of 600 kilograms, she is living proof that the pursuit of glamour can be a career in itself.
Expensively dressed? Yes. Extravagantly bejewelled? Always. This is, after all, a woman who named her only daughter Cartier. "Even if you see Keri behind the scenes on a Sunday morning with her hair in a ponytail, she's reached for the goddamned diamonds before anything else," says Brisbane designer and photographer Richard de Chazal. State Premier Annastacia Palaszczuk, who appointed Craig-Lee to her business advisory council, puts it this way: "Keri Craig-Lee is Queensland's indisputable empress of style."
In the dressing room, which is meticulously organised and generously proportioned, Craig-Lee leads the way up one of the aisles to glass-fronted cases displaying her designer handbags: Gucci, Chanel, Louis Vuitton and so on. One case is filled with Hermès bags, all of them the model known as the Birkin, which I have read can cost anything from $15,000 to $400,000, depending on size and materials.
"These are my passion," she says, and for a moment we both gaze at the Birkins in respectful silence. Exactly how many she owns she cannot tell me. "There are a couple that I haven't put away yet," she says. "Then I've got a lot on the boat as well." The point is that she keeps adding to the collection. "I think, 'Keri, you do not need another handbag. This is just stupid.' But they're addictive."
Craig-Lee in a corner of her dressing room, with two of the handbag display cases in the background.
Somehow, amid the jet-setting and hobnobbing and handbag buying, Craig-Lee has found time to publish a coffee-table book about herself. It is called The Label, The Lady, The Lifestyle and it contains dozens of glowing tributes from friends and acquaintances. Foreign Affairs Minister Julie Bishop says Craig-Lee is "an idol to many aspiring designers and stylists". Former governor-general Quentin Bryce praises her "generous spirit" and "commitment to excellence". A Belgian diamond dealer named Steeve Nassima writes of her "refinement, exquisite taste and genuine sense of authentic elegance". State Governor Paul de Jersey predicts that "Keri's uplifting story will strike a deep chord with many Queenslanders".
That's if they can lift the uplifting story: the book weighs more than seven kilos. Trying to read it in bed one night, I have a moment of panic when I realise I am pinned to the mattress. But by the time I arrive at Sutherland, Craig-Lee's house in the Brisbane suburb of Ascot, I have browsed through all 600 lavishly illustrated pages, studying so many photographs of her and her husband, 68-year-old Queensland cattle baron Trevor Lee, that I have the weird feeling I know them already.
Actually I do know Craig-Lee slightly. Our paths have crossed once or twice in the past. But this is my first visit to her place, described in the book as "the stately residence of the Lee family". It is a two-storey, red-brick building, with white window shutters and French doors opening onto verandahs bounded by wrought-iron balustrades. The front door is opened by a woman wearing a black uniform with "Sutherland" embroidered in gold over the left breast. Inside, there are more people in uniform. It turns out Craig-Lee has seven full-time household staff. Nine, if you include her private aide and personal assistant. All of them are indispensable, she assures me. "Everyone's busy!"
At first, I am puzzled. Busy doing what? But the more time I spend with Craig-Lee, the more I understand that it isn't only the antique silverware in her formal dining room that needs constant attention to keep its gleam: her entire existence is finely crafted and highly polished. In the words of her friend Richard de Chazal, who helped her put the book together, "she has manufactured an incredible life for herself". And maintaining that level of fabulousness requires a team effort. Fundamentally, being Keri Craig-Lee is too big a job for one person.
From the beginning, her sartorial standards were high. We learn from the book that, at kindergarten, Craig-Lee was the child who ended the day with her dress spotless, her white socks straight and her satin hair-ribbons neatly tied. Her parents, Dianne and Peter Craig, produced womenswear under the label Fifth Avenue Frocks at a factory in the inner-Brisbane suburb of Fortitude Valley. "They also had a boutique called The House of Craig," says Craig-Lee, as we sit near the indoor swimming pool in the atrium at Sutherland, drinking tea delivered on a silver tray by one of the ladies in black.
Keri Craig-Lee by the pool at her Brisbane house, which was a present from her husband for her 45th birthday.
As a schoolgirl, she did her homework on the factory's cutting-room table and tagged along on buying trips to fashion agents' showrooms. When at 17 she put her name forward for a Rotary international scholarship, she envisaged spending a year in one of the world's great fashion capitals. "I applied for London, Paris and New York," she says. "I got Oconomowoc, Wisconsin. Eight thousand people. I said, 'Absolutely no way.' " But her parents persuaded her to give the American Midwest a chance ("They said, 'If you hate it, come home.' ") and she surprised herself by having a wonderful time. According to Jody Nickel Sims, a member of one of her host families, she was the toast of Oconomowoc: "The minute we met Keri we all fell in love with her!"
Returning to Brisbane with six months' training in fashion design at Wisconsin's Waukesha County Technical College under her belt, she joined the family firm. At 19, she launched the Keri Craig label, and a year later, in 1978, opened her first boutique. Her exuberant evening dresses – all frills and flounces, sequins and lace – were instantly popular with Queensland women, though some preferred her more restrained daywear. Quentin Bryce remembers well-cut jackets and "gorgeous linen slacks superbly detailed with pockets, belt loops, a little flap, perhaps a subtle decoration of gold or a clever motif". Craig-Lee became a Sunshine State celebrity, winning awards, making headlines ("Keri Craig is number one!") and building a booming business. Her clothes sold well in Perth, too, but she struggled to make a mark in the rest of Australia.
"I tried to break into the southern market and it was so hard," she says, recalling dispiriting trips to Sydney and Melbourne to show her collections to department-store buyers and fashion journalists. She would book hotel suites, hire models and lay on champagne for the fashionistas but "they just wouldn't turn up. They were so snobby. They didn't want to know about a designer from Brisbane."
Renate Blauel, in a Keri Craig dress, at her wedding to Elton John in 1984.
In 1982 she opened a Keri Craig shop in Sydney's Double Bay, where one of her customers was Renate Blauel, the German sound engineer who married Elton John during the English pop star's 1984 Australian tour. Craig-Lee designed the bride's gown, a hail-spot silk-organza confection appliquéd with satin bows, and the resulting publicity significantly boosted demand for her label. Two years later, her own wedding was covered by the breakfast TV show Good Morning Australia, the host introducing her as "the lady who has dressed more glitterati than probably anyone else in this country".
She had met Trevor Lee at a dinner party in early 1986. She was 27, and drove a red Mercedes convertible. He was the recently separated 36-year-old father of two young boys. They clicked immediately and married as soon as his divorce was finalised.
Lee was already a successful cattleman. The son of Norm "Gravel Guts" Lee, who had built a multi-million-dollar earth-moving business and served as a cabinet minister in Joh BjelkePetersen's National-Liberal coalition government, Trevor owned Brindley Park, a large feedlot near Roma, in central Queensland.
He has since amassed 35 cattle stations totalling more than two million hectares, making him one of Australia's top 10 private landholders. His herd of 300,000 cattle is reportedly the fourth largest in the world and his Australian Country Choice (ACC) group of companies has been the major supplier of beef to the Coles supermarket chain for 20 years. The family firm employs all three of his sons: Anthony, 38, and Michael, 36, from his first marriage, and Harrisson, 25, from his marriage to Keri Craig-Lee. In The Australian Financial Review's 2017 rich list, Trevor Lee's wealth was estimated at $407 million.
The outback is not Keri's natural milieu – Chanel pumps are her idea of practical footwear – but she is impressed by the scale of her husband's pastoral empire. Of all the paintings on her walls, one of her favourites is an oil study by Queensland artist Lawrence Daws of grassy plains stretching into the blue distance at Wellclose Station, near Charleville. "That's all Trevor's land, that whole area, as far as you can see," she says. "You stand on the plateau and you look out and you think, 'Wow.' "
A 2012 family portrait of Keri, Trevor and Cartier, and (front to back) Harrisson, Michael and Anthony.
It's enough to make you reach for a celebratory martini. Craig-Lee likes hers very dry, stirred rather than shaken, preferably served in a chilled crystal glass. We both knock one back before climbing into her chauffeured car and heading to the opening of an exhibition at art dealer Philip Bacon's Brisbane gallery. Craig-Lee, who is wearing towering Manolo Blahnik heels and a black lace Nina Ricci dress, is an old friend of Bacon's. He says he remembers her when she was starting in the fashion business – "a young, very glamorous girl out to prove something". Back then, he admired her get-up-and-go. Now he likes her attitude to being rich. "She loves it. Revels in it," Bacon says. But "she doesn't take it for granted. There is still a bit of a 'pinch me' attitude. Which is endearing."
At Sutherland, there are moments when I feel as though I've strayed into a scene from Downton Abbey. On day two, I am greeted by a uniformed staff member holding a dustpan and brush. She ducks her head and says: "Morning, Miss Jane." But I know what Bacon means: Craig-Lee may be surrounded by people paid to defer to her, she may even have come to regard deference as her due, but she is warm, friendly and, in an odd way, unpretentious. You get the sense she is fervently grateful that she landed the part of lady of the manor.
"The funny thing is, when I was at school I used to walk past this house," she says, telling me she always loved the look of the place and dreamed of living in it. Then, the day she turned 45, Trevor phoned her in her showroom with exciting news. "He said, 'I just bought you that house. Happy birthday.' "
Before moving in, the couple had the century-old structure renovated and significantly extended: a large labour force spent more than a year on the job. "Some days, we would have a hundred people here," Craig-Lee says. "I had one of those portable sheds out on the grass and I became really friendly with all of them because I worked with them six days a week."
Not physically digging trenches or building walls, obviously, but closely monitoring the project. She then masterminded the furnishing and decorating, ending up with a house so sprawling and sumptuous that it reminds me of a swish hotel with too few guests. Cartier, 20, happens to be in residence at the time of my visit but she is usually in the US, where she studies at New York University's Tisch School of the Arts. The only official occupants are Craig-Lee, Trevor, and Harrisson, though members of the extended clan drift in and out.
Craig-Lee is close to her parents, who with her only brother, Jason, run the last outpost of the family fashion business: a store and cafe called the Keri Craig Emporium in the Brisbane CBD. When the business was at its peak, there were five family stores, says Craig-Lee. By 2005, the cost of making clothes in Australia had become uneconomic, so the factory was closed and manufacturing moved to China. Gradually the operation wound down, as she concentrated on raising her children and turning Sutherland into a showpiece.
One morning, Craig-Lee gives me a tour of the house. We start in the library, where she points out a model of the Gulfstream jet she and Trevor bought from Oprah Winfrey and eventually sold to their rapper friend Sean Combs ("We always have New Year's Eve with him in St Barts"). She leads on to the cinema, the billiards room ("which we don't really use very often"), the gym, the steam room, the salon where she has her hair and make-up done, the wine cellar and various splendidly appointed living areas. "I don't know why the fountains aren't going," she says, as we pass an internal courtyard. In an upstairs office she introduces me to her assistant, Tomoko Nakagawa, telling me cheerfully that she was another gift from her husband.
"Trevor said, 'What do you want for your 50th birthday?' I said, 'Tomoko.' "
Pressing on to Cartier's bedroom and adjoining bathroom, we come across two artisans reapplying gold-leaf to mirror frames. The same pair painted the marble-effect ceiling in the spa-room off the yoga studio that Craig-Lee recently had built at mezzanine level. "It's nice, isn't it?" she says, standing in the middle of the studio, which overlooks the pool. She hasn't had a chance to do any yoga yet but is determined to start soon. "I've got the most gorgeous instructor. Her name is Nirvana."
Outside, we find Cartier sunning herself near the championship tennis court. "Does anybody play? Absolutely not," says Craig-Lee. She smiles at her daughter. "We have everything, don't we darling? And we use nothing."
With daughter Cartier.
After Cartier was born in 1997, Craig-Lee was asked why she had named the baby after a manufacturer of precious jewellery and watches. "I think the name stands for a lot of nice things in life and a lifestyle which we hope she will have," she was quoted as saying. Going into show business was not what Craig-Lee had in mind for Cartier, but that has been her goal from an early age. Craig-Lee tells me all attempts to steer her in other directions have failed: "We said to her, 'Why don't you do PR at Chanel? You'd be great at that.' But no."
In fact she and Trevor have unstintingly backed their daughter, paying for singing and acting classes, finding the right people to advise her. It hasn't been easy. "The shonks we've met over the years!" Craig-Lee says. "And the false promises. We've met 20 people who are Justin Bieber's manager. Everybody lies." She is pleased to report that Cartier is now managed by Randy Jackson, the music producer and former American Idol judge. "So we've got her to the top, which is much more satisfying and you feel a lot safer."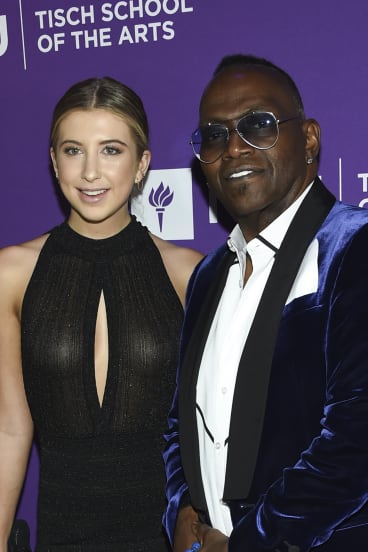 Cartier, aka DJ Pebbles, with music producer Randy Jackson.
Under the name DJ Pebbles, Cartier has released two songs – Heart Away From You and To Not Love You – that have made the Billboard dance-music chart in the US. "I think Cartier is poised for greatness, I really do," Jackson says on the phone. "She is really talented and she is a hard worker." Her unassailable confidence helps, too: "You gotta have a super-thick skin. I think Cartier definitely has that."
Perhaps she inherited it from Craig-Lee, whose chutzpah seems to me her defining characteristic. When the Russian oligarch Roman Abramovich held a beach party at St Barts, Craig-Lee not only swept in uninvited but breezed up to the host and introduced herself. "Had the big chat," she says. "He was quite charming. Beautiful party. Worth gatecrashing." Next day, she sat down to write Abramovich a thank-you note. "Harrisson said, 'Only my mother would do that.' I said, 'Well, it is polite. And we might get invited onto his boat for a cocktail.'"
Craig-Lee's own boat, the Keri Lee III, is 54 metres long and sleeps 12 guests in six cabins, along with a dozen crew. She and Trevor keep it in the Caribbean in the northern winter and the Mediterranean in the northern summer. It is available for charter – at up to $400,000 a week in the high season – but as often as possible they are on board themselves. "It's like our second home, really," she says. When friends join them, the men are expected to bring dinner suits, and the women long dresses. "Amazing house parties that go on for a week on the high seas," says the art dealer Philip Bacon.
Paul Moskowitz, a retired businessman from Florida who is a regular guest, says Craig-Lee runs a taut ship. No detail is too small to escape her attention: she startled a prospective crew member during a job interview by demonstrating the way the lemons in the crystal bowl on the bar were to face. "She is a complete over-achiever," Moskowitz says.
"Tyrant" is the word Richard de Chazal uses fondly. At Sutherland, "there is this constant shift of objects around the house because she's never satisfied with where they are," he says. "She'll be like, 'I think I need to move this stone table.' And it will take 10 men to lift the thing and move it by inches, then move it back, then across again, then upstairs, then downstairs." In the book, there is a plaintive quote from her husband: "If only I could return home at the end of the day to find the antique urns in the same place."
Craig-Lee's private aide, Myles Seymour, will not forget the day a crane arrived to plant two fully grown Canary Island date palms in the front garden. The first tree was carefully lowered into position, followed by the second. Then Seymour was summoned by Craig-Lee, who had been watching from an upstairs verandah. The trees would have to be switched over, she told him. The one on the right needed to move into the left hole, and vice versa.
Craig-Lee with a martini, which she likes very dry, stirred rather than shaken, and preferably served in a chilled crystal glass.
She was sorry but they just didn't look right where they were. "I actually thought, 'Is this the first of April?'" Seymour says. "No, she was deadly serious."
At the Australian Country Choice meatworks in the Brisbane suburb of Cannon Hill, more than 1200 cattle are slaughtered each day. When Craig-Lee and I visit, a group is being herded from an outdoor holding pen towards what is known as "the kill room". Trevor Lee, tall and silver-haired, watches them walk up the ramp. "As you can see, they're calm and quiet," he says. "They're happy to go into the stairway to heaven."
Craig-Lee, who has dressed casually for the abattoir (jeans and a simple navy top with gold buttons on the shoulder), listens with interest as her husband explains the efficiency of the paddock-to-plate operation. "The trucks come in from our feedlots and cattle stations," he says. Most cattle are "processed" within three hours of arrival. From a viewing platform, we take in scenes of buzzing activity as hundreds of workers in white coveralls, caps and masks transform carcasses into neatly packaged and labelled trays of meat. "A million trays a week," Trevor says.
Though Craig-Lee has no day-to-day role in the business, her husband says he has always relied on her support and advice. "She was involved from the very first," he says. "She has helped build one of the largest cattle companies in the world, from scratch." ACC managing director David Foote says: "Keri is commercially very astute."
From the meatworks, we whiz back to Sutherland, where Craig-Lee changes into a Michael Kors dress with ostrich feathers around the hem and throws on a rope of pearls the size of ping-pong balls. In the Queen's Birthday honours list last year, she received the Medal of the Order of Australia for her service to fashion, business and the community. (In a subsequent interview with The Australian, she said she had always admired the Queen, once danced with Prince Charles and presented a Keri Craig dress to Diana, the Princess of Wales.) A keen philanthropist, she is due at a cocktail party – a fundraiser for three grassroots charities that support homeless and vulnerable women. She is the chief sponsor of the event, so can't be late. Still, we have time for one quick martini before she leaves.
To read more from Good Weekend magazine, visit our page at The Sydney Morning Herald or The Age.
Source: Read Full Article