Meghan Markle Will Not Have A Maid Of Honor At The Royal Wedding
Meghan Markle is not going to have a maid of honor by her side at the royal wedding on May 19, Kensington Palace confirmed Friday. 
"She has a very close-knit circle of friends and she didn't want to choose one over another," a palace spokesman told People magazine. "All have been actively involved in helping her prepare for the day and will be there in the days beforehand. She's very happy to have their support."
Previously, it was thought that Markle would have her longtime BFF Jessica Mulroney as her maid of honor. 
Instead, Markle will have page boys and bridesmaids in her wedding party, according to a statement from Prince Harry's press secretary on Friday. More information about the names of the page boys and bridesmaids will be released in the next few days, and we expect to see Prince George and Princess Charlotte on the list. 
William Hanson, a British etiquette expert, told HuffPost that it's not "unusual" for a bride to go without a maid or matron of honor. 
"It's at the bride's discretion so no etiquette faux pas has been committed here — some former royal brides have also forgone appointing anyone in this role," he said. And typically, British royal weddings include children as the page boys and bridesmaids.
"But maybe Meghan was mindful of 2011's maid of honour and doesn't want anyone or any body part upstaging her on her big day?" Hanson added, referring to Pippa Middleton somewhat upstaging her older sister, Kate, on her wedding day.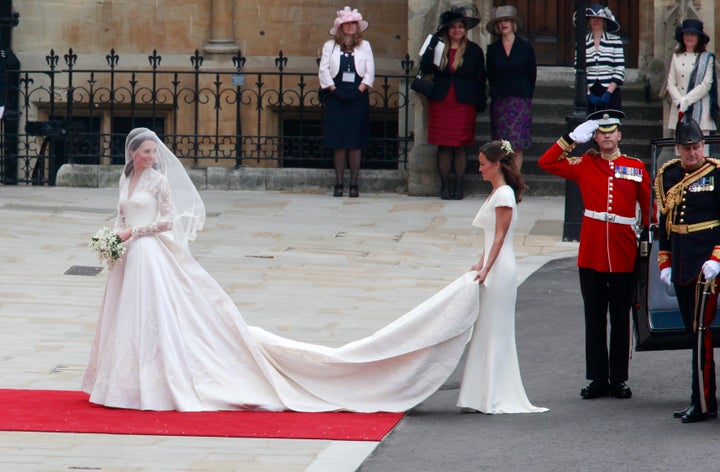 Prince Harry announced last week that he asked his brother, Prince William, to be his best man. Harry served as William's best man at his 2011 nuptials to the Duchess of Cambridge. 
The palace also announced on Friday that Markle's parents, Thomas Markle and Doria Ragland, will fly to Windsor a week before the wedding to meet and spend time with the rest of the royal wedding. People magazine confirmed with the palace that this will be the first time Prince Harry and Markle's father meet in person. 
Markle's parents will also both both have major roles in the royal wedding. 
"On the morning of the wedding, Ms. Ragland will travel with Ms. Markle by car to Windsor Castle. Mr. Markle will walk his daughter down the aisle of St George's Chapel," an update from Prince Harry's press secretary said. "Ms. Markle is delighted to have her parents by her side on this important and happy occasion." 
It was previously speculated that Markle's mother would walk her down the aisle.
Source: Read Full Article