Melania Trump channels Celine Dion during French state visit
In case you hadn't read, the French president, Emmanuel Macron, and his wife, Brigitte, are visiting Washington this week.
It's a big event for President Donald Trump – his first state visit taking place decidedly late in his first term – but it's First Lady Melania Trump who's been stealing the spotlight.
The state dinner gown
With the Macrons' visit reaching its climax at the state dinner on Tuesday night, US time, Mrs Trump, who speaks fluent French, chose none other than the pinnacle of Gallic style, Chanel.
Her gown, a black Chantilly lace sheath with silver crystals, appears to have been met with approval by the fashion press, with WWD calling the event an "unofficial celebration of French labels", thanks also to Mrs Macron's choice of a cream, long-sleeved Louis Vuitton gown.
First Lady Melania Trump (right) in Chanel, while French First Lady Brigitte Macron chose Louis Vuitton for the state dinner between the leaders of the two countries.
The white suit
Channelling Celine Dion circa the 1999 Oscars, Mrs Trump stepped out earlier on Tuesday in a white skirt suit and a hat that seems to have attracted more attention than the entire first six months of her tenure as FLOTUS.
Singer Celine Dion at the 1999 Oscars.
Her suit, and the outfits immediately preceding it, led some outlets to comment that Mrs Trump had adopted a somewhat funereal aesthetic of late.
Others, including the New York Times' Vanessa Friedman observed the hat may be a symbol that Mrs Trump sees herself as "one of the good guys" in this chicken casserole of an administration.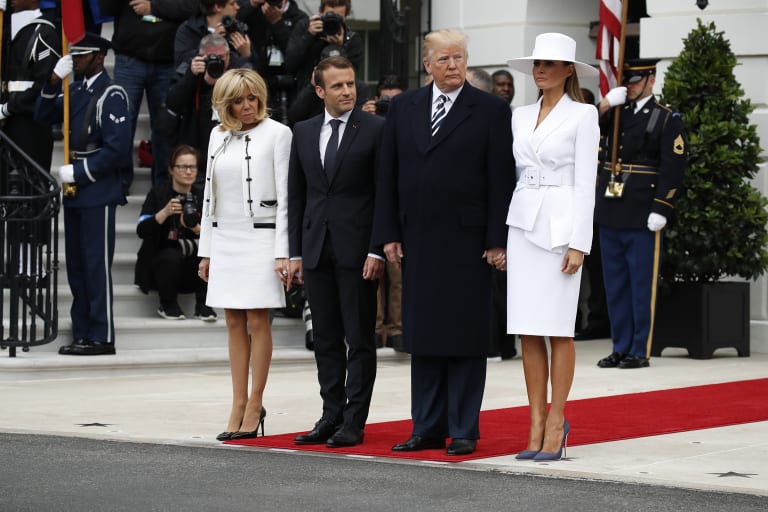 White lady… Melania Trump, right, with US president Donald Trump, French president, Emmanuel Macron, and his wife, Brigitte.
The tri-coloured shoes
When you have a French shoe brand with a trademark red sole in Christian Louboutin, it's not hard to pin your colours on your heels. And Melania did just that, in a pair of denim-looking stilettos with white heels.
Thankfully the meetings were mostly on carpet because if there are two things that don't mix it's white heels and grass.
Melania Trump\'s red, white and blue shoes.
The black cape
A massive hit in 2013, the cape jacket has been around in more recent seasons but has not made as big an impact as the "dressing gown" coat, thanks to the style influence of Meghan Markle.
Whether Mrs Trump's choice of a Givenchy cape to meet the French first couple will be a bouquet or brickbat for the style remains to be seen. But it is a great style for indulging in the Instagram trend of "shoulder robing", that is wearing a jacket without inserting one's arms through the sleeves, or if you are trying to avoid holding someone's hand, without making it seem obvious. Just saying.
Caped crusader … Melania Trump (left) with President Donald Trump, French First Lady Brigitte Macron and French President Emmanuel Macron.
Source: Read Full Article