Nike is releasing possibly the most practical shoe ever made
If you thought the pool slide, the so-called "ugly" shoe of 2017, was dead, think again.
Now the 1990s favourite has been mashed with another staple of that decade, the bum bag, to create what is possibly the world's most practical shoe.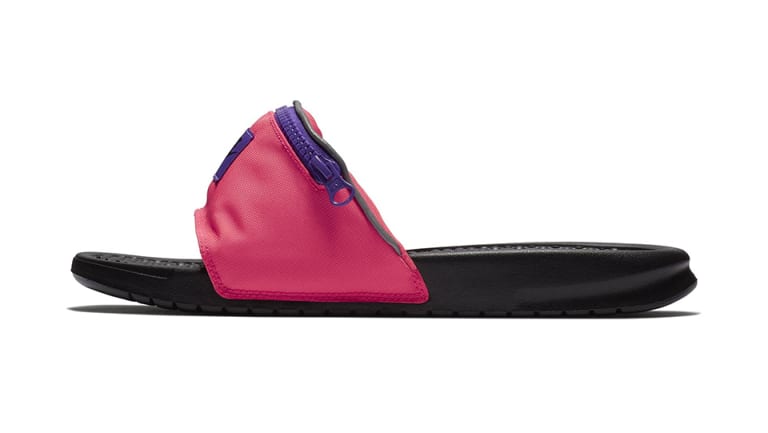 The new Nike pool slides feature a built-in pouch. 
Nike has announced the release of the updated version of its Benassi pool slide, which will come in three colours and features a tiny bum bag on top of the strap at the front of the shoe.
From the photos that have appeared online, it seems each pouch is capable of storing some keys, or another small item.
It's not the first instance of "Franken-fashion" this week, with Balenciaga recently releasing a T-shirt with a full men's shirt tacked on the front, which will sell for about $1700 when it is released.
And they come in lime green.
At this stage it is not known whether either the Nike slide or the Balenciaga shirt will be available in Australia.
Bum bags began appearing on the European catwalks for summer 2017, and made their Australian appearance at Melbourne Fashion Week last spring.
At the time, stylist Ella Murphy said the 1990s throwback was becoming a hot street style item, with social media showing examples of people wearing them across the body, as well as the strap becoming a feature item in its own right.
So if wearing your bum bag on your torso was the 2017/18 interpretation, wearing it on your feet may seem the next logical step.
Fairfax Media has contacted a representative for Nike Australia for comment.
Source: Read Full Article