These Shimmering Glow Oils Sold Out In 6 Hours, But Here's How You Can Snag Some RN
What a happy, happy hump day for all of us! Not only are we halfway through the week, but we are all right on our way to glowing like the true summer goddesses we are. If you thought the fact that Sol de Janeiro's Glow Oils sold out just six hours after their launch a few weeks ago meant your dewy dreams were no more, think again, fam. These oils are back — but probably not for long. So, where can you buy Sol de Janeiro Glow Oils before the masses come and swipe them up again? Here's the lowdown.
Basically, according to the brand, the Glow Oils ($35, soldejaneiro.com), which are available in the shades "Ipanema Sunset" (perfect for lighter skin tones) and "Copacabana Bronze" (excellent for darker skin tones), will be restocked and available to the public today, April 25, at 2 p.m. ET on the brand's website. However, I'm here to let you in on a little secret: Sol de Janeiro has allowed its customers who are on the product's waitlist, as well as its newsletter subscribers, exclusive access to purchase the restocked Glow Oils. And now, they're letting you in on the ~exclusive~ fun, too. If you're desperate for a dewy, full-body glow, especially as the weather gets warmer, you can visit this secret link and snag these non-sticky (bless) Glow Oils before everyone else.
If you're wondering why the Glow Oils flew off Sol de Janeiro's site so quickly, it's because they rival a cult favorite: Rihanna's Fenty Beauty Body Lava. While some customers noted that Fenty's Body Lava remained a bit sticky after applying it to their skin, Sol de Janeiro boasts a non-stick, drying formula for its Glow Oils.
The Glow Oils draw inspiration from Brazilian beauty ideals, which according to the site, emphasize "natural" beauty and "enhancing what you've got." Therefore, the Glow Oils contain "just the right amount of shimmer" to reflect the light of the sun, so the effect of the oils change as the lighting does. The oils are also scented, so your skin will look and smell good enough to eat. (But don't eat anyone's skin. Please. That's not cool, and it's also illegal.) The "Copacabana Bronze" shade offers hints of pistachio and salted caramel, while the "Ipanema Sunset" shade smells of Brazilian gardenia, pomelo, and wild fig.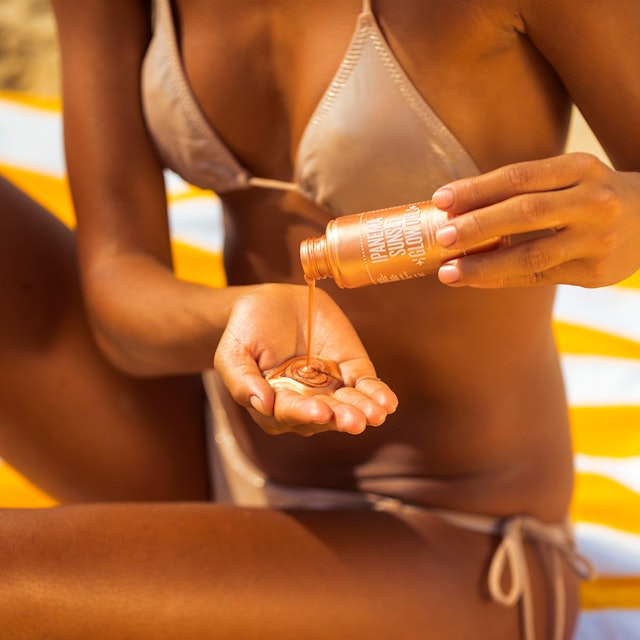 Not only will the Glow Oils give your entire body a natural shine brighter than the sun, but the formula is also infused with cupaçu butter, acai oil, and coconut oil for maximum hydration. And yes, in case you were wondering, the formula is completely vegan, and paraben-, gluten-, and cruelty-free.
If you're not feeling a full-body glow fest, but you still want a little shimmer on your face, you can also mix a tiny bit of the oil in your go-to foundation for a little shine boost as well. And yes, I mean it when I say a tiny bit. After all, Sol de Janeiro warns on its site that just a bit of this product goes a long way. But hey, that means you seriously get your money's worth, right?
Like I said before, the Limited Edition Glow Oils sold out just six measly hours after they first launched. Assuming the demand is still just as high for these oils, they'll probably sell out once again. Sol de Janeiro will restock Wednesday (but with a limited quantity), so if you haven't already, head to its site ASAP and grab one. (Or five… No? Just me?) As the weather gets warmer, and the sun (hopefully) starts making a more consistent appearance, you can bet I'll be slathering these Glow Oils all over me from head to toe!
Source: Read Full Article