Social Seen: VIPs turn out for the annual Women of Style Awards
Black-tie dinners are a dime a dozen in Sydney with some organisers promising a star-studded guestlist and often times under-delivering.
But the Women of Style Awards, hosted by InStyle and Audi, is one of the top, not-to-be-missed events on the social calender with over 200 guests at this year's 10th anniversary on Wednesday night, making the red carpet a smorgasbord of chic celebs. 
Jesinta Franklin at the 10th anniversary Women of Style awards at the Museum of Contemporary Art Sydney on Wednesday.
And it's not just for the coveted gift-suitcase (yes, you read that right) filled with goodies worth $2500 that entice VIPs out on a school-night. (Or the free-flowing Veuve Clicquot. Or the three-course dinner by Fred's chef, Danielle Alvarez. Or the stunning views of the Opera House from the Museum of Contemporary Art Sydney.)
Most in attendance say it's the feel-good factor with the awards honouring some of Australia's most inspirational and innovative women who are game-changers in a diverse range of fields from sport to philanthropy, business to tech and beyond.
Elyse Knowles, Elle Ferguson and Pip Edwards at the Women of Style Awards.
There were many memorable moments during the night, including Seven's Melissa Doyle and InStyle editor Emily Taylor's fantastic jobs as hosts; Doyle's colleague Kylie Gillies fan-girling over Jesinta Franklin; Sally Obermeder commending Layne Beachley on helping her change her self-talk; Susan Alberti dedicating her award for The Irrepressible Force to her late daughter Danielle; and Nicky and Simone Zimmermann, winners of The Fashion Innovators award, revealing their greatest achievement to date – hiring a staff of more than 500 women and just eight men.
In giving out the The Drivers of Change award to Lucy and Rosie Thomas, the sister duo behind anti-bullying movement Project Rockit, a Versace-clad Jesinta Franklin felt comfortable enough to make a surprising admission.
"I was bullied quite severely in school and made to feel so small," she told the floral-filled room.
Delta Goodrem performed a medley of her "idol" Olivia Newton-John songs and later made a bit of faux-pas when she collected The Bright Star award and mixed up the word "fugitive" with "refugee" in her acceptance speech.
"It's been a long week, don't mind me," The Voice judge blushed.
Delta Goodrem at the Women of Style Awards.
But it was 16-year-old award recipient Jade Hameister who stole the show with her heartfelt and insightful acceptance speech that expressed the significance of celebrating bravery over perfection.
Hameister is the youngest person in history to pull off the "polar hat-trick": skiing to the North Pole, the South Pole, and crossing the second largest polar ice cap on the planet – Greenland.
"My next goal is to explore space," she said.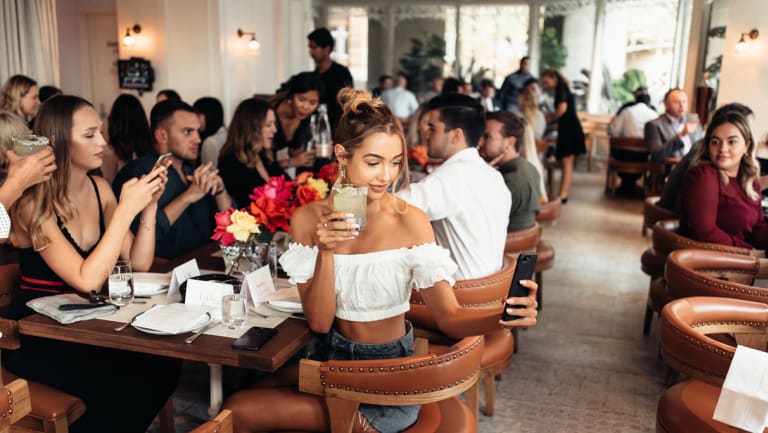 Influencer Sammy Robinson at Patron Tequila's lunch to celebrate Cinco de Mayo at Bar Patron last Friday.
It might have been lunch time in Australia, but for Neil Perry it was 5 o'clock somewhere as he celebrated Cinco de Mayo last Friday at Rockpool Group's latest restaurant, Bar Patrón in Circular Quay.
Guests, including influencers Sammy Robinson and Li-Chi Pan, and model Jimmy Niggles, enjoyed a Mexican-themed, tequila-drenched, three-course feast and made their own margaritas.
As seen on Sundays in The Sun-Herald's S magazine.
Do you have a Sydney social event coming up? Email [email protected]
Source: Read Full Article