Urban Decay's Beached Collection Drops Tomorrow & It's Even Better Than We Imagined
Back in March, news broke that a cult-favorite makeup brand would be releasing an all-new palette inspired by island life. And now, Urban Decay's Beached Collection has just been revealed in full and it has a whole lot more to offer than just a range of eyeshadows. If you're a beauty-loving beach bum then get excited, because these products are going to rock your world (or boat).
Back in March, news broke that a Beached Palette was on the horizon when @trendmood1 teased it via social media. "Are you ready for another #EyeshadowPalette ?! By @urbandecaycosmetics ??? Perfect!!!! For summer!! ☀️? So Pretty!!!" read the caption. The photo showed a palette containing eight hues, some of which were matte and some of which were metallic. Ranging from a light cream called "Salt" to a turquoise called "Plunge" to a shimmery chocolate called "Wedge," the colors within the palette certainly gave off bronzed and briny vibes. If you've ever seen the movie Aquamarine ( a cinematic masterpiece), it's like that but in makeup form. Fans, naturally, were stoked, with one user writing, "This is so mine! Can't wait for it to release???." No information was included about when or where it would become available date or about its price, so fans were left with a lot of questions.
Today, they got their answer. The full Beached Collection (I'll get to what else it includes shortly) drops tomorrow, April 27 exclusively at Ulta and ulta.com. It's just in time for any summer vacations you might have planned, not to mention thematically perfect. The packaging itself features motifs of feathery palm trees on its front, so even if you're not able to get away to a coastal haven you can still carry a little slice of paradise around in your makeup bag.
Along with the palette, Urban Decay is also including two 24/7 Glide-On Eye Pencil shades: Goldmine, an existing shade featuring micro-sparkle, and a new shade called Lucky, which looks to be a metallic burnt orange. 24/7 eyeshadows retail for $20 each on Urban Decay's website, so it's safe to assume that same cost will apply to these pencils. The shades are head-turning on their own but if applied together they'd create a look that would rival even the most vibrant of sunsets. They would be killer for festivals or beach parties, alike — I can't wait to get my hands on them.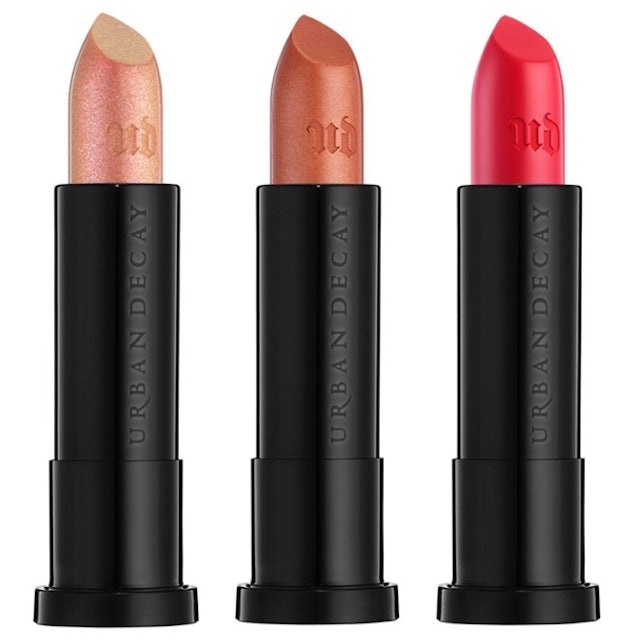 These new products come in addition to Urban Decay's existing Beached Bronzer ($30; Ulta), which is a cult-favorite of customers. It comes in two shades (the light-medium Sun-Kissed and medium-dark Bronzed) and, as Urban Decay describes it, boasts a "finely milled, super-soft formula [that] applies smoothly, doesn't streak, and creates a radiant glow that won't quit. Get Beached (not burned); these universally flattering matte shades provide sheer, natural-looking coverage every time."
If all of these products were used in tandem, you'd have one seriously tropical-inspired look. Whether you're going for something more natural or want in-your-face mermaid eyes, this collection can help you out. Details regarding pricing are still up in the air, but seeing as the drop is less than a day away, you don't have long to wait.
Source: Read Full Article