10 Celebs Who Got In Shape After A Breakup (And 10 Celebs Who Didn't Change One Bit)
Break ups are always tough, especially when you're a celebrity since you're continuously in the media and after a heart break you feel sad and the last thing you would want to do is make an effort. Well this isn't the case for some celebrities as even though they've got a broken heart, they still make time to get a revenge body which is the term described for when a celebrity heals by getting into shape. The Kardashians love to get into shape after a break up as Kourtney, Khloe, and Rob both did gruelling work out and diet plans to get their awesome body shapes which would surely make their ex's jealous! Others who join that list is Justin Theroux who is working out at the gym to help get over Jen! The Big Bang Theory star, Kaley Cuoco and pop singer Demi Lovato also got killer bodies after their break up!
Then you get celebrities who still looked the same after a break up like Anna Faris after her divorce from Chris Pratt. Jennifer Aniston unlike Justin still looks the same as she did when they were together. Channing Tatum also still looks the same well and has done nothing significant to change his look. John Cena hasn't changed at all as well but he is planning to win Nikki back. The celebrities that get into shape end up looking great and the celebs who stay the same obviously have different ways of coping with the break up.
20 Kourtney Kardashian's Intensive Workout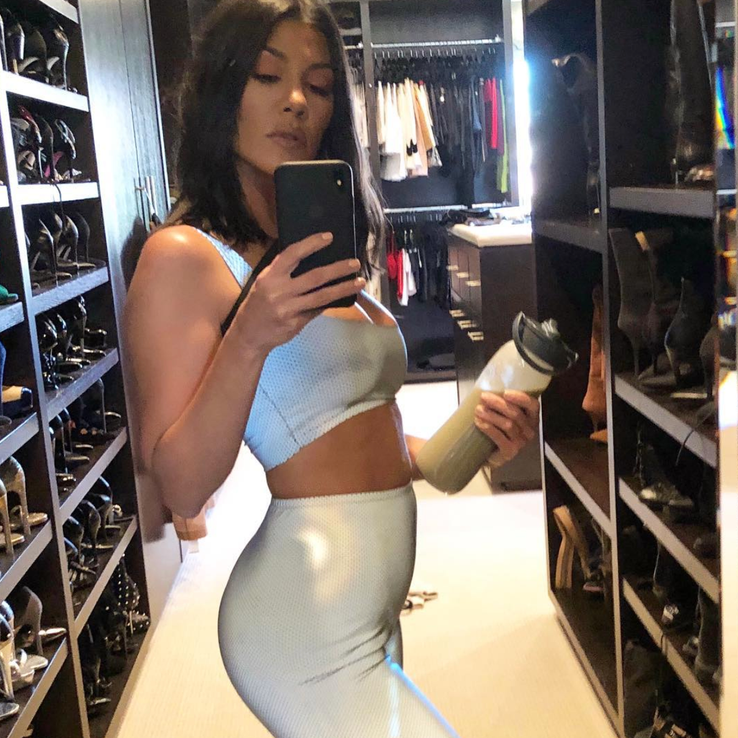 The reality star has had an on and off relationship with Scott Disick for years but now they are officially off since Scott is dating Sofia Richie and Kourtney is also taken. After Kourtney's split from Scott she decided to get into shape as a distraction because let's face it, it's a very good coping mechanism plus you end up looking great afterwards. Kourtney admitted that she experienced anxiety after the breakup and she wanted to keep healthy. She confessed that she tried to exercise five days a week,
"I usually start with a quick run or jumping rope to warm up. I have to do something fast to really kill it. And I definitely need good music."
Kourtney also mentions that people don't know what motivates or goes on inside a person emotionally and many people use working out as way to deal with things just like Kourtney. "For me, exercise is as much about my body as it is about calming my mind." Well the exercising did work as Kourtney looks better than ever before and selfies from Kourtney's Instagram is proof especially the swim wear pictures and she even lets everyone see her workout routine at the gym and her and Khloé sometimes even work out together!
19 John Cena Still Looks The Same and still Wants Nikki Back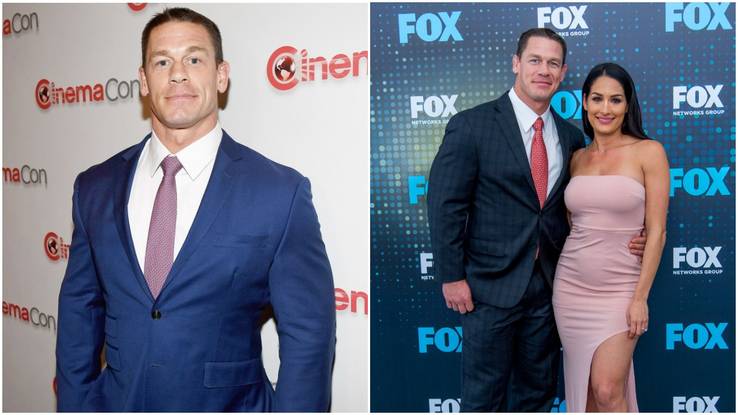 The wrestling star and actor were engaged but it was called off this year as Bella said when she was trying on wedding dresses, "Let's make this quick. There's just something that's not feeling right." John wants them to get back together though and has even said this in interviews,
"I still love Nicole. I still would love to marry Nicole. I still would love to have a family with Nicole."
Rumors are circulating that they're back together as they still hang out together but nothings been confirmed yet. On May 20th John and Nikki were snapped walking together with coffee and John still looked the same with the military style buzz cut that Cena has basically had for many years and his toned muscles and shape were still evident like they were during the six-year courtship.
In many photos at public events John wears a suit and when he was with Nikki she was always Cena's date and now that they split John is going solo on the red carpet. In a picture with Nikki, John is wearing a suit and in the solo appearance image he looks exactly the same. Cena's body wouldn't really change because of a break up especially since he needs to keep fit for wrestling.
18 Justin Theroux Goes To The Gym Often Now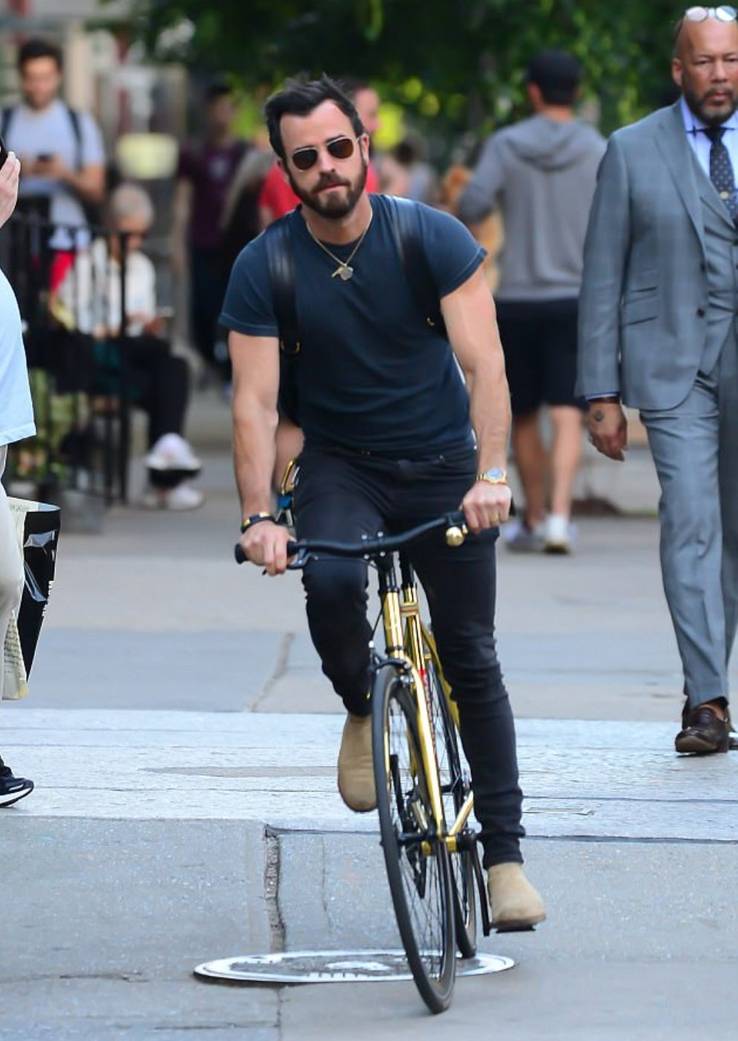 The actor and Jennifer called it quits this year and Justin is the one who is getting into shape while Jennifer still looks the same. Theroux isn't wallowing in self-pity at all since he's too busy going to the gym. According to a source Justin's workout hasn't been easy. "Justin has been hitting the gym hard since the split. He's been working out for over an hour every day at Gotham Gym. Boxing is a big part of his workout routine." Boxing is a very good sport to blow off some steam and make yourself feel better therefore Justin is doing the right thing by making it his routine since divorce can be tough. Theroux also loves riding a bike everywhere which he wasn't really able to do when he was with Jen but now he can. "When he was with Jen they took cars everywhere, which he hated. Even in the cold weather, Justin's been biking everywhere. He's totally back in his element now."
In May, Justin was spotted riding his bike in New York and he was on his way to the gym. While there Justin was seen with boxing gloves and was sparring with someone. Now that Justin is exercising more he's becoming more toned and his arms are more muscular.
17 Anna Faris has made no changes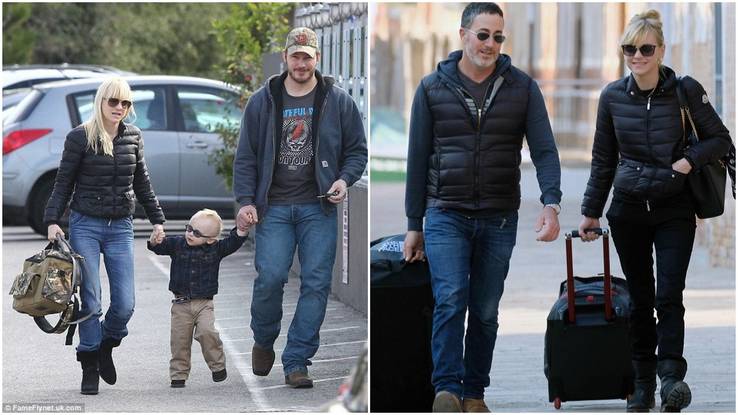 The actress and Chris Pratt divorced this year and Anna has been snapped out and about with her new boyfriend but honestly, it looks like nothing has changed as Anna still looks like she did when she was with Chris. Anna is basically even wearing the same winter jacket in the two pictures with jeans. When Anna and Chris were still together they were snapped while walking with their son in 2014. Faris and Pratt took their son to a train museum. What makes this look so similar is the fact that in both images Anna was wearing black sunglasses and tucked her denim jeans in her boots. The only differences were the color of the jeans, the type of shoe and in the recent picture her hair was up instead of down. Faris loves her bangs as she still has them and it appears to be her signature look!
In the picture with Michael Barrett the two were spotted with their luggage as they vacationed in Italy. Anna has moved on and she's still the same girl shape wise as well, as even between the two years you can tell Anna's petite shape hasn't changed much! The divorce seems like there was no hard feelings as Anna said, "There is still so much laughter in our lives together, and he is so proud of me, still."
16 Khloé's Post-Breakup Workout Saved Her Life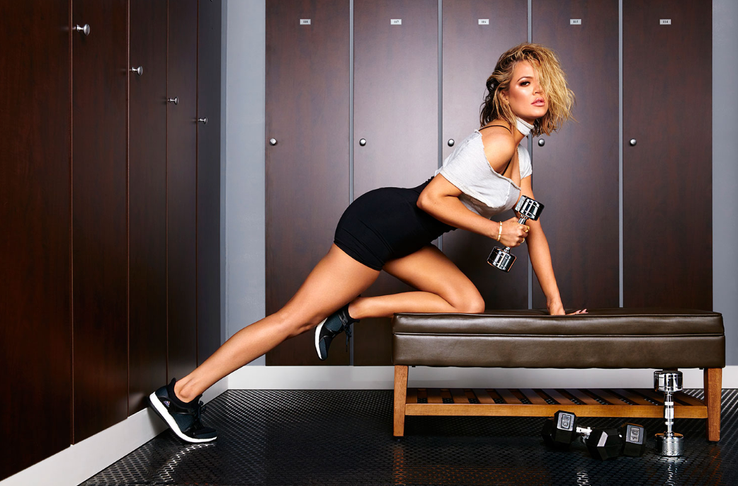 Okay yes, the Kardashian sister is now with Tristan Thompson and she recently just became a mom but before Khloé found love again she experienced heartache with bad break ups and instead of drowning in a pool of sorrow she hit the gym and did amazing workouts which Khloé swears by especially for a broken heart. Kardashian started working out after her split from Lamar back in 2012 and she called it her release. Khloé also believes in the revenge body.
 "I told Rob Kardashian a while back: the best form of revenge is a good body. It's a little silly but true."
Khloé wants an amazing body so that her ex's can see what they lost. "You'll feel better, and the by-product will be a fierce bod that's bound to make your ex do a double-take."
Khloé even had her own reality show on E! called Revenge Body with Khloé Kardashian and it's all about Khloe helping people with break ups and job issues change their body shapes with experts. The revenge body workout definitely worked as Khloé became really toned and she willing flaunted her new look on the cover of Women's Health back in 2015. Even after having a baby Khloé still looks amazing!
15 Channing Tatum's Cap Selection Remains A Regular Thing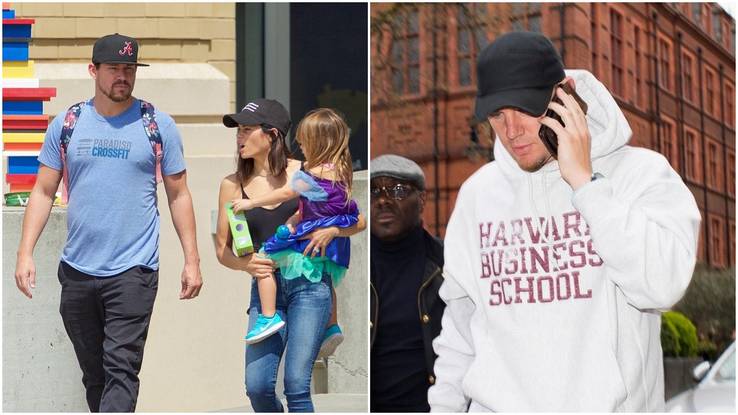 The actor loves his cap look as he is basically always seen donning the look while out and about. Channing has remained the same while Jenna is changing and embracing singledom with a new haircut. Jenna's hair is now a short bob and it looks amazing. Tatum on the other hand still has the same haircut and even facial beard. Plus he never changed his style as Channing still wears the cap and the color is even the same. Back in 2016, Channing was spotted with Jenna and their daughter having a family day and Channing was wearing dark denim with a shirt and black cap with a design. Tatum had a small beard as well.
Jump to 2018 and after the divorce, Channing is still identical even after about two years. Channing was snapped at Heathrow airport in London while wearing a college-style white hoodie. The similarities are the black cap which is plain this time but Tatum loves his hats so much it's a permanent fixture and it appears he has so many of them. Channing also had some facial hair evident at the same spot than the other photo and his body shape also looked the same.
14 Kelly Osbourne's Major Transformation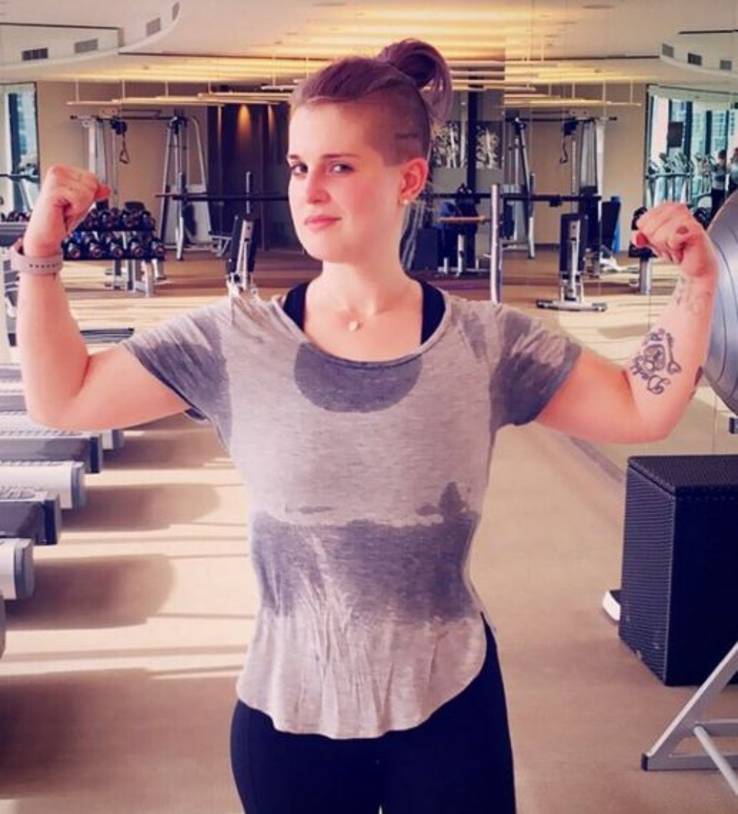 Back in 2014, fans and the world was shocked when Kelly stepped onto the red carpet. Osbourne admitted that she gained weight after the break up and wanted to get rid of it. Kelly put on 5 pounds after her relationship ended with Matthew Mosshart. Osbourne even admits that she went into food rehab. Kelly also didn't refer to her strict regime as a diet but instead a cleanse. Kelly's workouts included yoga and Pilates and she even hired a personal trainer. Kelly's goals was to exercise for five days which is very vigorous and it shows she wants to stick to her goals. Osbourne still works out and let's admit Kelly has been looking really good since then.
At the 2015 Golden Globes, Kelly looked absolutely stunning in a dress that really showed her new shape in a form fitting black attire. Osbourne's eventual post breakup workout definitely worked! Kelly doesn't like calling her new lifestyle a diet as she believes she will stop and go back to how she used to be. "Once I learned how to work out right and eat right, it's one of those things that you just have to commit to a life change rather than being on a diet."
Featured Today
12 Marvel Actors Who Are Actually Tough (And 12 Who Are Total Softies)

20 Surprisingly Strict Rules Royals Have To Follow When They Travel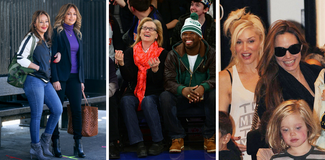 20 Hollywood BFFs Fans Would Be Surprised To See Together

13 Taylor Swift Never Changes After A Breakup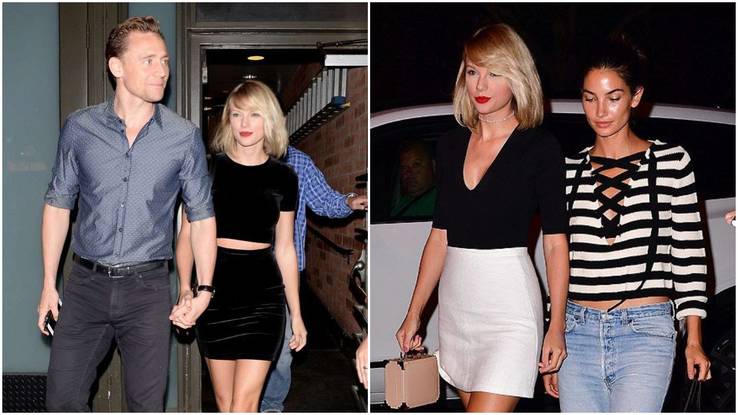 The pop singer is famous for all her relationships because they always end up in disaster and we get all the personal heartfelt tunes from Taylor to know that. Swift has undergone hairstyle change but it's never been due to an ending of a relationship. Taylor's last relationship was with Tom Hiddleston and that happened very quickly soon after she ended it with Calvin Harris. Well, when Taylor was dating Tom she had a short bob that ended at her shoulders and she also had bangs! Seriously the breakup hardly had any effect on Tay as afterwards she still looks identical. It's that scary! In the image with Tom Taylor has the same short hairstyle and it has some volume. Taylor is wearing a killer velvet two piece with a short skirt and of course wearing her signature red lipstick!
Swift kept the hair the same length and style and she was snapped having a dinner date with a friend and Tay wore a white short skirt with a black leotard type top. Plus she was also wearing her red lipstick. Taylor's lean figure also remained the same. The first image with Tom was taken in July as the pair enjoyed a romantic dinner and the one with her friend was taken in September two months later.
12 Rob Kardashian Did A 180 After The Blac Chyna Split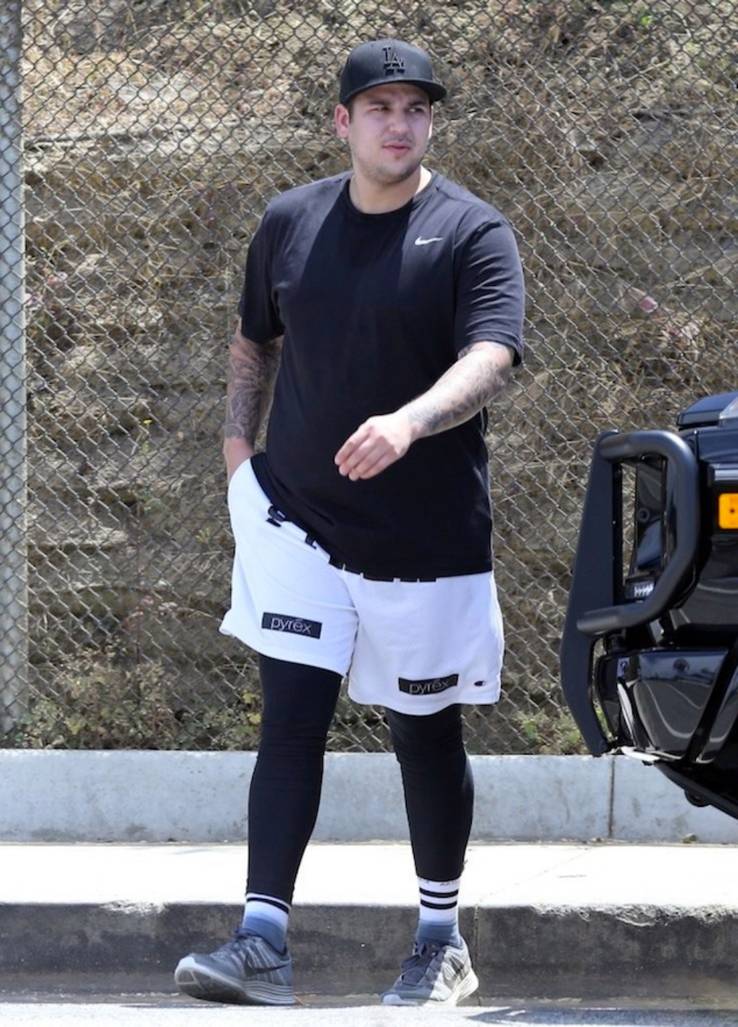 The reality star has struggled with weight over the years and after the split with Blac we started knowing a difference and it made us shocked in a good way. It wasn't easy though as after the break up Rob piled on the weight but then he wanted to make a change. Last year, Rob confessed he fell into a depression and that's what led to the gain. Rob hired a nutritionist and started working out again. Rob said he wants to get back to the old Rob and he wants to do it on his own which family and friends think is impossible without their help. Khloé wouldn't take no for an answer and wanted to help Rob before the baby came and he was thankful.
"He's grateful for her help and so far seems very motivated. He says he wants to get back to being himself again, he misses life."
Rob has been hard at work as he has had some improvement this year as according to the source, "Rob's actually making some progress, he hasn't lost a ton of weight yet but he's down about 15 pounds so it's a good start." Rob's goal is to lose 20 pounds before the baby is born. It's worked as Rob looked slimmer while celebrating his birthday in March.
11 Jennifer Aniston always looks good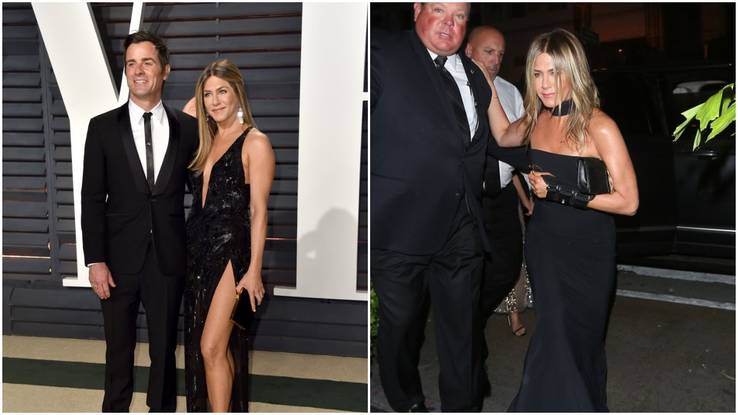 Justin is exercising on a regular basis and the actress hasn't changed one bit as she is completely the same. When Jen was with Justin she had long brunette hair with a touch of blonde and she was wearing a black dress that had sparkle with a slit while standing next to Justin on the red carpet event at the Vanity Fair party in 2017. This year April Jen attended Gwyneth Paltrow's engagement party and was almost identical to the year before shape wise and hairstyle. The only difference was the black dress was more conservative for her friend's engagement party. Aniston must love the color as she often wears black for formal attire wear. Jen has always had a tall lean figure which hasn't changed after the divorce as she still has it and hasn't seemed to have toned up. Theroux is changing by getting more toned but shaping up probably doesn't faze Jen.
Sources say that Jen's "life now is not very different."
As it's still like how it was before. Aniston is also too busy to get into shape anyway as she's hanging out with her friends in Los Angeles. "Her friends always invite her out and to parties. Jen has a very caring group of friends that take care of her."
10 Brad Pitt is Getting Over Angie With Hikes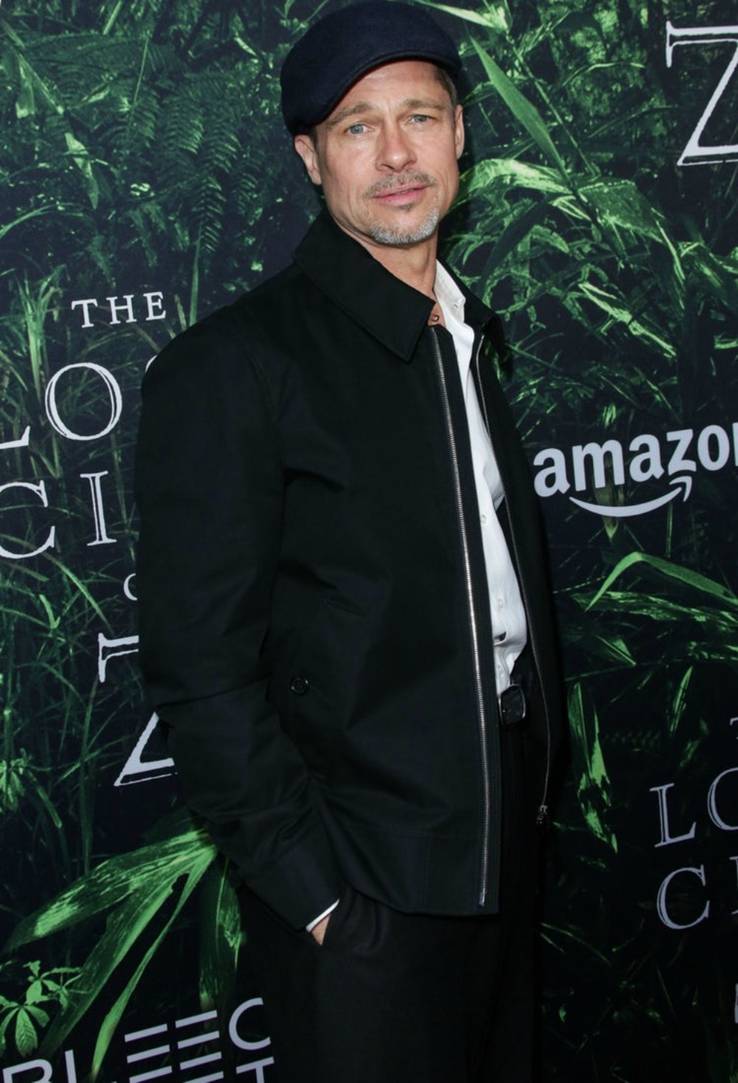 The actor and Jolie shocked the world in 2016 and it's been an ongoing battle since then but the ex-couple are handling it completely different. Angie doesn't have time to focus on herself as she's more concerned about the kids. "Sometimes, women in families put themselves last, until it manifests itself in their own health." Brad on the other hand is getting into shape and his doing it with nature and food. A source close to Brad said, "He lost a bunch of weight. He's focusing on himself again, watching what he eats and he has a chef making him healthy meals." The source says Pitt has gone on a lot of hikes and walks and the strenuous training Brad does is strength training. Another insider says,
"He does a lot of weight training. He's dedicated to clean living and eating right."
The workout must have worked as April last year Brad was snapped looking unrecognizable because he was a lot slimmer than previous years and fans couldn't believe the change but the divorce really took a toll on Brad as you can really see how his facial structures have changed and how lean he is. Brad looks good and exercising especially in nature is very soul searching!
9 Bella Hadid Kept Her Figure After The Weekend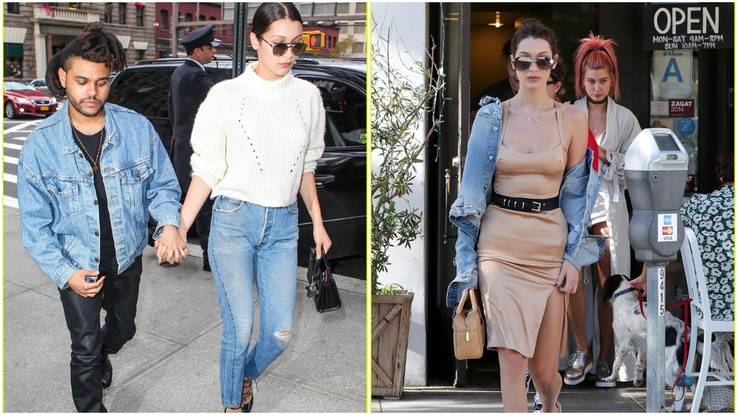 Yes, the model has to keep her figure as her career is in the fashion world but besides her shape, Bella didn't really change at all after the break up. Hadid is normally always really glammed up so it's different seeing her like this as a casual street style. In 2015, Bella and The Weeknd started dating but in 2016, they called it quits. In 2015, Bella and The Weeknd were spotted together holding hands as they were celebrating his birthday. Hadid wore a cardigan over a pair of high-waisted denim and she looked super chic in the strapped heels and retro sunglasses. Plus her hair was parted and tied into a bun.
In November 2016 Hadid had a lunch with her brother Anwar and friend Hailey Baldwin and Bella wore a dress, this time but her hair was tied up in a bun once again and still the same color. Bella wore sunglasses which were wider than the ones before but Hadid still had her amazing toned, lean figure which is perfect for a runway model! Bella said it will take time to heal which is true for every relationship.
"As an outsider, you might think I handled it so well, but it's always in your heart, and you always feel it very heavily.
It'll be hard for a while. Love hurts, but you have to pull through."
8 Demi Lovato Breaks A Sweat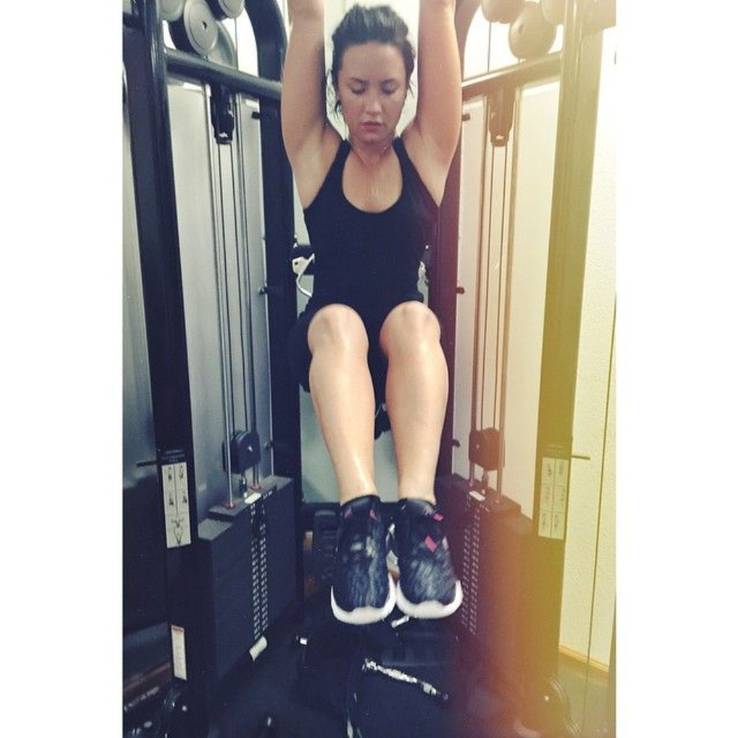 In 2016, the pop singer and her boyfriend Wilmer Valderrama ended after six years together and Lovato didn't want to wallow, instead she took to Instagram and posted a series of videos of her working out. Demi wanted to show to the world that fitness and health will get her through the difficult time. Within a week after the news broke about the split Demi had completed two workout videos and Demi went to the gym basically every moment she got. Lovato went to the gym after 8 am and promised a third video. Demi posted on her Instagram about the training she was doing. "What's up guys, this is Orlando. He's teaching me jiu jitsu."
Demi really went overboard as she did 75 pound power plates and also did some boxing with a trainer. Wow, it sounds very intense! Demi does have a killer bod now which she reveals on the red carpet and with all that training, Demi wouldn't have had any time to think about the breakup. Lovato loves working out as she goes to the gym six days a week and works out for four hours, now that's impressive! Founder of the gym says, "This is her safe haven. This has become her healthy addiction. She lights up when she comes in here."
7 Rita Ora Is Still Bubbly, Despite Breakup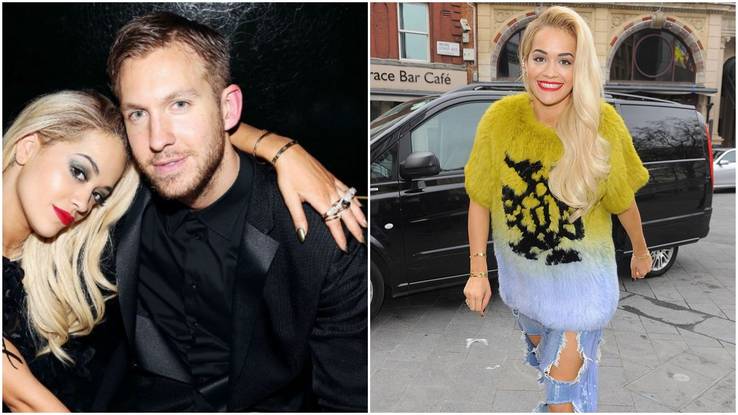 In 2014, Calvin Harris broke up with the singer and it left her embarrassed as he announced it on his Twitter. "To address speculation — myself and Rita ended our relationship some time ago. She is a beautiful, talented woman and I wish her all the best." Rita was shocked and it caused a bitter feud between them which finally ended last year as she told Andy Cohen, "We're good friends." Like Taylor Swift, Rita also loves her red lipstick which she wore while dating Calvin and she also had the same platinum blonde locks which appeared to be extensions as the year after the split, Rita was seen with the same locks and make up. In the 2015, Rita was still all smiles and she had the same lean thin figure. 
6 Jennie Garth Turned To Fitness After Divorce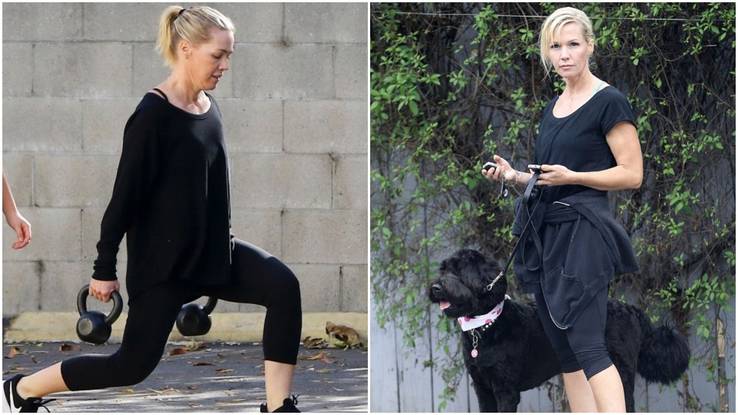 Last year, Jennie and her husband Dave Abrams called it quits and Garth has been exercising like crazy since then. In the pictures, Jennie did squats and was walking in a complete sports gear including black leggings, sneakers, and a plain shirt and jacket. Garth did a complete transformation as after the divorce. Jennie looked noticeably thinner and she looked amazing, especially in a dress that really showed off her new toned muscles. Jennie admits that she lost 30 pounds and Garth did it because she wanted to get rid of the negativity.
"It definitely feels like a great time in my life." Garth does believe she will find love again. "Even through the ups and downs, I'm happy. I'm thankful to be alive."
Garth got a personal trainer who helped immensely and a healthy diet. Training consisted of hiking, personal training sessions and lightweight gym training which she did twice a week. The food diet consisted of eating smaller portions and only having Greek yogurt, salads, salmon, and coconut water. Garth didn't push it though, as she lost about two pounds each week. Jennie is enjoying her new life and she admits she doesn't pine over Peter. Well with her new killer body she could find love again!
5 Chris Pratt Is Full Of Smiles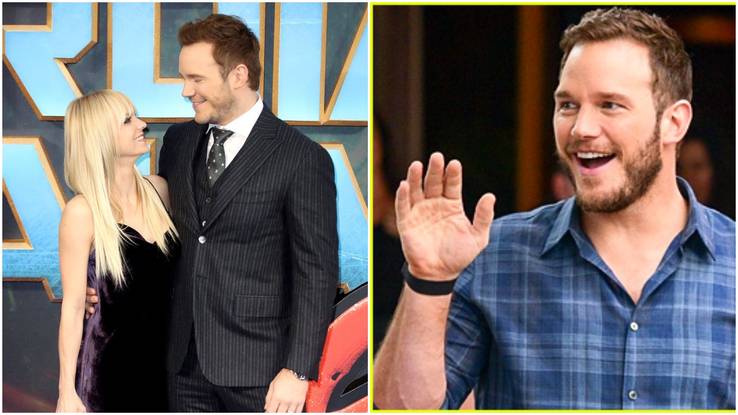 The actor is just like his ex-wife, Anna as he hasn't changed one bit since the divorce and is still the Chris we all know style and even personality wise. Seriously, Chris is still laughing which is great especially since he loves to crack jokes basically all the time. Chris admits that divorce sucks but him and Anna still remain friends and Faris admits. " We watched each other grow and he still cracks me up all the time." Back in the day when the ex-couple were still in love, Chris looked groomed in immaculate suits with Anna standing next to him and he was all smiles. In the image, which was taken last year at the Guardians of the Galaxy Vol 2 premier, Pratt's hair style was gelled and he had a bit of facial hair and even though he was wearing a suit he still was buffed up.
April this year, a single Chris was all smiles while greeting fans in Brazil as he was promoting the Avengers: Infinity War movie. Chris basically had the same style hair as instead of sticking up it was gelled to the side. Plus Chris still had a beard which was was fuller than before. Pratt's weight was similar and thankfully Chris's happy personality didn't leave!
4 Kaley Cuoco Found Peace Again With Yoga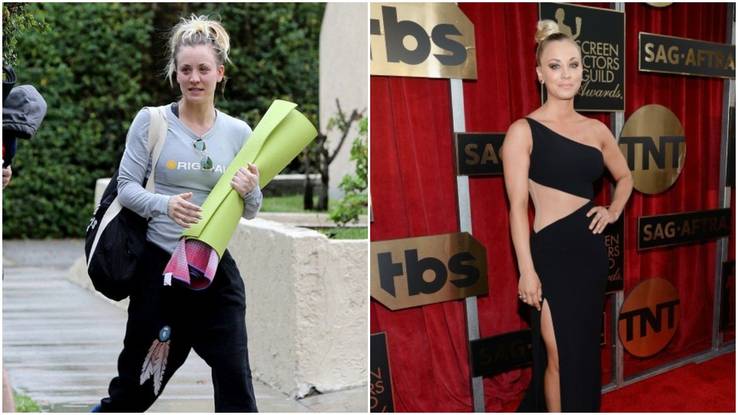 The Big Bang Theory actress was very emotional after her divorce back in 2016 and lucky for us, Kaley shared her coping mechanisms for us! Cuoco's advice is the best yet as she didn't cry at home with a box of tissues instead she cried while getting into shape. "I've cried numerous times in yoga. The best part is, I'm sweating so bad, no one can tell." Cuoco loves horses and does a lot of horse riding and they were also there for her in time of need.
"For a month straight I would talk to my horse and just bawl. Finally I went out and the crying didn't come. I was like, 'I think I actually got through this.'"
Kaley admits she didn't really work out except for horse riding and she even does competitions. "I used to not enjoy working out and I found something that I love and it is yoga. I absolutely love it," Cuoco has her motivations. "Sometimes, do I want to get up and do it in the morning? No. But when I get out, I feel like a million bucks." All the yoga payed off as now Kaley has killer abs which she displayed on the red carpet at the Screen Guild Awards in 2016 and she also has muscles in her shoulders. We definitely recommend working out after a break up now!
3 Miranda Lambert still looks flawless
In April this year, it was reported that the country singer and Anderson East had broken up after a month of speculation. It's fairly recent but Miranda has had no change which you can tell in the two red carpet images. In the first image, Miranda is with Anderson her hair is blonde and falls freely with locks with minimum make up. A few weeks later, Miranda went solo to the Academy of Country Music Awards in a dress that made her stand out. Lambert's hair was still blonde with locks and this time it was swept to the side. In both images the dresses fit Miranda's curves and Lambert kept the bare make up for both occasions. Sources say,
"She refuses to sit around feeling sorry for herself."
Instead of working out Miranda is working on music and keeping busy which is her coping mechanism. The last time Anderson and Miranda were on the red carpet together was last year at the CMA awards in November and Miranda has remained quiet about the split but Lambert will be busy this year as she's going on tour with Little Big Town. A recent picture of Miranda is from her Instagram which was taken on Mother's day and Miranda still had her locks!
2 Halle Berry Is Better Than Ever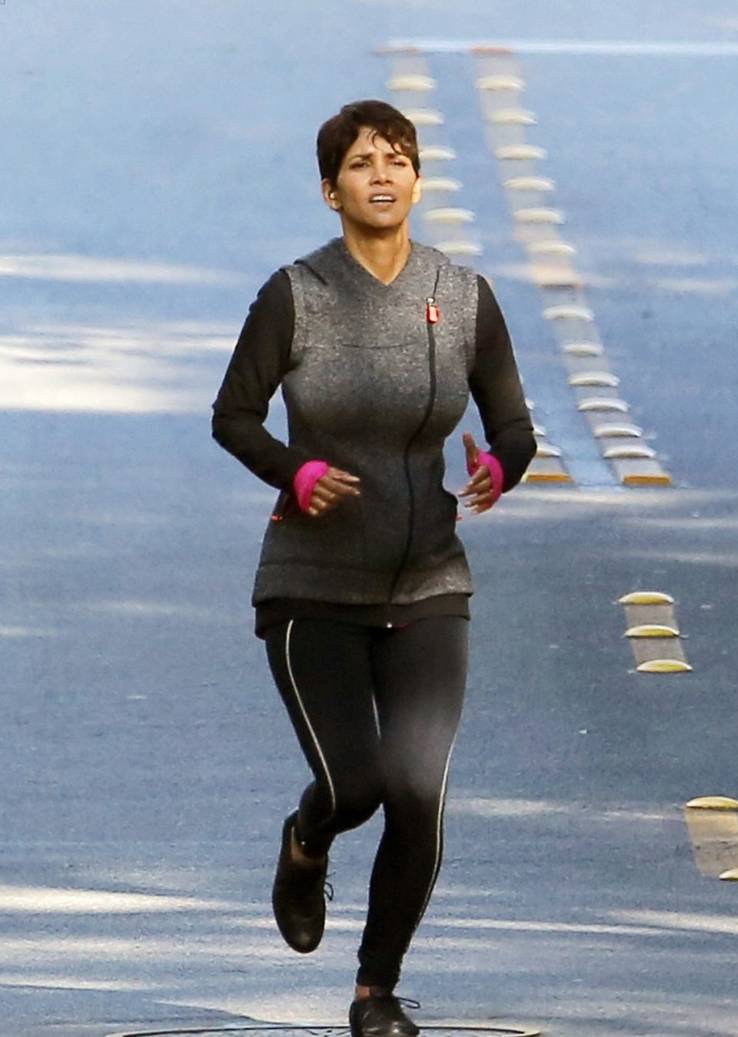 Last year, the actress split up with Alex da Kid and she shared her feelings on her Instagram and Halle captioned her photos with the words "done with love" and the images were of Halle's workout routine. In March this year, Berry set out to heal her mind, body and spirit with a fitness regime which everyone needs after a heartache. Lucky for us, we get to see her fitness documents on Instagram which is great as we can now know what to do and end up looking like Halle. Berry does have a personal trainer who helps and motivates her to keep going. Berry works out five times a week and her training includes boxing, cardio, and weights. It sure sounds intense but it's done wonders for Halle's body! Berry wants to encourage women to do what she's doing.
"Trust me. I know it's hard to focus up and dedicate time to working out each day, but with 24 hours in a day you can surely take one and dedicate it to you!"
Halle even gives us advice on how we can start, "All you need is a "living room, a patio, a kitchen floor, a driveway or a backyard, and a water bottle to kickstart the journey." I'll definitely be following Halle's advice as I bet she doesn't even have time to think about the breakup.
1 Selena Gomez stayed the same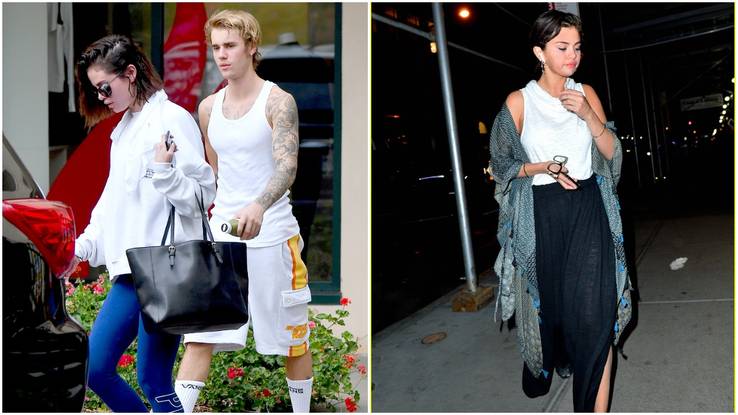 The singer's relationship is like a yo-yo as it's continuously up and down and last year, they were seen together again but this year they ended it. This time around, Selena hasn't made any effort to get a revenge body as she still looks completely the same. We have photos to prove it! In the picture with Justin, Gomez has a short bob which is wavy and on one side there's an undercut which brings edge to Selena's style. The picture with Justin was taken at the start of this year and the duo did some yoga together and Selena was decked out in her workout clothes which included leggings and a baggy jumper. Gomez also donned black sunglasses.
In the image taken this month, Selena was leaving a spa solo and this time, her hair was tied back but it's still short and wavy. Gomez was wearing a casual skirt with a white shirt and a grey jersey. She was also holding glasses in her hand. Gomez appears to not have made any difference in appearance during the last months style wise and her petite figure remains. Selena doesn't really need a distraction to feel better after the break up as she was the one to end it. According to a source, "She obviously chose happiness and her friends and family and is so thrilled about her decision-making process."
References: Seventeen.com, People.com, E Online.com, Just Jared.com, US Magazine.com, W Magazine.com, Instyle.com, Intouch Weekly.com, Instagram.com, ET Online.com, Marie Claire.co.uk, Daily Mail.co.uk, Radaronline.com, Independent.ie, Just JaredJR.com, Teen Vogue.com, Mens Helath.com, Lifeandstyle Mag.com, Popsugar.com.au, TMZ.com, Cosmopolitan.com, Yahoo.com, Nowtolove.com.au, Thecut.com, and OK.co.uk.
Source: Read Full Article